I have another food confession to make.
I don't like persimmons.
I don't like any kind of persimmons; unlike my mother who dislikes the soft, Hachiya, but adores the firm, Fuyu persimmons. So when a friend called to ask me if I wanted some persimmons because their tree was loaded (they don't like them either), I was very wary in saying, 'yes'. I did agree to take a few, as I have a couple of friends who like them, and also because I wanted to try baking something with them.
My goal: to make something that a persimmon hater would love, or at least like. I would be my own best judge.
I thought of a cake, or some sort of persimmon bread, but was apathetic about the prospects. I thought about jam, but I already have so many jars of jam in my kitchen, I could go into the jam business. Then I thought about a crumble (or crisp, for those of you who call them by that name). This intrigued me, as crumbles are often served with a sauce, cream, ice cream or something similar, and maybe this could be something that I'd actually enjoy.
Hachiya persimmons are incredibly soft when they are finally ripe; in fact, they almost feel like a half filled water balloon, when ready to eat, and aren't the prettiest things when open. I just pulled the stem off, then peeled the inside of the fruit out from the skin and place it in a bowl: messy, but super easy. Due to the texture of the persimmons, I decided to add two steamed apples, so that the fruit layer wouldn't be mush.
I used my go-to crumble recipe and the end result was fabulous! I was so happy with how it turned out, but looks aren't everything; I had yet to taste it. I also wanted it to be a sort of 'show-stopping' dessert (to quote Paul Hollywood), so I made a wonderful rum sauce to pour over each serving!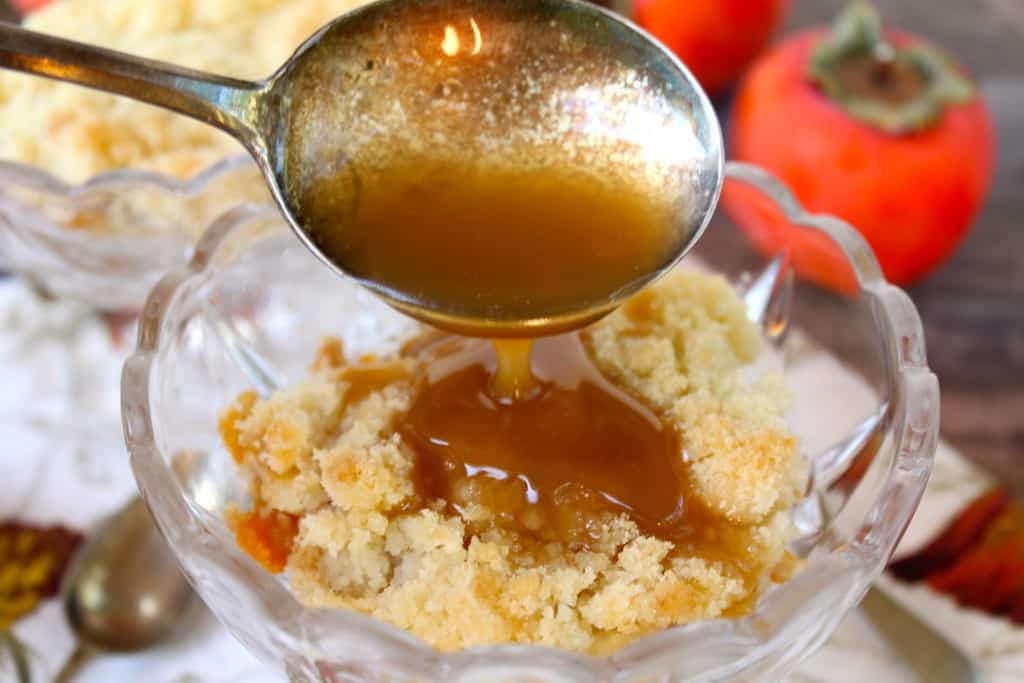 Let's just say, "mission accomplished".
I love how this Persimmon Apple Crumble and rum sauce turned out! I honestly couldn't make out the flavor of the persimmons too much, which might be a bummer for those of you who do like persimmons. The rum sauce is an awesome addition to the dessert, if I say so myself, and it's so quick and easy to make. Have a go, and let me know: are you a "persimmon lover" or "hater"?
Persimmon and Apple Crumble with Rum Sauce
an original recipe by Christina Conte
Ingredients for filling:
2 apples, peeled, cored and sliced
1 tbsp sugar
1 tsp fresh squeezed lemon juice
about 8 very soft/ripe Hachiya persimmons
1 tsp corn starch
Ingredients for crumble topping:
6 oz (1 cup) flour
4 oz (1 stick) butter
2 oz (1/4 c) sugar
Ingredients for rum sauce:
1/2 cup (4 oz) brown sugar
3 tbsp butter
1/4 cup (2 oz) buttermilk
1 tsp. Golden Syrup (if you don't have golden syrup, substitue honey or maple syrup)
2 tbsp (or more) good quality DARK rum
1/4 tsp baking soda
Preheat oven to
Put the apples, sugar and lemon juice in a pot over low heat and steam until just a little cooked (they should still be firm). Add the persimmons.
Mix the corn starch with a little water, just so it mixes to a liquid and then stir into the fruit in the pot.
Pour the fruit into an 8 x 8 baking pan (ceramic or glass is best for this type of dessert).
Make the crumble topping by rubbing the the stick of butter into the flour with your fingers, until all that you have are crumbs. Stir in the sugar, then sprinkle on the fruit.
Bake for approximately 25 minutes at 400°F (205°C) or until top is golden brown. Remove from oven.
Next, put all the ingredients for the rum sauce, except for the dark rum and baking soda, in a small pan over medium heat. Stir and bring to a boil, then lower heat and simmer for a few minutes, before adding the rum and baking soda. Remove from heat and continue to stir until well mixed.
Once the crumble has cooled a little, serve with warm rum sauce. Refrigerate any leftovers of the dessert and/or sauce. If, there are any leftovers!
Don't miss another post! Sign up for my free subscription HERE, but make sure to look for the
Feedburner confirmation email or you'll get nothing, nada, niente and zippo in your mailbox!
(I promise not to sell or share your info, ever!)