I can now admit that when Kristelle from the Geneva Tourism Foundation was telling me about Cottage Café, all I could think about was that the restaurant had an English name and that it might be frequented by more tourists than locals, so my hopes weren't high for dinner that evening. (Continued from Part 1.)
Disclosure: I was graciously hosted by the Geneva Tourism and Conventions Foundation during my stay. All opinions are my own.
Nothing could have been farther from the truth. In fact, the meal I had at Cottage Café that evening was one of the best that I had during my month long trip throughout Europe, and there was nothing "touristy" about it.
If you've been following along, at the end of my last post I had just crossed Lake Geneva in a mouette ("seagull" water taxi in Geneva), after a cooking lesson and long walk, exploring Geneva by foot. I returned to Hotel Royal and after relaxing and catching up a bit on social media in the luxurious lobby, I returned to my room to get ready for dinner at Cottage Café.
It was a short walk to Cottage Café which is situated in the middle of a lovely park, facing The Brunswick Monument (more below) and Lake Geneva, which is a stone's throw beyond. It has to be one of the best and most picturesque settings for any restaurant I've ever been to, or seen–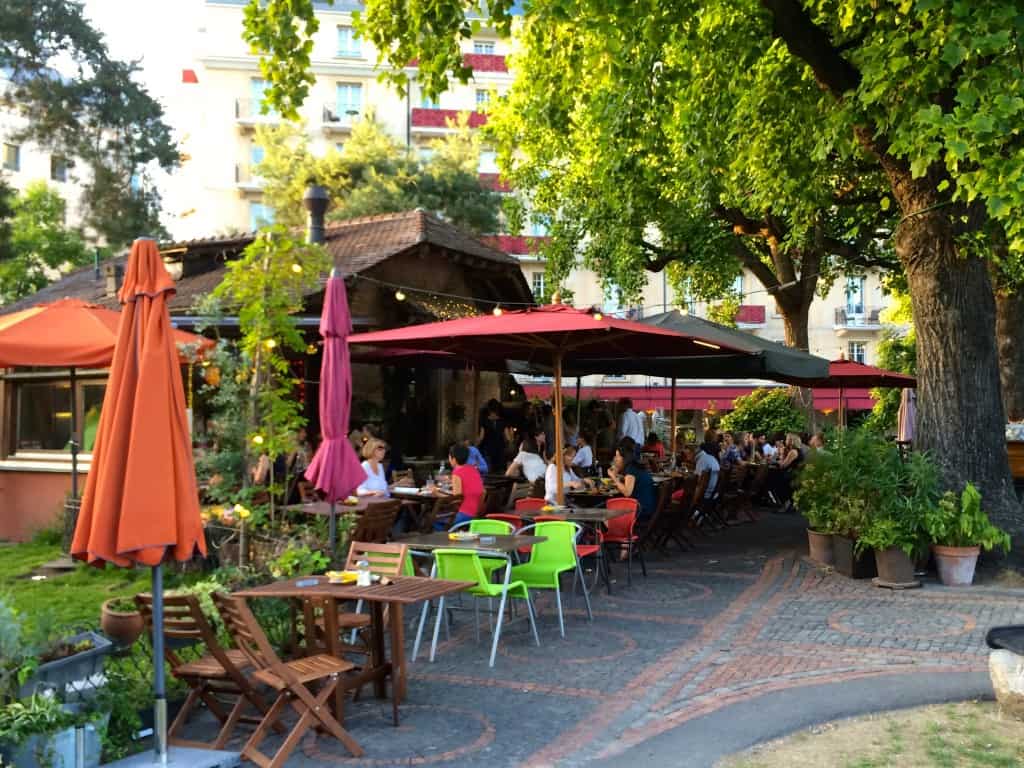 –which in turn offers some of the most incredible views to its guests.
I wondered how a restaurant obtained this prime location and learned the history of the building (and the monument) on Cottage Café's website. It was most likely originally built as temporary housing for the builders of the Brunswick Monument. So what's the story behind this ornate and unusual monument? I read about it on the menu whilst sitting at the cafe, but in brief, The Duke of Brunswick was a rather colorful fellow (to say the least) who bequeathed his massive fortune to the city of Geneva, with the condition of having a monument erected in his honor.
As you can imagine, at this point, I'd forgotten all about my misgivings about Kristelle's recommendation of the cafe. They were completely put to rest when my food and wine arrived.
It had been difficult to narrow down my choices to two items because there were a plethora of options on the tapas and mezzes menu, many of which were very appealing to me. Ultimately, I decided on the Iberico trio: Jamon Serrano, Chorizo Pata Negra & Manchego cheese, and the Burratina di vacca " Casa Madio" arugula,  with tomatoes & bell peppers.  I chose a locally produced Swiss Pinor Noir that evening, trying to experience everything "Geneva" as I possibly could. I was not disappointed.
Unfortunately, I didn't meet the owner, Nicole Boder, but I could tell from everything in front of me, that she is a woman after my own heart. The flavor from each cheese, the meats and vegetables told me that quality is as important to her, as it is to me. I was served generous portions (and this would normally serve two people), however, I am unashamed to tell you that I cleaned both plates and savored every single bite!
I was so incredibly fortunate that there happened to be a full moon that evening, and as I left Cottage Café, I couldn't resist taking countless pictures of the beauty that Geneva held. I hope that if anything, I may inspire you to travel, hopefully to Geneva, but if not, that you just to decide to pack a suitcase and go somewhere you have never been before.  I hope that you may be able to experience the atmosphere, the feeling of being away from home in a place that is so incredibly beautiful, and to enjoy even one dish or morsel of food that is such a joy to your palate that you will never forget the experience. These all combine to create the magic that is 'travelling'.
I hope that these photos (taken the evening of my dinner and the duration of my stay) will help you to see Geneva, and the joy of traveling, through my eyes.
                            "The world is a book and whose who do not travel read only one page."
                                                                                                                                       -Saint Augustine
  Don't miss another post! Sign up for my free subscription HERE, but make sure to look for the
Feedburner confirmation email or you'll get nothing, nada, niente and zippo in your mailbox!
(I promise not to sell or share your info, ever!)
Disclosure: I was hosted by The Geneva Tourism and Conventions Foundation. As always, all thoughts and opinions are mine alone. I am disclosing this in compliance with the FTC's regulations.