On my second full day in Geneva, I met with a lovely lady named, Gaetane, who must have been the friendliest and most informative tour guide in Geneva! Together we'll show you how much you can see in just one day in Geneva. (Continued from here.)
Disclosure: I was graciously hosted by the Geneva Tourism and Conventions Foundation during my stay. All opinions are my own.
I was so happy to be able spend most of the day with Gaetane, learning so much about Geneva and a small municipality called Carouge. We started from the Manotel Hotel Royal, and I was able to use my free Geneva transport card once again, to take the tram to Carouge. We alighted just before the town we were to explore, so that we could cross the Arve River and arrive in Carouge on foot, not missing a thing.
Apparently, earlier this year, the flooding along this river was the worst in 80 years, and the water level practically doubled from what you see here.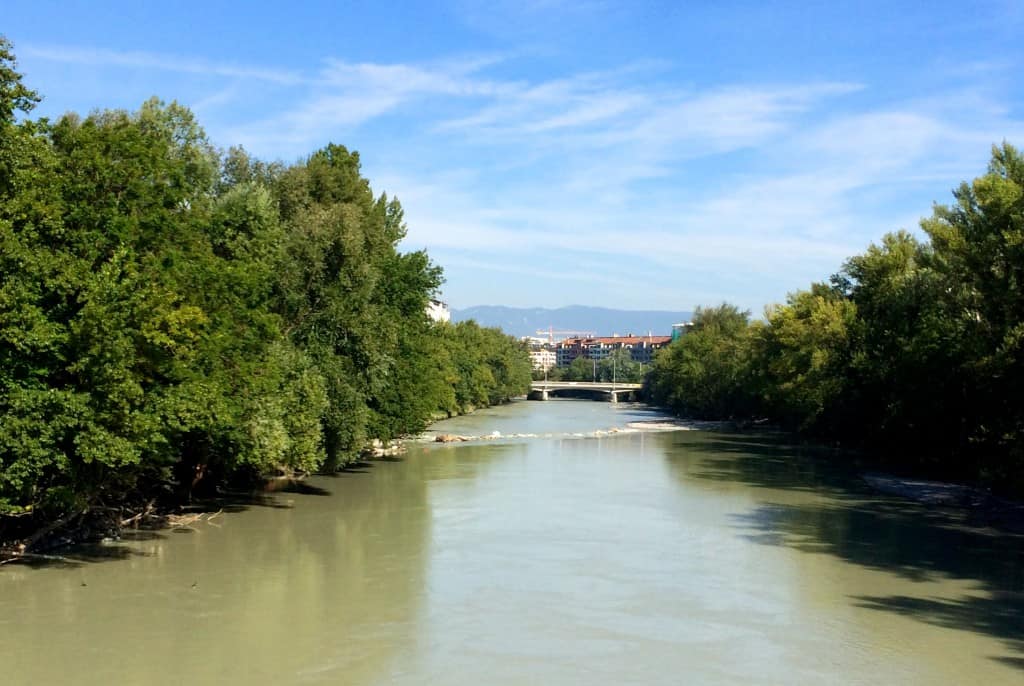 This was my first view of Carouge, and I was immediately smitten.
Gaetane explained the rich history behind the municipality of Carouge, and how it had been a separate entity from Geneva until 1816. In fact, when Geneva was under Protestant rule, people would sneak across the Arve River to enjoy themselves, drinking and dancing in Catholic Carouge; so I suppose you could say they came to "carouse in Carouge"! Most of the buildings in Carouge were designed by architects from Turin, as commissioned by the King of Sardinia at the time. As I entered the town, I definitely had the feeling that I was in Italy.
Gaetane and I walked through Carouge, stopping into chocolatiers, specialty food shops, patisseries, (an beautifully stocked) tea shop, a wonderful butcher, you name it, Carouge had it. If only I had a (large) spare suitcase, I could have really gone to town!
We continued to walk through Carouge, admiring so much beauty at every turn: artistic fountains, each one telling a story, gorgeous balconies spilling over with flowers, and hidden courtyards which are havens of privacy for residents (which is the way the entire town was designed). I just loved the atmosphere in Carouge; it was very relaxed and I actually felt as though I was somewhere familiar.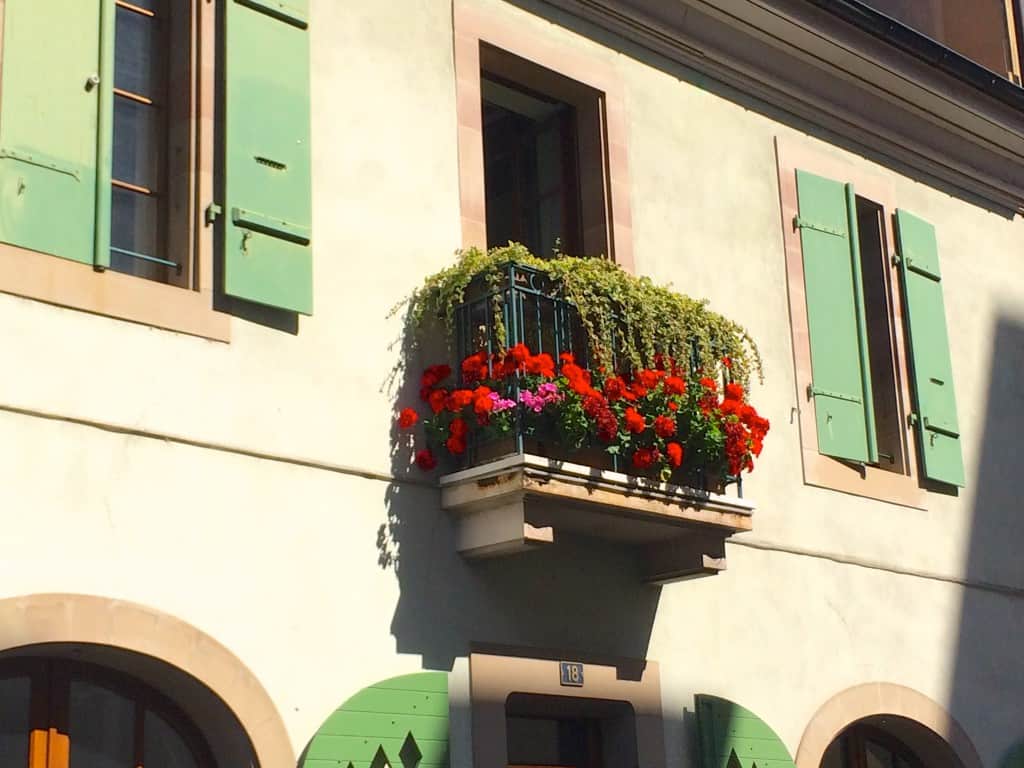 After seeing all the fresh produce at the outdoor market, Gaetane and I were sufficiently hungry–
so we made our way to a Parisian style eatery called Café du Marché .
We were seated in the small, private terrace. It was casual, a bit Bohemian, and whimsically decorated; I liked the umbrellas suspended above us!
And the food? Does the fact that I'm posting a copycat recipe from what I ate there tell you anything?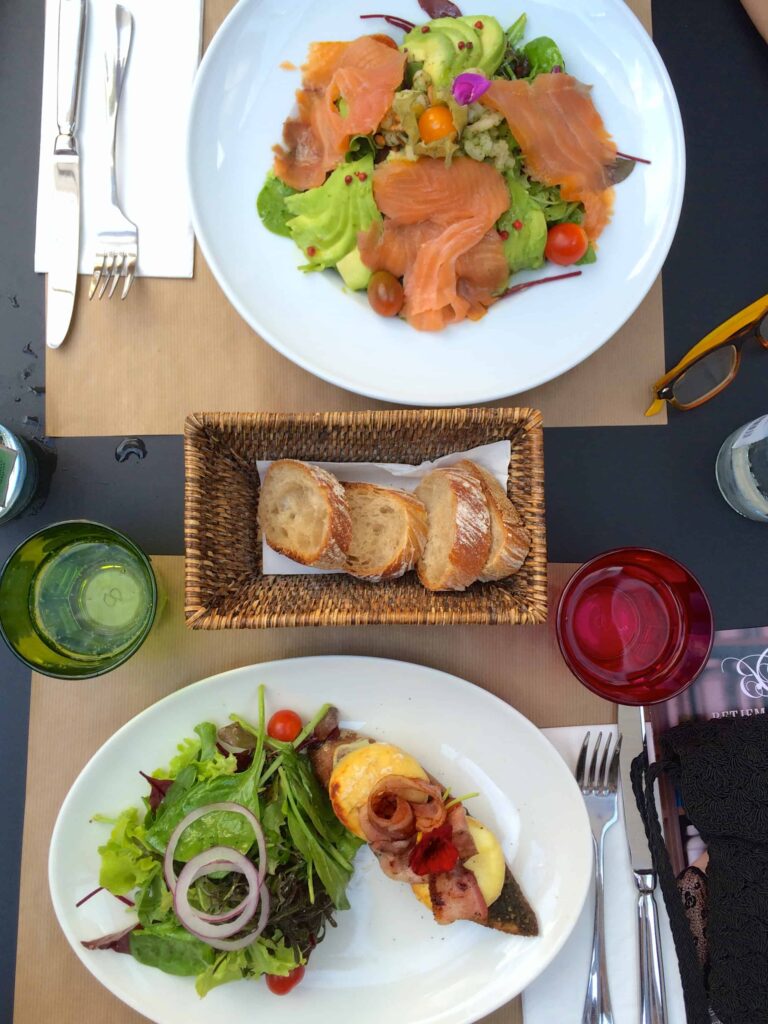 I had the bacon and goat cheese crostini, which was marvelous (recipe below).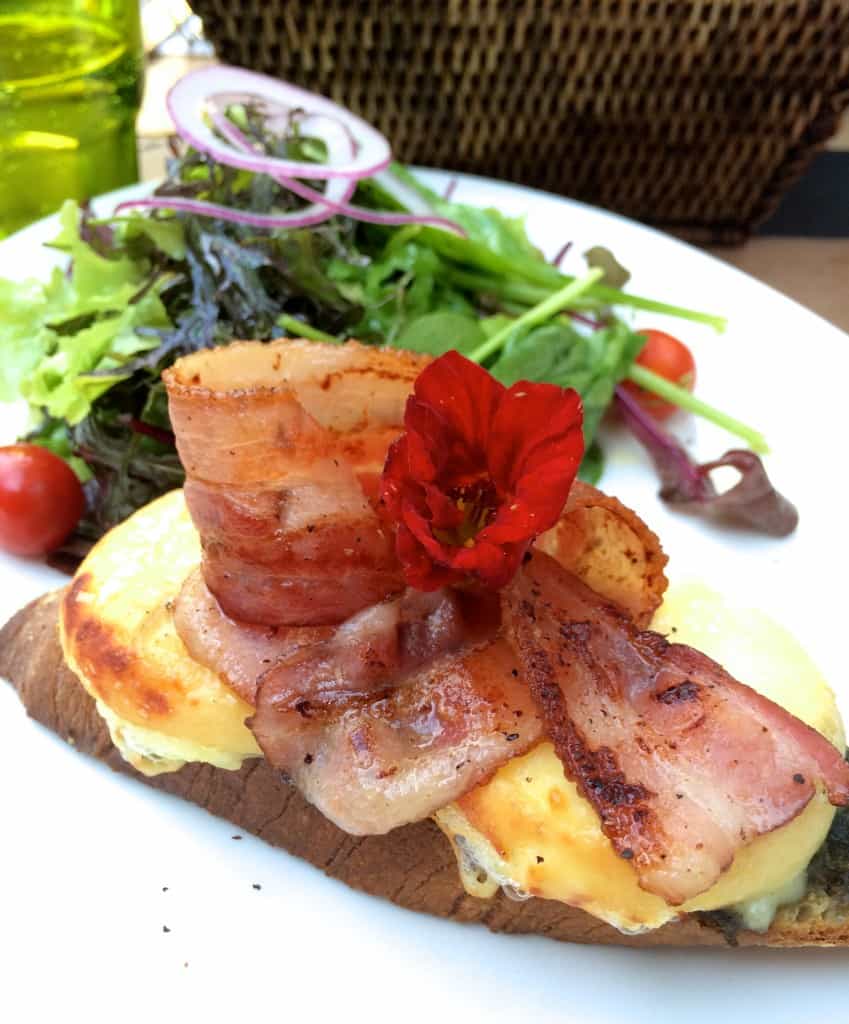 Gaetane had a smoked salmon, shrimp and avocado salad which looked top-notch!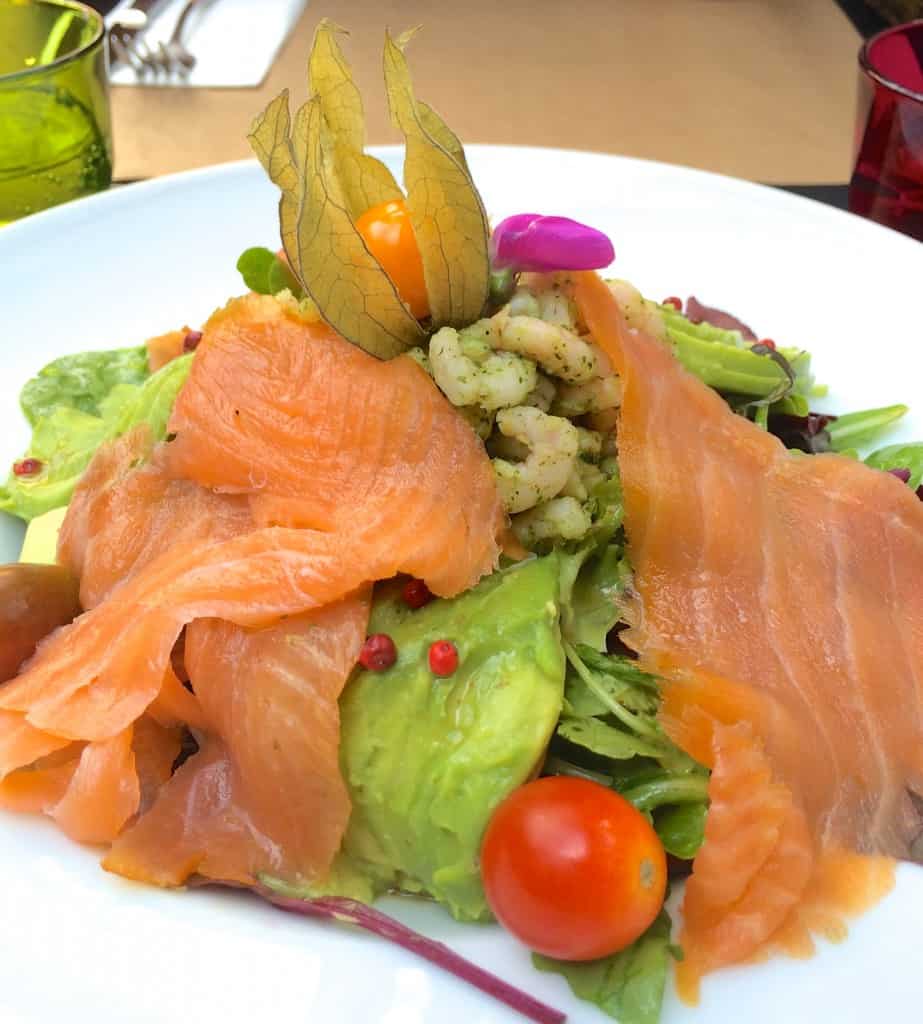 Would you believe I had fries instead of dessert? Yes, that would be a fact. Gaetane said she'd never seen anyone do this before. I'd have to agree, I've never seen anyone do this before, either. They just looked so good, I couldn't resist!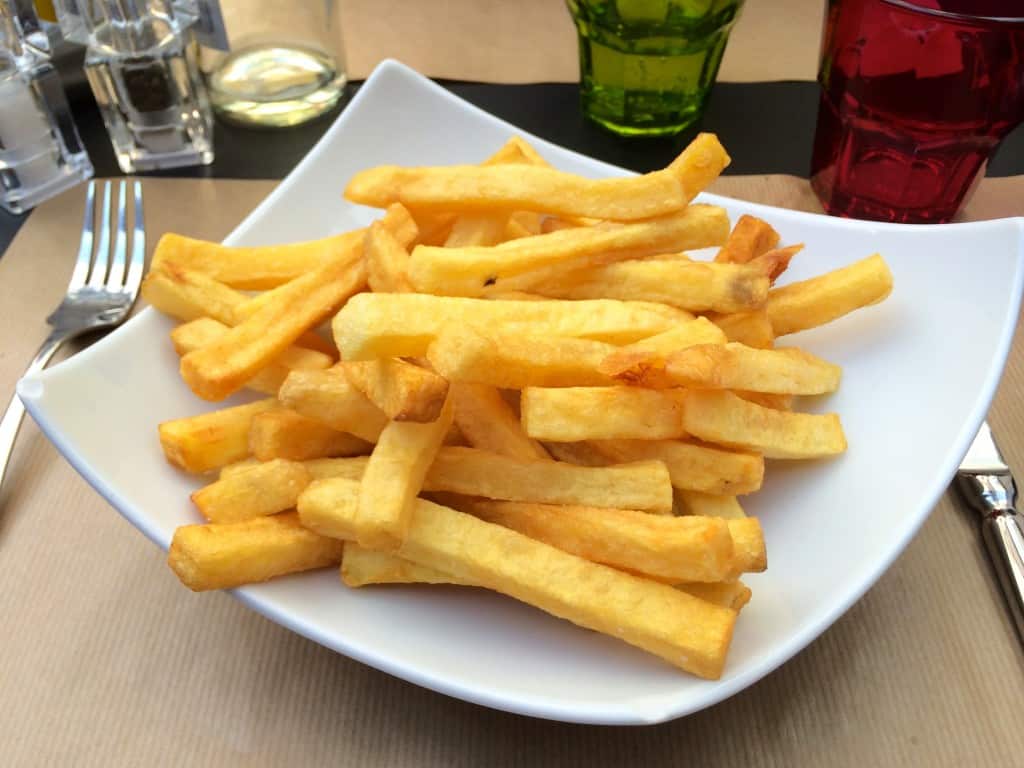 After lunch, we headed back towards Old Town Geneva on foot. Gaetane told me about the wonderful parks in Geneva as we walked through one of them. The shade was welcoming on such a hot day.
Soon, we came upon The Reformation Wall, located on the grounds of the University of Geneva within the Old Town walls. It is a monument which was built to honor those involved in the Protestant Reformation.
Our next stop was at the location of the signing of the Geneva Convention! I always love visiting significant historical places, so this is another checked off my list. In the courtyard, I noticed a brass plaque and the name, ALABAMA, caught my eye. It was written in French, so Gaetane explained that it was because the document was signed in the Alabama room of the Geneva Town Hall. Within the same courtyard was a very interesting ramp, which was designed to allow riders on horseback to enter the building!
We meandered through Old Town, until we came down the hill and back to the busier shopping streets.
Knowing my penchant for all things food, Gaetane took me to a very large department store called, GLOBUS. We went straight downstairs into the lair of deliciousness! Need I say more?

Next, we walked to the lakefront, which was close by, stopping by the English Gardens and famous Genevan landmark, the flower clock.
Our destination was the Jet d'Eau (the water jet) and I was surprised that there were no railings on the cement walkway (this is because I live in the US and am used to tags on hair dryers telling consumers that they are not to be used in the bathtub). It was refreshing to be held to my own common sense in Europe.
Gaetane and I then caught a Moette to the other side of Lake Geneva so that she could take me to the the Bains des Paquis, which apparently is the spot to sunbathe in Geneva! I put my foot in the water and was surprised at how warm it was. We took some time to rest in the shade and enjoy the brilliant spot and gorgeous views of the lake, and I even got a "selfie" of us together!
It was almost time for Gaetane to leave me for the day, but we had just enough time to pop over to the business district of Geneva to see the United Nations building, and the Broken Chair, but first you have to see this beautiful balcony I spotted along the way! You might say I was infatuated with balconies in Geneva!
I was really impressed with the tram; it looked so futuristic and was very spacious!
Within minutes we had arrived at our destination. Gaetane was so hot she couldn't resist a spritz from the fountain. I think she'd earned it many times over!
I was so excited to see the UN building (Palace of Nations) in person, however, I'd never heard of The Broken Chair before. This is a massively large sculpture using 5.5 tons of wood designed by a Swiss artist in opposition of land mines and cluster bombs.
We headed back to Hotel Royal, and said our goodbyes. I had about an hour to get ready before going to dinner across the lake at La Potiniere (which apparently means "a gossip" or in Glaswegian, "a blether")!
I arrived at La Potiniere (right next to the flower clock), just before sunset; it was a lively restaurant with lots of outdoor seating and views of Lake Geneva nearby. I ordered a glass of Swiss white wine (Empreinte Blanche) and perused the menu. I decided on the grilled fera with lemon cream (the same fish as we used in Chef Bedouet's cooking lesson), with an order of frites (yes, twice in one day)!
The fish was very good, (but it didn't top Chef Bedouet's preparation from the previous day)!
As the sun set, I admired the colors of the sky and was treated to a truly spectacular sunset.
As I had an early morning flight the next day, I took the Mouette back across the lake after taking in the view of swans and the beautiful reflection of the lights in Lake Geneva. I was heartbroken that my time in Geneva had already come to an end, but was so grateful to have seen and done as much as I had, in just two days.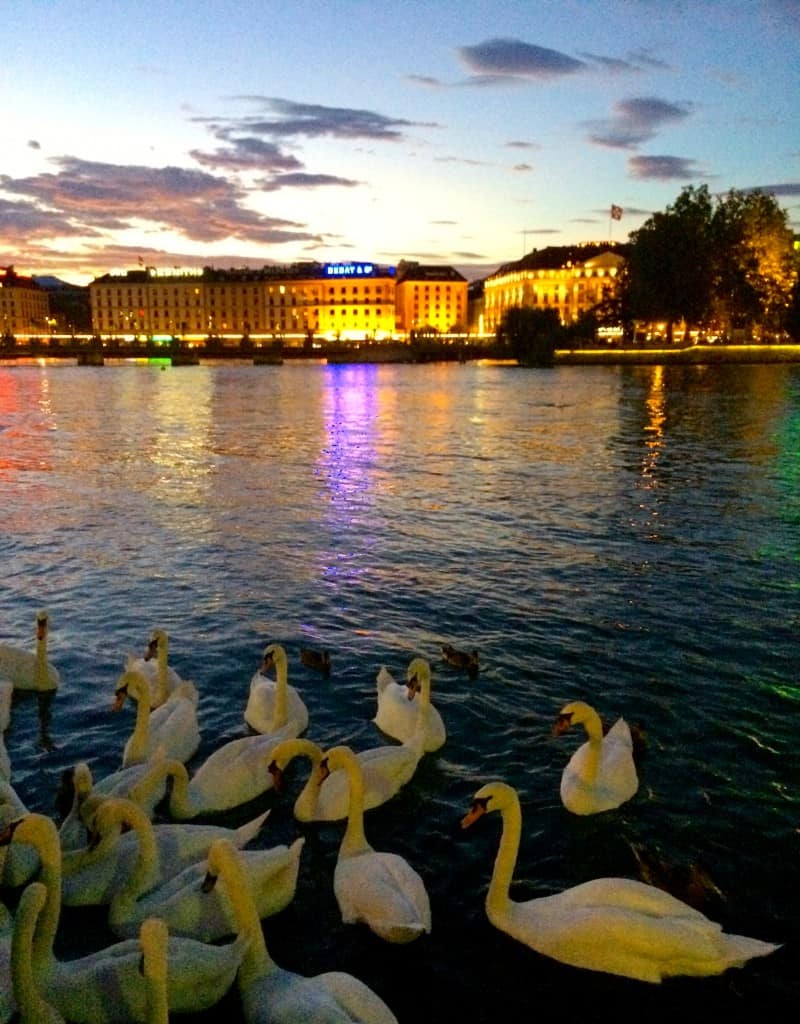 For the second night in a row, Lake Geneva was dappled in dazzling moonlight, and I knew I was one of the luckiest people on earth!
Some Tips for Visiting Geneva
Currently, the Swiss franc is almost equivalent to the US dollar, so converting prices is easy.
Try to give yourself three days minimum (I would have loved to have stayed at least one more day).
Compared to many cities, Geneva is more expensive in some ways, however, there is the free transport card which cuts down on transportation costs. Also, there are free museums, and budget conscious travellers can pick up a lovely baguette with some choice fillings and cheese from a deli, along with some chocolate (maybe even a bottle of wine) for an inexpensive picnic lunch.
Save money by buying your choice of the Geneva Pass
There are six Manotel hotels to choose from in Geneva, and prices can be quite reasonable.
Goodbye for now, Geneva! I will return!
And now for that recipe I promised–
Bacon and Cheese Crostini
inspired by Café du Marché in Carouge
serves 2
Ingredients
2 slices of crusty Ciabatta or similar bread, cut at an angle
tapenade to spread on bread slices
slices of  fresh goat cheese (I used brie; you can use any cheese that will melt, but still hold its shape)
4 slices of thick cut bacon, grilled or fried (not too crispy), so that it can be formed into shapes
(optional: edible flowers to garnish)
Serve with a light, green salad
Toast the bread on both sides, and spread with a little tapenade. Place slices of cheese on top of the tapenade. Grill until the cheese is hot and starting to melt.
Form one rasher of bacon into a rose…
and the other into a bow (like the pink breast cancer bow, more of a loop), and place on the toast (with a flower, if desired) and serve with salad. Very simple, but most elegant.
Don't miss another post! Sign up for my free subscription HERE, but make sure to look for the
Feedburner confirmation email or you'll get nothing, nada, niente and zippo in your mailbox!
(I promise not to sell or share your info, ever!)
Disclosure: I was hosted by The Geneva Tourism and Conventions Foundation. As always, all thoughts and opinions are mine alone. I am disclosing this in compliance with the FTC's regulations.