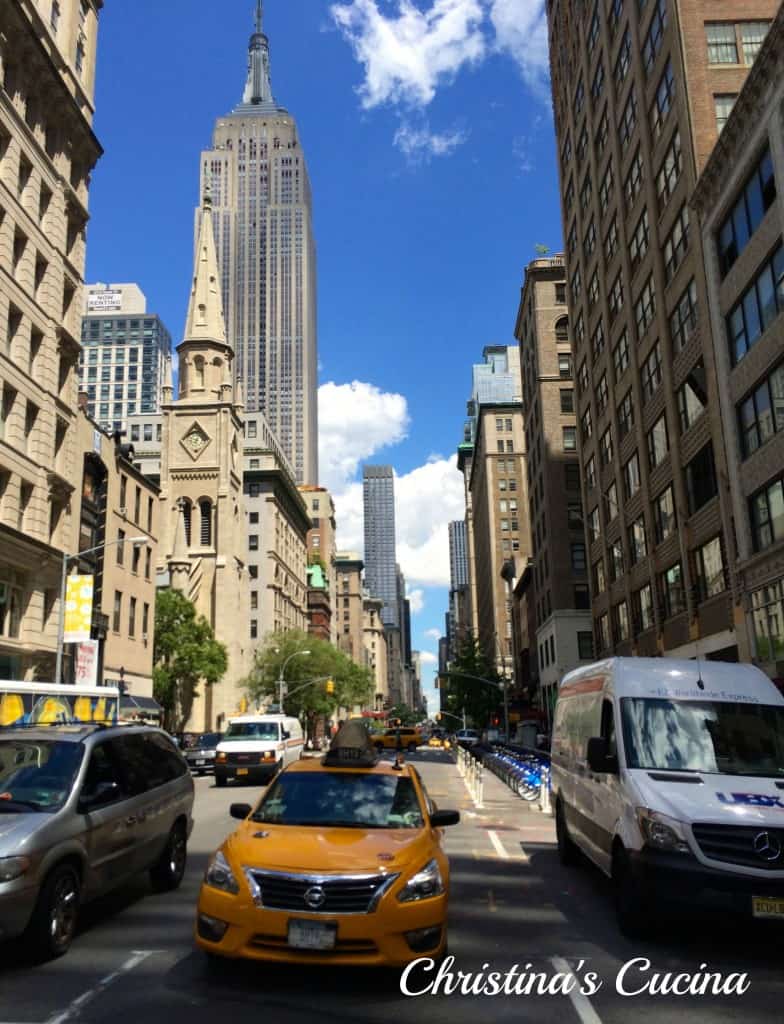 If you follow me on social media, you may already have known that I was heading to The Big Apple.
This is my first stop (more to come), and since I'm not sure how much time I'll have to be writing and how much internet access I'll have, I'd suggest also following along on a social media channel, such as Facebook, Twitter or Instagram where you'll see a few daily photos and an update or two along the way. However, since I'm currently just outside Philly (with internet service!) and I've just returned from an overnight trip to New York City, I wanted to share some highlights with you.
Disclosure: I was given two theatre tickets from Tieks, hosted by The Wellington Hotel for one night and The Stagecoach Tavern for lunch, but as you know, anything I write about has to pass CC's quality standards or you won't be reading about it at all. All reviews are my own. 
My daughter, Denisa, and I headed up to NYC by train from Philadelphia last Thursday and lucky for us, the weather was absolutely perfect. Pure blue sky and fluffy, white clouds were an amazing backdrop to the skyscrapers of the city.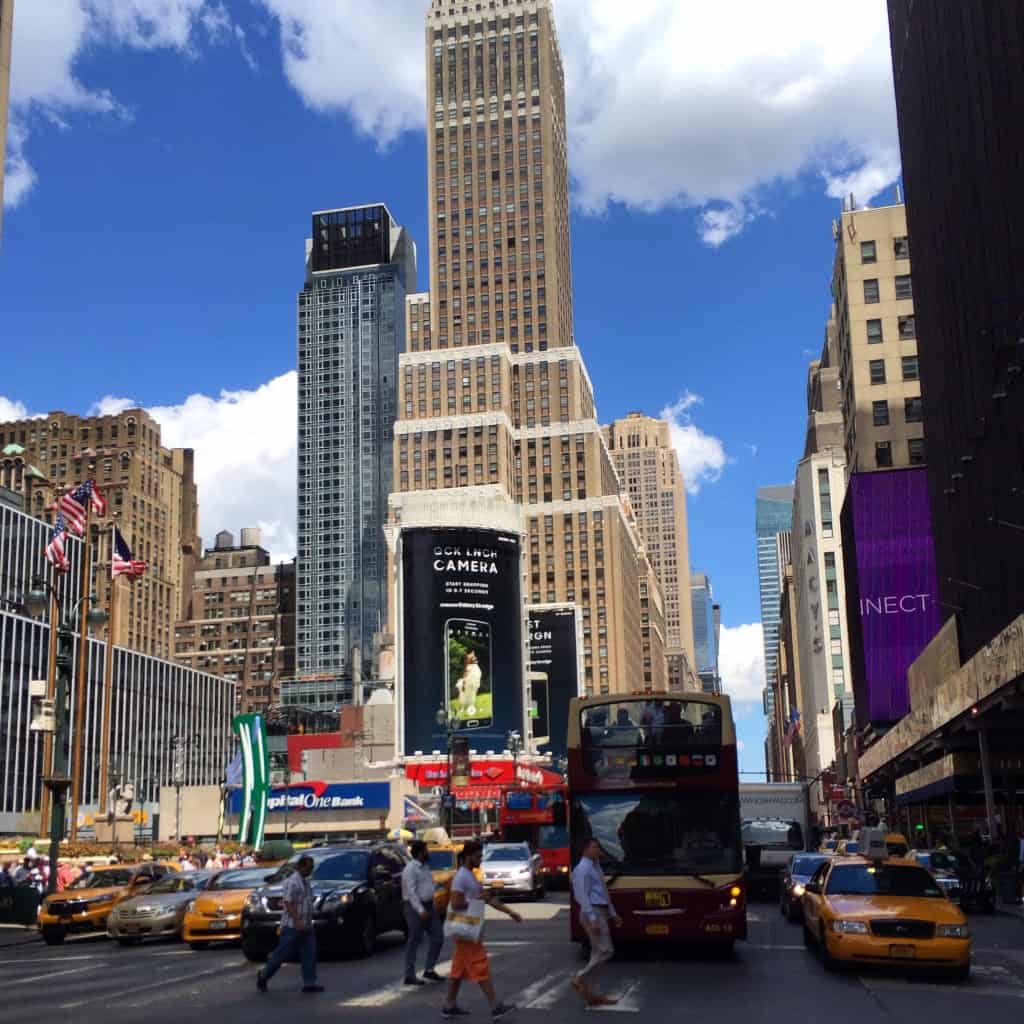 When I was planning this trip, I wanted to stay relatively near Times Square, so that we'd be able to walk to The Palace Theatre to see An American in Paris. The Wellington Hotel is situated between Times Square and Central Park, and in my opinion, is one of the best locations to stay in NYC because of its proximity to so many sights and venues (around the corner from Carnegie Hall, very close to MoMA, and The Empire State Building, Rockefeller Center, Penn Station and Grand Central Station are all within the general area).  Denisa and I walked from Penn Station (The Wellington is on 7th Avenue which is directly north of the station), enjoying the sights along the way.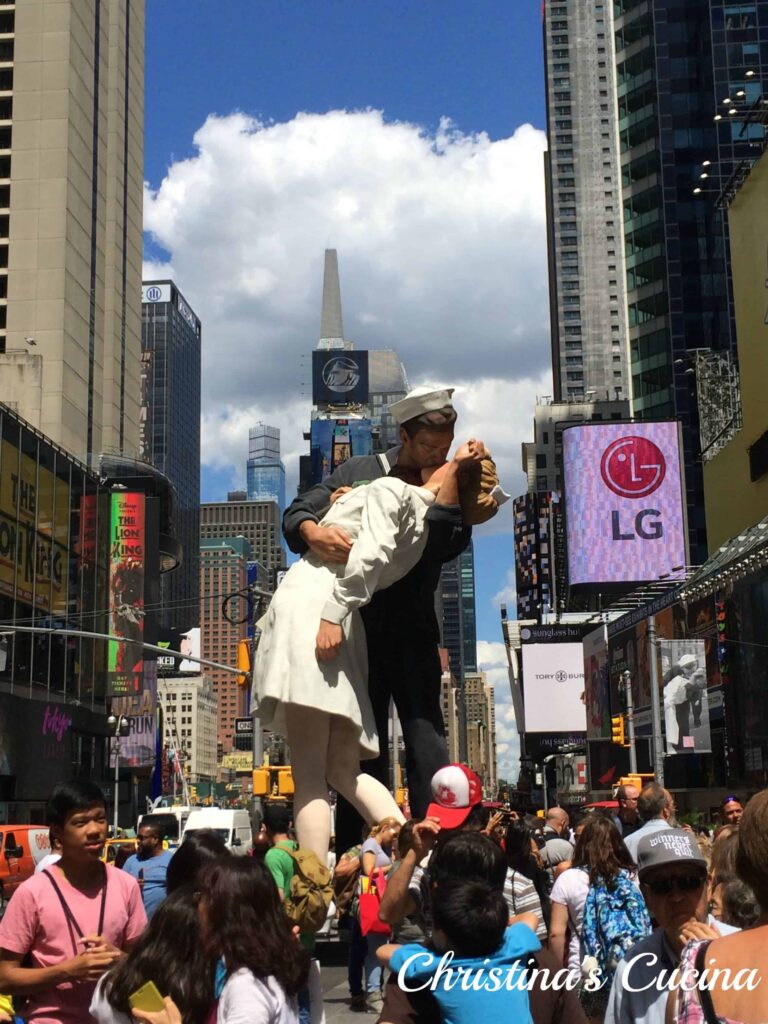 We arrived just after lunchtime and were hungry so when we spotted an Irish pub called The Stagecoach Tavern, which is just across the street from The Wellington Hotel, we thought we'd give it a try.

You know how particular I am with food in general, but when it comes to British or Irish food, I'm even more critical and I can easily give my full recommendations on the pub food. We ordered fish and chips and bangers and mash, and when the HP Sauce came out, I knew things were looking good, as you can see for yourself.

Everything was piping hot (extra points) and the fish was flaky with a light, thin batter; the bangers, although thin, tasted fabulous, especially with the delicious mashed potatoes and onion gravy. I must add, I often regret eating fried food at restaurants because I feel rather sick afterwards, however this was not the case after dining at The Stagecoach Tavern (more extra points). I was disappointed that we hadn't arrived earlier or on a weekend as the Irish breakfast had my name written all over it! If you get a chance to visit sometime, I'd recommend it.
Denisa and I then checked into The Wellington Hotel and its wonderful history and charm was immediately apparent from the exterior of the building.
As the oldest, continuously-operated hotel in New York City, The Wellington Hotel (the name has never changed) is not only in a perfect location, but offers lovely accommodations, with many of the rooms offering fantastic views of the vibrant city. Our 25th floor room had views from two vantage points: facing 7th Avenue and a view towards Times Square.
After checking in, Denisa and I decided we wanted to take a walk into Central Park (less than 5 minutes away) since we had a few hours before the play. It was great to have the park at such a close proximity!
Something else I loved about the Wellington Hotel is the fact that although they're a relatively large hotel with 700 rooms, guests are not just a number. Lucille, the Director of Sales and Marketing told me a wonderful story about a couple who had honeymooned at the hotel in 1949. They called a few years ago to say that they had wanted to come back for a visit on their anniversary, but they had taken a towel in 1949 and wanted to return it! The Wellington Hotel asked if they had their original bill (which they did) so when they came back and turned in their "abducted towel", they were charged the same price that they had paid on their honeymoon! How great it that?
TIP: Book your room on the Wellington Hotel's own website to get unlimited free wifi!
We arrived back at the Wellington and still had time to rest before having to change and get ready to head down to the Palace Theatre in Times Square (less than a 10 minute walk).
You may recall, two tickets to An American in Paris had arrived in a surprise package I received from Tieks earlier this year and we couldn't have been more excited! It was our first time seeing a show in New York and it was nothing less than spectacular. The performance was riveting and beautiful, and although my daughter and I had flown in on a red-eye the night before, not slept all day and then went to the play, neither one of us fell asleep or even got droopy eyelids–it was that good!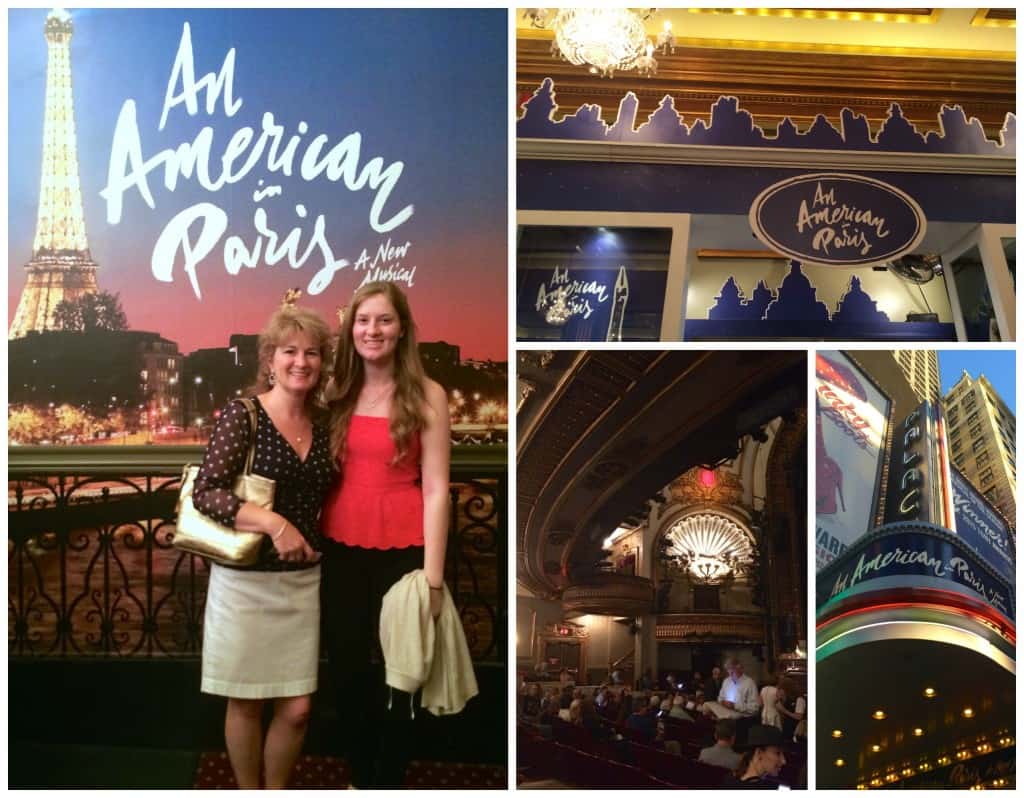 The next day, we walked to Eataly (more below) via 5th Avenue, stopping by Times Square, The New York Public Library (home of the original Winnie the Pooh and friends!) and The Coty Building which has amazing Lalique windows which you'd miss if you didn't know they were in the building, but totally worth checking out!
In order to write about Eataly, I'd honestly have to do another post. Suffice it to say, I was completely overwhelmed and flabbergasted by what was held within its walls. It was like Italy packed up a suitcase and traveled to NYC! I honestly could have spent an entire day here!
We kept walking south to Greenwich Village and I grabbed a piece of pizza at a place that was rated "NYC's best pizza", and although I thought it was okay, I completely and utterly disagreed that it could possibly be NYC's best. It was not impressive in the least (which is why I'm not promoting it on my site). My daughter had a salad from Murray's Cheese because she didn't feel like pizza, and we then both shared a piece of NY Cheesecake at Rocco's Pasticceria. My verdict on the cheesecake: A+ on the actual cheesecake as it was super creamy and delicious, but the strawberry topping was not appetizing as the gelatinous concoction was very thick and stiff (I prefer a glaze). Next time, I'll order the cheesecake naked.
It was getting hotter as the day went on, so instead of walking back to the Wellington, we took the subway to Central Park for one last loop before heading to back to the hotel to pick up our bags and catch our train at Penn Station for Philadelphia. There's truly so much you can do in New York City in a short amount of time.
I'll be leaving Philadelphia on Thursday evening after I move my daughter into her dorm,
but would love for you to guess where I'll be flying to!
Here's a photo hint~
Leave your guesses below and remember to follow me on social media! Thanks so much!
Don't miss another post! Sign up for my free subscription HERE, but make sure to look for the
Feedburner confirmation email or you'll get nothing, nada, niente and zippo in your mailbox!
(I promise not to sell or share your info, ever!)
Disclosure: I received the theatre tickets, a one night stay at The Wellington Hotel and lunch at The Stagecoach Tavern without any stipulations of a positive review. As always, all reviews are my own and
I am disclosing this in compliance with FTC regulations.