It's truly hard to believe that I have been using my Miele Futura Diamond dishwasher for a year, as of today. (Scroll down for the recipe for Ricotta and Spinach Stuffed Pasta Shells.)
UPDATE: over two years later and not one problem, ever! I'm still in love! (Sept. 3, 2106)
I have used it almost every single day that I've been at home, and often times it has been run twice a day. As most of you know, I cook and bake more than most avid home cooks and bakers, and my parents stay with me for about four months out of the year, so there are often five adults in my home.
Disclosure: Last year, Miele agreed to provide me with a dishwasher so that I could write about it and inform my readers about my experience as a Miele owner. As always, my opinions are solely my own.*
So what has my experience been like this past year? I can honestly say, without any reservation, that I'm still on honeymoon with this amazing machine. I am in dishwasher heaven (I know all about dishwasher hell), and cannot tell you how much I appreciate having a reliable dishwasher that is still doing such a fabulous job, no matter what I put in it. One of my favorite things has been this third rack; I just love it!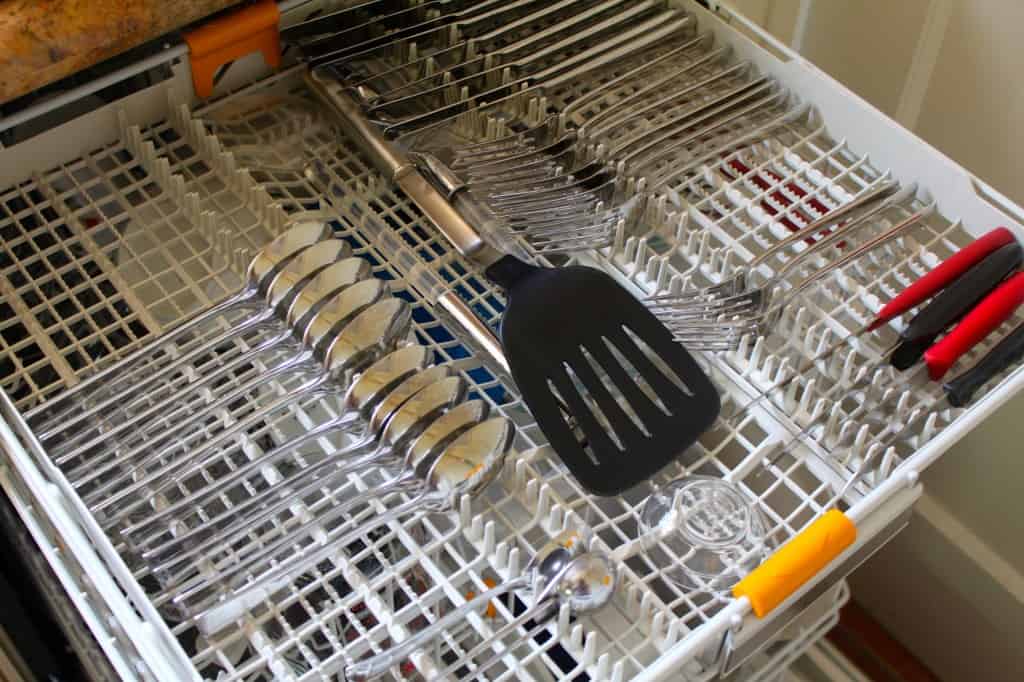 These are a few photos of what my previous dishwasher was doing to my dishes. I apologize for the really disgusting shots, but some of those dishwasher photos show what had built up within two days after I had cleaned them completely. See what I mean about dishwasher hell?
You can imagine why I was almost in tears after 11 years of dealing with a dysfunctional dishwasher, and this is what I was getting in the last year of its life. I cannot begin to tell you how upset I was, but to go from having such horrible results, to having these results (photos below)–well, you can just imagine my elation. There is no way for me to prove to you that Miele's dishwasher actually washed these without me pre-scrubbing or soaking, but it did.  I completely understand that these before and after shots just seem to good to be true, as I am still amazed to take dishes out of the dishwasher and see how sparkling clean they are! I do not take this machine for granted at all and am so happy every time that I use it.
Another major factor about having a Miele dishwasher, which has been an incredible bonus, is the water that we have saved and are continuing to save. (Added July 8, 15: David Lebovitz shared this today.) As you have probably heard, California is currently in the worst drought since records began being kept; we are on restrictions and our water rates have jumped. It's truly a terrible situation. Just to show you how bad it is, this is a before and after shot of my lawn. Pretty sad, isn't it? And the bottom photo is with our sprinklers still watering our "lawn"!
Anyone that needs a to buy a dishwasher and is affected by this horrific drought, or just wants to save money should really consider this brand. Miele eliminates the need to pre-rinse your dishes, saving an estimated 3500 gallons of water a year! I cannot recommend it enough. Not to mention the fact that I'm always being asked if the dishwasher is running, because no one can hear it–it's a good problem to have! Miele has recently added new models, and they have so many to choose from, in fact, you can have a look. My dishwasher is a Futura Diamond, in case you want to know the model that I'm so in love with!
What else have I discovered over this past year, besides the fact that this machine seems too good to be true? Honestly, there hasn't been one problem, and the only time I've pulled out a dish that wasn't washed properly, has been because someone didn't load the item correctly (human error)!
I have had the dishwasher beep at me during the beginning of the wash, and discovered that she's telling me what the problem is! I wouldn't know about a spray arm being blocked with my Bosch dishwasher until the cycle was complete and an entire rack of dishes would need to be re-washed!
My Miele dishwasher also tells me whenever I need to add rinse aid; it's like having a dish-washing assistant! My mother no longer complains about dirty dishes coming out of the dishwasher or that I should call the manufacturer to tell them about all the problems with my old machine, which is a huge relief. Now I understand why Miele was willing to invest in giving me a dishwasher to review, because they stand behind their name of quality, (unlike what I've experienced with other companies). I think it speaks volumes that a company is willing to have their product undergo the microscope publicly, and without any form of insurance (i.e. requiring a positive review).
The stress of knowing I'd have to hand wash and re-wash loads of dishes (and wasting water) is now gone, and I can basically make and bake whatever I want, like these Ricotta and Spinach Stuffed Shells with Homemade Pasta Sauce.

I love this basic vegetarian filling as it can be stuffed into cannelloni tubes or to fill ravioli, as well. I sometimes add shredded mozzarella cheese to the filling, too.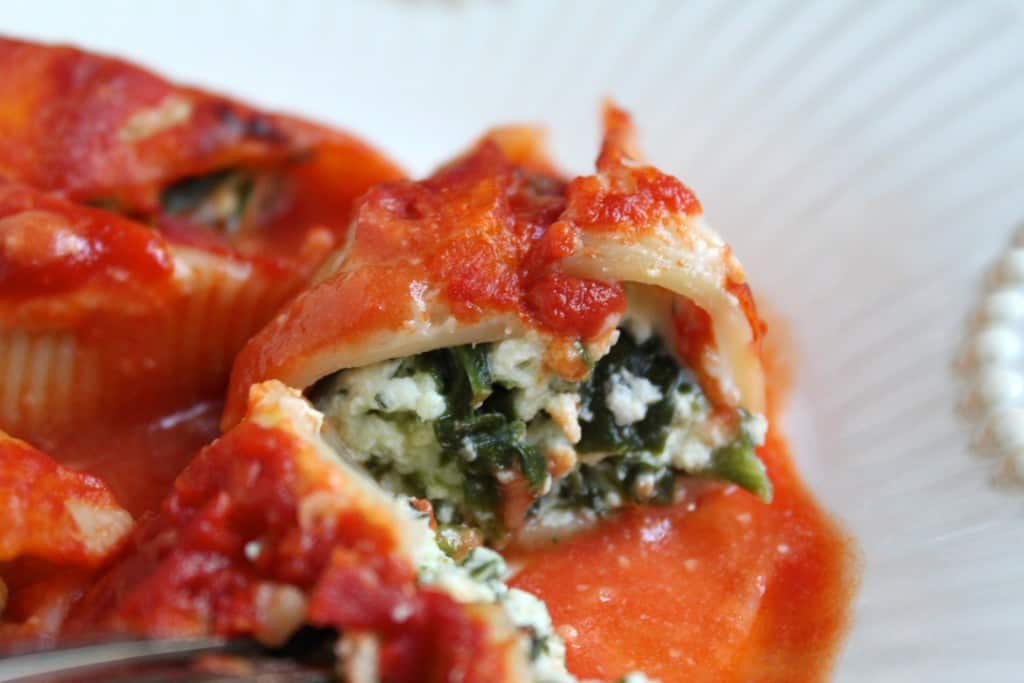 Ricotta and Spinach Stuffed Pasta Shells with Homemade Tomato Sauce
serves 6 to 8
Ingredients
HOMEMADE TOMATO SAUCE
4 tbsp extra virgin olive oil (like De Cecco or Lucini)
4 or 5 cloves fresh garlic (not in a jar, dried, powdered, or frozen) preferably grown in USA
small bunch of fresh Italian parsley, finely chopped (my family likes to use parsley in sugo)
1 (28-32 oz) carton/jar of chopped tomatoes or puree (like Mutti or Bionaturae) ultimately, fresh Roma tomatoes are best if you have them
about 1 1/2 level tsp Kosher salt
3 or 4 large leaves of fresh basil
FILLING
2 cups (16 oz) ricotta (if you live in the LA area, I love Grande Ricotta)
12 oz (3/4 bag) frozen chopped, organic spinach (or 2 bunches of fresh spinach, washed and chopped)
1 egg
(optional: 1/2 cup (2 oz) shredded mozzarella cheese)
1/2 tsp sea or Kosher salt
freshly ground black pepper, to taste
PASTA
12 oz box of jumbo pasta shells (or cannelloni tubes)
salt to cook the shells
BESCIAMELLA (WHITE) SAUCE
1/2 oz (1/8 stick) butter
1 oz (a little less than 1/4 cup) all purpose flour
12 oz (1 1/2cups) milk, whole or 2 %
1/4 tsp sea or Kosher salt (to taste, at the end)
dash of nutmeg
dash of white pepper
Freshly grated Parmigiano Reggiano (Parmesan) or Pecorino Romano to sprinkle on shells
DIRECTIONS
HOMEMADE TOMATO SAUCE
Make as this recipe, except use a deep pot and cook the tomatoes slower and simmer for about 40 minutes.
FILLING
Begin by steaming the spinach in a closed pot with a little water, for about 5 minutes. Drain and cool, then squeeze the remaining liquid from the spinach and place in a large bowl. Add the ricotta, egg, salt and pepper and mix well.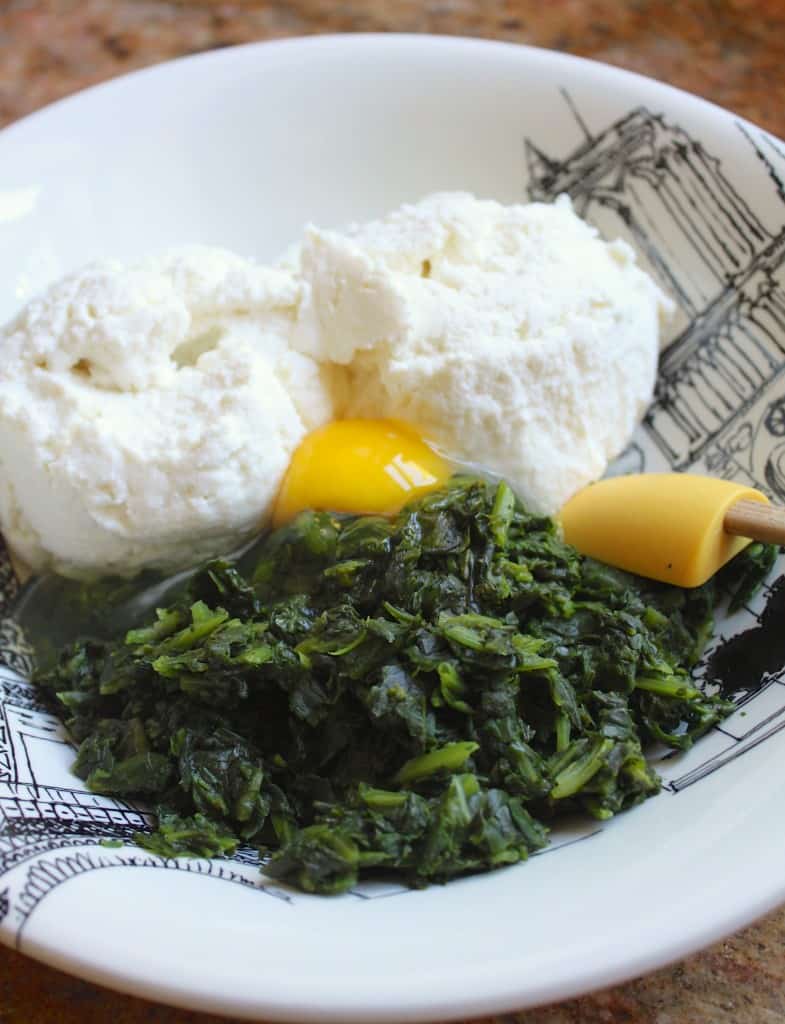 BESCIAMELLA (WHITE) SAUCE
Melt the butter in a medium sized pan over medium heat, then add the flour and stir well. Continue to cook while stirring for about 3 to 4 minutes, but do not let it brown. (Cooking the flour well is important because the sauce will have a "raw-flour" taste if it isn't cooked long enough.)
Have the milk close by in a jug that is easy to pour from, and add a little drop of milk. The milk should sizzle and steam immediately, if it doesn't, turn up the heat a little. Once the milk does sizzle, begin adding a little at a time, and stirring quickly to keep the sauce smooth.
The secret to not having lumps in white sauce is to gradually increase the amount of milk you add each time; if you add too much at once, especially early on, chances are you will end up with lumpy sauce (which is completely reparable with an immersion blender)!
Start with about 2 tablespoons of milk, then 2 more, then a little more each time. Once the sauce begins to form, you can add more milk each time. Just make sure all the milk has been absorbed after each addition, before adding more.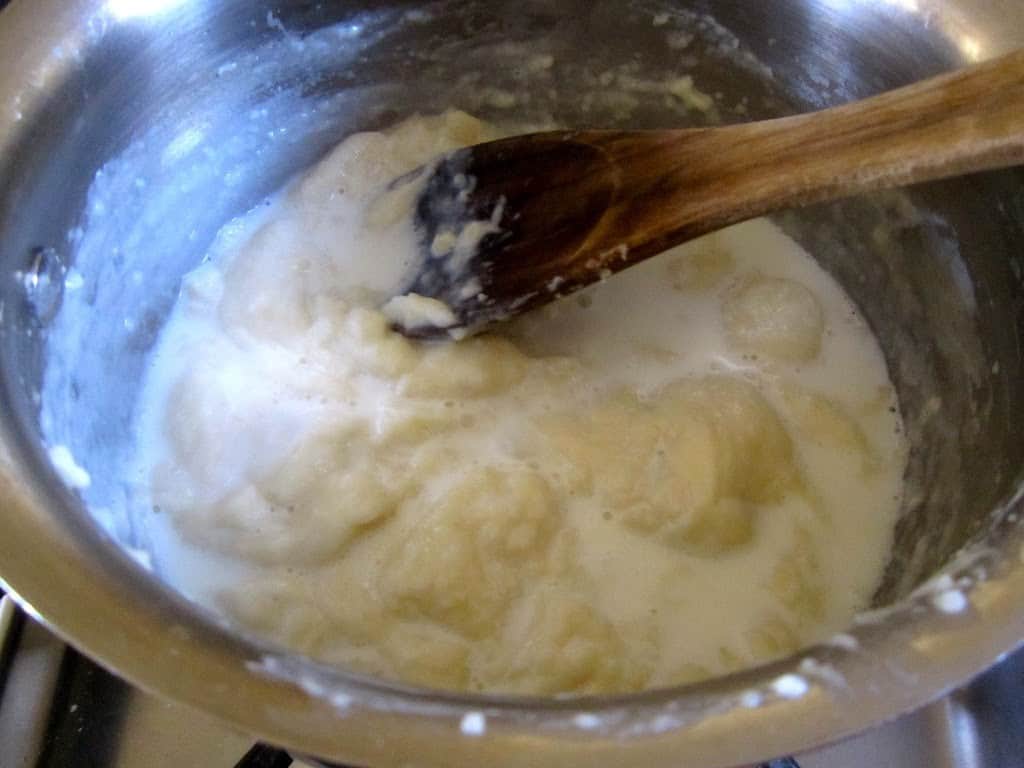 When the sauce is finished, add salt, nutmeg and white pepper to taste, and remove from heat and keep a lid on the pot.
PASTA
Cook the pasta shells partially; I undercook them so that if you bite into one it should be about half-way cooked. Reserve about 2 cups of the pasta water, then drain most of the remaining water and immediately add cold water to cover the shells. This is to stop them continuing to cook.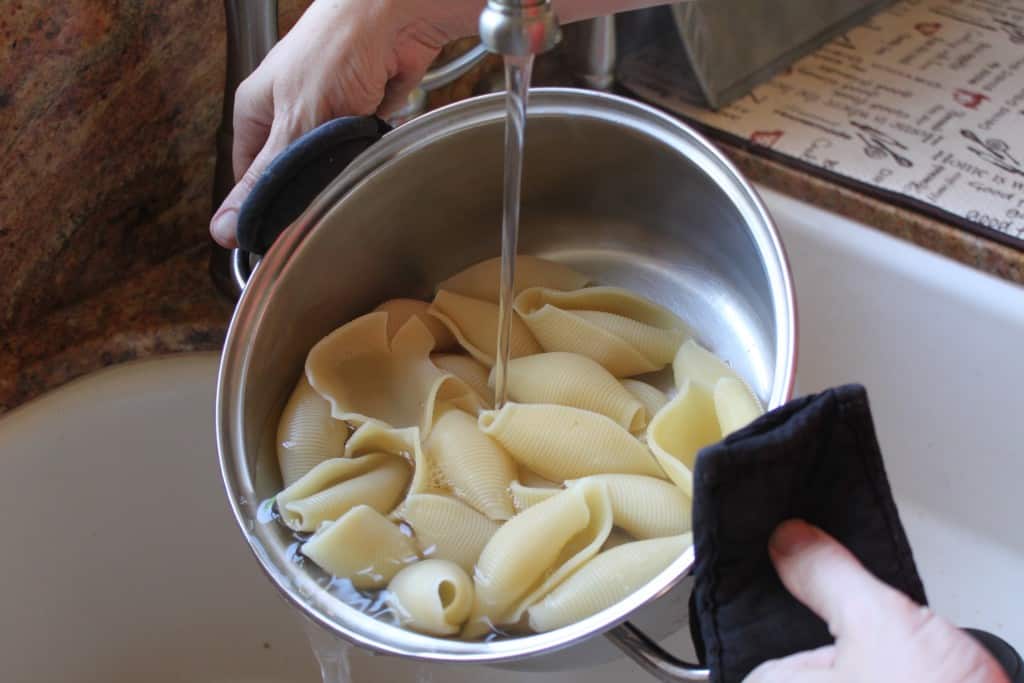 Put a little sauce in the bottom of a large, rectangular baking tray. Now you are ready to fill the shells. Using a spoon, hold a shell and fill it with some of the ricotta and spinach filling.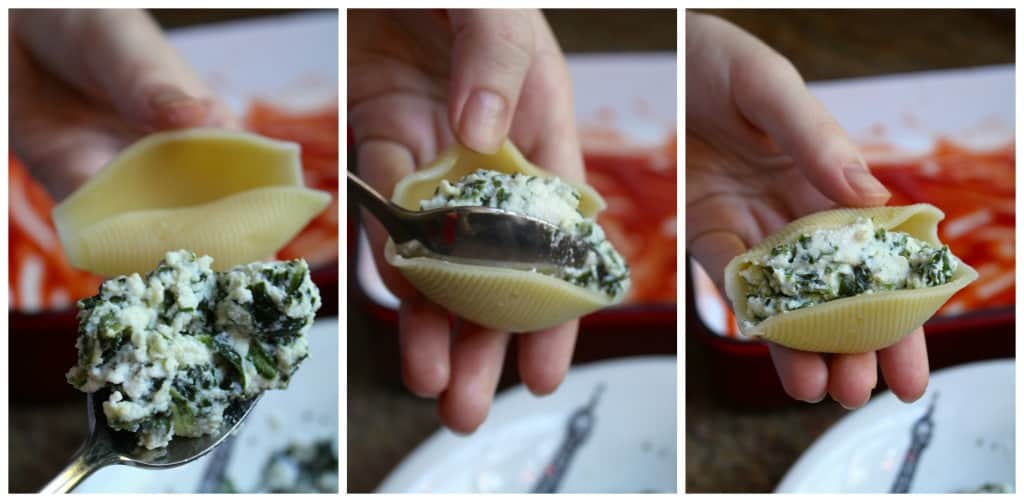 Place the shell in the tray and continue with the rest of the shells and filling until they are all used. You may need another smaller dish if they don't all fit in the large tray.  At this point, preheat the oven to 375°F (190°C).

Heat the besciamella sauce, if it has become too stiff, then gradually pour over the tray(s) of stuffed shells. Don't flood the tray with white sauce, you can see how much I poured over the shells in this photo.
Now, pour the sauce over the shells, but again, don't overload them.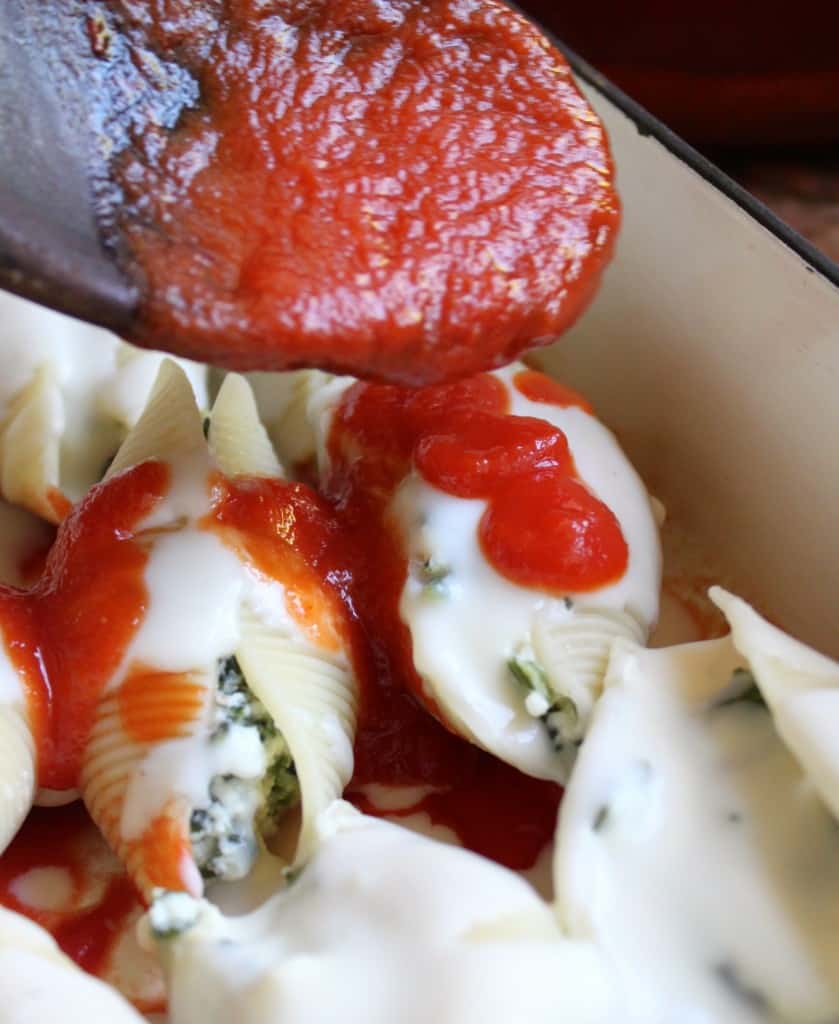 Finally, pour about a cup or so of the reserved pasta water in between the shells, so that they will continue to cook in the oven.
Sprinkle with some freshly grated Parmigiano Reggiano, or Pecorino Romano cheese, then cover the tray with aluminum foil. Put into the preheated oven for about 25 minutes, then remove the foil and check to make sure that the shells aren't too dry (add more pasta water if it looks this way). Continue to bake for another 10 minutes or so, uncovered, then remove from the oven and replace the foil for about 10 minutes so that the shells absorb more of the liquid. This will also help them to hold together, when being cut.
Serve the Ricotta and Spinach Stuffed Pasta Shells while still hot.
I love being able to think more about what I'm cooking and baking, than cleaning up the mess of dishes, pots and pans afterwards. Thank you, Miele!
Don't forget that Miele dishwashers last about twice as long as their competitors', so please keep this in mind when you check prices. If you have any questions, please don't hesitate to ask me in the comments below, and you'll also find my other posts about Miele below. You can also go directly to Miele USA.
Don't miss another post! Sign up for my free subscription HERE, but make sure to look for the
Feedburner confirmation email or you'll get nothing, nada, niente and zippo in your mailbox!
(I promise not to sell or share your info, ever!)
*Miele agreed to provide me with a dishwasher in exchange for my review and posts on my site. All thoughts and opinions are mine alone, and as always, I only recommend quality products and services that I truly believe in and would purchase and use myself. There have been no conditions stating that the reviews must be positive; I am disclosing this in compliance with the FTC's regulations.