Two years ago, my mother was with me at my local Costco and we were waiting in line at the return desk, watching people push their carts out after finishing their shopping.
Someone walked past with a kumquat tree in their cart and my mother gasped, and I must admit, it was a lovely little tree. Then another person went by with a kumquat tree, and I could tell my mother was going to lose it. You see, my mother doesn't ooh and aah over shoes, or jewelry or fancy cars; she loses her cool over babies, and baby animals, and–plants! So when someone pushed the third kumquat tree past us within a matter of about three minutes, I knew it was a sign. Yep, while we were shopping and went past the fruit trees, we put a kumquat tree in our cart, too. The only thing was that my mother lives in Michigan, so I was the one getting the tree, having no clue where I'd even put it (good thing it was a small tree for patio growing).
That little tree was so prolific its first year, it was very surprising, and it had even more this year, so Mum and I decided to have a go at making a kumquat version of Limoncello. I had written down a recipe Zia Iolanda had given me when I was about 19, and I also adapted part of my Zia Francesca's Limoncello recipe that I use and made my own recipe for this concoction. It turned out really good, but fair warning, it's very strong–like a good Limoncello.
Kumquat Liqueur
makes about one bottle (750ml)
Ingredients
about 2 cups of kumquats
1/2 liter (500 ml) of alcohol, 45 proof, like Everclear (or unflavored vodka, but I don't recommend it)
1 cup (250 g) sugar
10 oz water
Peel the kumquats, and place the rind in a large glass jar or container then cover with the alcohol.  Seal with a lid leave in a cool, dark place for 10 days.
At the end of 10 days, strain the alcohol and discard the rinds.
Put the sugar and 10 ounces of water into a pot over medium heat, and stir to melt the sugar. Bring to a boil and simmer for 3 minutes, then remove from heat and cool completely. When cool, mix the sugar syrup with the alcohol and strain again, this time using a cheesecloth or even some paper towel inside the tea strainer (like I used in the photo above), then pour into small bottles or one larger bottle.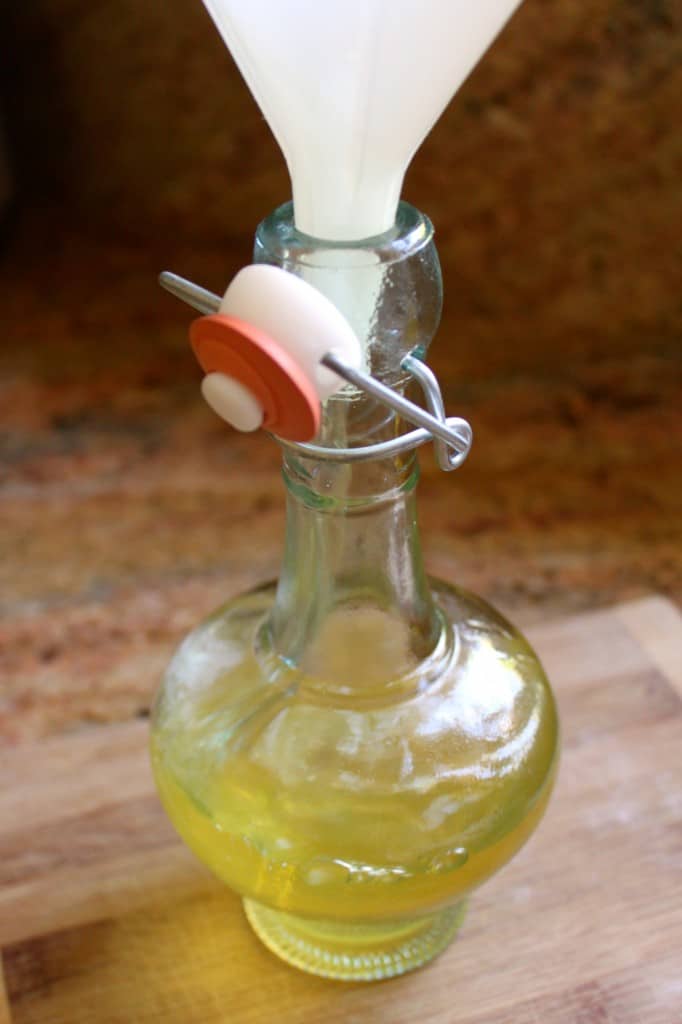 Keep the Kumquat liqueur in the freezer and enjoy as is, or even mix it with some milk for a creamy, and less potent version.
Don't miss another post! Sign up for my free subscription HERE, but make sure to look for the
Feedburner confirmation email or you'll get nothing, nada, niente and zippo in your mailbox!
(I promise not to sell or share your info, ever!)