Back in March I showed you how to make your own mincemeat so you would be able to make your own, truly homemade Mince Pies (Mincemeat Pies) in December. Somehow, Mince Pies aren't a big thing in the US, as they are in the UK and Australia, but like anything else, if you taste a really good mince pie, you'll be hooked. This version is made with Grand Marnier and is doesn't have any candied peel, which are two good things in my book.
Mincemeat used to have meat as one of the ingredients (therefore the name), however now, the most extreme recipe will use a little lard, which I did in mine (however, butter alone may be used). Although it's too late to make mincemeat for this month as it needs to be pre made months ahead of time, you can always shoot for next year and put this recipe on your calendar for this coming February or March.
However, it's now December–so let's get to the Mince Pie making!
Mince Pies (Mincemeat Pies)
Ingredients
mincemeat (I made a batch of homemade mincemeat last March)
For the pastry~
2 cups plus 2 tbsp (300 g)  flour
5 oz (1 1/4 sticks) (150 g) good quality, unsalted butter (like Kerrygold) (or 50% butter/50% lard)
3/4 tsp of sea salt or Kosher salt (omit if using salted butter)
1 tbsp sugar
ice water
Preheat oven to 375 F (190 C)
You can follow the directions for this pie pastry tutorial, cut the butter into the flour with two knives or a pastry cutter, then add the sugar and enough ice water, just so the pastry comes together without falling apart. If you add too much water, the dough will be tough. If you are  a more accomplished cook, you could add an egg yolk instead of the water, which yields an even tastier pastry.
Once you have a nice pastry dough, roll it out to about 1/4″ and cut into rounds to place into cupcake tins or small tartlet tins.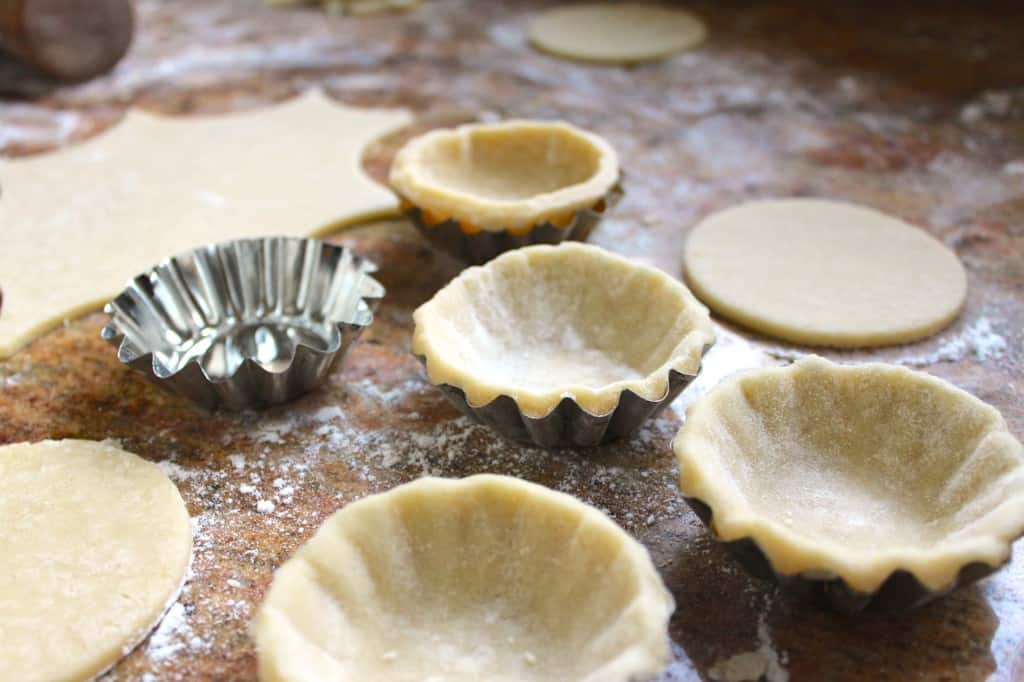 Next, fill the pastry cases with some mincemeat and top with a star or cover entirely with another piece of pastry (make a hole in the top).
Place on a baking tray into preheated oven and bake for about 15 to 18 minutes until a golden brown color. Sprinkle with a little sugar, immediately after being removed from the oven. Store in an airtight tin.
These are perfect for hostess gifts and many other holiday occasions! Just make sure there's enough for you to keep a stash of mince pies, too!