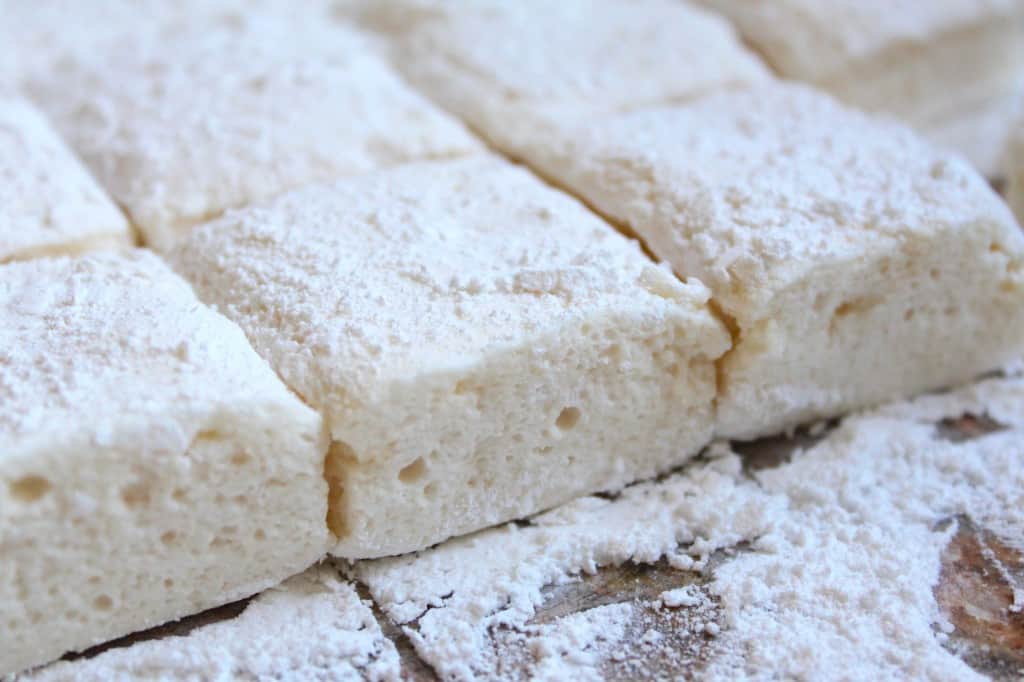 There are some things that I just think I have to buy, because there's no way I could make them in my kitchen.
For example, marshmallows…who would think that you could replicate that pillowy-soft goodness at home? The error in that statement is not that one cannot replicate them at home, but there is truly no "goodness" in store-bought marshmallows.
Quite a few years ago, I gave a presentation about making good food choices, and label-reading to my daughter's 5th grade classroom, and brought a bag of marshmallows as an example of the sort of ingredients companies put in food, which we in turn, blindly put into our bodies. Let's take a look at the ingredients, and in case you don't know, ingredients are always listed from the greatest to the least amount:
corn syrup (I do not buy anything which contains corn syrup, read how it's made and you'll see why)
sugar
dextrose (with corn syrup and sugar, Kraft still needs to add dextrose?)
modified corn starch (as in genetically modified)
water
gelatin
tetrasodium pyrophosphate (huh?)
natural and artificial flavor (no thank you)
artificial color (includes BLUE 1) (ditto)
Now, let me add that the label states that there is less than 2% of the last three ingredients, but I don't care if there's less than .002% of tetrasodium pyrophosphate in marshmallows because it's a chemical, not food!
If you go to the US Department of Health and Human Services, and click on Specialized Information Services, you will find that tetrasodium pyrophosphate is described in these words, "This chemical is used as a cleaning compound; oil well drilling; water treatment, cheese emulsification; as a general sequestering agent, to remove rust stains; as an ingredient of one fluid ink eradicators, in electrodeposition of metals. It is used in textile dyeing; scouring of wool; buffer; food additive; detergent builder; water softener and dispersant." (I could go on about the health issues and studies, but I'll let you click on the link above and read about it yourself.)
My point is this, are we not already putting enough junk in our bodies when we eat  packaged/processed food, that we actually need to put even more chemicals such as tetrasodium pyrophosphate into our bodies? It seems that I am constantly hearing that a friend or relative, neighbor or colleague has been diagnosed with cancer, and I'm guessing it's the same for you. No one truly knows why one person gets cancer and another doesn't, however, I'm trying my best to reduce the likelihood that my family and I are in that former group by eating foods without added chemicals, preservatives and artificial ingredients.
So what happened with that bag of marshmallows in the 5th grade classroom? Once I'd explained to the students what the marshmallows were actually made from, the students suggested we throw them away instead of eating them! I asked who would like to do the honors, and almost every hand went up exuberantly. After one student joyfully slam dunked the bag of marshmallows into the garbage can, the entire class cheered. Mission accomplished.
I tell you this because I know many of you will ask, "Why go to the trouble of making homemade marshmallows when you can buy them?" I've just answered your question. And truth be told, it truly wasn't a lot of trouble, if anything, they were actually fun to make.
NOTE: In good conscience, I want to highlight that this recipe contains raw egg whites, so make sure to only use fresh, free-range, good quality, organic eggs. I would avoid using this recipe, otherwise. I cannot be held responsible for anyone's illness from making this recipe, as there is always a risk of Salmonella when using raw eggs.
Homemade Marshmallows (without corn syrup)
Ingredients
4 ounces water
2 tbsp gelatin (powder)
16 oz sugar
10 ounces water
1 teaspoon Golden Syrup (found in British shops and Amazon)
1 teaspoon vanilla
2 egg whites (organic, free-range)
1 oz confectioners (powdered) sugar
 2 tbsp corn starch (cornflour)
Sprinkle the gelatin into the 4 ounces of water (first two ingredients) and set aside.
Stir the sugar and 10 ounces of water in a pot over medium heat. When the sugar has melted, add the golden syrup and increase the heat until the syrup is simmering and allow to boil until it has reached the soft ball stage (240°F/116°) on a thermometer. If you don't have a thermometer, check by dropping some of the syrup into cold water, and once you take it out, if it rolls into a soft ball, it is ready.
Remove from heat and allow to sit for about 2 minutes, then stir in the gelatin mixture until it has completely dissolved, then pour into a bowl to cool a little, stirring occasionally so that it doesn't form a skin.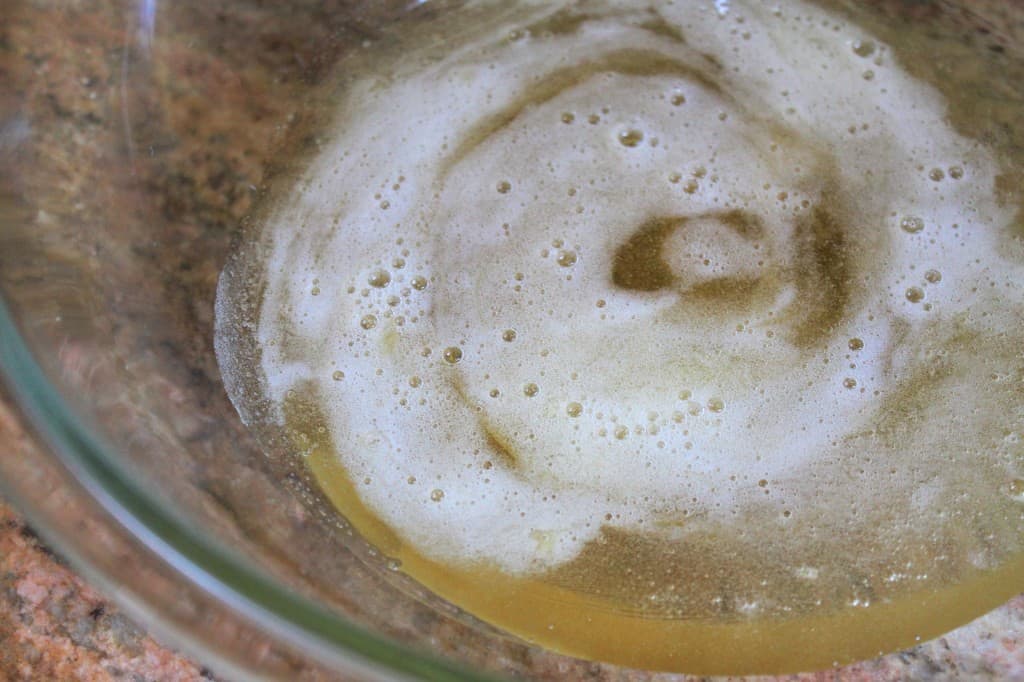 When the mixture is just warm, beat until it is thick and light, (it will look like beaten egg whites), then add the vanilla.
Next, beat the egg whites until stiff, then fold into the beaten gelatin mixture with a large spoon. Pour into an oiled pan (I used coconut oil spray) and allow to set, for at least 6 hours.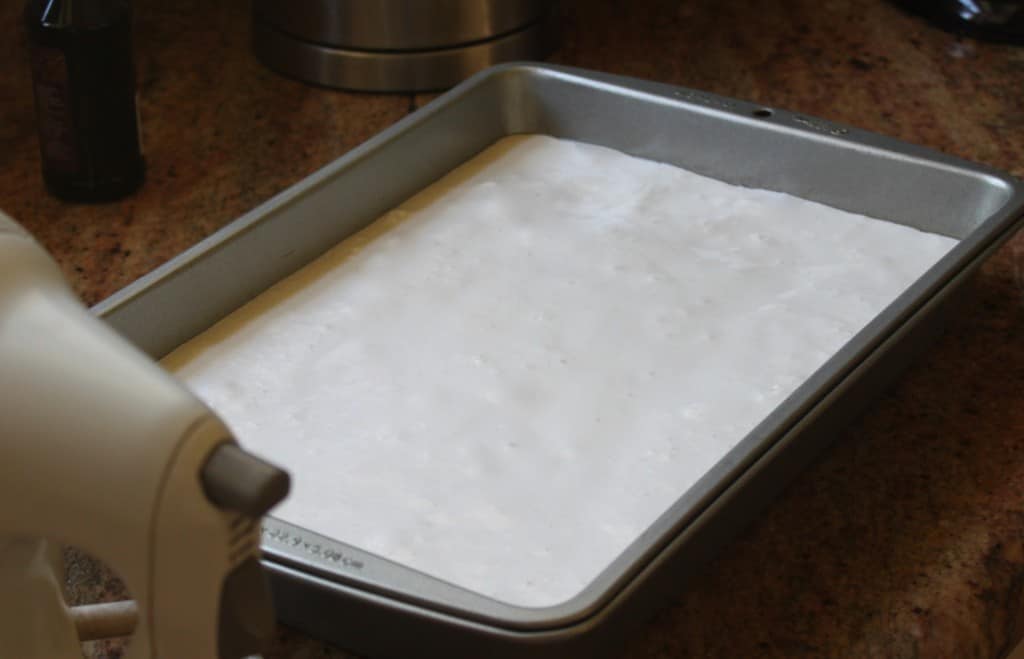 Mix the powdered sugar and cornstarch together and sprinkle on a clean worktop. Turn the marshmallows out onto the area and cut into pieces as desired, coating all sides with the sugar/cornstarch mixture. Keep in airtight tin.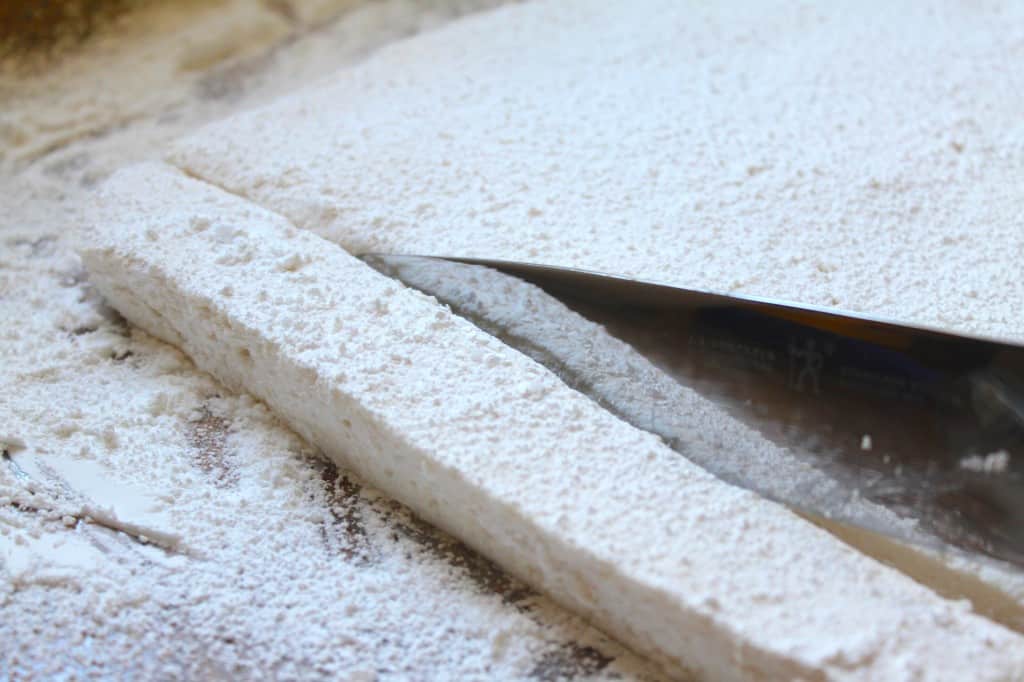 Use as you would store bought marshmallows, for toasting, putting in hot cocoa, or s'mores!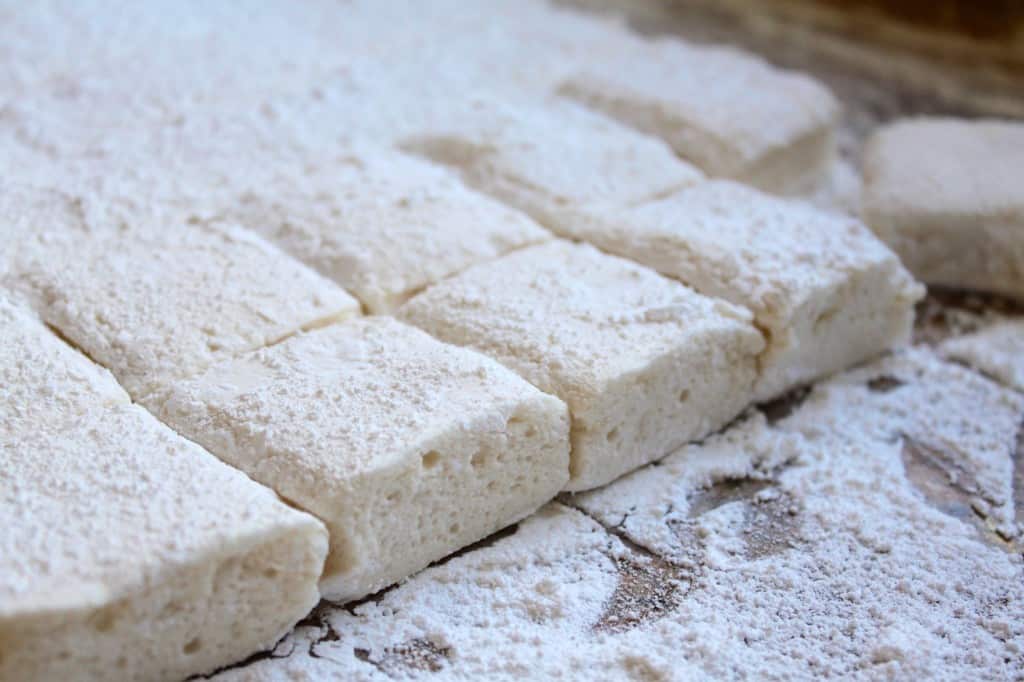 Don't miss another post! Sign up for my free subscription HERE, but make sure to look for the
Feedburner confirmation email or you'll get nothing, nada, niente and zippo in your mailbox!
(I promise not to sell or share your info, ever!)
LA Living…
Downtown Los Angeles
Christina's Cucina is a participant in the Amazon Services LLC Associates Program, an affiliate advertising program designed to provide a means for sites to earn advertising fees by advertising and linking to Amazon.com, however, there is no additional cost to you.