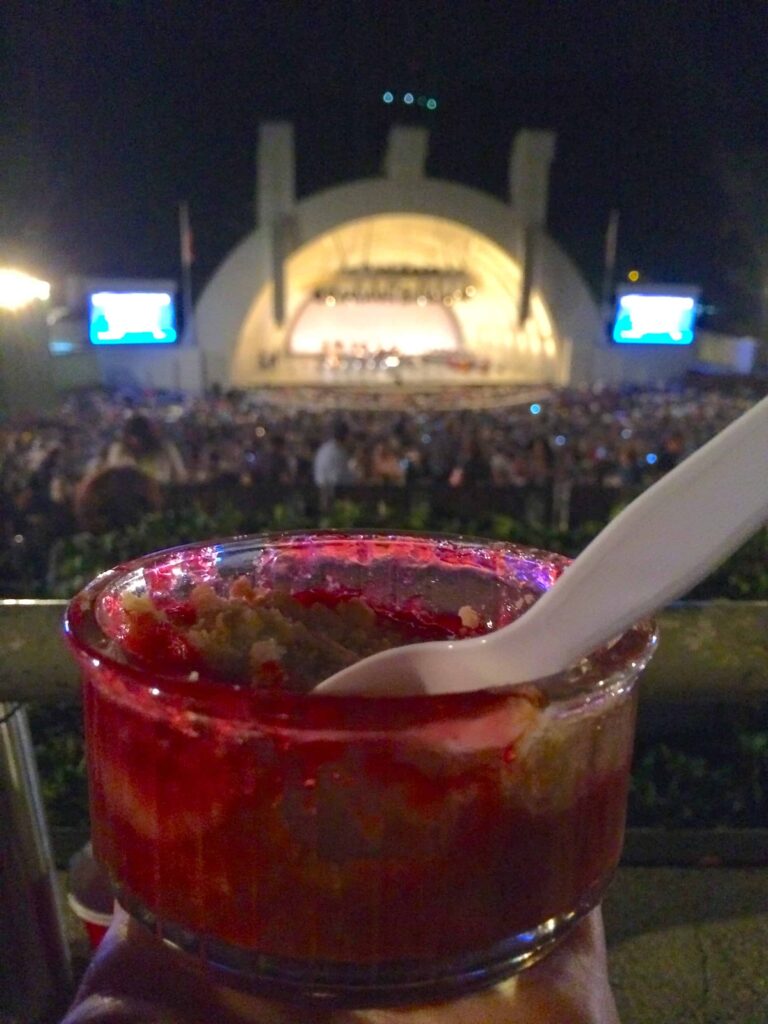 You probably cannot imagine how many dishes, bowls, glasses, plates, pots and pans I use on a daily basis. My new Miele dishwasher has saved me from a nervous breakdown.
Not only am I an avid cook, I'm a messy cook. If I need one bowl, I'll end up using two. Due to the fact that I usually make three different things at once, I don't have time to clean as I go and this makes even more of a mess; so when I tell you that a really reliable dishwasher is a godsend to me, I mean it more than you can imagine.
Disclosure: Miele has provided me with a dishwasher so that I can write about it and inform my readers about my experience as a Miele owner. I intend to review the dishwasher and honestly report my findings on my blog; and as always, my opinions are solely my own.*
You're probably wondering about the photo above: I'm not a normal person who brings paper plates and buys cupcakes for dessert when going to an event, like a concert at the Hollywood Bowl. No, I make and bring homemade Rhubarb Crumble in glass ramekins. Then when I come home around midnight, I'm tired, so the dirty dishes sit out all night. Do you see where I'm going with this? I need a workhorse of a dishwasher and I've finally found one: I have yet to find something it can't wash properly.
For the last 11 years, I have been a Bosch dishwasher owner, and a very unhappy one, to the point that I really felt I was going to "lose it"! From the moment I first ran my dishwasher, until the moment it "died" a few months ago, I was disappointed. Looking back, I should have returned the machine right away, solely due to the noise because it was so loud. I had a Whirlpool dishwasher before my Bosch, and it was more quiet than my Bosch.  Right after we installed it, I had a technician come out and he told me that our model didn't come with insulation, which explained the noise. However, I just couldn't understand why a dishwasher would be made without insulation, if the company advertises how quiet they are.  As they say, "hindsight is 20/20", so it's a mistake I'll never make again.
One of the reasons we originally hadn't looked at Miele dishwashers was because we were dissuaded by the price. However, if I'd truly done my research properly, I would have found that we were missing a vital piece of information which probably would have made a big difference in our decision on which brand to purchase. Miele products are built and tested to last 20 years, which is twice as long (or longer) than most other brands. Many of you are probably thinking to yourselves, "I remember when appliances used to last 20 years", but Miele's still do. So, to fairly compare Miele's prices with other brands, one should actually figure out a "cost/year", and realize it's a much more reasonably priced appliance. I cook and bake so much, I really should have been enjoying a reliable dishwasher all these years instead of the stress I've endured!

I purchased a Bosch because I'd read reviews about how quiet it was, and it was supposed to be a good quality product, but I learned otherwise. Given this experience, now that I am a current Miele owner, and a very happy one, I'd like to share some my reasons for being so satisfied and pleased with my new dishwasher. I am listing these in no particular order as it's really difficult for me to decide which features I like more than others. NB: I do want to add that the Bosch model I had was not comparable in cost and features to my current Miele dishwasher, however I'm letting you know of my overall experience, and I would definitely be doing a disservice to withhold information about my experience with Bosch.
NO NOISE. It's quiet. Compared to what I've had to listen to for the past eleven years, it's incredibly quiet. One night my husband asked (while he was standing next to the dishwasher), "Are the dishes clean or dirty?".  I responded, "Neither one, it's running!" We've been used to hearing our Bosch dishwasher from the dining room.
CLEANING. It washes everything PROPERLY. Actually, it goes above and beyond, "washing properly". I've been having to re-wash so many glasses, dishes, pots and pans for so many years, that I am over the moon with the ability of my Miele dishwasher to clean everything I put in it. I'm kicking myself because I didn't take a picture of the dirty pan, but I made a pork roast last night and I wanted put my Miele dishwasher to the test again. I did take a shot of the roast for instagram though!
WATER CONSERVATION. This is a triple feature, because I'm saving water three ways: by not having to rinse dishes (it's simply unnecessary), by not having to re-wash dishes because they come out of the dishwasher clean the first time (unlike my old Bosch), and Miele dishwashers are so highly water efficient, I'm saving water just by using the dishwasher.  If you haven't heard, California is in its worst drought since records started being kept, so water conservation is incredibly important to us now, more than ever.  Not pre-rinsing can save up to 3,500 gallons of water a year and that is a lot of water, time and money saved! My Futura Diamond model has a cycle which runs for only 35 minutes for a light load, and it works great! I never could have imagined such a short cycle could wash dishes so well, especially since the normal cycle on my old machine ran for over 3 hours and the dishes still came out dirty.  There are so many different cycles and options, so each load of dishes can be washed according to what sort of dishes, pots and pans, or china is being run, and according to what kind and of food is on them and how much. Now, I can actually run my Miele dishwasher, not feel guilty and have clean dishes!
TIME-SAVING. If I could add up all the time I've spent re-washing dishes for the past 11 years, I'm sure I could have taken a trip with that time.
DESIGN. I was talking to a friend about my Miele dishwasher and I ended up telling her, "I really think they thought of everything." When I realized there was no cutlery basket, but a third rack instead, I kept the cutlery basket from my old Bosch. I thought I might miss the basket, but there was no need because I simply love the third rack! It makes so much more sense and I no longer loathe putting the forks, spoons and knives back in the drawer, because they're all organized before I even get to the drawer. Then there's all the easy-to-adjust options: anywhere there is a yellow tab, an adjustment can be made in seconds, it's just brilliant!  There's a stem for vases, flip down slots for wine glasses…I could go on, but as I said, it's as if the designers have thought of everything.
Below is a photo of my loaded Miele dishwasher: it doesn't look like it does in magazines, with every single matching plate and bowl in perfect order, because this is the real deal. I'm using this dishwasher in what I'm sure is one of the most-used home kitchens in LA, and I love it.
If you have any questions, please don't hesitate to ask in the comments below, and you'll also find my other posts about Miele below this post. You can also go directly to Miele USA.
Life in LA…
Tchaikovsky Spectacular at the Hollywood Bowl, with the USC Marching Band. It truly is spectacular.
  *Miele agreed to provide me with a dishwasher in exchange for my review and posts on my blog. All thoughts and opinions are mine alone, and as always, I only recommend quality products and services that I truly believe in and would purchase and use myself. There have been no conditions stating that the reviews must be positive; I am disclosing this in compliance with the FTC's regulations.