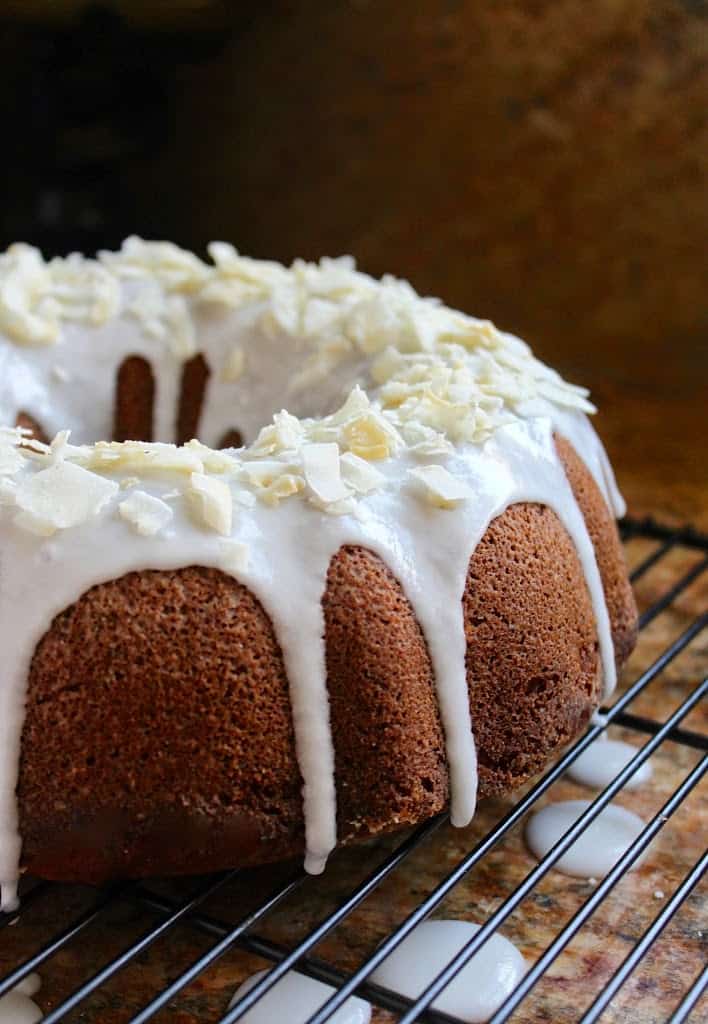 Recently I was interviewed for "Thoughts on the Table", a podcast by Paolo Rigiroli of Disgraces on the Menu, and was asked how I develop my recipes. One of the ways I create recipes is simply by coming up with ideas of how not to waste food.
Coming from a family where my grandparents lived through both World Wars, understandably, not wasting food is a value that has been passed down to me. So when my husband came home from work with a huge bunch of brown bananas the other day,  I had this idea for a Banana Coconut Bundt Cake with Coconut Icing, and a new recipe was born.
You may recognize the this as being similar to the Banana Nutella Swirl Bundt Cake with Coffee Icing which I posted last year, and it is in fact based on this recipe. However, it is covered in a lovely coconut flavored icing and topped with shredded coconut, which goes perfectly with the banana flavor of the cake.
I don't know if it's a good thing that I sent the cake back to work with my husband for all his colleagues to enjoy, as it may put ideas in their heads about sending ingredients back home with him, given that they come back in an improved form!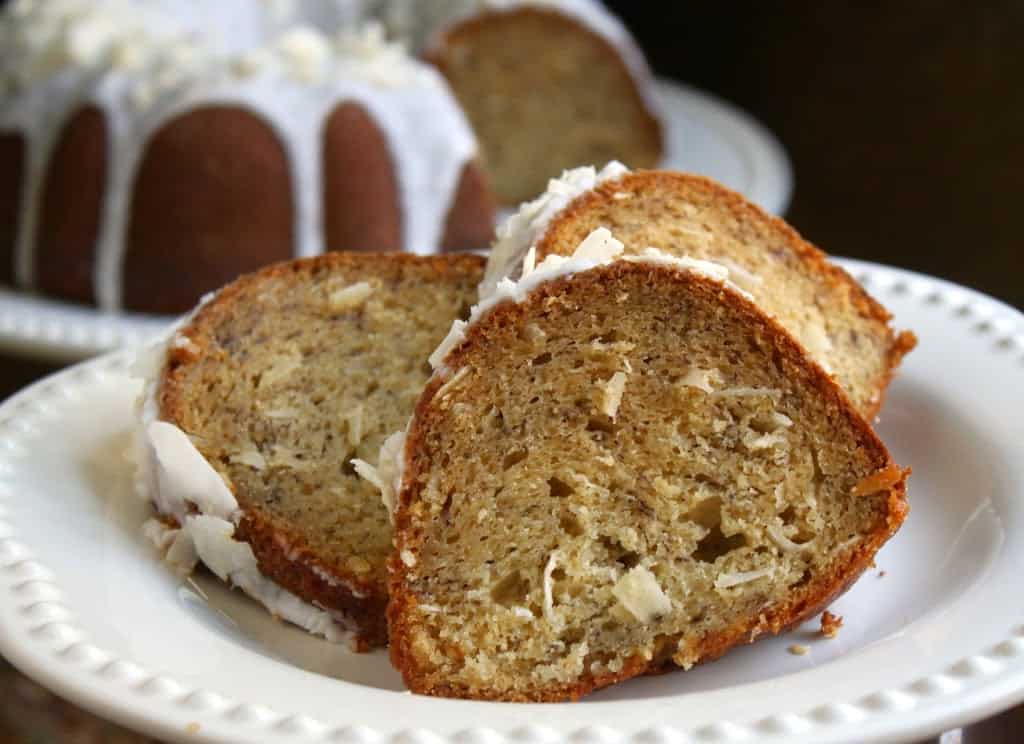 Banana Coconut Bundt Cake
with Coconut Icing
recipe by Christina Conte (adapted from Banana Nutella Swirl Bundt Cake)
Ingredients
2 1/4 cups (10 oz) good quality, sifted, all purpose flour
1 tsp baking soda
1 1/2 tsp baking powder
pinch of salt
1 1/2 sticks (6 oz) butter
3/4 cup (4 oz) sugar
1/4 cup (1 1/2 oz) brown sugar
2 eggs
1 1/2 cups (12 oz) mashed ripe bananas
1/2 cup (4 oz) greek yogurt
4 tbsp buttermilk
1 cup shredded coconut, natural (without any added ingredients)
Coconut Icing
1 cup (2 oz) confectioner's (powdered) sugar
1 tbsp coconut oil
2 tbsp milk (more or less as needed to reach a proper consistency)
Shredded coconut to sprinkle on top of cake
Preheat oven to 350º F (175º C) and grease and flour a bundt pan.
Sift flour, baking soda, baking powder, and salt into bowl and set aside. In large mixing bowl, cream together butter and both sugars for a few minutes until light and fluffy, then add eggs and continue to mix.
Next, add mashed bananas, yogurt and buttermilk and mix well.
Add dry ingredients, and stir until combined, then stir in the coconut.
Place into prepared oven, and bake for 50 to 60 minutes or until tester comes out clean.After about 10 minutes, remove cake from pan and place on cooling rack.
After the cake has cooled, mix the confectioner's sugar, coconut oil and milk until a smooth consistency is reached and the icing slowly runs down the cake without all dripping off.
While the icing is still wet, sprinkle with the shredded coconut.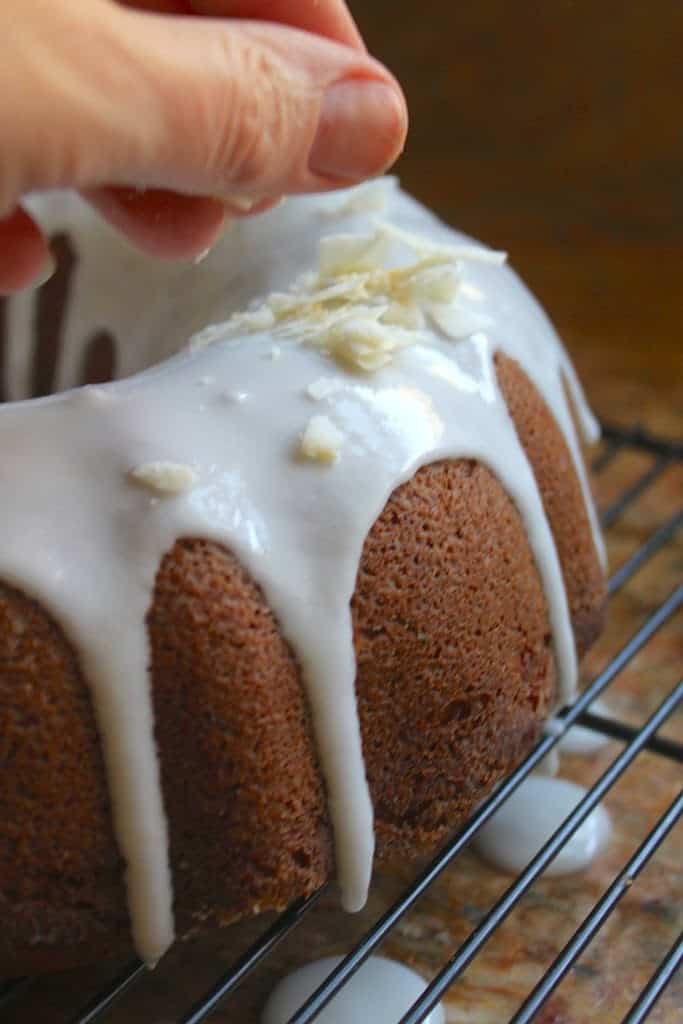 Allow the icing to set, then serve; I might add that this cake is just perfect with a cup of tea or coffee.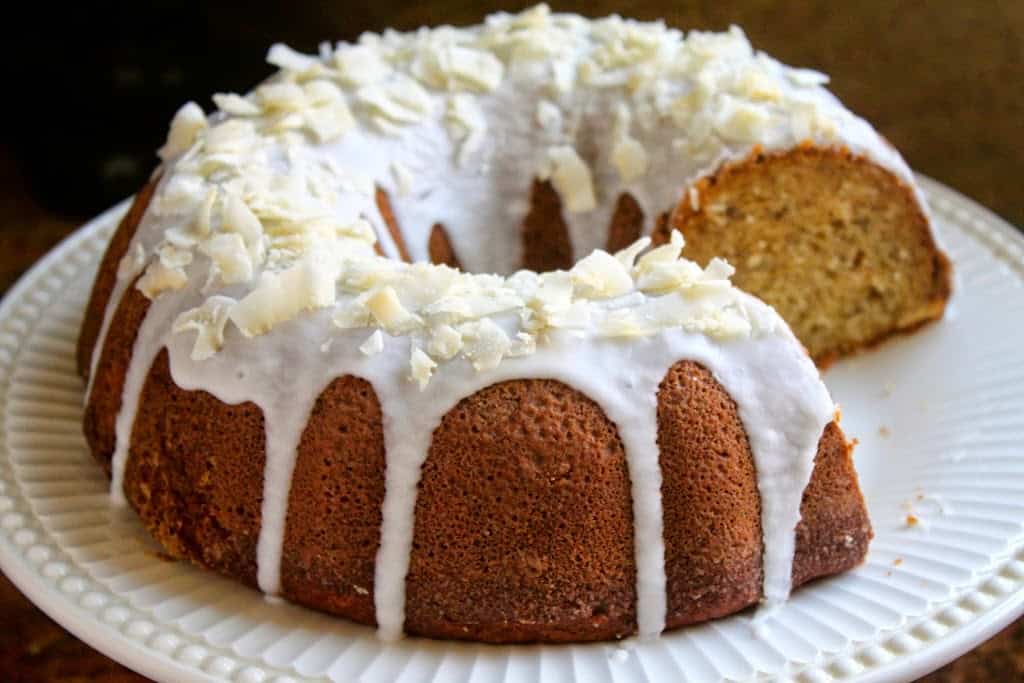 Don't miss another post! Sign up for my free subscription HERE, but make sure to look for the
Feedburner confirmation email or you'll get nothing, nada, niente and zippo in your mailbox!
(I promise not to sell or share your info, ever!)
LA Living…
Jacaranda trees in bloom.