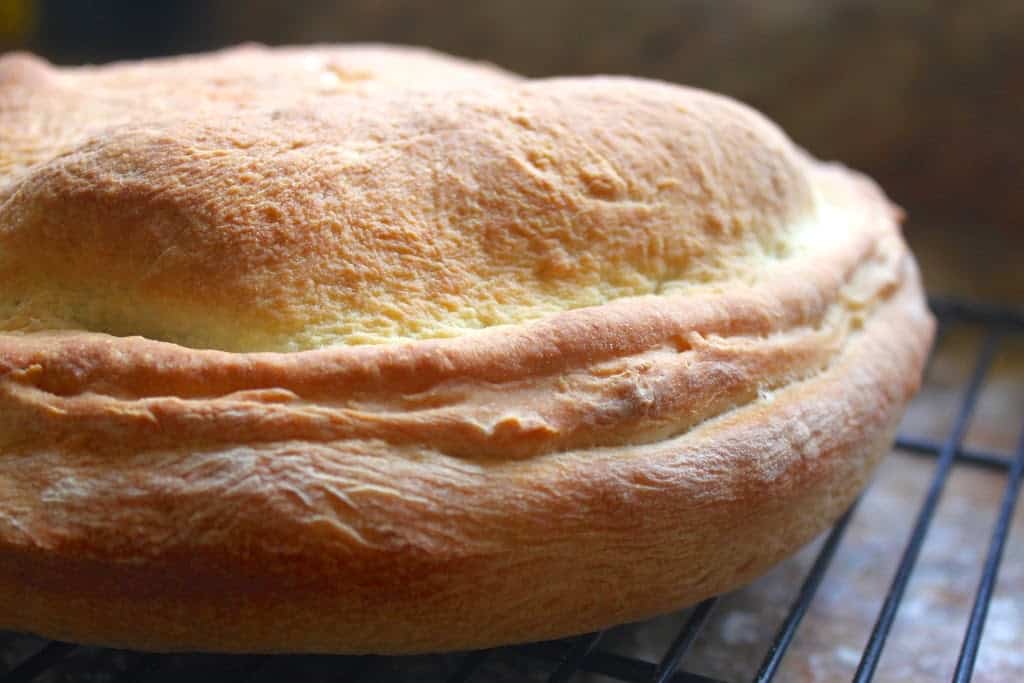 If you were raised in an Italian household, you'll know what this is, as it is traditionally made and served during Easter.
My family's name for this is "canescione", but that is probably the name for many other types of similar creations, as there are many names for frappe, for example.
Now, most of you won't have home cured Italian sausages on hand, and I don't usually either, but my mother had made some and this is how we decided to use them. Instead of using cured Italian sausage, you can use bacon or pancetta, which are both perfect in the egg mixture.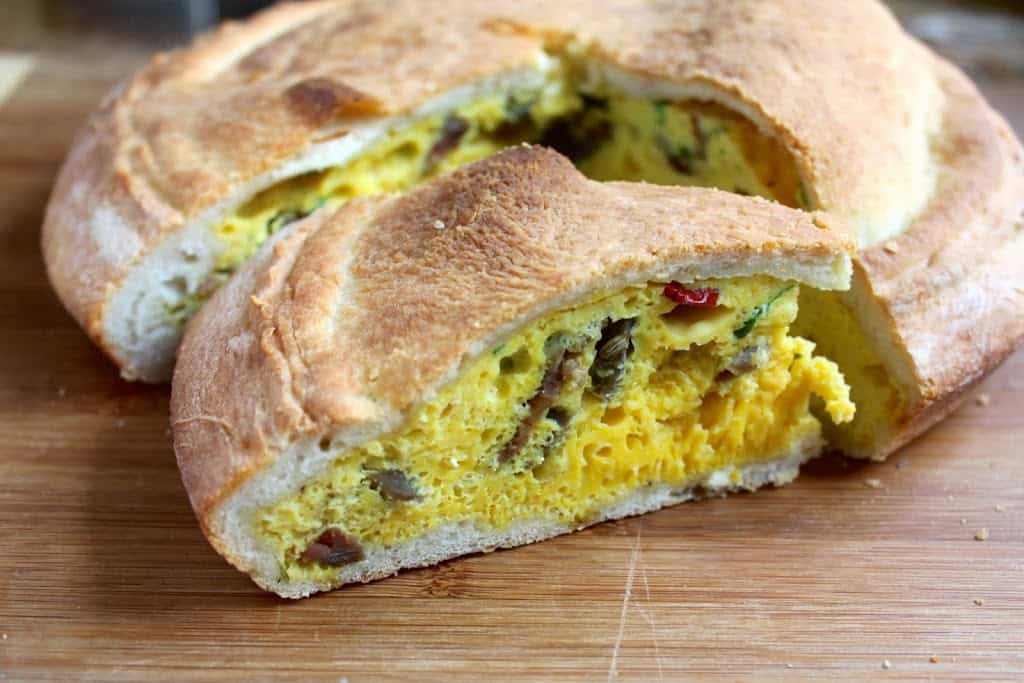 Here is the way my family makes this delicious filled bread.
Tradtional Easter Pie with Eggs (Pizza Rustica)
serves 6
Ingredients
pizza dough (click here for my recipe)
9 eggs
2 tbsp water
1 1/2 tsp Kosher or sea salt
black pepper
1/2 cup (1 oz) grated Parmigiano Reggiano
3/4 cup (6 oz) cooked cured Italian sausages (not fresh) bacon or pancetta pieces (measurement is not critical)
2 tbsp fresh Italian parsley, chopped
extra virgin olive oil for pie dish and to brush on top of dough
Preheat oven to 475º F (250º C)
 Roll out part of the dough for the bottom, and place in an oiled pie dish (leave some overhang).
 Beat the eggs, water, salt, pepper, Parmigiano cheese and parsley, then add the cooked sausage, bacon or pancetta. Partially cook this mixture in a non-stick frying pan, you can actually cook it a bit more than I did, as it makes it easier to work with. Pour the mixture into the lined pie dish.
Roll out pizza dough for the top. Wet the edge of the bottom pie dough with water, then place the lid on top, pressing slightly to seal. Try to get another pair of hands to help, so that the dough doesn't fall into the egg mixture.
Cut off the extra dough with a sharp knife.
Pour some olive oil on top and brush it over the top.
Make a slit in the center of the pie and bake for about 30 minutes or until it is a deep, golden brown.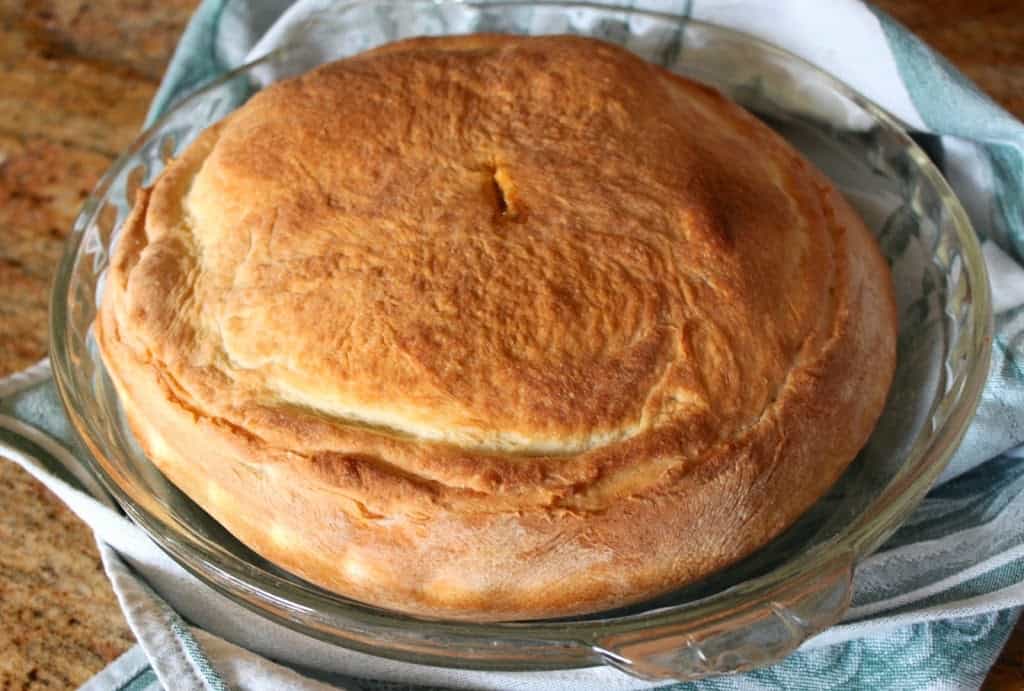 Allow to cool slightly, or completely before cutting. I prefer mine warm, but it is still perfectly delicious when cold, too, making it perfect for serving when you have company and want to have things made ahead of time.
The red you see in the slice is a bit of cayenne pepper from the sausages.
Feel free to add some hot pepper to the egg mixture if you like a little spiciness.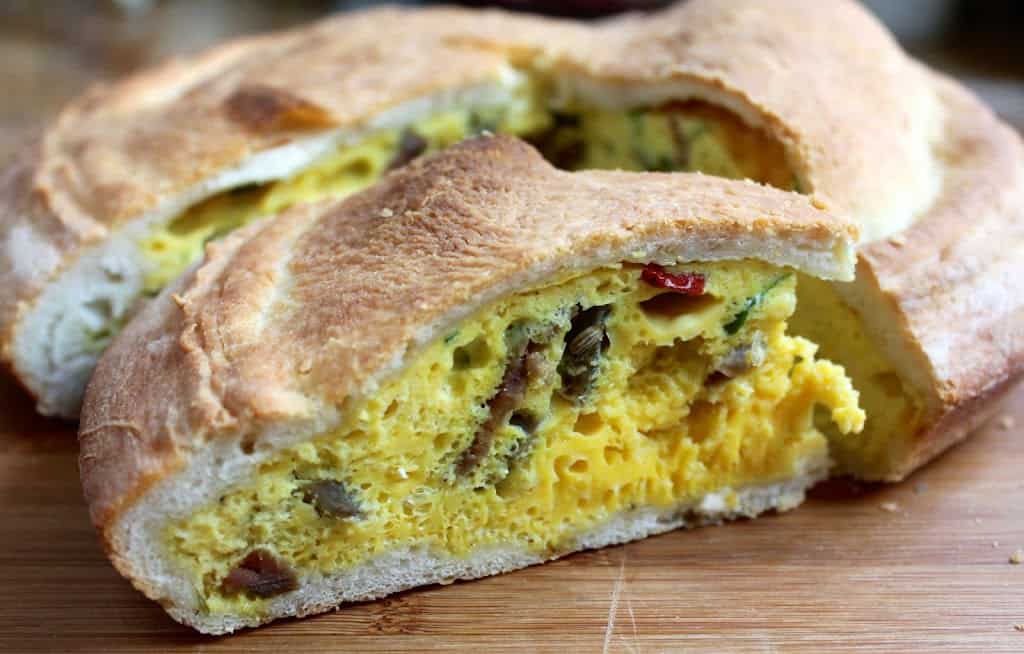 BUONA PASQUA!
LA Living…
the "lone fig" on my tree.
Don't miss another post! Sign up for my free subscription HERE, but make sure to look for the
Feedburner confirmation email or you'll get nothing, nada, niente and zippo in your mailbox!
(I promise not to sell or share your info, ever!)