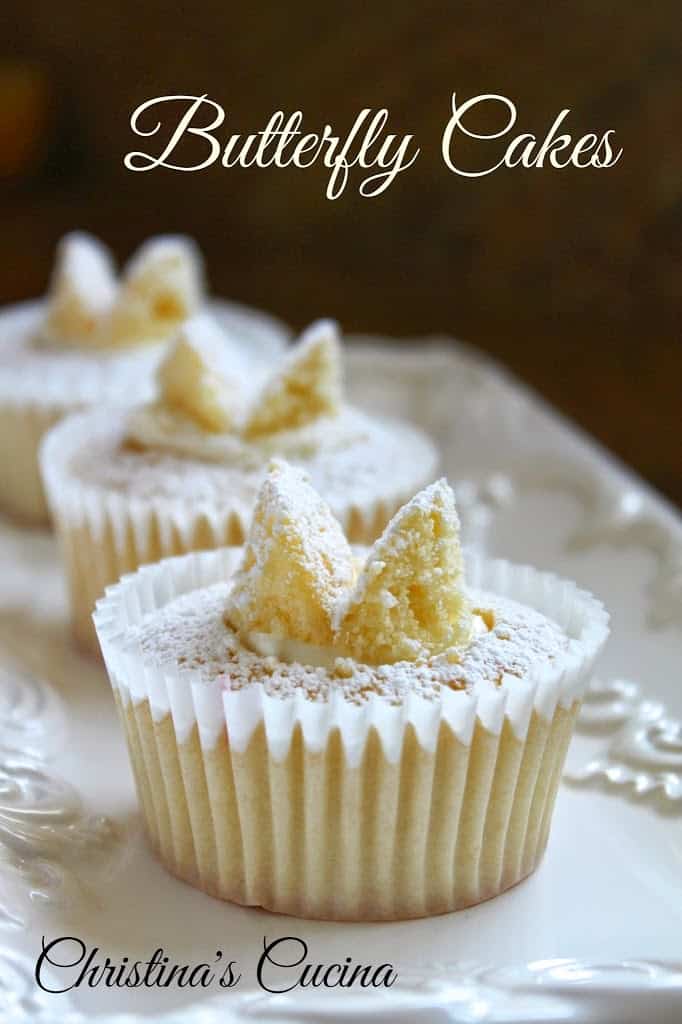 If you want to have an ex-pat Brit begin to wax nostalgic, just mention Butterfly Cakes or Fairy Cakes. However, mention them to a non-Brit and they will probably give you a tilt of their head and look of confusion.
As a child growing up in the UK, these were standard fare at birthday parties, and practically everyone's mum made Butterfly Cakes; it was just a given. These are another example of a classic yet simple favorite food of many Brits which, like so many other creations "across the pond", never caught on in the US.
Each time I've made these delicate, fairy-like creations, they are met with gasps of delight. And if you think they're just another "pretty cupcake", think again, because inside is a bit of raspberry jam hiding below a dollop of freshly whipped cream! The flavor is beyond fabulous!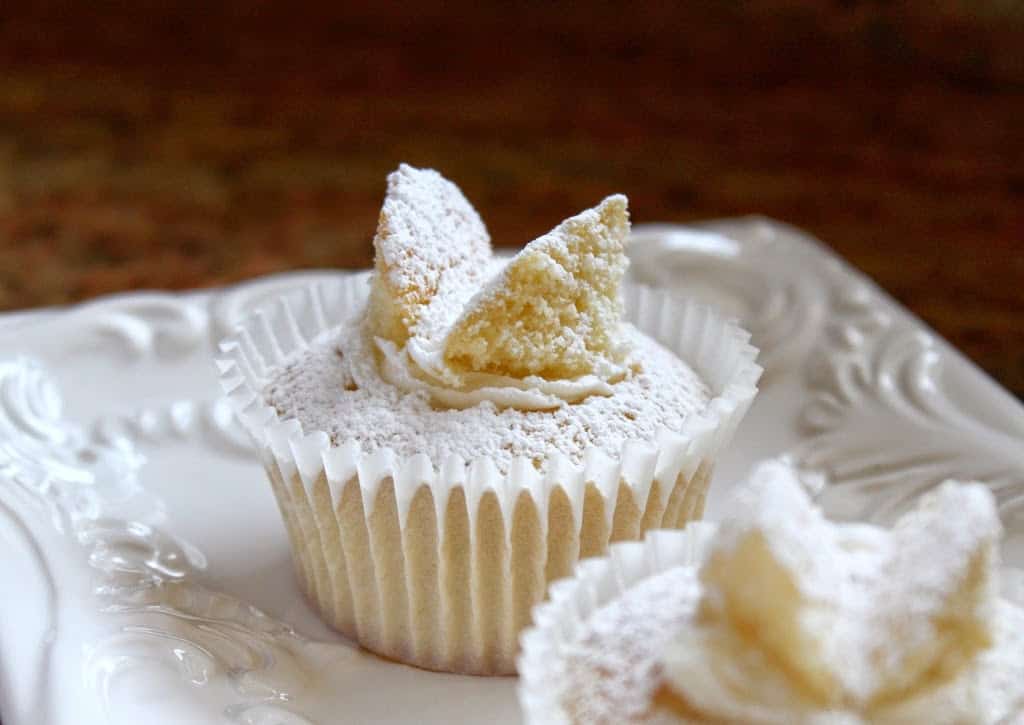 Please don't think that Butterfly Cakes are difficult to make as they are truly one of the easiest cupcakes to decorate; even children can make them. You can use any flavor of cake, but I think they look the nicest when using a white or vanilla cake (light colored).
Tradtional British Butterfly Cakes (Cupcakes)
makes 3 dozen cupcakes
cake recipe adapted from Good Housekeeping Illustrated Book of Desserts
Ingredients
1 3/4 cups (14 oz) sugar
1 cup (8 oz)good quality, unsalted butter (I like Kerrygold) at room temperature
3 cups (16 oz) flour, good quality
1 cup (8 oz) buttermilk, room temperature
1 tbsp baking powder
2 tsp vanilla extract
1/2 tsp salt
4 large eggs, room temperature
To decorate
raspberry jam, good quality (I like Bonne Maman)
1 cup (8 oz) heavy whipping cream, whipped
powdered sugar for dusting
Prepare cupcake tins with paper liners. Preheat oven to 350º F (175º C)
Place the flour, baking powder and salt in a large bowl; set aside.
In a large bowl (preferably in a stand mixer), cream the butter and sugar, slowly for 2 minutes. Increase to high and beat for another 8 minutes, or until light and fluffy, scraping the bowl occasionally.
Add the 2 of the eggs, one at a time, clearing after each addition, then add half of the flour mixture, scraping the sides with a spatula if needed.
Add half a cup of the buttermilk and mix well, then add another egg. Continue to mix; then add the remaining milk, egg, vanilla and flour. Mix on high for 2 minutes, scraping sides with a spatula at least once.
Fill the cupcake liners half full with the batter and bake for 25 to 30 minutes or until a skewer comes out clean when placed in the center of a cupcake. Place on cooling rack and allow to cool completely.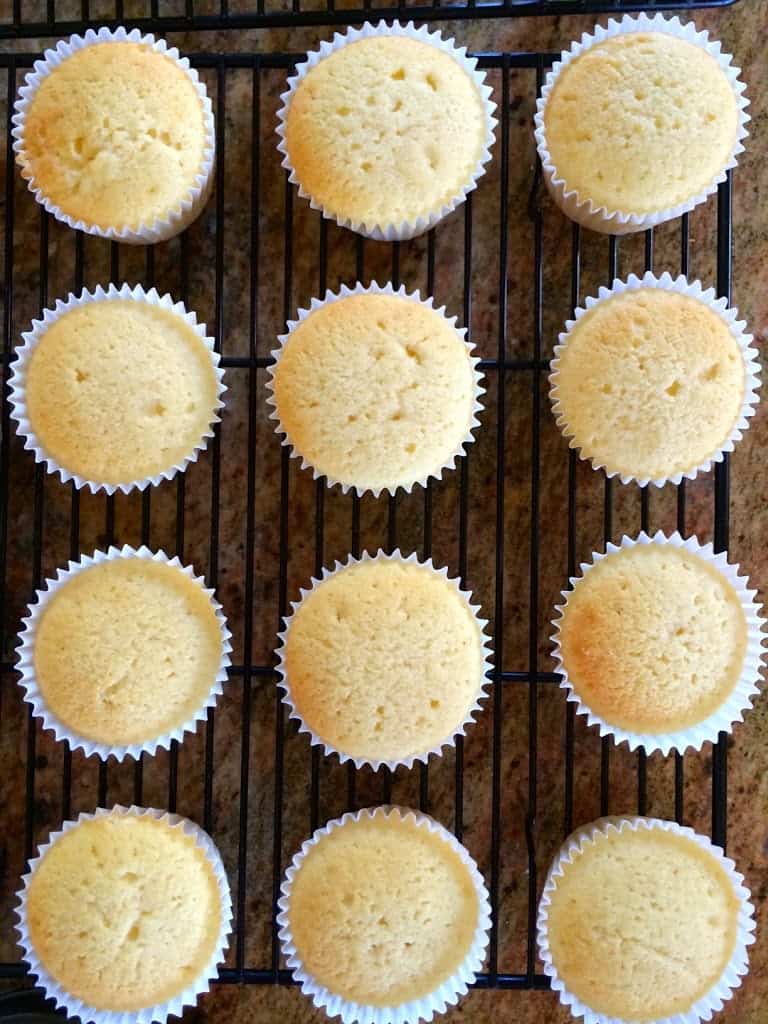 When ready to decorate, cut out the center of each cupcake, angling the knife at a 45º angle
(see the photos below), then cut the pieces in half to resemble butterfly wings.
Place a small amount of jam in the center,
followed by a dollop of cream (or buttercream, if desired),
then place the "wings" on top.
As you can see, I piped some buttercream into the center of a few of the cupcakes, just because I had some on hand. This also works, and tastes good, but the authentic way (and my favorite way) to make Butterfly Cakes is to use cream.
Repeat with all of the cupcakes, then dust each one generously with powdered sugar.
Serve immediately, especially if using fresh cream, as it can spoil quickly,
especially in warm weather. Keep refrigerated if you do not serve them right away.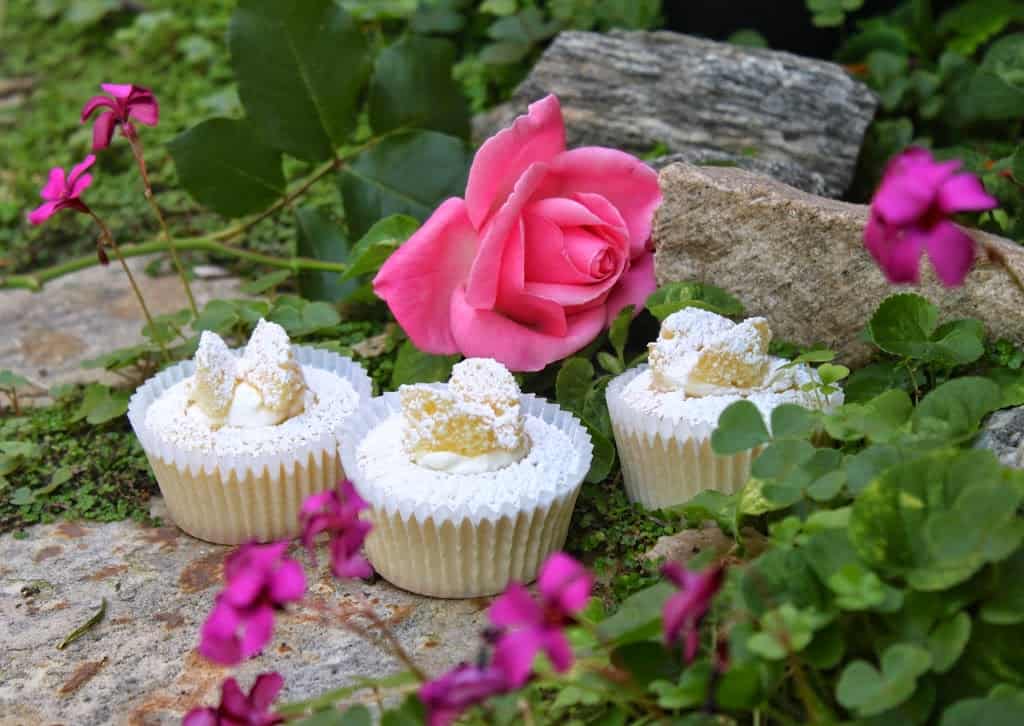 NOTE: it appears (from comments on Facebook), that in England these are called "Fairy Cakes", whereas in Scotland, Fairy Cakes are cupcakes with plain icing on top. Let me know if you have more insight on this in the comments below. Ta!
Don't miss another post! Sign up for my free subscription HERE, but make sure to look for the
Feedburner confirmation email or you'll get nothing, nada, niente and zippo in your mailbox!
(I promise not to sell or share your info, ever!)
Life in LA…
flowers on a wall at a gas station.