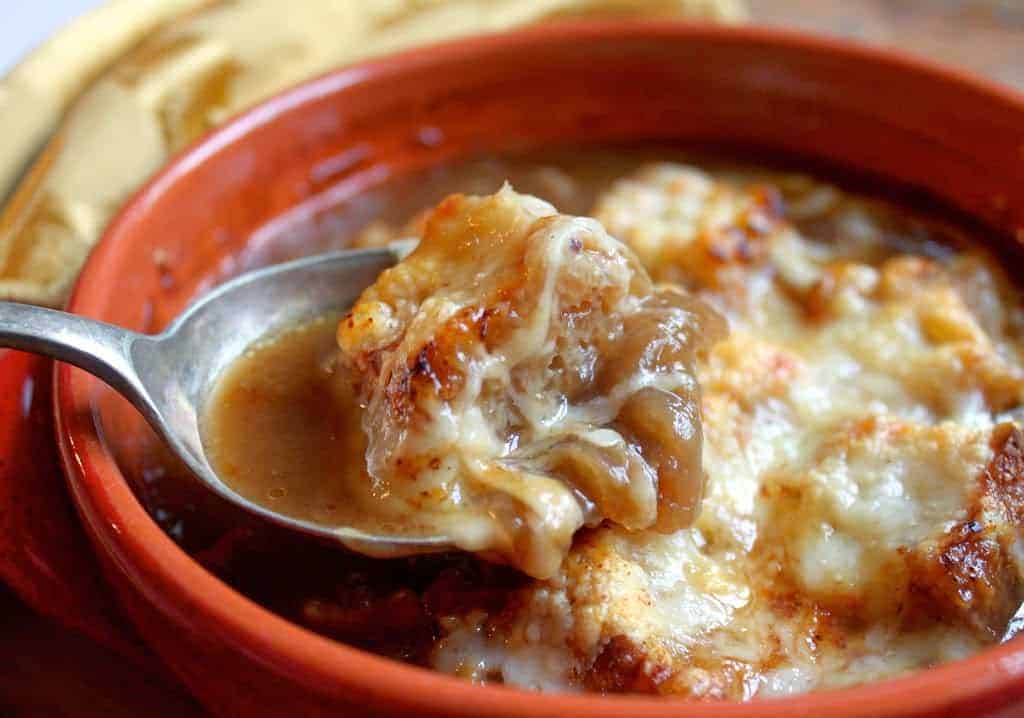 I recently went to Santa Barbara and had lunch with my mother and daughter at a lovely little French restaurant on State Street.
I ordered the French Onion Soup, which I haven't had or made in a long time, and it made me think how deplorable that was. I adore French Onion Soup and everything about it: the beefy broth, the glorious caramelized onions, and of course, the incredibly tasty, melty Swiss cheese on the crispy, crusty, soup-soaked bread! What's not to love?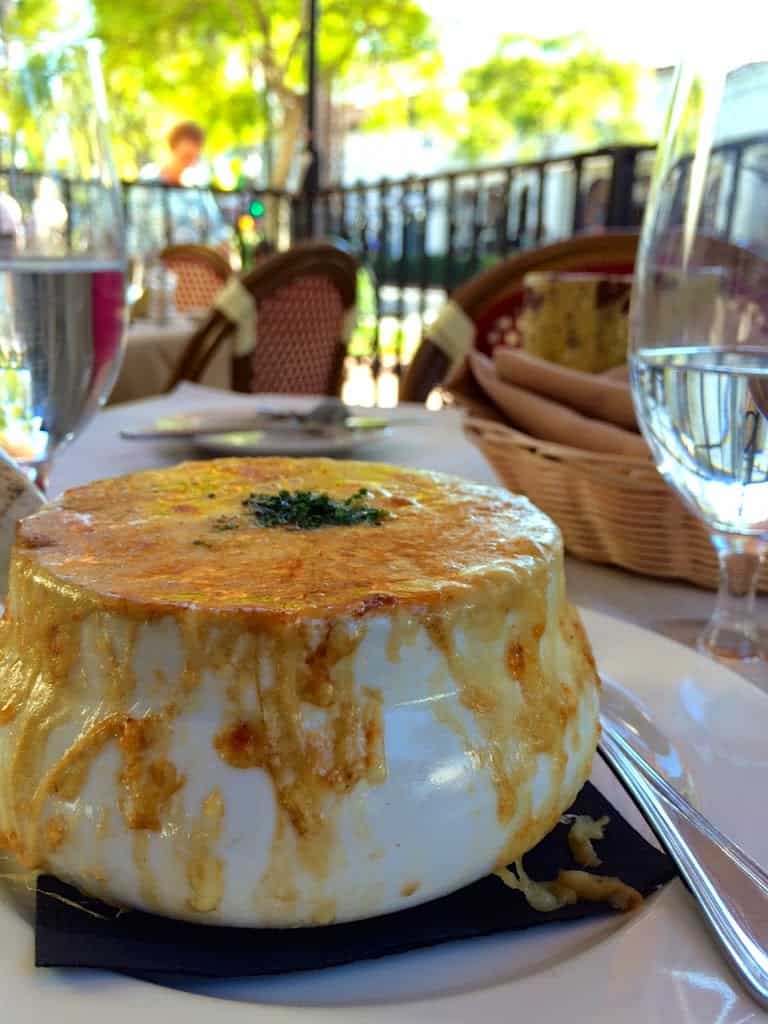 So as I often do, when I came home, it went on the "to-make" list. And I made it. And it was awesome.
As the title suggests, I didn't follow Julia Child's recipe to the letter. Although Julia claims if you don't use homemade beef stock, you may as well buy onion soup, I say you're still better off making the onion soup and using whatever stock you have on hand, as long as it's good quality. I also don't like fighting with full-sized pieces of French bread covered in cheese, floating in my soup, so I suggest bite-sized toasted pieces of bread instead…they are much more manageable.
This is not a five minute soup, so just be prepared to caramelize some onions for a good 45 minutes or so. The rest of the soup making process is easy, and the results are truly worth the time and effort.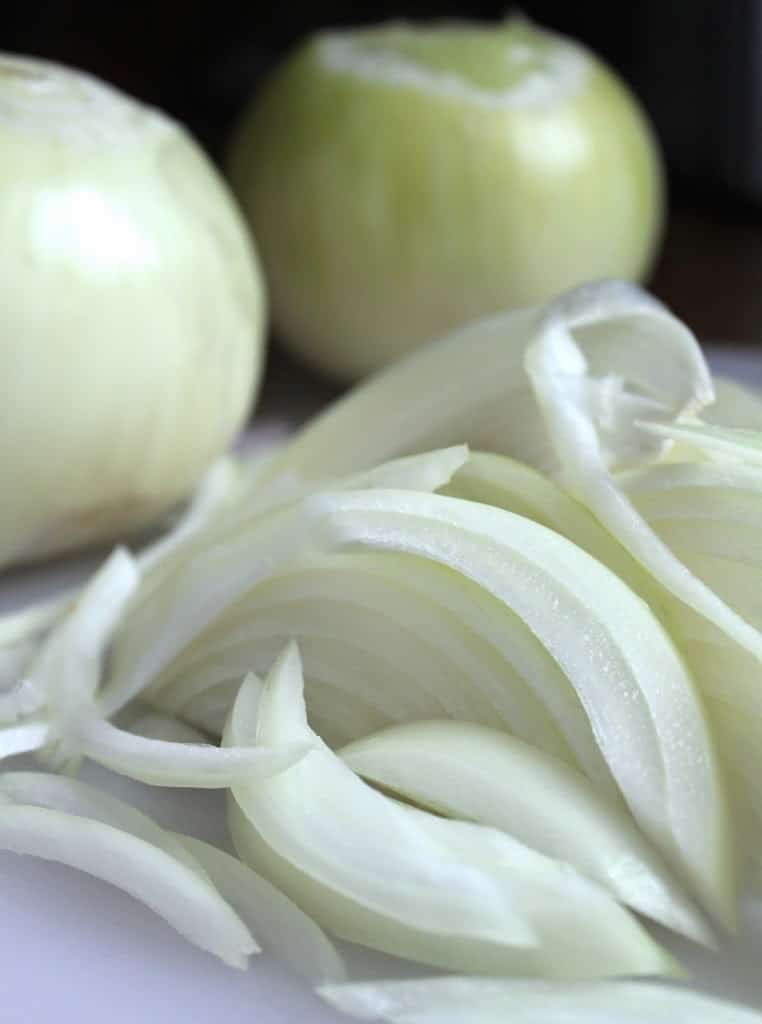 French Onion Soup (almost like Julia's)
adapted from Mastering the Art of French Cooking by Julia Child
serves 6-8
Ingredients
1 1/2 lbs or about 5 cups of thinly sliced yellow onions (do not use sweet)
3 tbsp butter
1 tbsp olive oil
1 tsp Kosher salt
1/4 tsp sugar
3 tbsp flour
2 quarts (64 oz) beef stock (or water with beef bouillon)
1/2 cup (4 oz) dry white wine or dry vermouth
Kosher salt and pepper to taste
1 tbsp cognac or brandy (optional, Julia's recipe has 3 tbsp, but I prefer less)
French, Italian or rustic loaf bread, cut into bite sized croutons, toasted
1 to 2 cups of grated, real Swiss Cheese (Julia used Swiss or Parmesan) I used Gruyere
In a large, heavy bottomed pot, put the butter and oil and add the sliced onions.
Cook slowly, with the lid on, for about 15 minutes.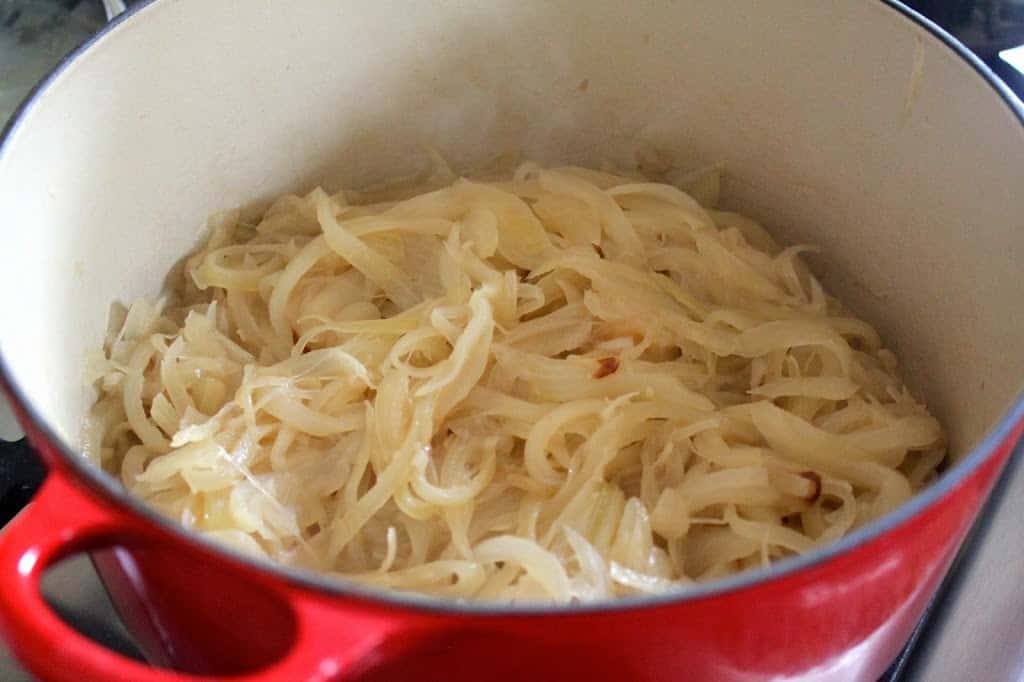 Remove the lid, turn the heat up to medium, add the salt and sugar,
and stir often for about 40 minutes (mine took 45),
until the onions are a deep golden brown.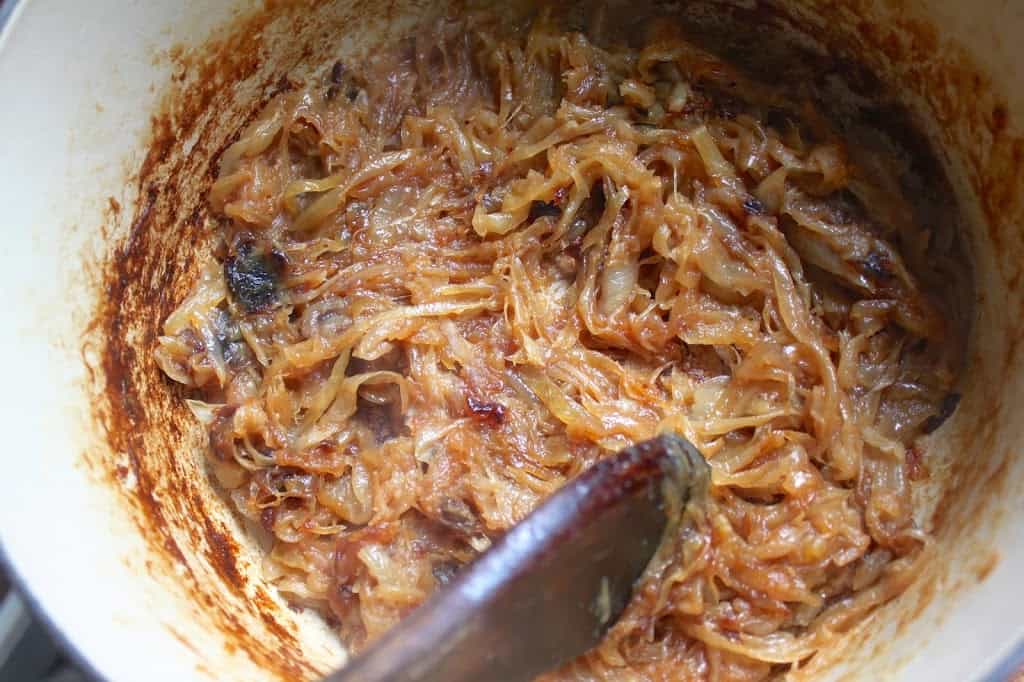 Add the flour and continue to cook and stir for another 3 or 4 minutes.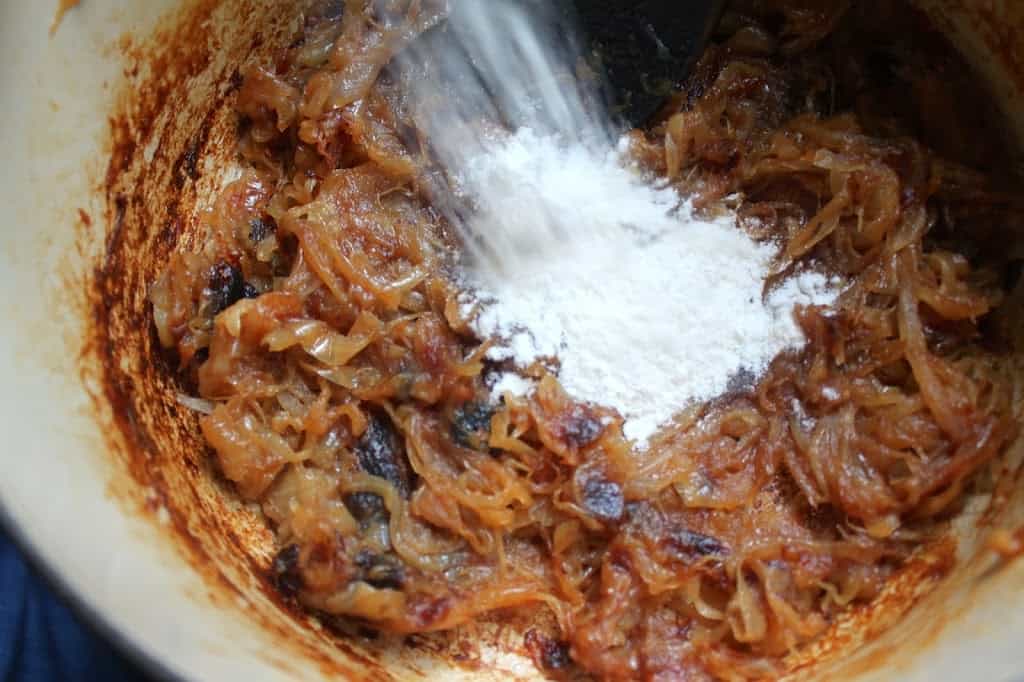 Remove from heat and add the stock/water/bouillon and wine/vermouth.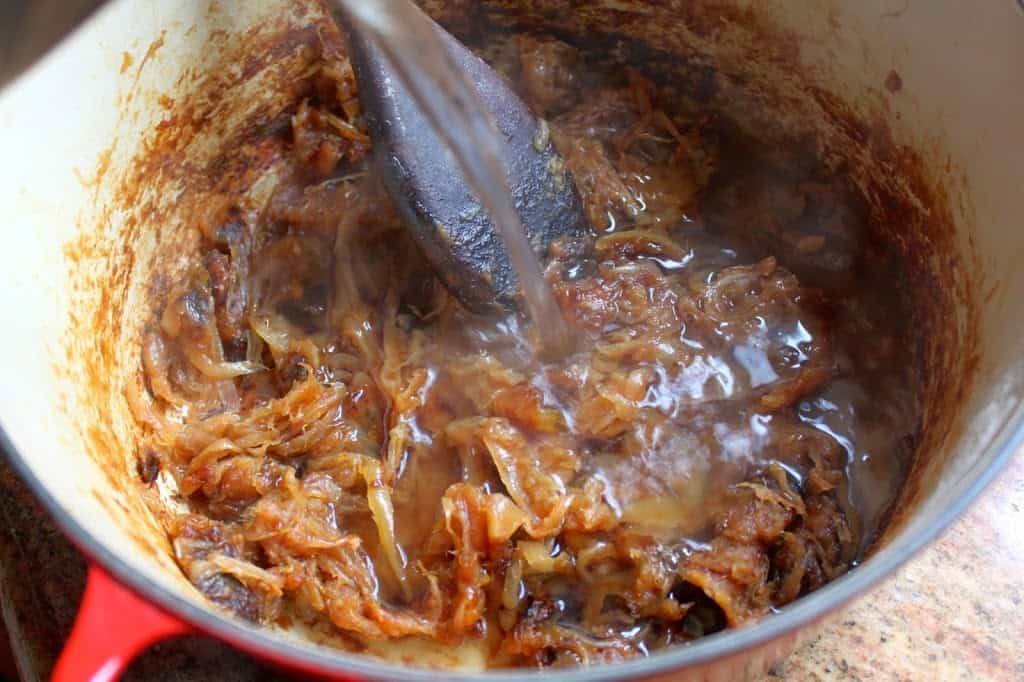 Add salt and pepper to taste and return to the cooktop, and simmer for an additional 30 to 40 minutes.
Just before the soup is ready, preheat the oven to 350 degrees F.
When the soup is ready, add the brandy/cognac, if using and check for seasoning;
ladle it into ovenproof bowls, and top with the cubes of toasted bread.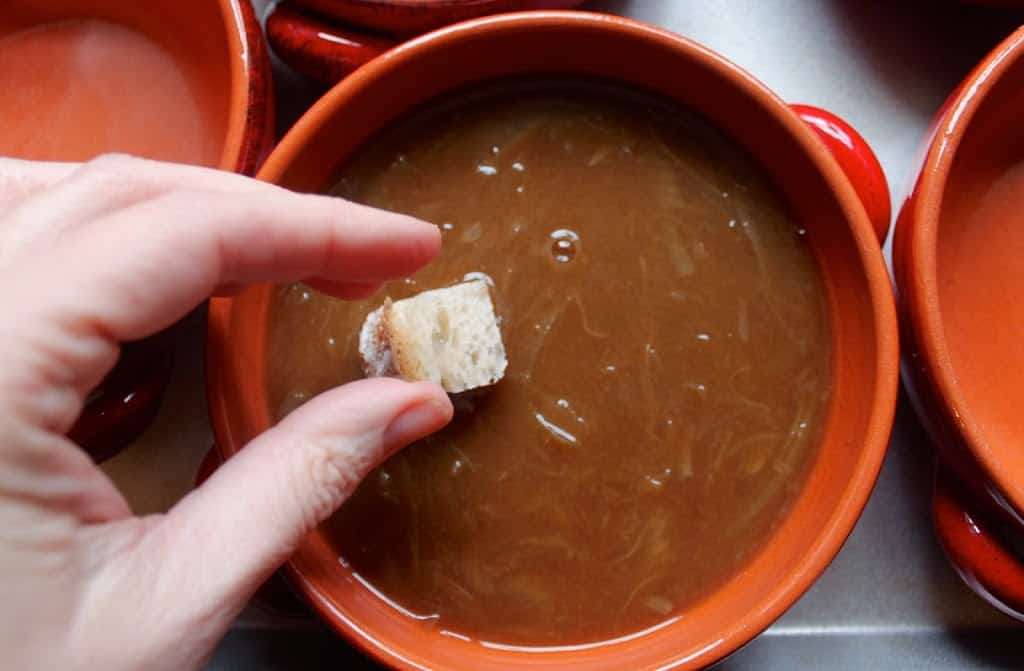 Now, don't go and ruin the soup by using cheap cheese!
Use the best, real Gruyere from Switzerland, please.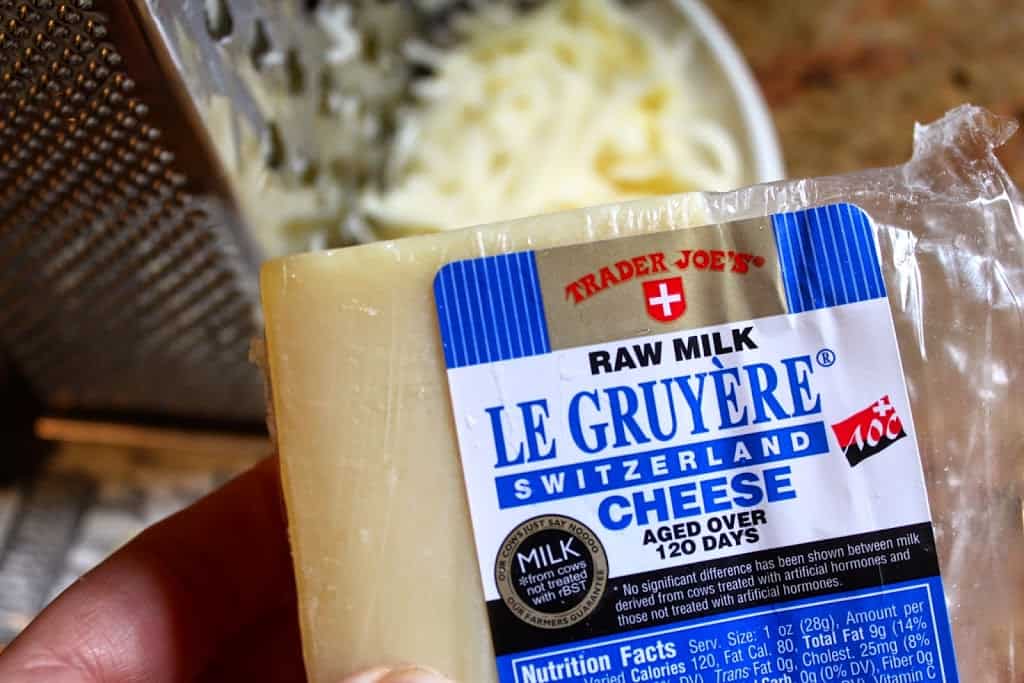 Sprinkle the cheese on top of the toast, as desired. I like everything in moderation (the cheese on the bowl in the photo above, from the restaurant in Santa Barbara was a bit too much for me) so this might be a wimpy amount of cheese for you; if so, add more.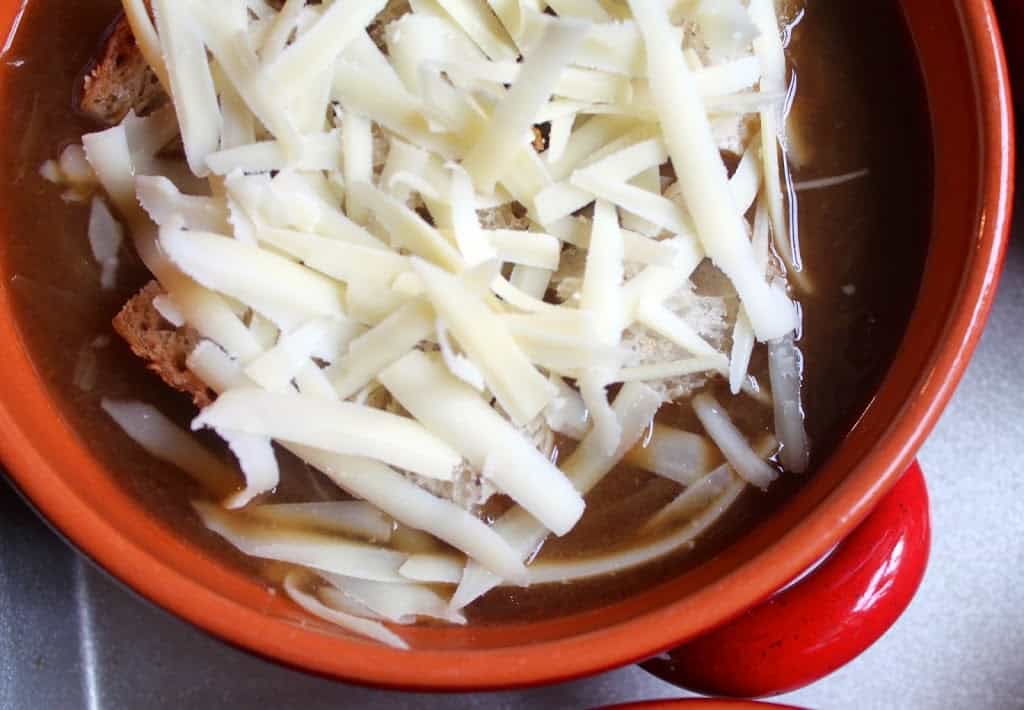 Repeat to make about 6 bowls, then place them on a tray and put into the center of the oven for about 15 minutes.
Reset the oven to broil (grill) and move the tray of bowls closer to the top to get a nice golden color on the cheese, which should be watched carefully as it can burn quickly.
Serve immediately.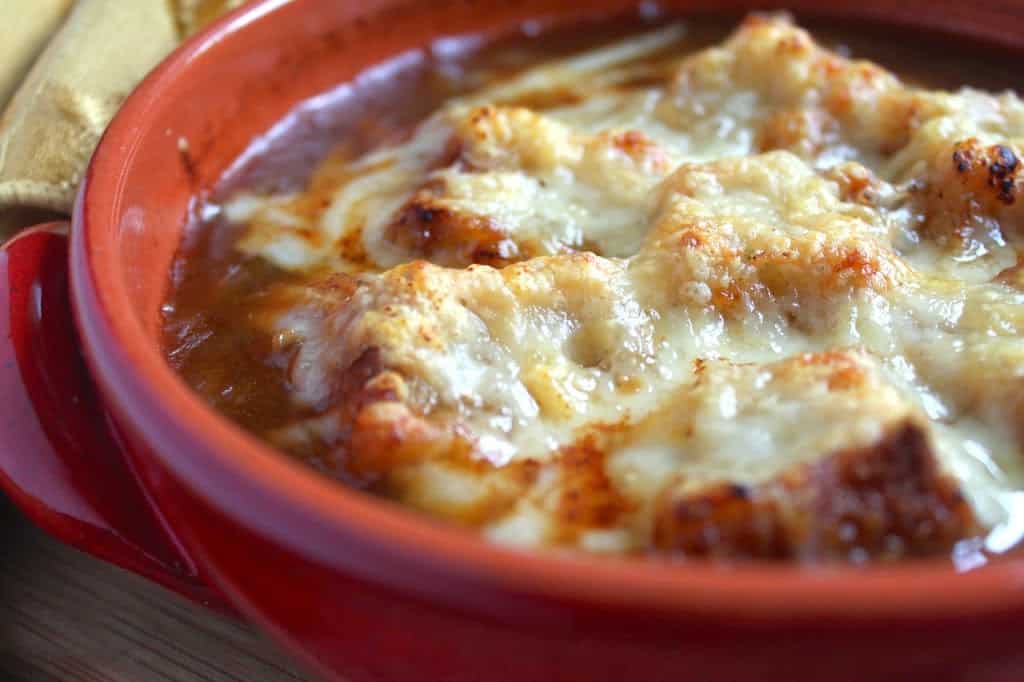 As I said…well worth the effort!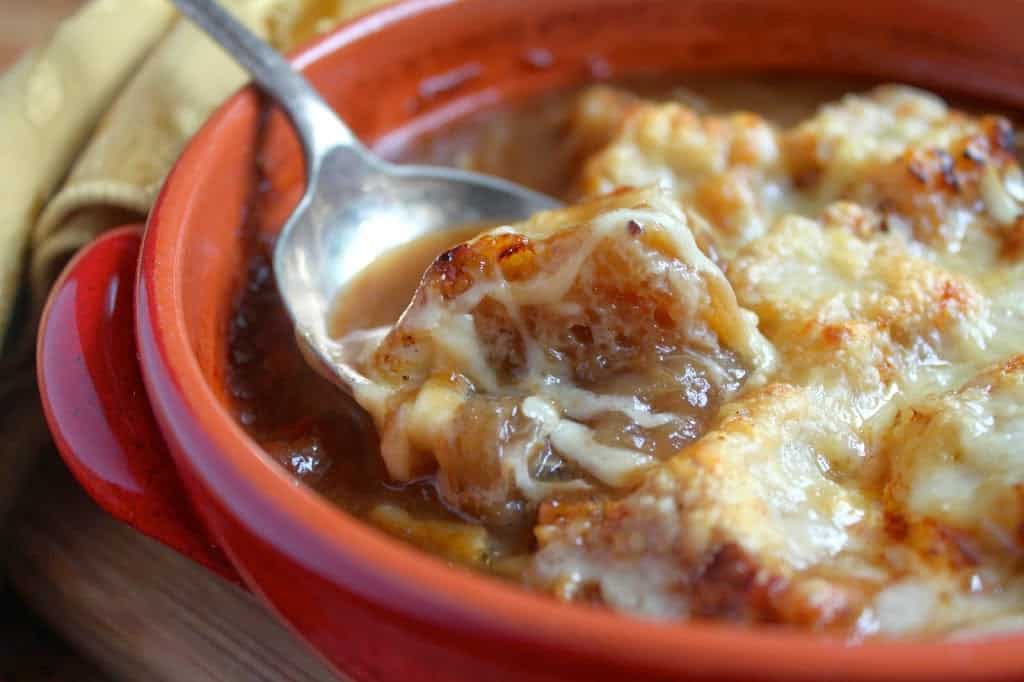 LA Living…
flowers in a fountain.