This cherry cheese coffee cake with streusel crunch topping is a twist on a recipe I've been making since I was about 12 years old.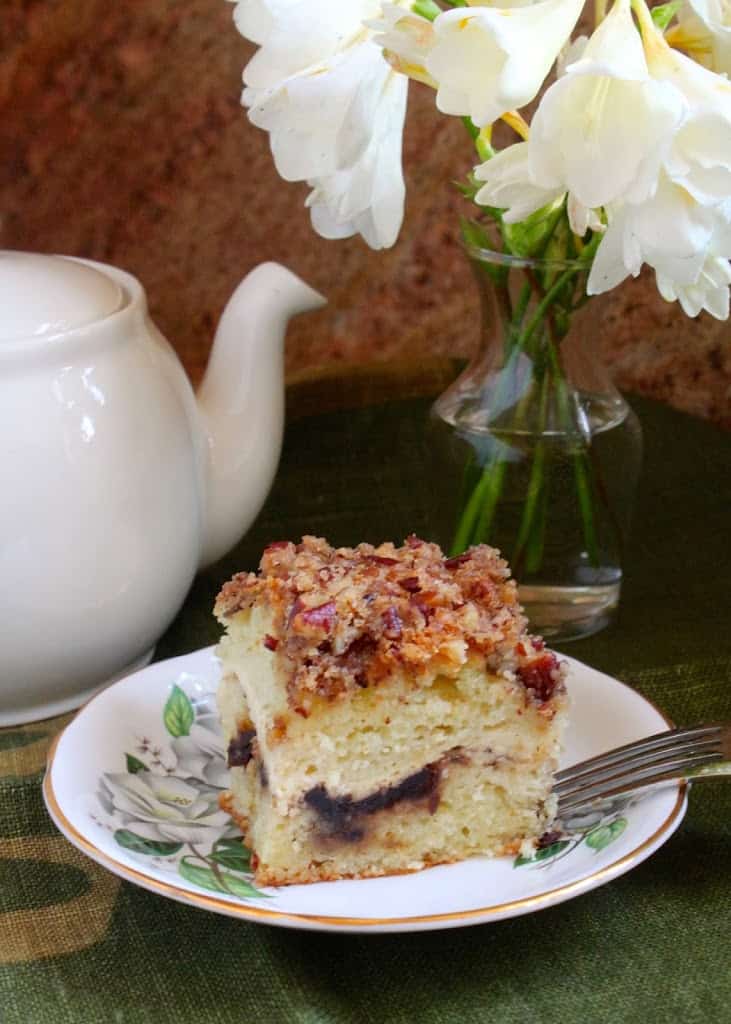 I adapted my favorite coffee cake recipe and added a fruit and cheesecake layer, and just put the streusel on top instead of having it both in the middle and on top. The cake is light, yet moist, and there's the fruity filling and cheesecake layers swirled through the center. The nutty streusel topping is the crowning glory! It was hard to figure out what to name it as it has a lot of different flavors and textures.  This cake was a huge hit with my family and some neighbors, so I hope you'll love it too.  Feel free to use whichever type of fruit filling or jam you prefer, as any flavor will work.
Cherry Cheese Coffee Cake with
Streusel  Crunch Topping
adapted from Oster's Sour Cream Coffee Cake recipe
Ingredients
Topping
3/4 cup (5 oz) pecans, chopped (or substitute another nut, coconut or oatmeal)
3 tbsp (1 1/2 oz) melted butter
2 tbsp sugar
1/4 cup (1.5 oz) brown sugar
Put pecans in small bowl; add the remaining ingredients and mix well. Set aside.
Cheesecake mixture
3 oz (just less than half a block) Philadelphia cream cheese, room temperature
1 egg
1 tbsp sugar
Cake
1/2 cup (4 oz) butter
3/4 cup (6 oz) sugar
2 eggs
1 tsp vanilla
2 cups ( 9 oz) all purpose flour
1 tsp baking powder
1 tsp baking soda
1/2 tsp salt
1 cup greek yogurt or labne
1 cup (8 oz) cherry pie filling (or other fruit filling) or cherry jam (or your favorite flavor jam)
Preheat oven to 350º F (170º C)
Butter and flour a 9″ square pan.*
In a small bowl, beat the cream cheese until soft and smooth. Add the single egg and 1 tbsp sugar and continue to beat until creamy.
In another bowl, place the flour, baking powder, baking soda, and salt in a small bowl and stir well.
Cream butter and sugar together in a large mixing bowl (I used my KitchenAid mixer) until fluffy and light. Add the eggs, one at a time, clearing well after each addition; then add the vanilla.
Add about one third of the flour, and mix well.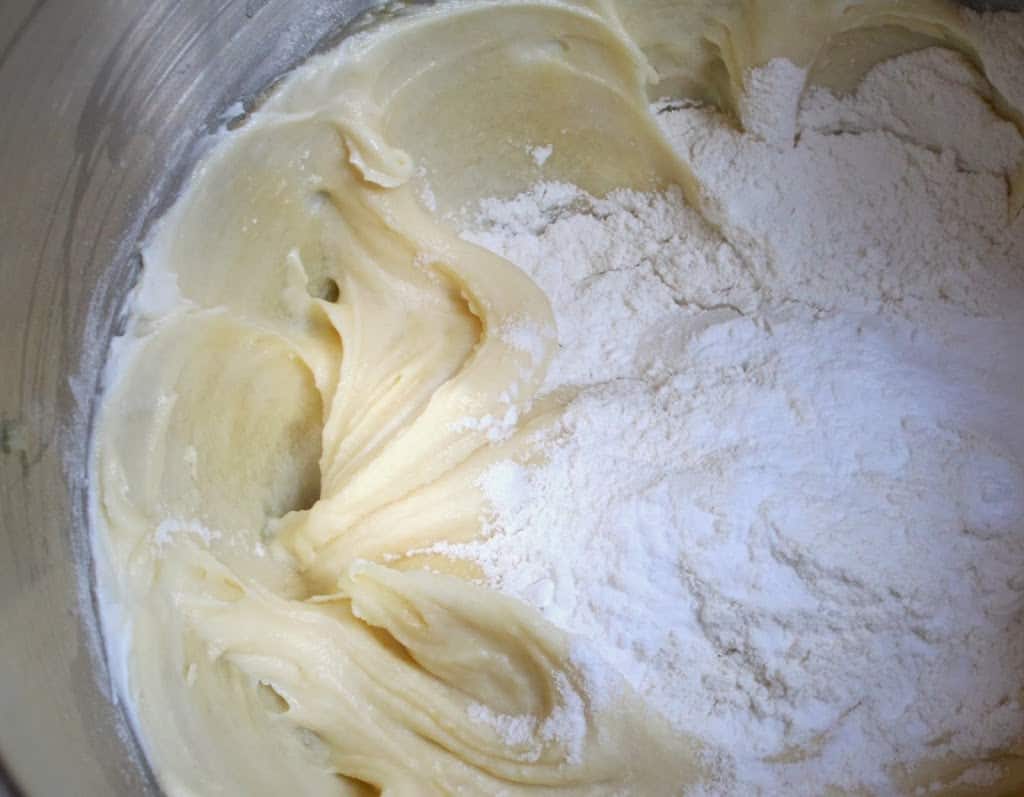 Next, add about a third of the yogurt/labne, and incorporate into the mixture.
Continue two more times, until the flour and yogurt/labne is used, occasionally using a spatula to scrape the sides and bottom.
Place half of the batter into the 9×9 pan. Spoon the jam evenly over the batter. Next, spread the cheese mixture over the jam layer. Spread the remaining cake batter over the top.
Using a knife, swirl through the cherry cheese coffee cake to marbleize the inside layers.
Now sprinkle the streusel topping over the cake.
Bake for 50 minutes to an hour, or until cake tester comes out clean.
Allow to cool slightly, before cutting. Serve warm with tea or coffee.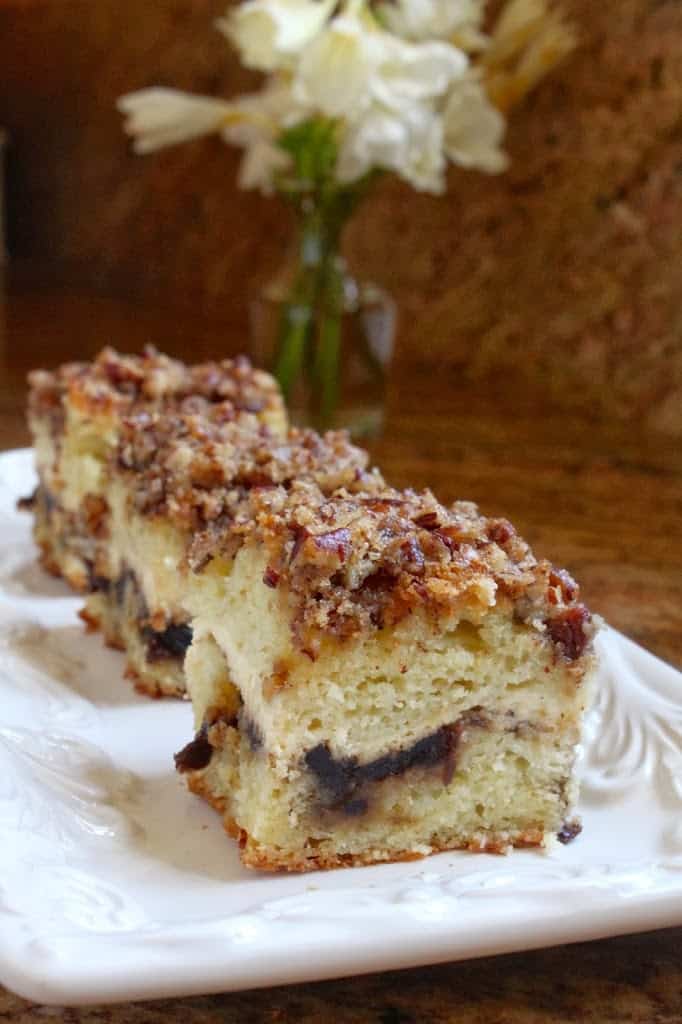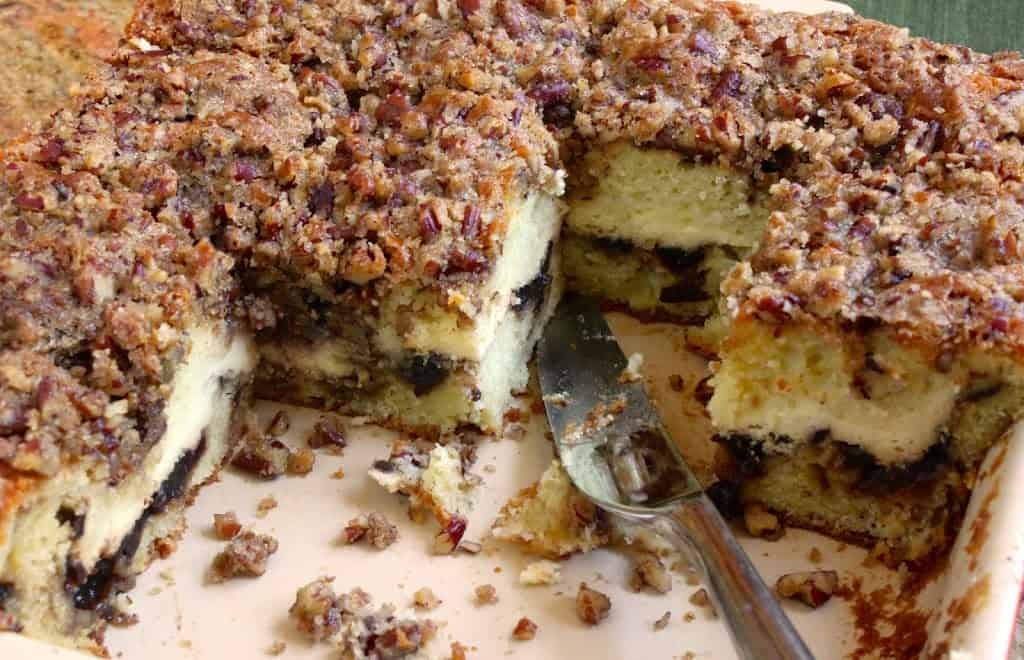 *you may want to bake about 1/2 cup or so of batter in a small tin, or make a couple of cupcakes, as this cake really filled up the 9×9 pan; it didn't spill over into the oven, but it was very full.
LA Living…
wintertime courtyard.
Don't miss another post! Sign up for my free subscription HERE, but make sure to look for the
Feedburner confirmation email or you'll get nothing, nada, niente and zippo in your mailbox!
(I promise not to sell or share your info, ever!)