Certain flavors are just meant to be together.
You may not agree with me, but I think that lemons and raspberries are perfectly suited to one another. Don't you just love raspberry flavored lemonade? If you do, I bet you'll also fall head over heels with these Individual Lemon Raspberry Trifles. You could make one large trifle, but I can tell you that it won't look as lovely and delicate as these little beauties.
I make these year-round, but they are absolutely perfect for a light dessert after a heavy holiday meal, or a great sweet to serve at a cocktail party.
Remember that Way Better Than Starbucks Iced Lemon Pound Cake I made a few weeks ago? That's the perfect cake to use for this dessert, which incidentally, is so simple, you hardly need a recipe! If you're interested in the little plastic glasses I used, I ordered them on Amazon, and they have different shapes and sizes.
Individual Lemon Raspberry Trifles
measurements are only given as a guide for about 16 trifles
Ingredients
a few pieces of Lemon Cake (this one is perfect-but don't use the icing in the trifles)
1 cup fresh raspberries
1 tbsp sugar
1 tsp fresh lemon juice
freshly whipped cream (real cream, not Cool Whip or the spray stuff in a can)
optional: some raspberry or lemon liqueur, like Limoncello
Instructions
Set aside as many whole raspberries as the number of trifles you are making, for the top.
Roughly crush the remaining fresh raspberries in a bowl and add the sugar and lemon juice. Set aside for 10 minutes, and it will develop some lovely juice.
Put some pieces of cake in the bottom of the glasses, and drizzle with liqueur if using.
Top with some crushed raspberries, cream and repeat once more, ending with cream.
Top with a fresh raspberry and refrigerate for at least an hour or so before serving.
Don't miss another post! Sign up for my free subscription HERE, but make sure to look for the Feedburner confirmation email or you'll get nothing, nada, niente and zippo in your mailbox! (I promise not to sell or share your info, ever!) 
Only in LA…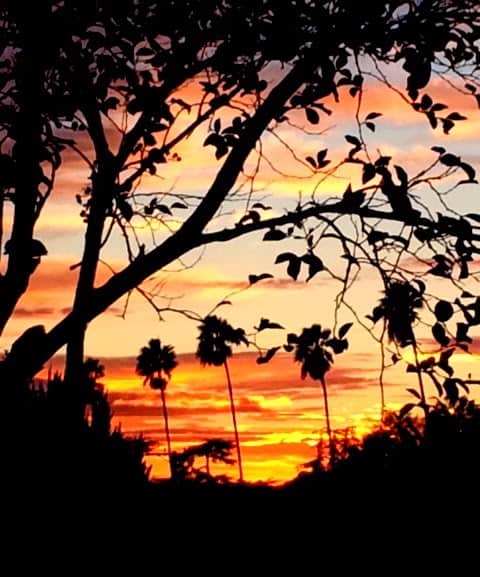 a gorgeous sunset from my street, a few days ago