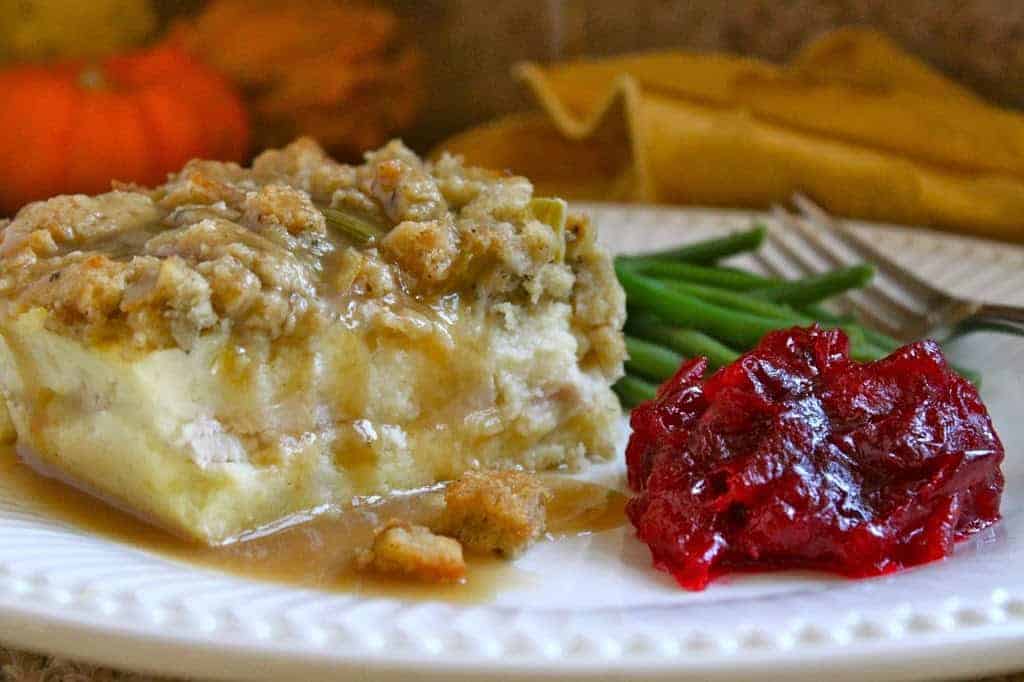 FREE ADVICE: You'd better make double the normal amount of mashed potatoes you usually make for Thanksgiving, this year.
You'll understand why, when you look at the photos of the new recipe I've developed especially for the Idaho® Potato Commision*. This creation transforms your leftovers into something spectacular! Will your guests still be around the next few days after the holiday? They may not want to leave after they try this dish! But to make sure your Layered Leftovers will taste the very best, you have to use the best quality ingredients you can get your hands on, and that means Idaho® Potatoes in your pot!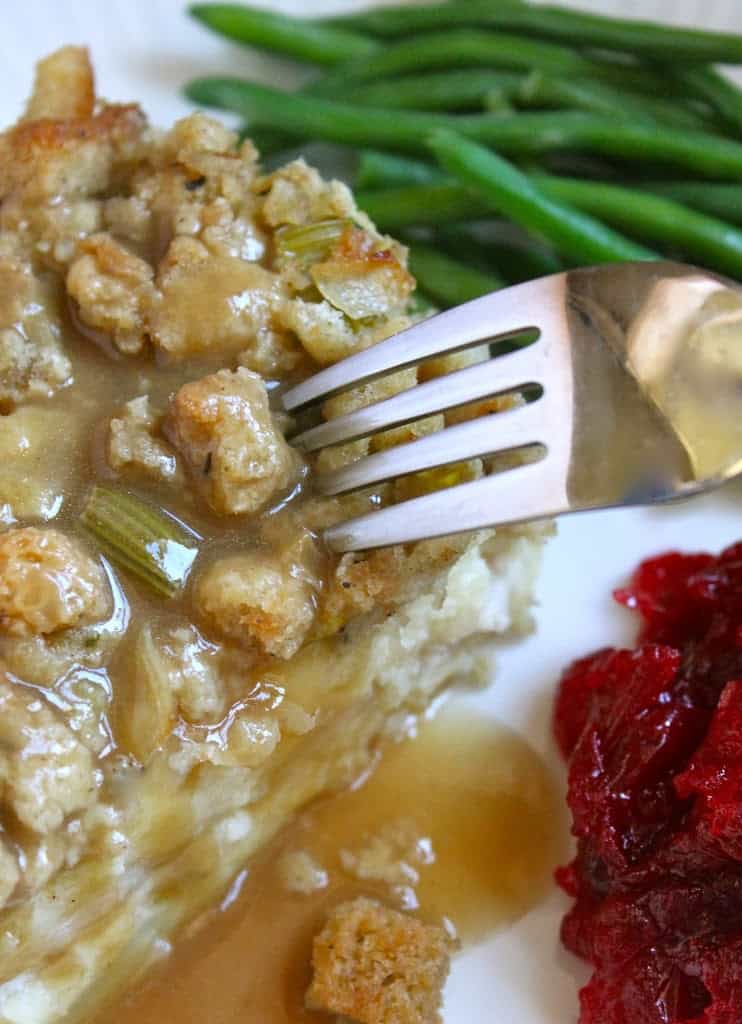 The mashed potatoes in this dish are especially light and fluffy (thanks to the added eggs), and there's a layer of juicy turkey pieces, covered with more mashed potatoes and topped with a crunchy layer of stuffing! What's not to like? It's sort of like a Thanksgiving lasagna, without the pasta!
Serve some green beans and cranberry sauce alongside a slice of this dish, with a generous pour of turkey gravy, and no one will recall that this fabulously tasty meal is completely made from leftovers! Of course you could always make turkey (I used a breast), mashed potatoes and fresh stuffing and make this dish without using leftovers.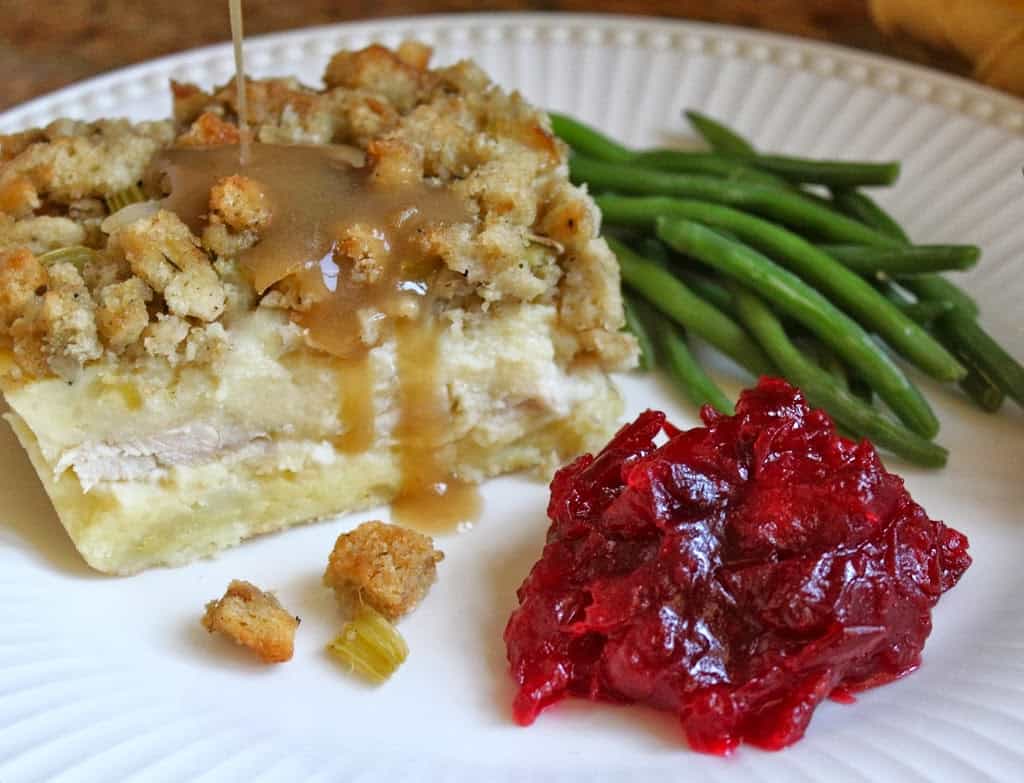 Vegetarian? Swap out the turkey for your favorite turkey substitute or chop up the green beans and have a green bean layer, instead. The possibilities are endless!
Here's the best part (besides the flavor): there's really no "cooking" involved, as it's mostly just assembling the dish! I think it's a genius recipe…even if I do say so myself! ;) (Wink, wink!)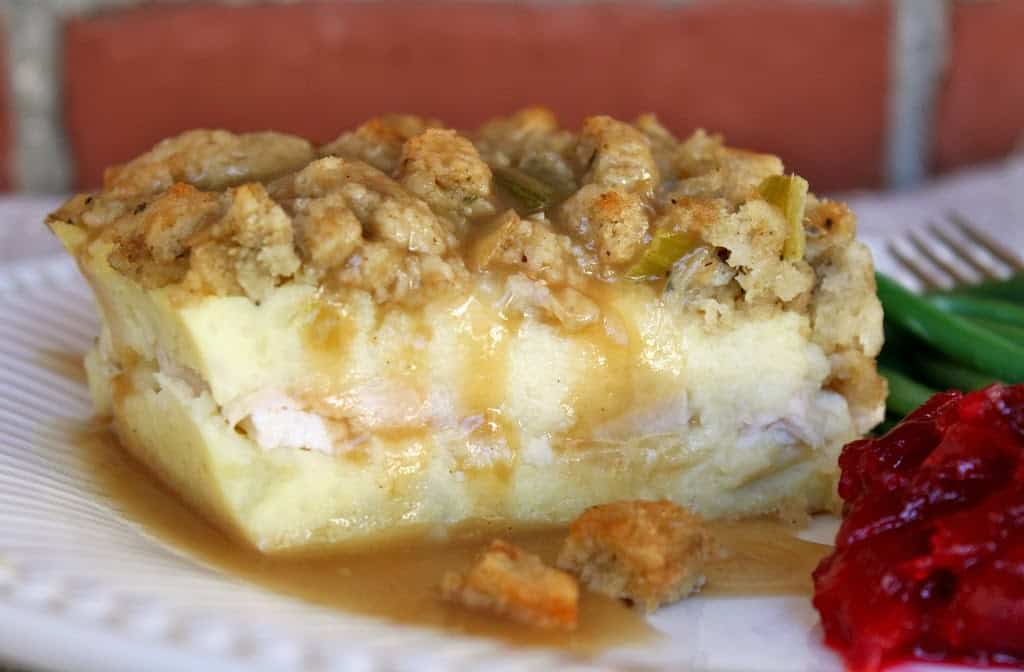 Genius Potato, Turkey and Stuffing Layered Leftovers
Ingredients
leftover mashed potatoes, about 4 cups (use Idaho® Potatoes for best results)
2 eggs
pat of butter
breadcrumbs (omit for gluten-free)
leftover turkey, sliced, and/or chopped into bite sized pieces
leftover stuffing, about 2 cups, crumbled (for gluten-free version, use a gluten-free stuffing)
Preheat oven to 350º F
Butter an ovenproof dish and sprinkle the bottom with some breadcrumbs; set aside.
Prepare the potatoes by adding 2 eggs, one at a time, and mixing well, before adding the second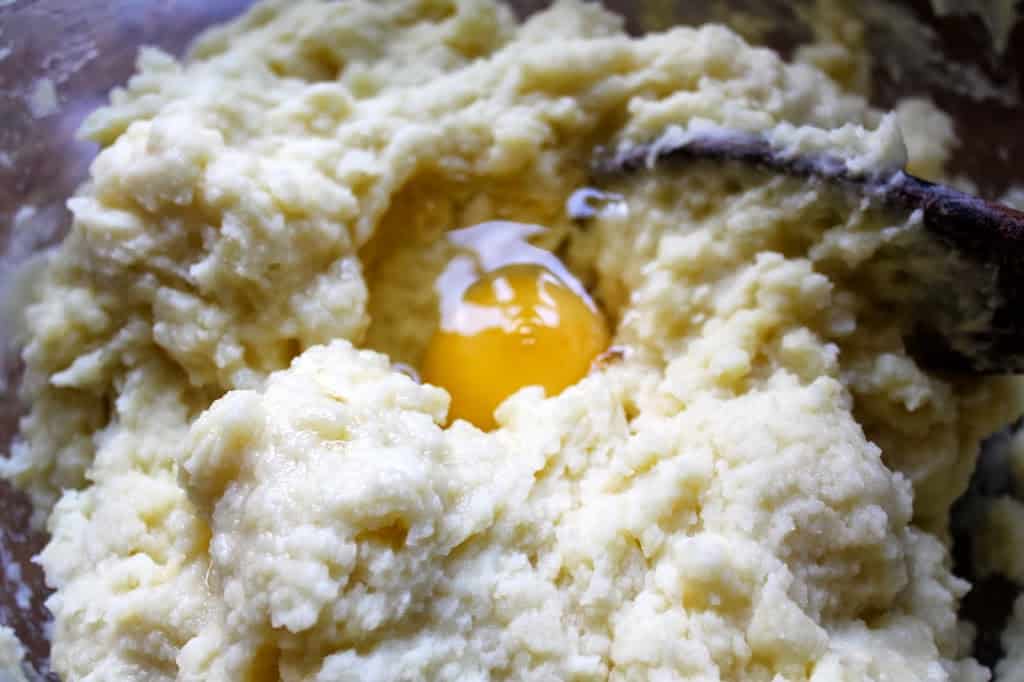 Spread half of the potatoes into the breadcrumb sprinkled dish.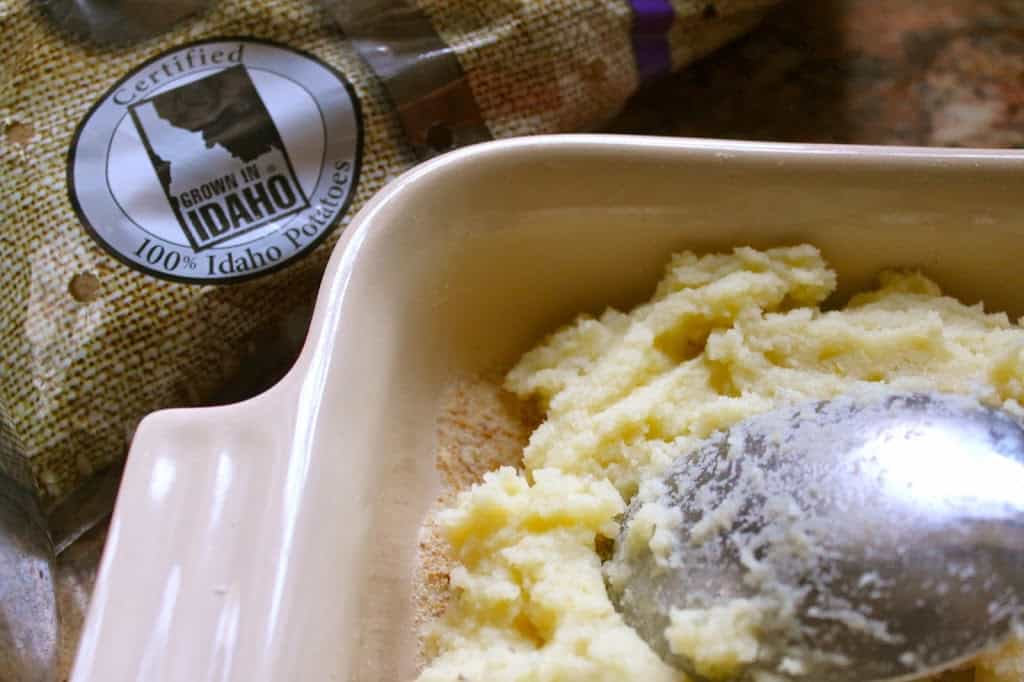 Next, layer turkey pieces all over the top of the mashed potatoes.
Spread the remaining mashed potatoes on top of the turkey layer, and top with a generous amount of leftover stuffing, so that the potatoes are completely covered.

Press down a little with a fork.
Cover with aluminum foil (I rubbed a little olive oil on the inside of the foil, so it wouldn't stick to the dressing) and bake in preheated oven for 30 minutes.
Remove foil, and continue to bake for another 10 to 15 minutes or until the stuffing begins to get crispy and golden brown.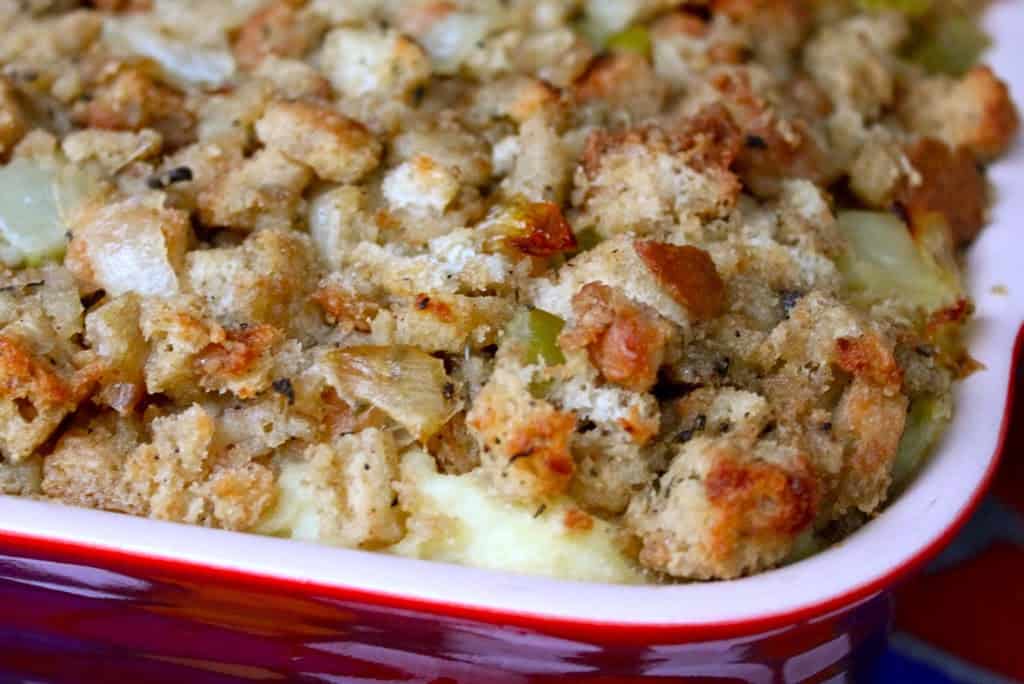 Remove from oven and allow to cool for five minutes before serving.
This is a perfect meal when served with turkey gravy, cranberry sauce, green beans and/or any other traditional Thanksgiving side dishes.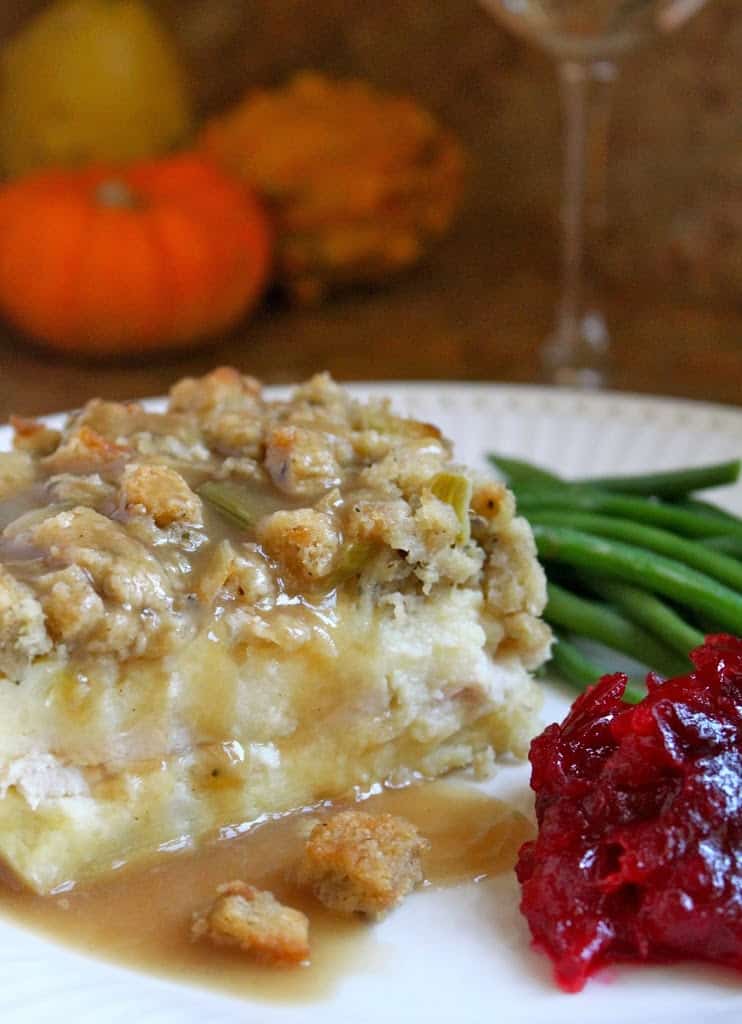 Here's another great idea: make individual servings in ramekins!
I received compensation from Idaho® Potato Commission to create this recipe.*
* I only promote items I use, and truly believe in.