My mother made this Italian potato, ham and mozzarella dish for my brother's high school graduation open house. Everyone raved about it, but she never made it again.
Shall I add that my brother is now 43? I still remember how much I loved this and I was only 21 when he graduated. Why my mother never made it again, and why I never made it until now, boggles my mind. The recipe comes from Il Cucchaio D'Argento (The Silver Spoon) which is a fabulous Italian cookbook. It's sort of a bible of Italian cooking the way Americans have the Betty Crocker Cookbook, I suppose. Although I found the recipe online, for some reason, it's been changed from the original recipe. My mother used the version from the hardcover copy of the old book she still has, so I stuck to the original recipe as that's the one we had enjoyed so much.*
If you've ever had Duchesse Potatoes, you'll know that they are light and fluffy in the center and have a lovely, crisp crust. Well, think of Gattò di Patate as a Duchesse Potato lasagna with ham and mozzarella cheese filling! The reason given in Il Cucchaio D'Argento, for the name of this dish being "gattò", is the mispronunciation, by Italians, of the French word, "gateaux", which means "cake" (not to be confused with the Italian word for cat.)
I have to make this again very soon, because my husband, daughter and I devoured the first one I made!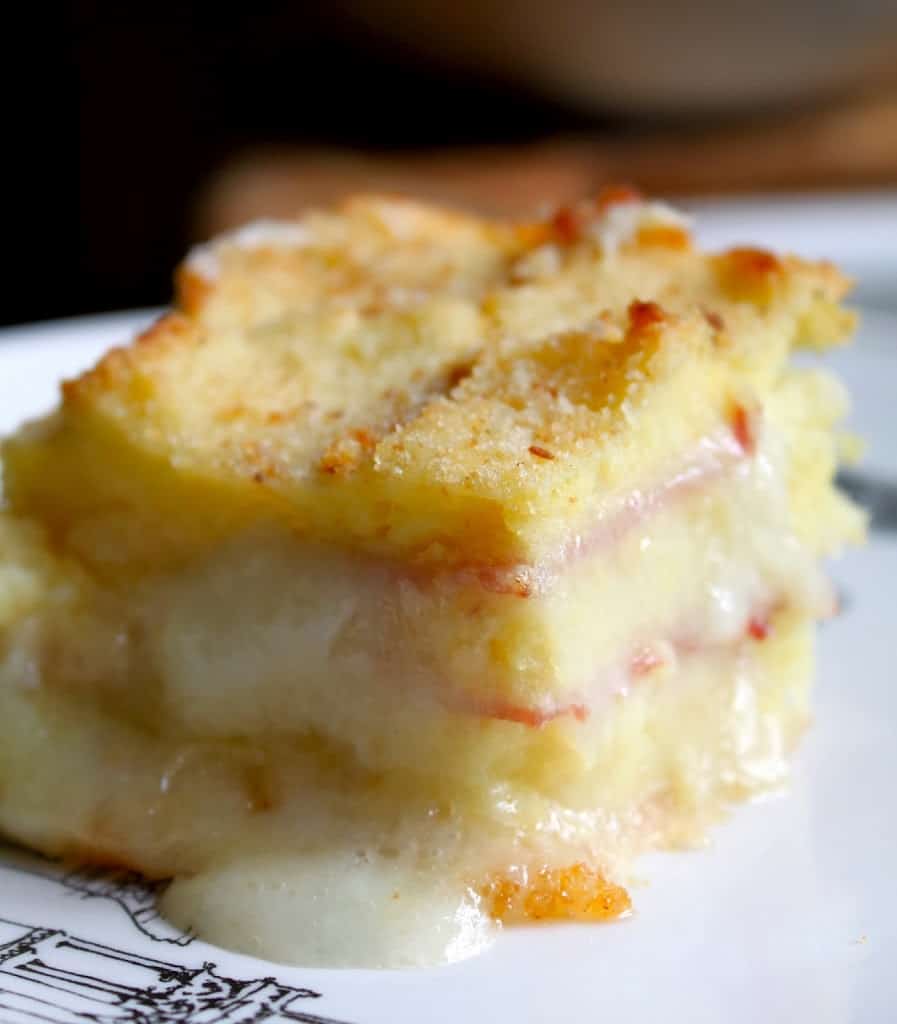 *In the recipe photos, I show full slices of ham, but it was difficult to cut into the pieces after being baked, so next time, I will layer pieces of chopped ham. This can also be made vegetarian just by omitting the ham. Remember to use leftover mashed potatoes to make this whenever you have them.
Potato Ham and Mozzarella Bake (Gattò di Patate)
adapted from Il Cucchaio D'Argento 
Serves 6 (large servings)
Ingredients
3lbs potatoes (I used Gold) try to use similar sized potatoes
1/3 cup (3 oz) milk, room temperature or heated (few extra pats of butter, to top the dish)
1 stick (4 oz) butter, softened/slightly melted
1/2 cup (2 oz) grated Parmigiano Reggiano
3 eggs
5 oz mozzarella cheese, sliced or shredded
4 oz (about 5 slices) ham, nitrate/nitrite free (I used Applegate's Black Forest ham)
breadcrumbs
Kosher or sea salt
Butter the inside of an ovenproof dish (I used an 8×8 pan and 2 ramekins)
Begin by scrubbing the potatoes and putting them in a pot; fill with water and add about 2 teaspoons of salt. Bring to a boil and simmer until a knife inserted into the center of a larger potato goes in easily.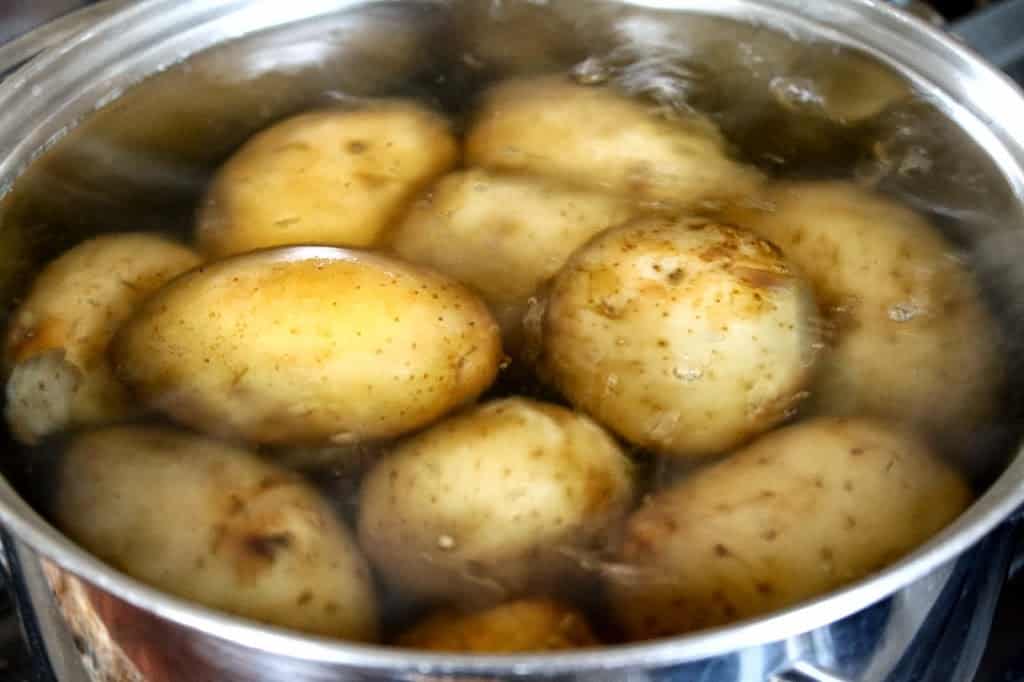 Peel the potatoes after draining them (the skins slip off easily) and either put through a ricer (preferable) or mash them. Taste the potatoes and add salt if needed. They should be really tasty, just with added salt.
Preheat oven to 350º F (180º C).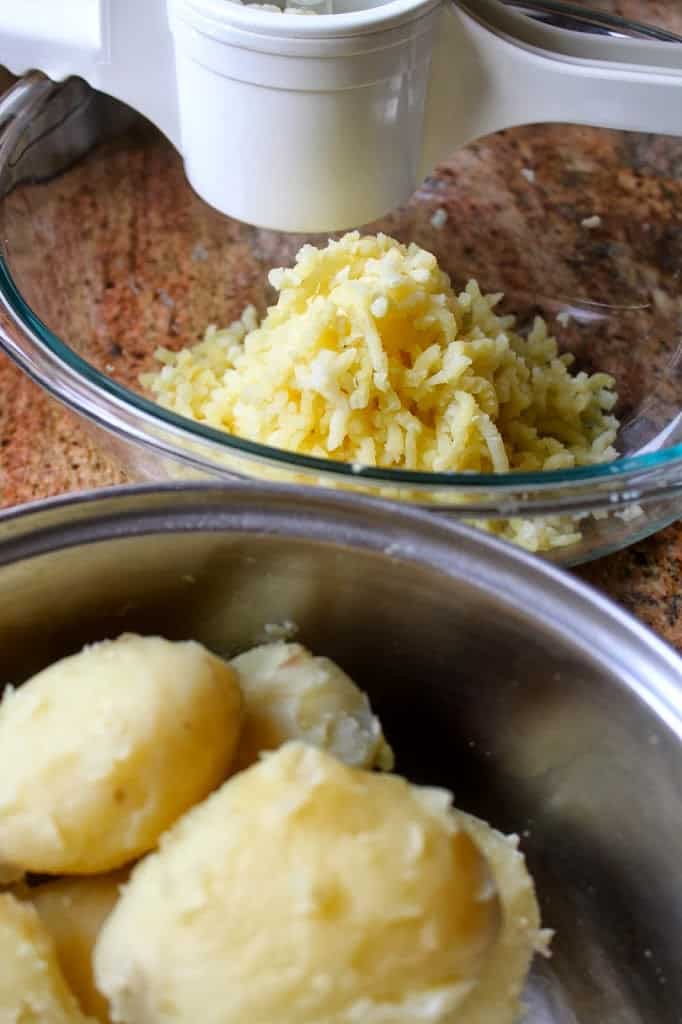 Stir in the butter and milk.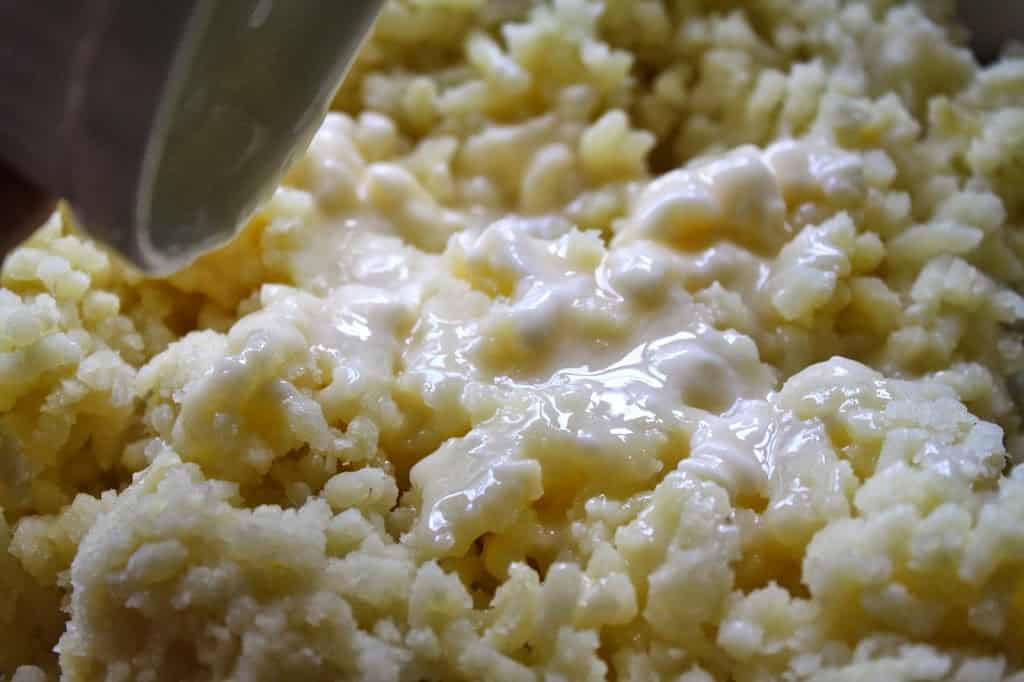 Then the grated Parmigiano cheese.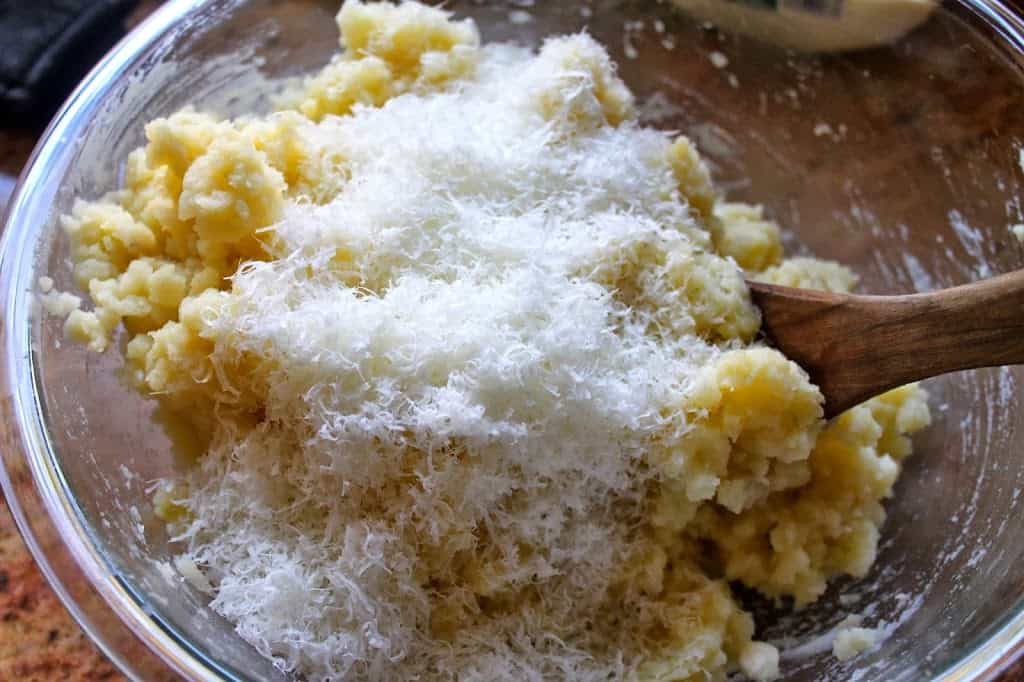 And the eggs, one at a time.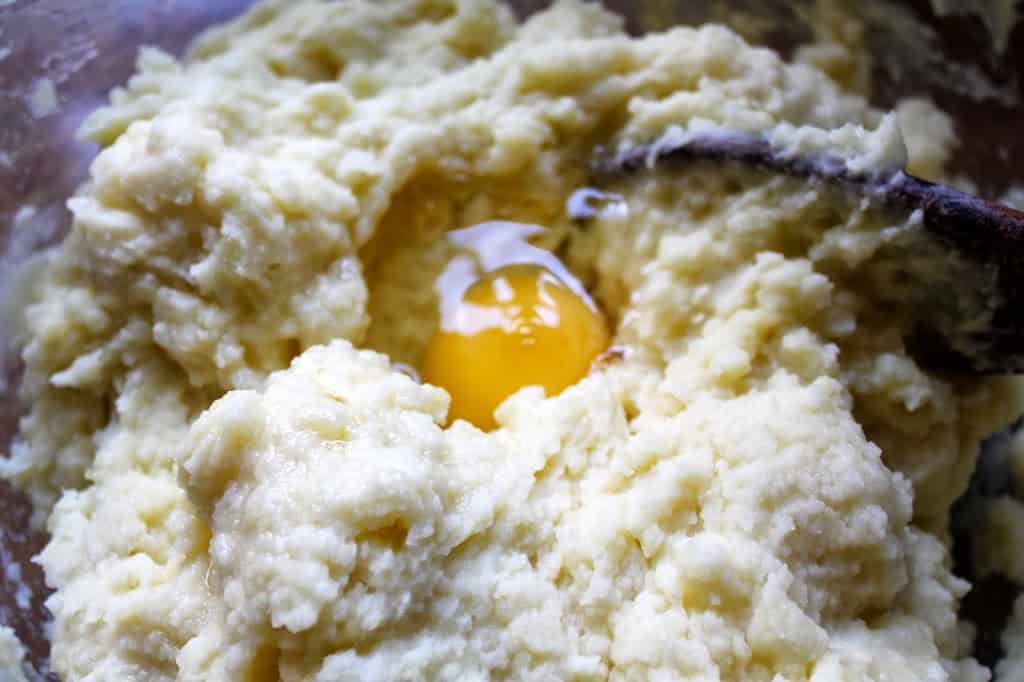 Add about 1/4 tsp more salt (for the added eggs). Next, sprinkle breadcrumbs over the bottom of the buttered dish and spread about one third of the potato mixture onto the breadcrumbs.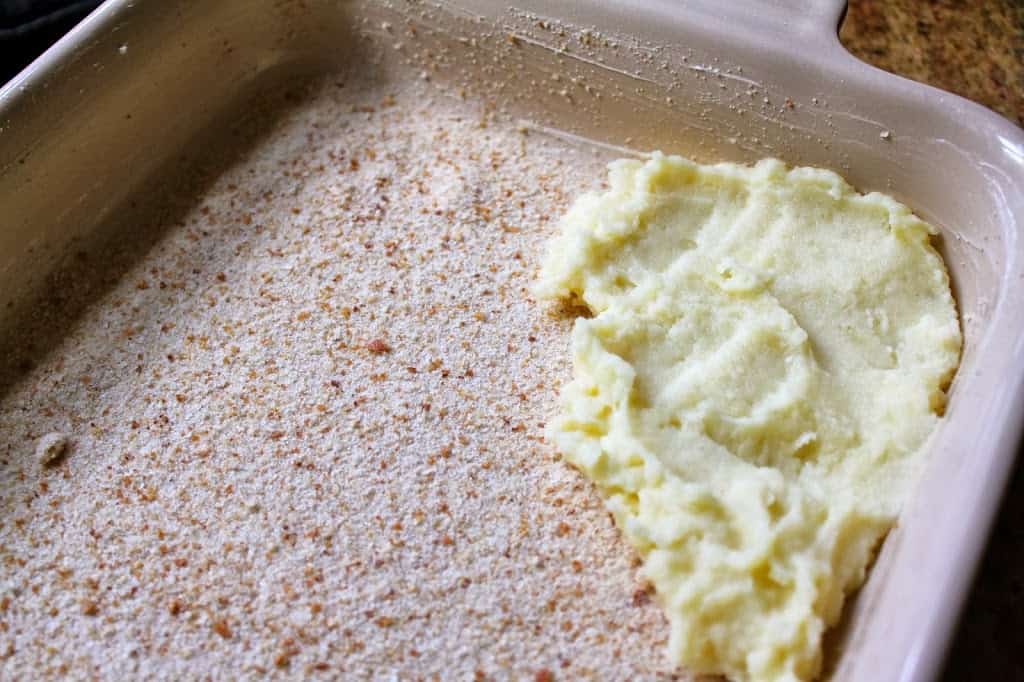 Now, add the chopped ham (I used whole slices here, but prefer bite size pieces), and slices of mozzarella.
 Repeat; ending with a layer of potatoes on the very top. Sprinkle with more breadcrumbs, and dot with butter. I made a little pattern to make it look pretty!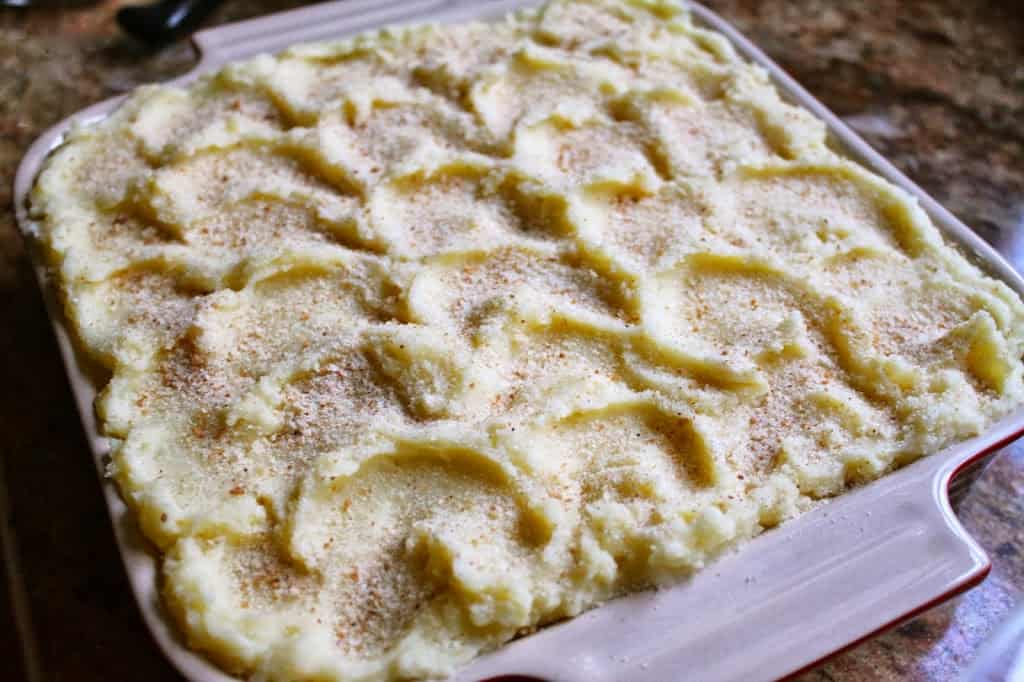 I also ended up making two vegetarian versions (no ham) in a couple of ramekins.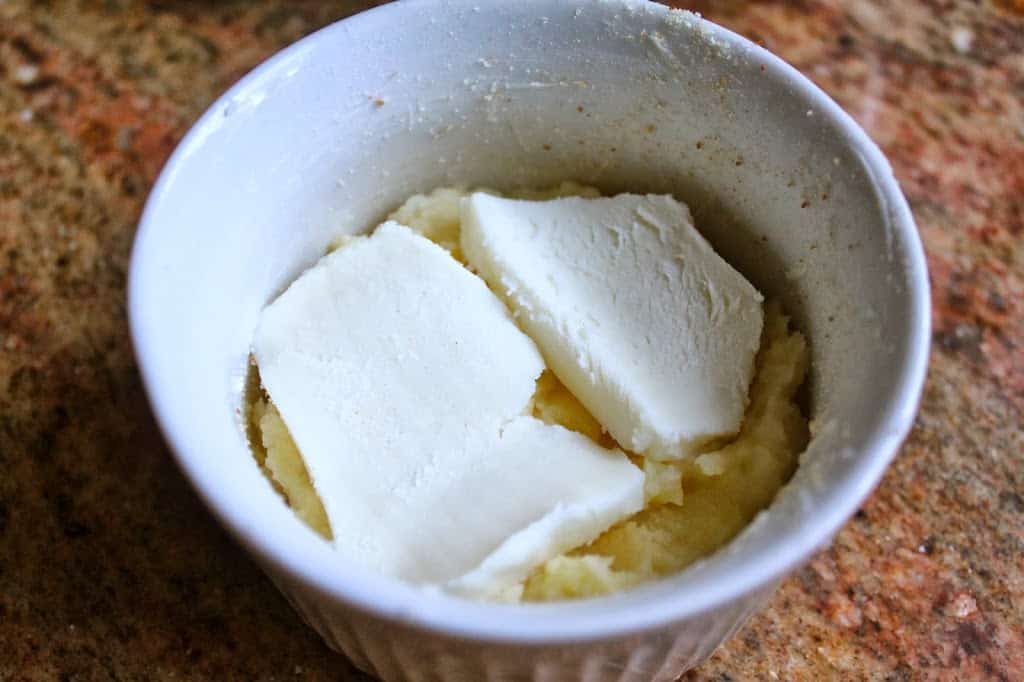 Bake for 30 to 40 minutes (place on a higher rack in the oven towards the end of baking, if you like a more golden brown crust on the potatoes).
 And this photo will prove that you can make this ahead of time and reheat it to serve!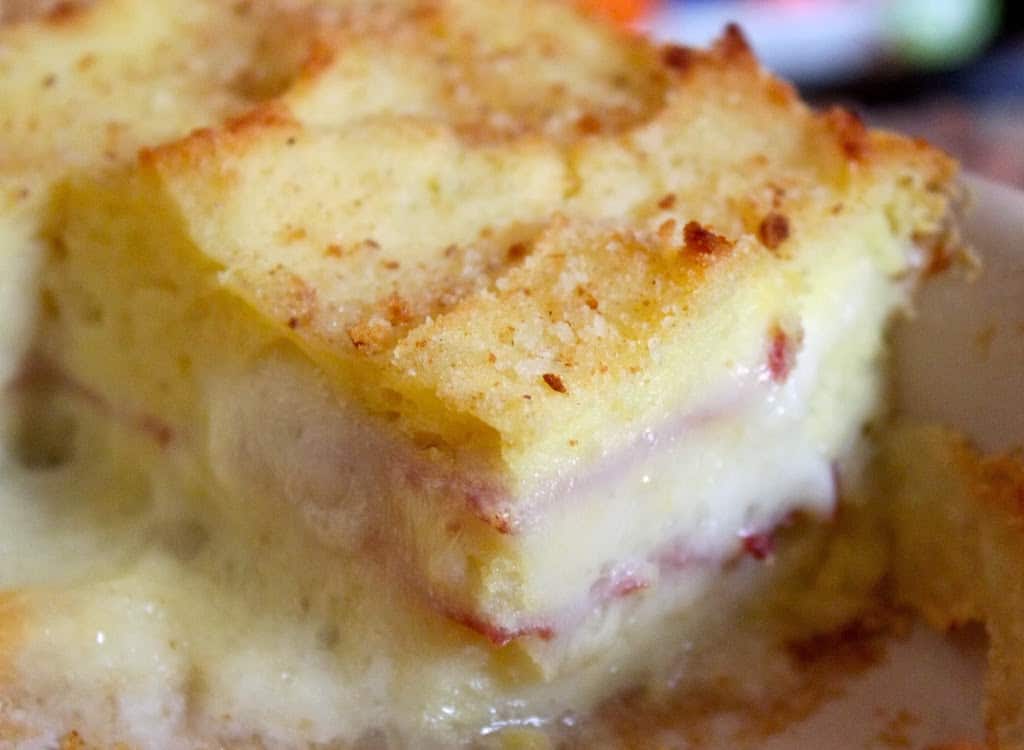 Don't miss another post! Sign up for my free subscription HERE, but make sure to look for the
Feedburner confirmation email or you'll get nothing, nada, niente and zippo in your mailbox!
(I promise not to sell or share your info, ever!)