I am so excited to be chosen as a participant in OXO and PLATED's Very Vegetarian Challenge this month!
Its great timing too, since this month is all about unprocessed food. I created a recipe just for the OXO/PLATED challenge, but I hope you'll enjoy it, too. I decided to use julienned sweet potatoes, and golden potatoes as the stars in this creation, with crumbled goat cheese in between the two potato cakes, served alongside a European salad mix topped with more goat cheese, and a lovely balsamic vinaigrette drizzled over both! Sweet potatoes start to make their comeback this time of year, and it's a good thing because they are so incredibly nutritious.
This meal is easy enough to make in just half an hour for a quick and satisfying vegetarian weeknight meal, but definitely impressive enough for company on the weekend!
I have so many OXO kitchen products (which I purchased) that if someone looked through my kitchen without me here, they'd probably think I worked for the company! It's actually enjoyable to use their tools, because they work so well, and which is exactly the reason I have so many. I continue to look for OXO whenever I need a kitchen tool or product which they make, and they make A LOT!!
I have just learned about PLATED which is for busy people who want to cook, but either don't have time, or don't enjoy the shopping/measuring part of the cooking process: PLATED ships all the (pre-measured)  ingredients you need, plus the recipe and instructions to make a gourmet meal in 30 minutes or less! What a concept!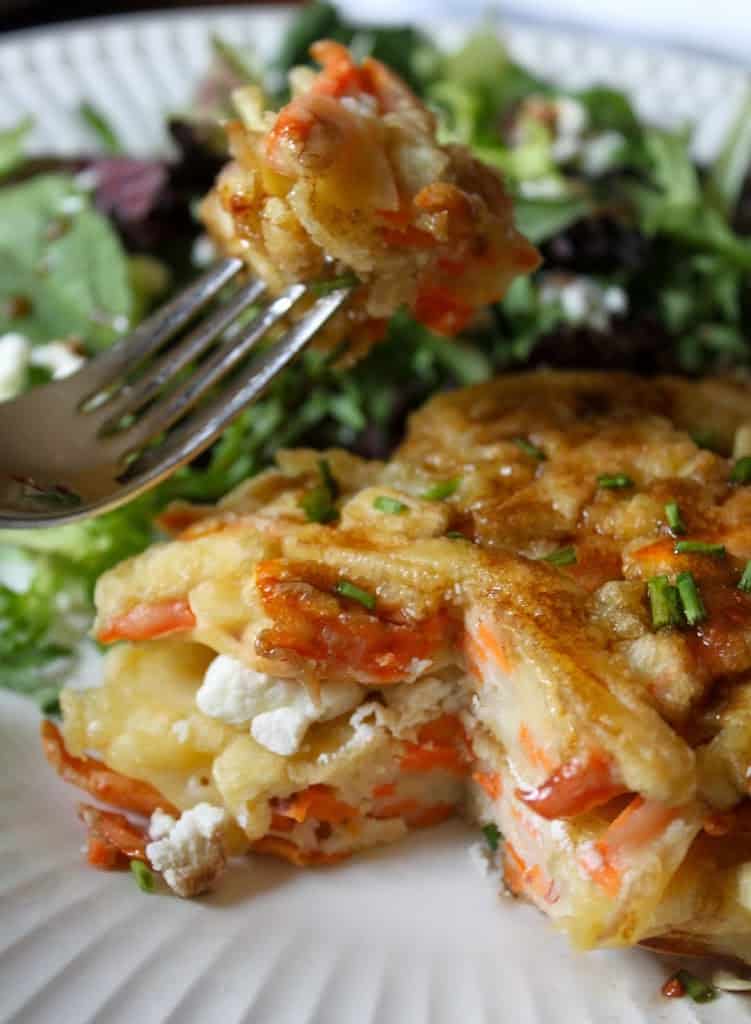 Potato Goat Cheese Cakes with European Salad
and Balsamic Vinaigrette
Serves 2
Ingredients
1/2 tsp Dijon mustard
2 pinches salt
1 tbsp Balsamic vinegar
3 tbsp extra virgin olive oil
1 medium gold potato (about 4 oz)
1 medium sweet potato (about 4 oz)
1/3 cup flour (use white whole wheat for unprocessed)
1/4 cup cornstarch
1/2 tsp baking powder
1/8 tsp salt
1 egg
1/4 cup water
2 oz (1/4 cup) crumbled goat cheese
3 oz European salad mix (red oak leaf, green oak leaf, frisee, mizuna, arugula etc.)
(optional – chopped chives to garnish)
MAKE VINAIGRETTE in the OXO salad dressing shaker by using the OXO 9″ whisk to combine Dijon mustard, salt, and balsamic vinegar together. Continue to whisk while pouring in 3 (THREE) tbsp. olive oil.
Place the top of the dressing shaker on to use pourer and set aside. Rinse the whisk.
MAKE BATTER. Stir together salt, flour, cornstarch and baking powder in medium bowl and set aside. Beat the egg in a jug, then add the 1/4 cup of cold water and gently use OXO whisk to add the liquid to the dry ingredients until a smooth batter has formed.
JULIENNE POTATOES. Wash the gold potato and slice with the OXO handheld mandoline slicer on the #3 setting.
Cut potato pieces into small julienne strips; place in bowl and cover with water. Repeat with sweet potato, (but do not soak); set aside. The mandoline slicer works so well, slicing the potato thinly and easily. Just make sure to use the safety gripper to hold the potatoes while slicing!
COOK POTATO CAKES. Drain, then dry the gold potato in a paper towel, and add to the batter, along with the sweet potato and mix well.
Heat remaining 3 tbsp of olive oil a large saute pan over medium high heat.
Using the OXO tongs, place a quarter of the potato mixture into the hot pan, forming it into a round, and slightly flattening. Repeat  three more times to make four cakes. Cook for about four (4) minutes, or until slightly brown, then turn and finish cooking. Remove from pan when starting to brown, and place on paper towel lined plate.
ASSEMBLE CAKES. Place some crumbled goat cheese on top of a potato cake, then top with another cake, pressing slightly. Repeat with more goat cheese and the remaining two potato cakes.
SERVE. Place half of European Salad Mix on a dinner plate, and top with half of remaining goat cheese. Arrange a potato cake alongside the salad (and top with chopped chives, if desired.)
Drizzle the balsamic vinaigrette with the OXO salad dressing shaker, over the salad and potato cake; repeat on a second plate with remaining ingredients and serve immediately.
Doesn't this look delicious?
OXO Tools I used: OXO Salad Dressing Shaker, OXO 9″ whisk, OXO Handheld Mandoline Slicer, OXO 12″ tongs with silicone tips.
Don't miss another post! Sign up for my free subscription HERE, but make sure to look for the
Feedburner confirmation email or you'll get nothing, nada, niente and zippo in your mailbox!
(I promise not to sell or share your info, ever!)
DISCLOSURE: I received some OXO products in order to complete this challenge, however, all thoughts and opinions are my own.
Christina's Cucina is a participant in the Amazon Services LLC Associates Program, an affiliate advertising program designed to provide a means for sites to earn advertising fees by advertising and linking to Amazon.com which means I can keep providing you recipes for FREE!