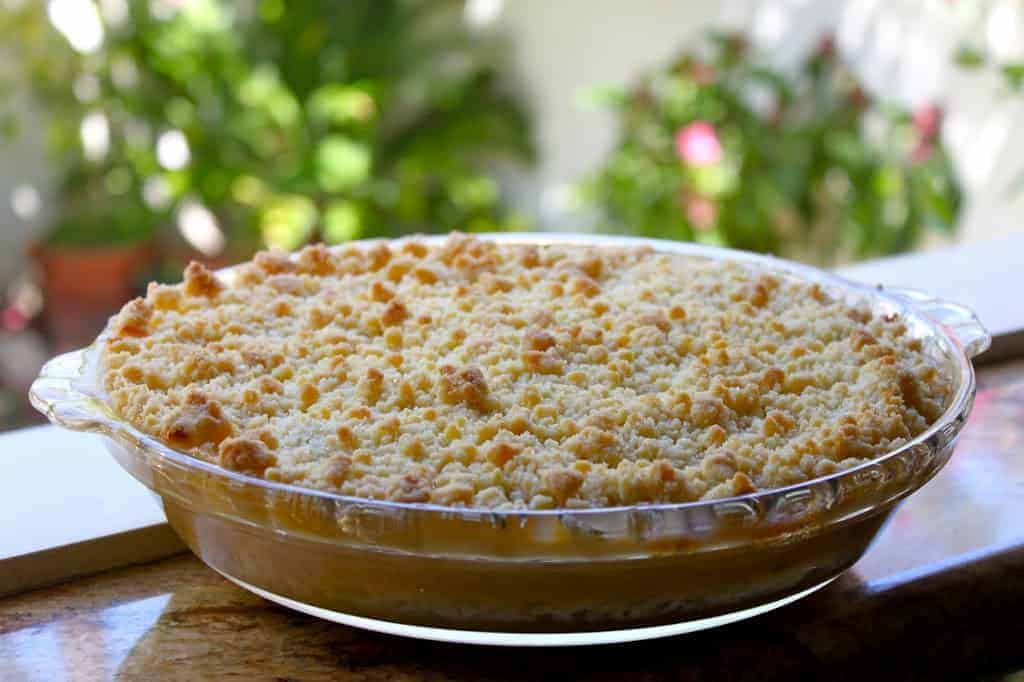 I say this fruit crumble is "Simply the Best" because it is unimaginably easy to make, yet the flavor is indescribably delicious.
I have no written recipe for this crumble, since my mother taught me how to make it when I was a little girl in Scotland, and just told me to remember 2-4-6. That is:  2 oz of sugar, 4 oz of butter and 6 oz of flour.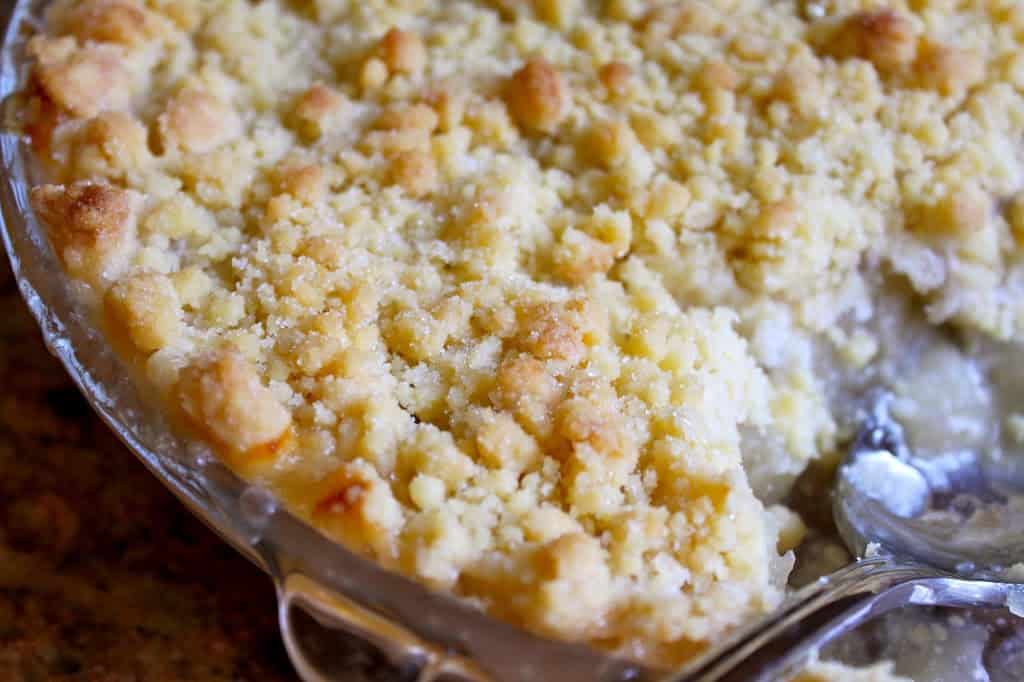 Everyone knows how buttery and delicious shortbread is; well this is a sort of crumbled shortbread topping on a warm, fruit base. My favorite crumbles are apple, cherry or rhubarb, or strawberry-rhubarb, but any fruit which can be baked into a pie works perfectly. In Britain, this dessert (pudding, as it is called there) is traditionally served with custard or cream. Either one puts this creation into the stratosphere!
It is difficult to imagine how something so simple can taste so fabulous, but in many circumstances, "simple" is often the best!
If you're unsure about how to prepare the fruit, just click on the link for the partially cooked/steamed fruit that is highlighted in the recipe below.
Simply the Best Apple Crumble, or Rhubarb Crumble, Blueberry Crumble, Peach Crumble…
Ingredients:
2 oz (1/4 cup) white sugar (use good quality cane sugar, like C&H or Domino)
4 oz (1/2 cup or one stick) good quality butter, like Kerrygold
6 oz (1 1/4 cups) good quality flour, like King Arthur
approximately 12 to 16 oz or 1 1/2 to 2 cups of partially cooked/steamed fruit (your choice) with some sugar added (or you can also use raw fruit) I love apple, rhubarb, cherries, peaches, strawberry/rhubarb, blueberry, etc.
Cut the butter into the flour with two knives until the pieces of butter are quite small.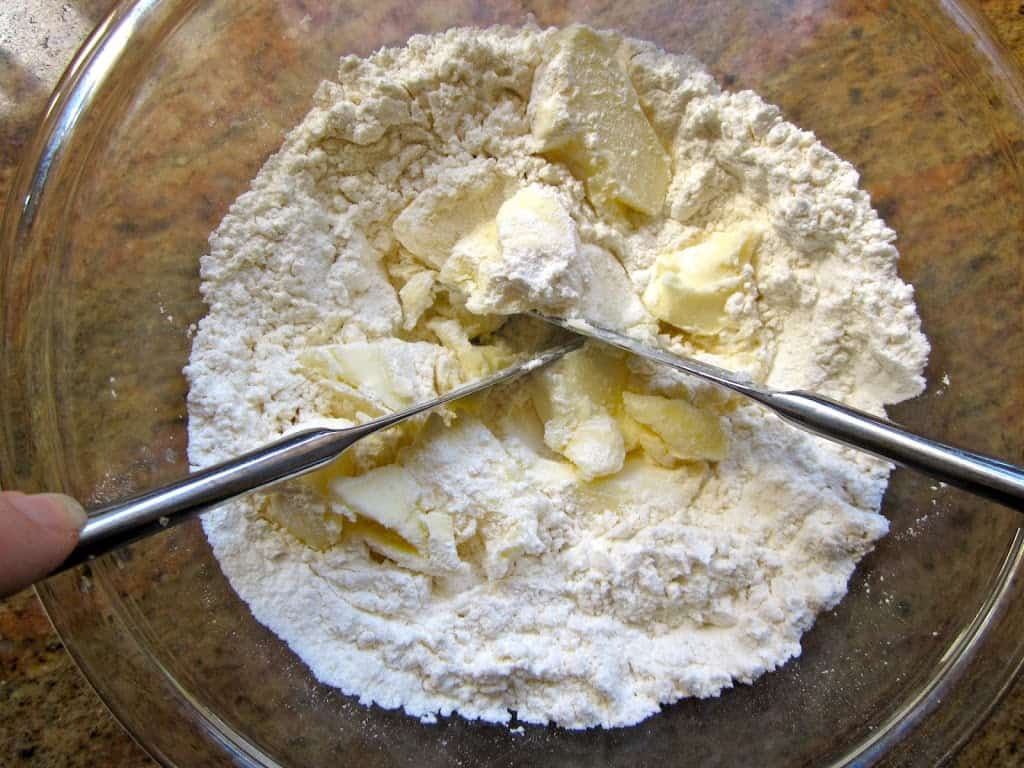 Finish off mixing the butter into the flour with the tips of your fingers, until it resembles a "crumble" mixture.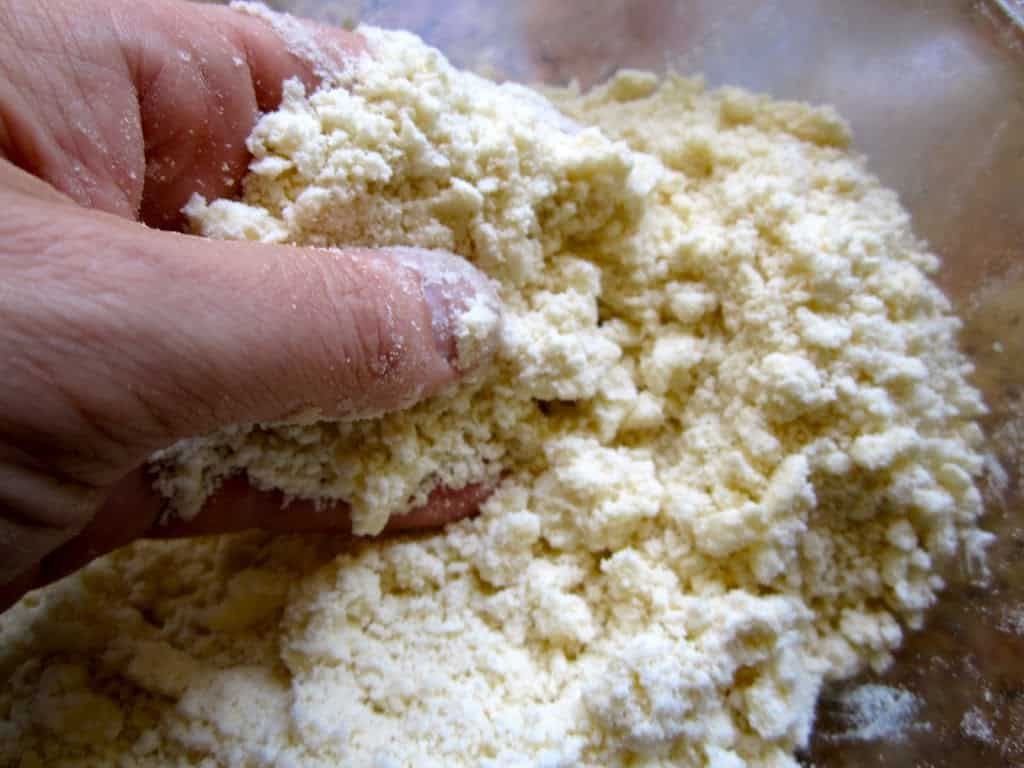 Stir in the sugar. That's it!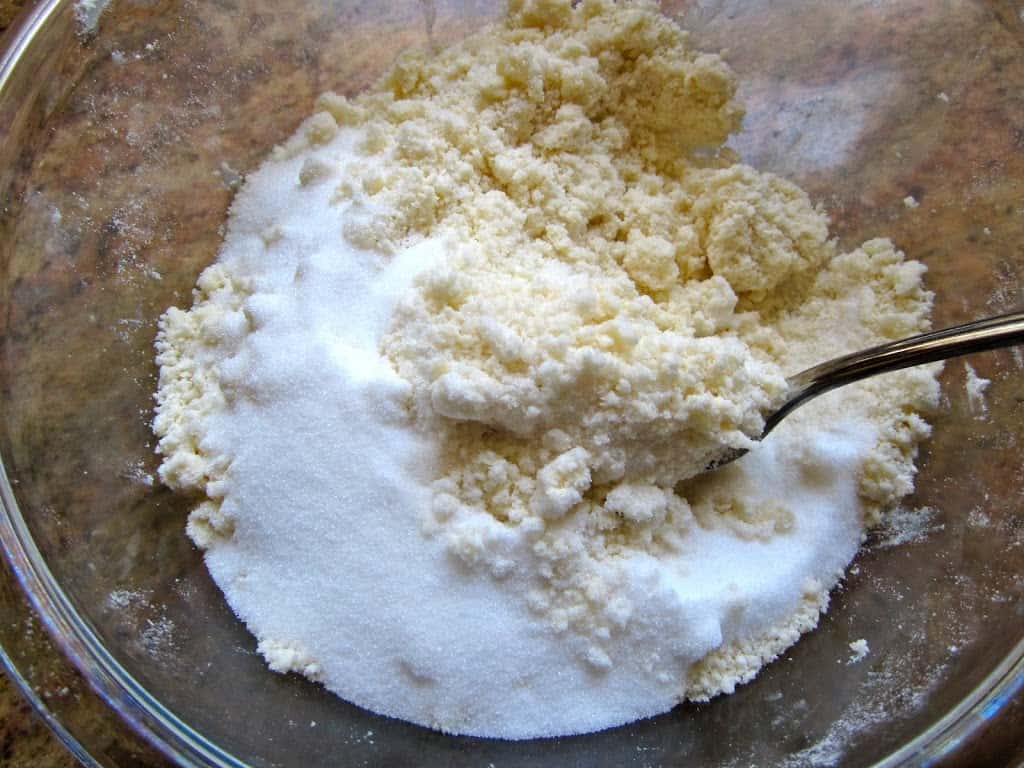 Place the fruit in a baking dish or individual ramekins and top with a generous amount of the crumble.
If using ramekins, place on a baking tray.
Bake for approximately 25 minutes at 400°F (205°C) or until top is golden brown.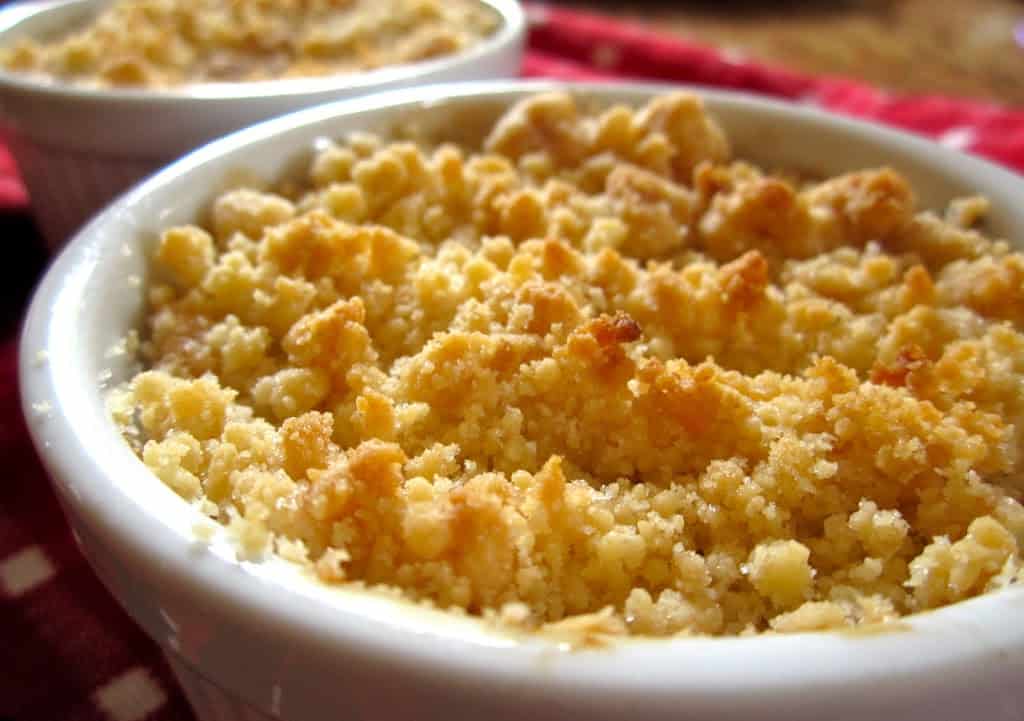 Since the cream in the US is very thin, I beat it ever so lightly to get a "double cream" type consistency, so it's a little thicker when pouring it on.
Or you can make homemade custard, or use Bird's powder, which Brits have used for many years. Either way, I bet this will be one of your all time favorite desserts, after you make it just once!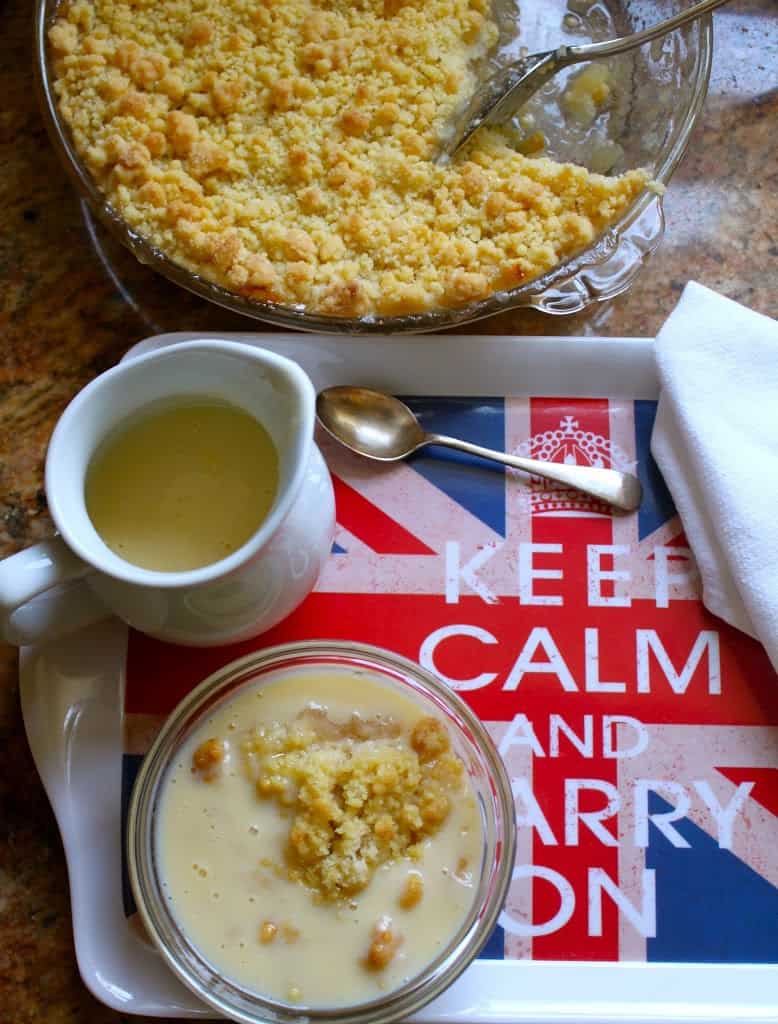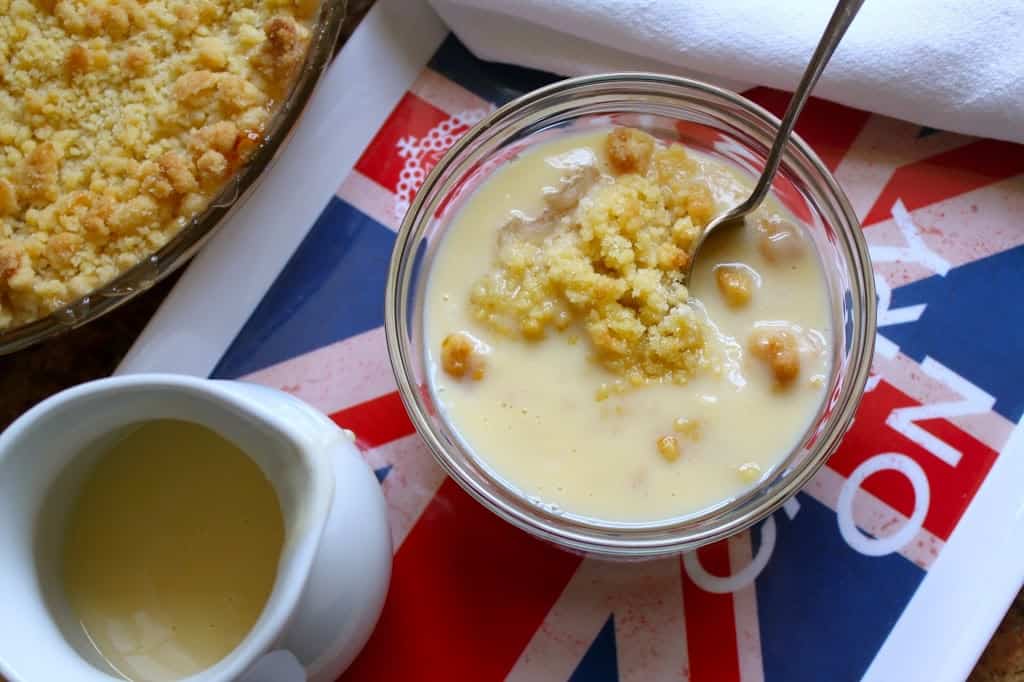 Don't miss another post! Sign up for my free subscription HERE, but make sure to look for the
Feedburner confirmation email or you'll get nothing, nada, niente and zippo in your mailbox!
(I promise not to sell or share your info, ever!)