…continued from here.
Victoria is a charming city; the magnificent Empress Hotel claims the front and center seat of the waterfront, whilst the Parliament Buildings are another prominent feature, adorning the street nearby. One might think that these ostentatious buildings set a posh and upscale tone for the area, but nothing could be farther from the truth: Victoria is another completely relaxing, casual and easy-going place to visit. If you can pull yourself away from the city, there are an abundance of opportunities to experience natural beauty in the area, We took a morning hike up to Mt. Finlayson, which was not easy, but we made it to the top and were rewarded with breathtaking views of far off, snow-capped mountains, and Victoria's harbour.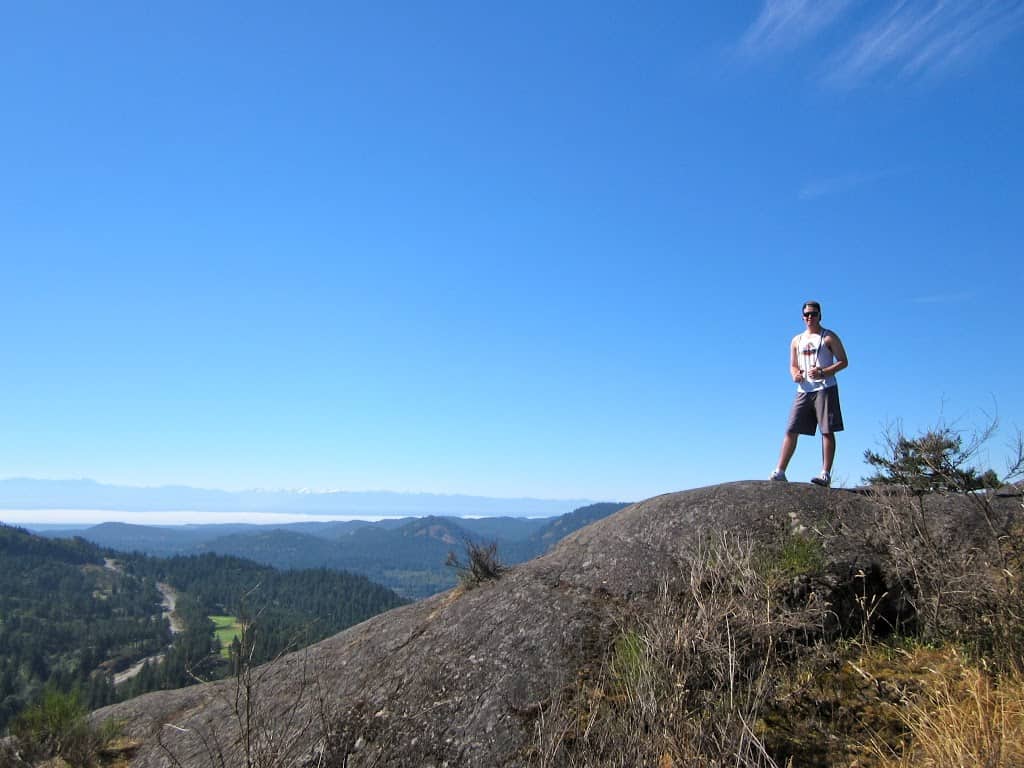 We planned to stay one night in Victoria, but enjoyed it so much, we decided to stay for another night. A word of warning if you are travelling with anyone under 19 years old: apparently, BC has a law that underage drinkers are not allowed to enter or eat at a designated "pub". My 15 year old daughter wasn't even allowed to eat on the patio of such an establishment, which was disappointing for the entire family since we would have loved to eat at several of the pubs we passed. Actually, my 19 year old son said he had no problem with the three of us eating at a pub without his sister, but my husband and I didn't think it was such a great idea. Brothers!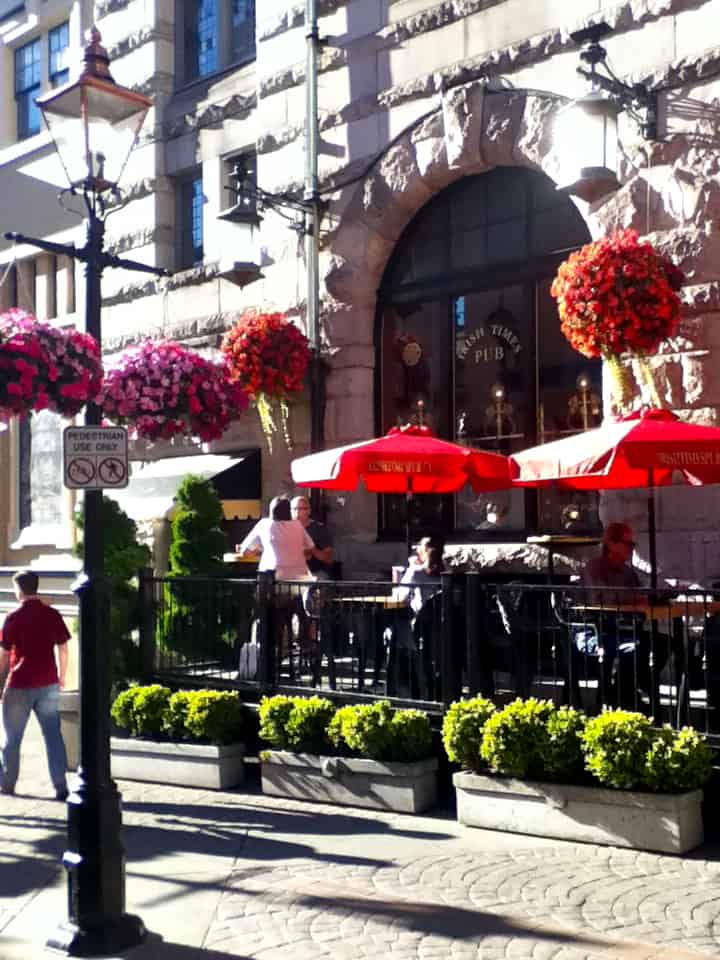 The Empress really does have a wonderful view of Victoria's Inner Harbour and although their famous afternoon tea was very pricey, we did go for an afternoon snack at The Veranda, which was much more reasonable.
We ordered a lovely drink and Strawberry Shortcake with Strawberry Daiquiri Coulis, which was delicious, however it was definitely not a shortcake. The dessert served to us was a regular sponge-type cake, as you can see in the photo, which was rather a surprise when a shortcake was expected, but we didn't mind because it was delectable!
Later that evening, we had the best meal of our entire trip at a restaurant called The Guild, a traditional English pub. If you do visit Victoria, this is definitely a place not to miss. I'm just disappointed that we didn't find it the first night we were there so we could have eaten there twice! At first, as I perused the menu on the window, I was excited to see British food on the menu, such as Cumberland Sausages with Buttermilk Mash, Fish and Chips and Steak Pie, but it was when I spotted Black Pudding that I knew we had to eat at this restaurant. Then I remembered the aforementioned BC law, so I asked the hostess, expecting the worst, but she said my daughter would be fine since they weren't considered a pub.
For brevity's sake, I'm going to cut to the chase and talk about the food at this establishment, because although we really liked the ambience and the service was great (thank you, Cammy), it was the food that took the top honors! The Black Pudding with Poached Egg was a starter, which I thought was strange, but didn't care because I just LOVE black pudding! The waitress told me the chef makes it himself, so I was a bit concerned, not knowing what sort of flavor it would have, but it was all for naught, because it was heavenly! The texture was perfect and spices were not overpowering, as I'd feared they might be.
My daughter ordered the Cumberland Sausages (house-made by the chef) with Buttermilk Mash and Gravy, which tasted like my favorite sausages in England! My son's fish and chips were wonderful; the fish fresh and chips hot and crispy, and neither was greasy at all. The Pork Shank with mustard and cloves, served with warm potato salad was so delicious, my husband finished the whole thing! I chose the Beef, Mushroom and Stout Pot Pie, which was served with lovely, hot chips. Other than the pastry being a bit thick, I had no complaints and felt as if we were in a top-notch pub in Britain!
My family was so overjoyed that I liked everything so much, that they insisted I meet the chef (they know what a rare occasion it is when I continue to praise the meal until the end)! Chef Sam Benedetto came out to meet me and I told him how impressed I was with our entire dinner, especially given the fact that he made most ingredients which others would have purchased! Honestly, when we left, I wanted to stand out in front of the restaurant and wave people down to tell them to eat at The Guild! It's that good!
After leaving Victoria, we headed to Mt. Rainier National Park–this is another incredible place of undisturbed natural beauty and I cannot recommend it enough.
The end of our trip came much too soon, and unfortunately, Seattle had much to offer but we just didn't have enough time to explore the city's numerous sights and attractions. I did experience the one thing which would be at the top of any foodie's list who is visiting Seattle: the Pike Place Market.
This market surpassed everything I had imagined! The quality of of the produce and products sold here is better than so many places I've been, and there was such a variety: from fruit stalls, to flowers, to baked goods and seafood. Of course, this is the birthplace of Starbucks, which is next to many other marvelous pastry shops (I couldn't resist a fresh and flavorful rhubarb pastry at Piroshky, Piroshky) and restaurants and even a shop with large windows (Beecher's Handmade Cheese) so passersby can see the cheese being made.
EDITED 2/11/16: Just in case you missed my first post on Seattle, I wanted to make sure you don't miss out on Premier Meat Pies at the Seattle Center Armory, near the Space Needle (or at the Seattle CenturyLink Field). The Scottish Pies are seriously one of my favorite things ever! Don't miss them!
We ate lunch at the market after doing a little shopping nearby. My husband had some fish and chips, but the highlight was our chowders, served in sourdough bread bowls from Pike Place Chowder. They've won chowder contests on the east coast, so I was dying to try it, and my daughter tried the market chowder, made from halibut with asparagus and corn, which she was actually surprised that she liked (she's never had chowder before). Although  I truly enjoyed the chowder, if I had to choose my favorite, I'd go with the San Francisco favorite, from Boudin Bakery (I think). I would LOVE to have a taste test of both at the same time!
I grabbed a few French baguette sandwiches for the plane, at Le Panier Very French Bakery, and they are not kidding! It was like a being in a boulangerie or patisserie in Paris! It was almost painful having to see all the gorgeous breads and mouthwatering pastries, and not be able to load up with bags and boxes of them to bring home–I was so sad.
Let's just say we definitely had the best meal on the plane trip back to LA, and I am making it a point to get back to Seattle as soon I possibly can!

Here are the places I would highly recommend:
The Veranda at The Empress, Victoria, Canada
The Guild Freehouse, Victoria, Canada
Pike Place Market, Seattle, WA
Piroshky, Piroshky, Seattle, WA
Pike Place Chowder, Seattle, WA
Le Panier, Very French Bakery, Seattle, WA
Don't miss another post! Sign up for my free subscription HERE, but make sure to look for the
Feedburner confirmation email or you'll get nothing, nada, niente and zippo in your mailbox!
(I promise not to sell or share your info, ever!)