I've made three Custard Peach Pies in the past couple of weeks.
Why am I telling you this when I have photos of a meringue roulade? Because each pie that I made left me with three egg whites. Now, as bad as I am at math (just ask my rocket scientist friend, Marie…yes, as a matter of fact, she really is a rocket scientist), I can tell you with complete certainty that this means I had 9 egg whites in my fridge.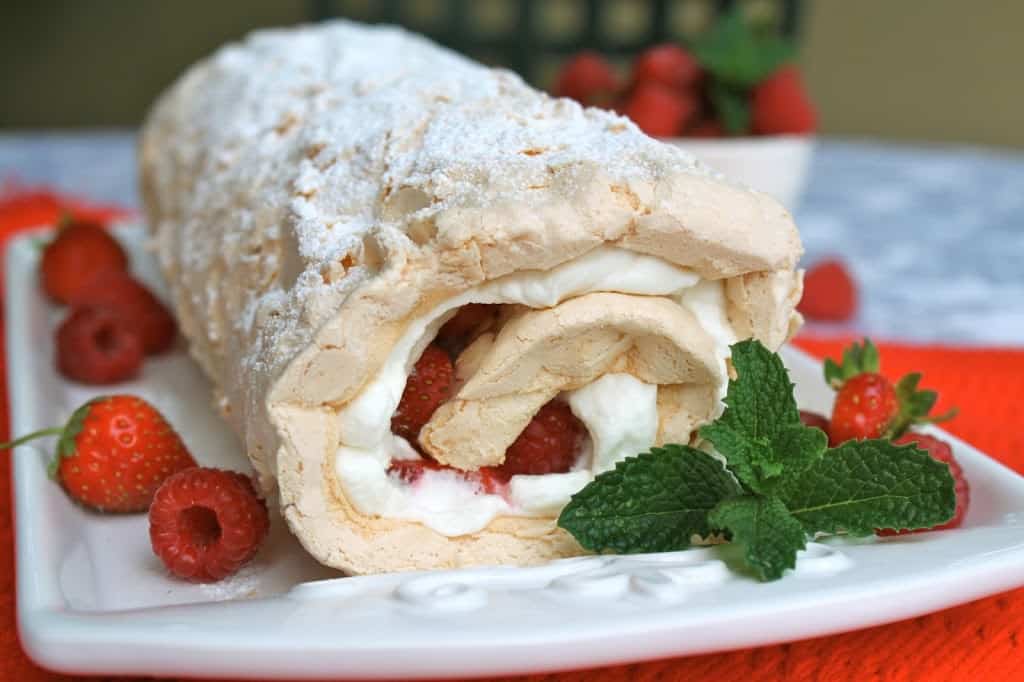 That's a lot of egg whites, so I decided my first egg white recipe would be one I've been meaning to make for years: Summer Berry Meringue Roulade, which I adapted from a recipe card I picked up at Marks & Spencer (a really awesome British department store that also sells fabulous food) when I was in the UK. I can tell you that I'm really happy with how it turned out, as it looks almost exactly like the one in the M & S photos, it's super easy, super delicious, and a perfect, light dessert for summer! Of course, it's difficult for me to make things exactly as the recipe states, so instead of using lowfat creme fraiche, I used full-fat, heavy whipping cream. There's no fat in the meringue or berries, and we don't want an unbalanced dessert, right? Oh, and by the way, this angelic treat is gluten-free, in case you're interested.
Summer Berry Meringue Roulade
adapted from Marks and Spencer's Recipe
serves 6 to 8
Ingredients
1 tsp corn starch (cornflour)
1 tsp vanilla extract
1 tsp white wine vinegar
4 large egg whites (preferably organic) -older eggs are better for meringues
5 oz (2/3 cup) sugar (Baker's sugar is best)
Filling
1 cup heavy whipping cream, preferably organic
1/2 cup fresh raspberries (and/or blackberries)
1/2 cup chopped fresh strawberries
confectioner's sugar for dusting
Special equipment: baking or parchment paper
Line an 11″x16″ jelly roll tray (swiss roll tin) with the baking paper, and preheat the oven to 325ºF (160ºC).
Mix the cornstarch, vanilla and vinegar together in a small bowl, until smooth; set aside.
 Whisk the egg whites in a clean, dry bowl until stiff,  then whisk in a little sugar, and a little of the cornstarch paste, and continue adding until they are completely mixed in.
Spoon the egg white mixture into the prepared tray.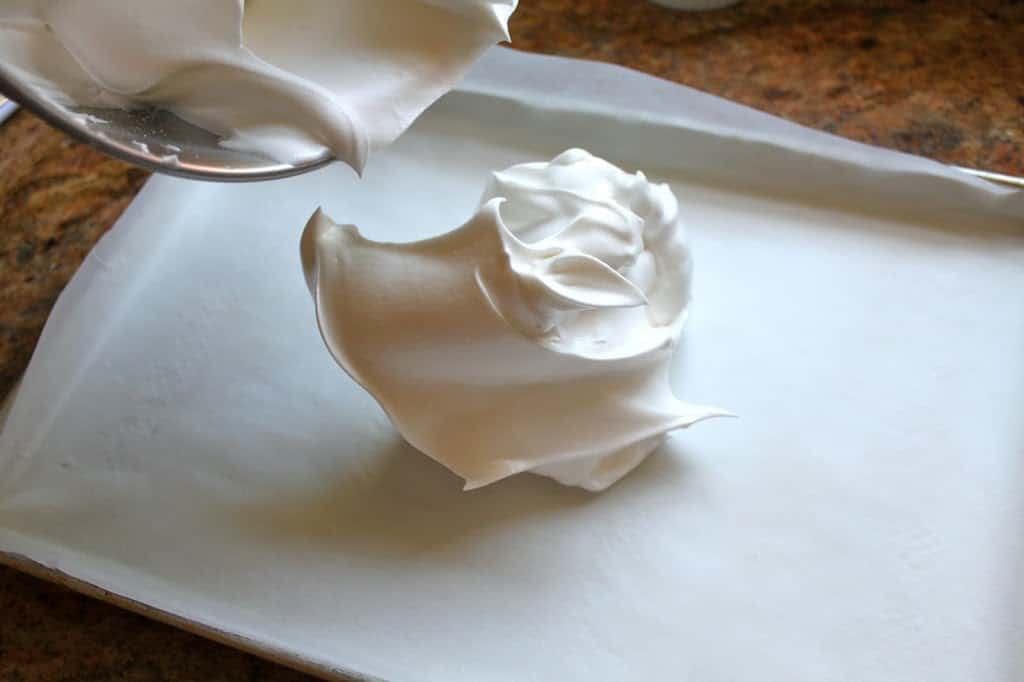 Smooth out the surface with a spoon or a spatula.
Bake for approximately 25 minutes, until golden colored.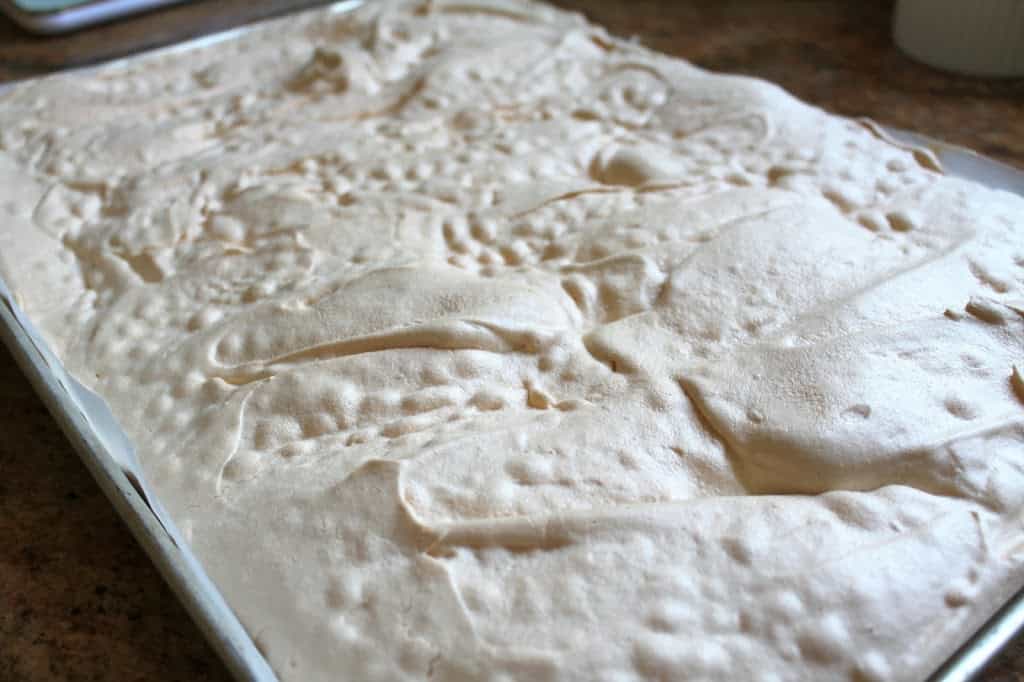 Place a towel on the counter, topped with a sheet of baking paper, sprinkled with confectioner's sugar and turn out the meringue onto the paper.
Peel away the lining paper and place a new piece of baking paper on top, then roll the meringue, starting from the short side, using the towel as an aide.
Let cool.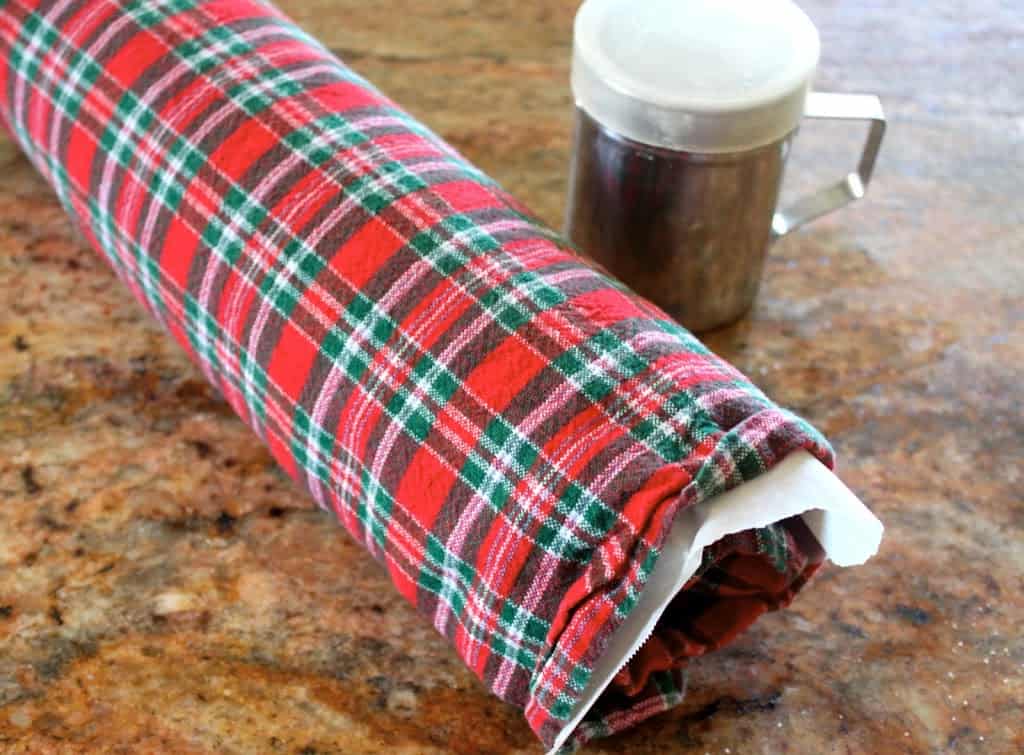 Whip the heavy whipping cream until stiff peaks form.
When the meringue is cool, unroll it, and remove the top paper; spread the whipped cream over the entire layer.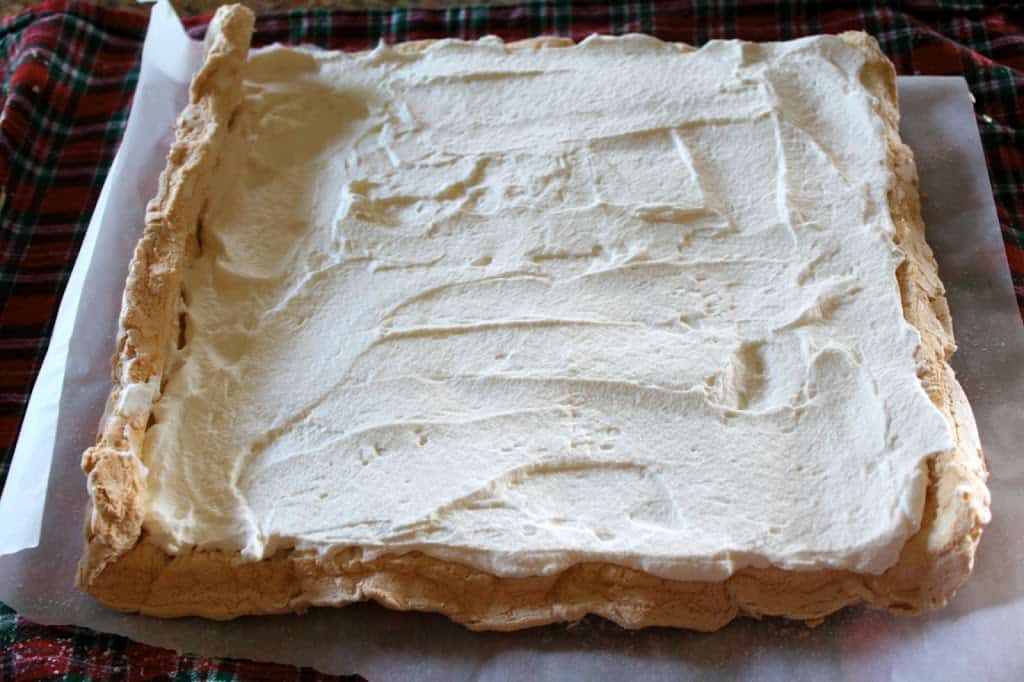 Sprinkle with the berries and re-roll the dessert, placing the seam side down.
Sprinkle generously with confectioner's sugar.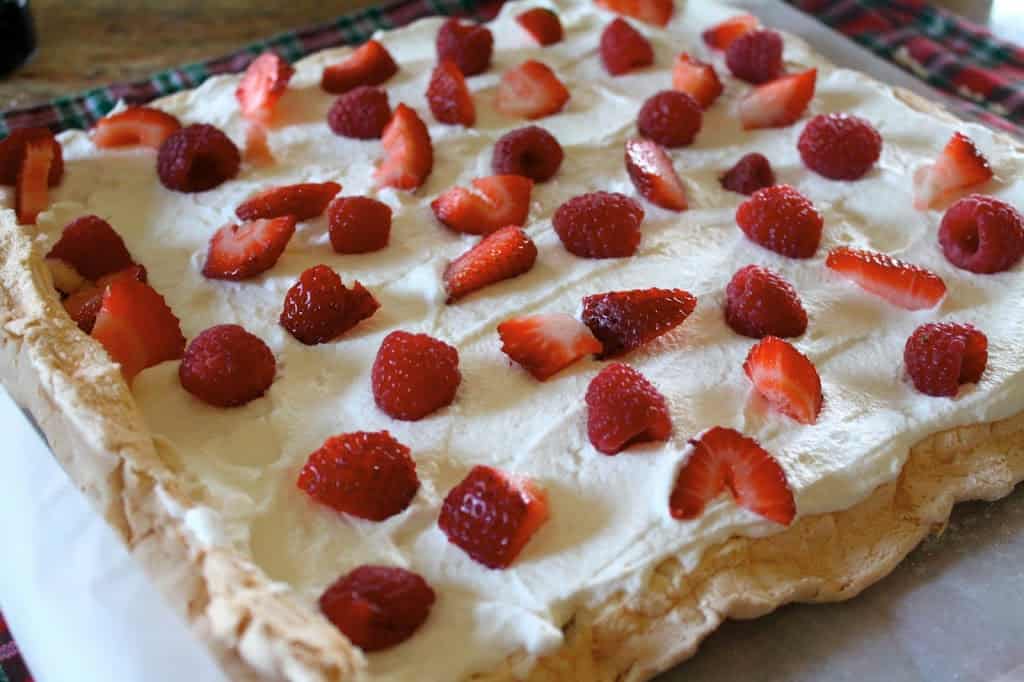 Carefully move to a serving plate, and add a few berries for decoration.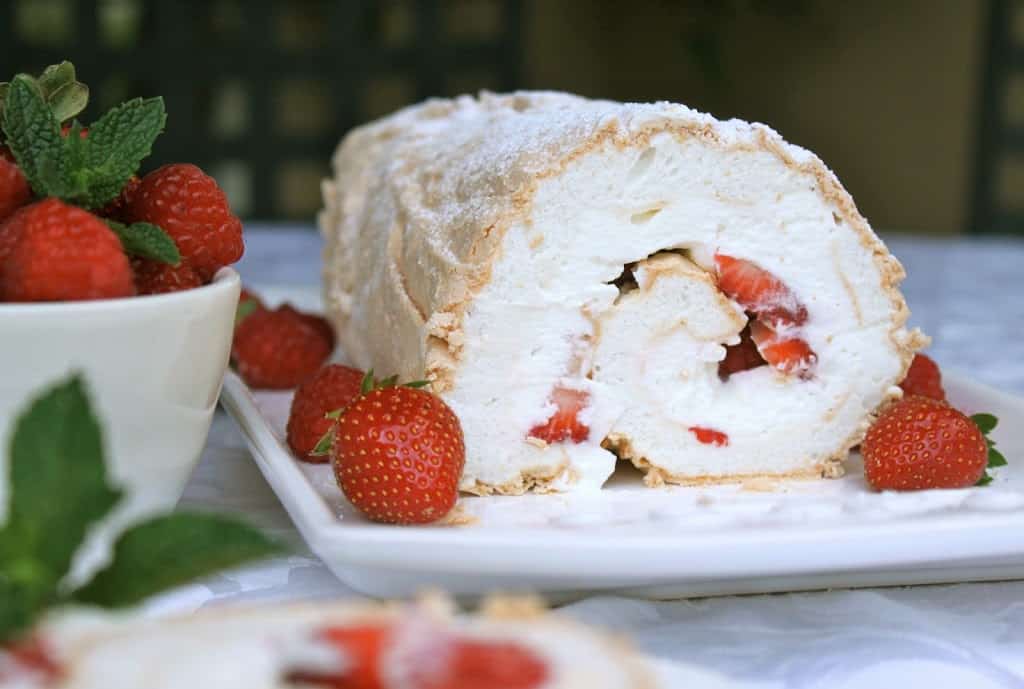 Cut with a serrated knife for best results.
And just for the record (Marie), I actually got a B in my college Calculus class (my senior year in high school) and an A in statistics at university. I just have this ongoing problem of making silly mistakes, like adding 2 + 2 and getting 5–don't ask.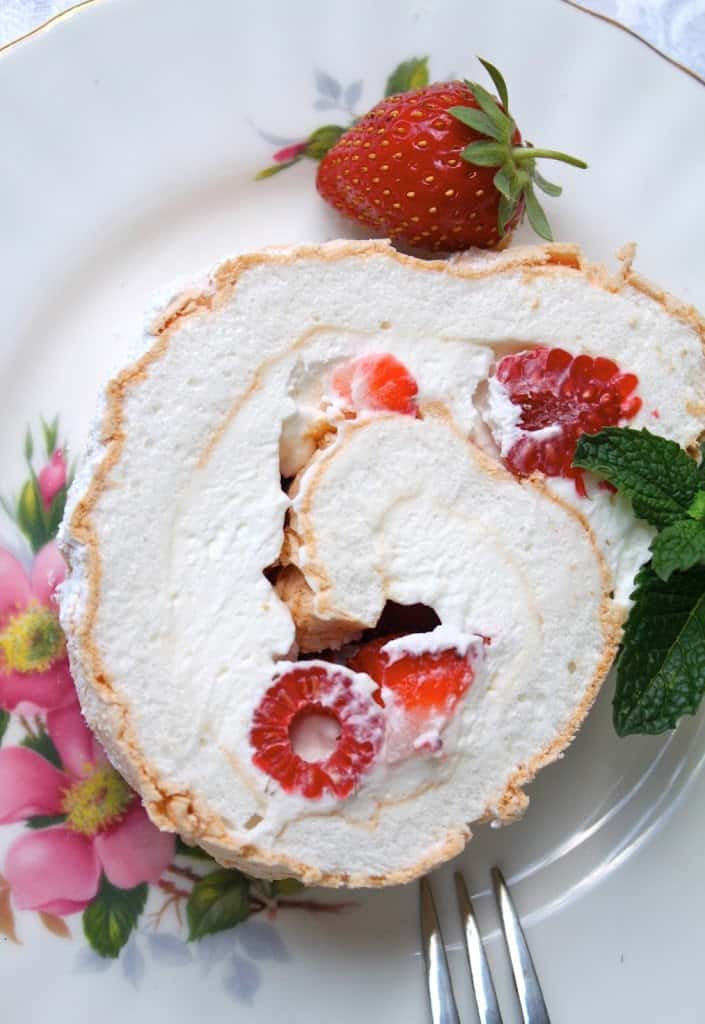 Don't miss another post! Sign up for my free subscription HERE, but make sure to look for the
Feedburner confirmation email or you'll get nothing, nada, niente and zippo in your mailbox!
(I promise not to sell or share your info, ever!)