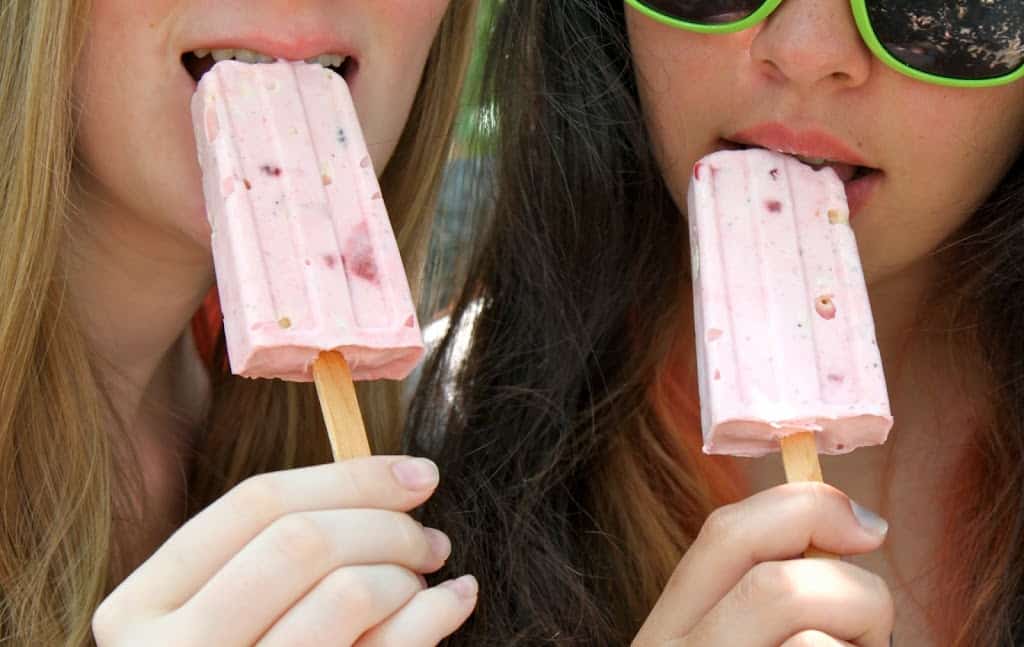 Yes, I call them "Ice Lollies". For some reason I've never liked the word "popsicle", so I keep calling them "Ice Lollies" (that's what they're called in the UK). Whatever you choose to call these delicious, frozen treats, they will taste just as good as calling them by another name.
Last year, I posted a Frozen Strawberry and Meringue Dessert with Strawberry Coulis recipe which I first tasted at my aunt's house in England.
The thought occurred to me, as I was seeing so many ice lollies on other food blogs, "Why not turn the Frozen Strawberry Meringue Dessert into individual ice lollies!!" Well, all I can say is it was a stroke of genius, as I don't think I've ever had such a yummy ice lolly (or popsicle)!  Not only do they score "off the chart" for flavor, but they are very light on sugar, and contain Greek yogurt, so you'll also feel good about serving these to your family.
May I suggest that your guests will think you also had a stroke of genius if you decide to make these for the 4th of July?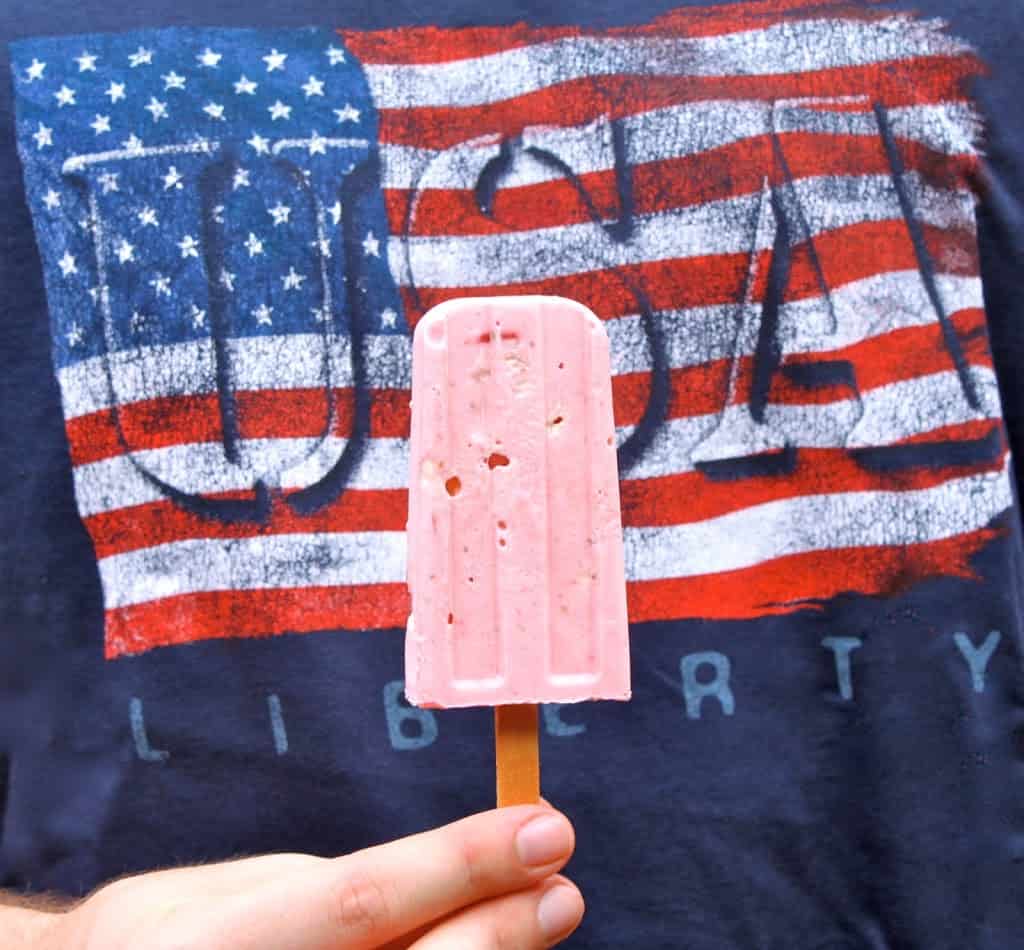 Strawberry Meringue Ice Lollies
(Popsicles)
makes 10 servings
Special Equipment
Ingredients
1/8 cup (1 oz) sugar
1 tbsp water
juice of half a lemon
3/4 cup (6 oz) heavy whipping cream
1/2 cup (4 oz) Greek yogurt
4 meringue nests (2 1/4 oz) crushed into small pieces (have to be able to fit into the mold)
8 oz fresh strawberries, chopped into little pieces (also have to fit into the mold)
In a tiny pot, place the sugar, water and lemon juice and heat, just until the sugar melts, then set aside to cool.
Place 3/4 (6 oz) of the chopped strawberries in a food processor, or blender with the cooled syrup and puree until smooth. Set aside.
Whip the cream until it stands in soft peaks, then stir in the yogurt until well blended. Add the crushed meringue pieces and then the chopped strawberries.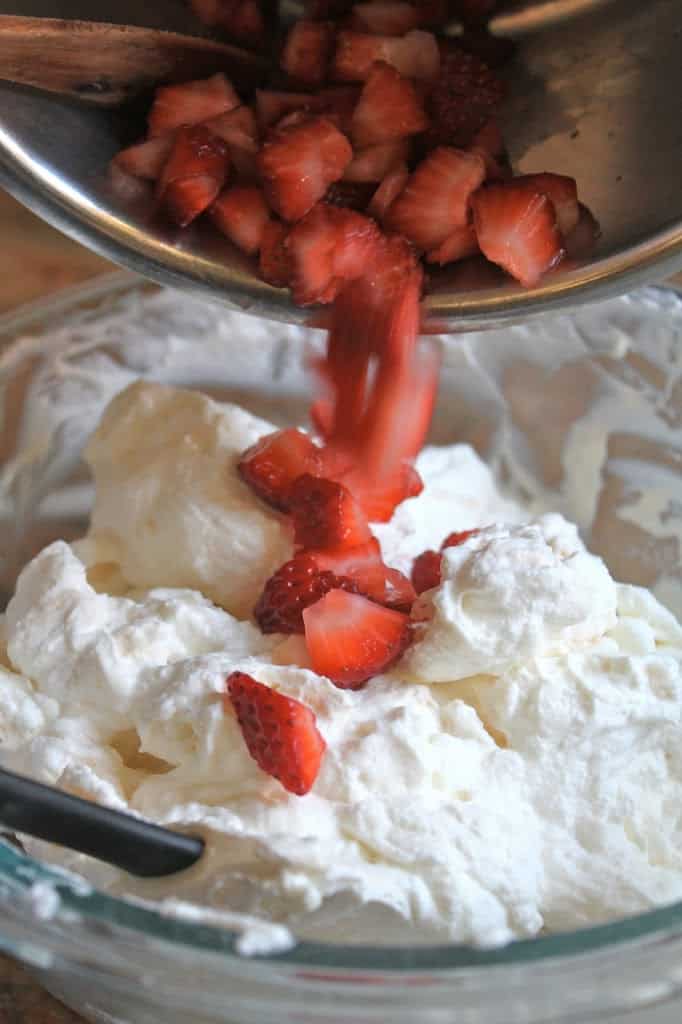 Next, add the strawberry syrup, and fold in gently. Do not overmix.
Fill mold to the fill line (leave a little room for expansion).
This mixture is quite thick, so use a long skewer or fondue fork to reach to the bottom of each mold to remove air bubbles as much as possible.
Place top on mold and insert wooden sticks in each mold, then place in freezer for at least 6 hours, or until completely frozen.
When removing from mold, run under warm water until the ice lolly is easily removable. If you pull prematurely, you may only get half of it on the stick (as I learned).
Then, get outside and enjoy with a friend!
Don't miss another post! Sign up for my free subscription HERE, but make sure to look for the
Feedburner confirmation email or you'll get nothing, nada, niente and zippo in your mailbox!
(I promise not to sell or share your info, ever!)
Christina's Cucina is a participant in the Amazon Services LLC Associates Program, an affiliate advertising program designed to provide a means for sites to earn advertising fees by advertising and linking to Amazon.com.