My Zia (Aunt) Francesca adores Italy more than anyone I know.
No, really–I am being completely serious. She was born in Italy, but it's more than a love for one's country as her passion exceeds that 100 times over. Heaven help you if you say anything slightly derogatory about anything or anyone, even remotely Italian, as she will promptly ensure that you are enlightened as to why you are wrong. An Alitalia flight attendent once gave her a bottle of champagne mid-flight solely because she was so pro-Italia!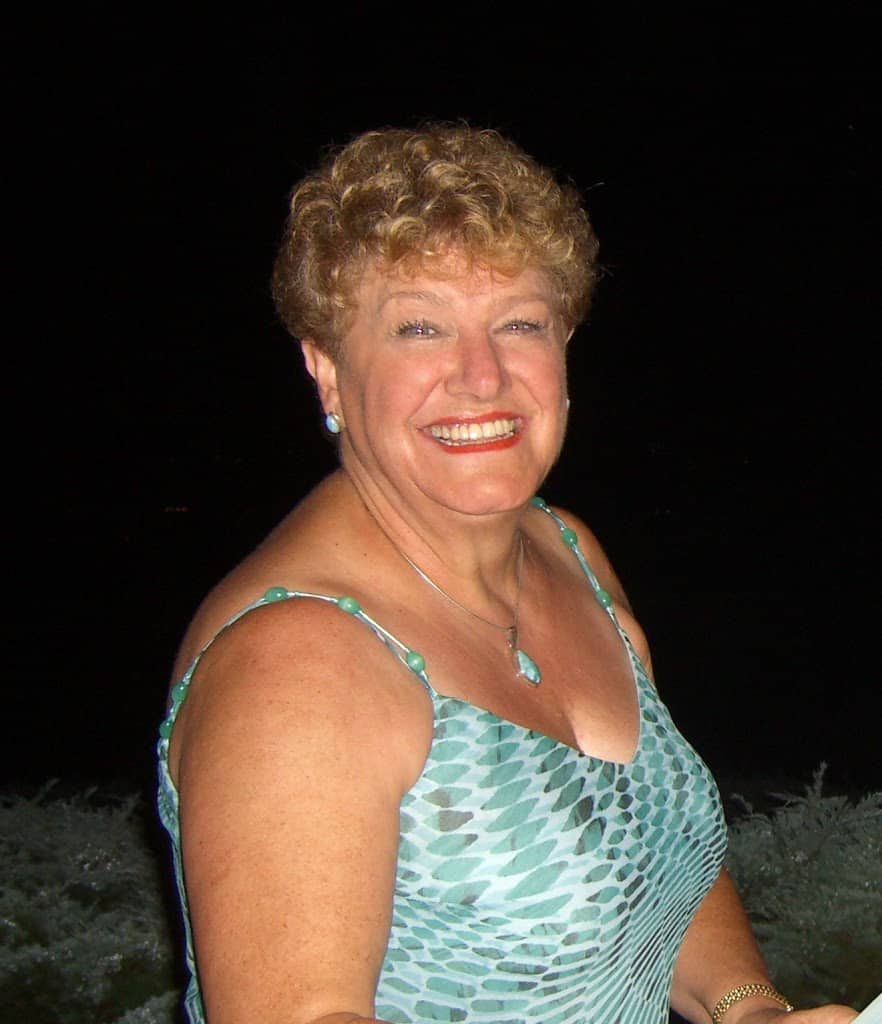 She lives in Toronto—the Italian part, of course—where they often speak "Italese", which is Italian and Inglese (English) mixed together. It is not uncommon to hear phrases like, "I'm going to pick up la cake," or "mettele raynd eeh garbeege" (pronounced "gahr-BEEGE") which is dialect and translates to "put it in the garbage."
Once, when I was visiting my aunt, she asked me if I wanted an espresso, as everyone was having coffee. I told her, "Zia, remember, I don't like coffee." Well, that was the wrong answer! She then exclaimed, "CREEES-teee-NAH! How can you be eetalian if you don't dreenk coffee? Am gonna make one for you, and you're gonna like it!" (Cue the aunt from My Big Fat Greek Wedding, "What do you mean he don't eat no meat? That's okay, I make lamb.")
So Zia Franca made me an espresso, and I liked it. Truly, I did actually enjoy it because she put about five teaspoons of whipped sugar into it (it reminded me of coffee ice-cream, which I love because it's so sweet)!
Besides going to bat for Italy and all things Italian, Zia Francesca is a seamstress who can whip out a set of fancy curtains or a gorgeous wedding dress from her sewing machine before you've even decided on the fabric. Her house is always perfectly clean (no maid, she does it all), and oh, did I mention she's also does hair? So it probably won't surprise you, when I tell you that she's also a frickin' sensational cook. Zia Francesca is the chef's equivalent to a gardener with ten green thumbs–yes, she's that good! Anything she makes is "over-the-top delicious" and it's really, really difficult not to overeat at her house.
So years ago, when Zia Francesca told me to make Penne alla Vodka, I should have listened the very first time. She kept telling me how fabulous it was and would tell me how she made it, but I would always forget to try it. One evening, I finally made her recipe, but it was probably after the sixth time she had described it to me, and I'm telling you, I could have kicked myself. Not only was it so incredibly tasty, but the vodka sauce was ready before the pasta was even finished cooking! HELLO?  What more could anyone ask for?
I now make Zia Francesca's Penne alla Vodka for a quick and easy weeknight meal, or when I when I have guests for dinner and want rave reviews, and want to make something I know everyone will love. It's also easy to turn this into a vegetarian meal by omitting the pancetta, or a celiac-friendly meal by using gluten-free pasta.
What I'm trying to tell you is that you need to make this pasta! Even if you're not a multi-talented, super-seamstress, Top Chef, hairstyling Italian zealot, who has the cleanest house in the neighborhood, you can still make this delicious pasta and impress your family and friends. Hey, you never know, the other skills may follow (insert maniacal laughter here).
*This blog post won 2nd Place at the 2013 Orange County Fair! Zia is very happy! (7/13)
1. Use top quality ingredients for the best results in the flavor of the final dish.
2. Use enough salt! If you have used all the correct ingredients, but it doesn't taste great, I'd be 99% sure you haven't added enough salt; use enough, without over-salting.
Zia Francesca's Penne Alla Vodka
Ingredients
6 tbsp good quality extra virgin olive oil
4 or 5 cloves of garlic, smashed with the flat part of a knife blade
1 or 2 oz pancetta, cut into small pieces (omit for vegetarian)
small bunch of Italian parsley, chopped
24 to 28 oz good quality Italian tomato puree
Kosher or sea salt, to taste
2 oz good quality vodka
2 oz heavy cream, organic preferably
5 or 6 leaves of fresh basil
1 lb good quality pasta, like De Cecco
In a large pot, cook the penne according to the instructions on the box. It is important to use enough water, and to add the pasta only when the water is boiling; stir often to avoid the pasta sticking
(do not add oil to the water-it is uneccessary.)
 While the pasta is cooking, heat the olive oil over medium to med-high heat in a very large, deep saute pan, then add the pancetta and cook for a minute or two, then add the garlic.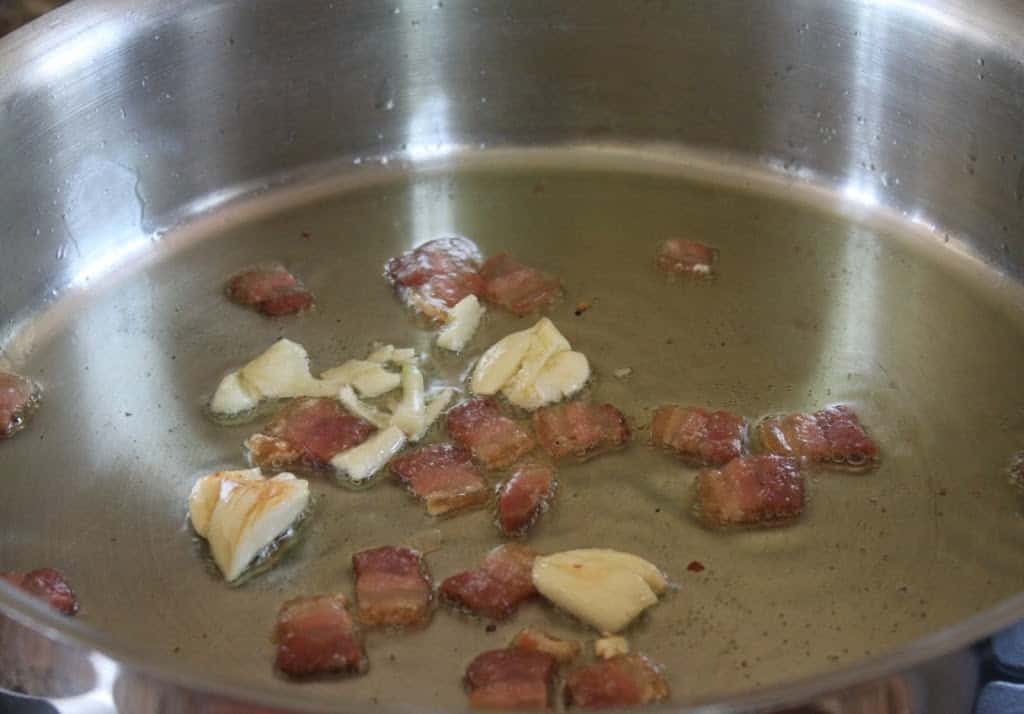 When the garlic just starts to brown, add the chopped parsley, and turn the burner up to high. After a minute or so (when the pan is very hot), add the tomato puree and have the lid ready in case it bubbles out of the pan, then stir quickly with a wooden spoon.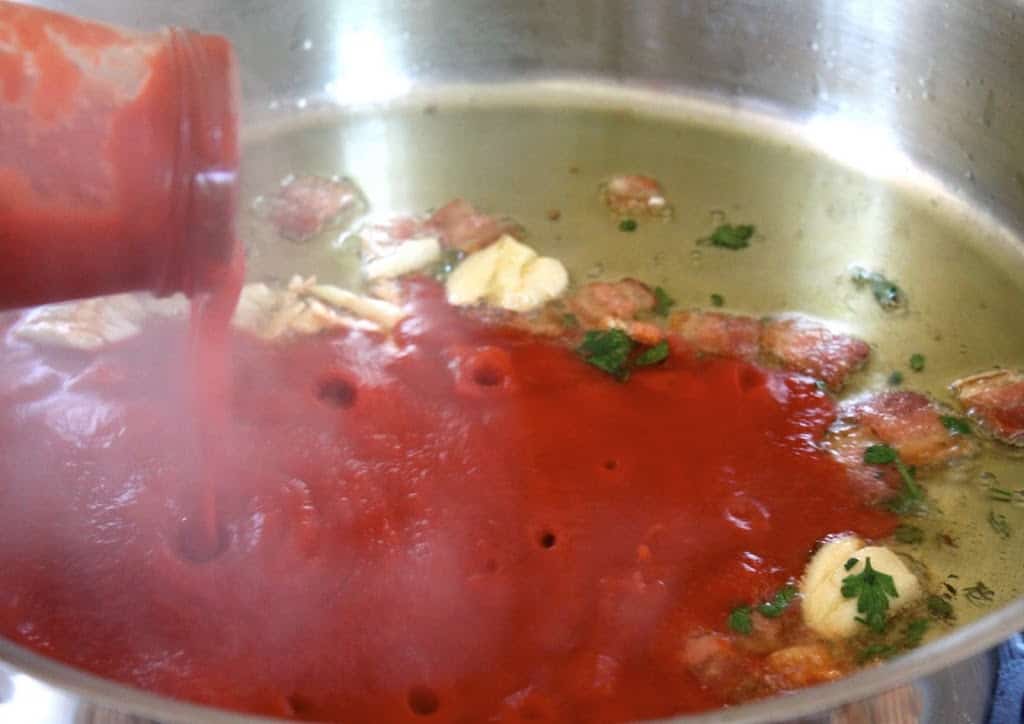 Do not cook the sauce with the lid on, lower the heat, but cook the sauce so it is briskly simmering (this is a quick sauce, not one which simmers low and long.)
Add salt and continue to stir often, making sure it doesn't dry up.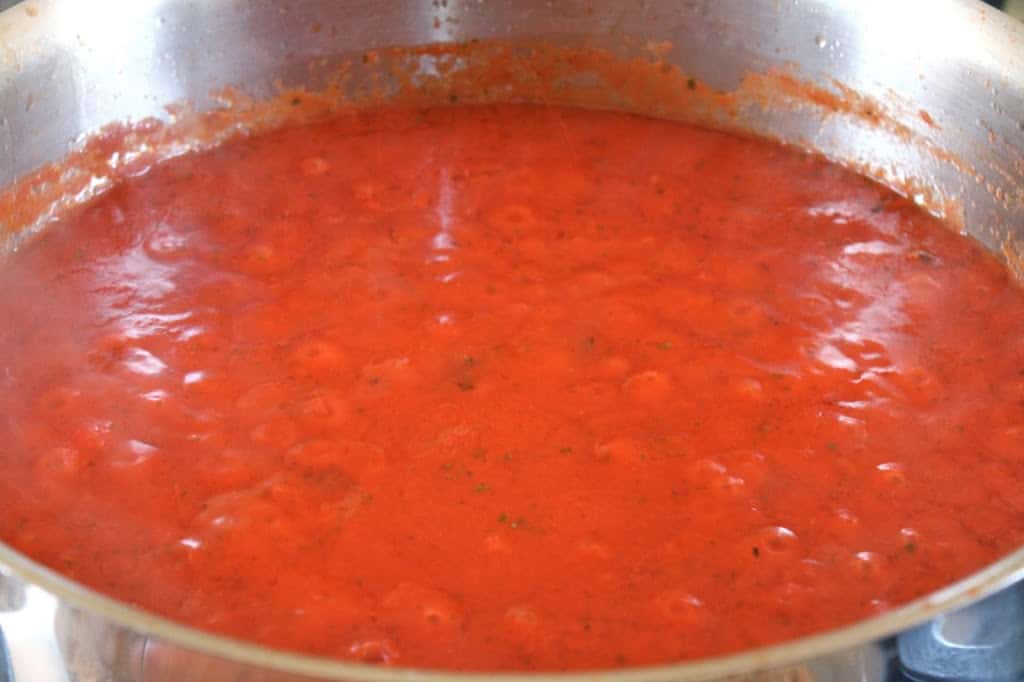 After approximately 7 or 8 minutes, when the sauce has started to thicken, check for salt, then add the vodka and stir well.
Turn off the heat and add the cream, and stir once again.
Last, but not least, stir in the chopped basil.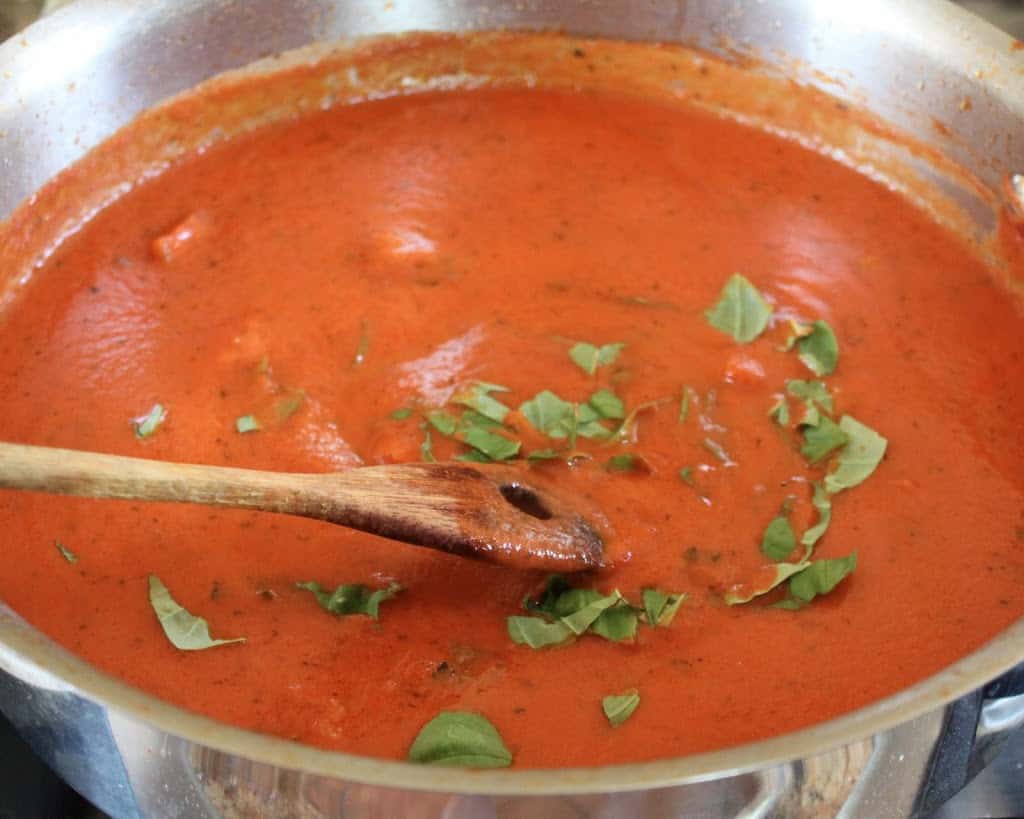 When the pasta is ready (make sure it is al dente), drain it in a colander and put it back into the same pot.
Add some sauce and stir to make sure it is evenly distributed. If this is a weeknight meal, I just serve it from the pot, and add a little sauce to each plate. If you are serving to guests, prepare a large pasta bowl, by warming it with very hot water, then add the pasta with sauce, and top with more sauce and a sprig of basil.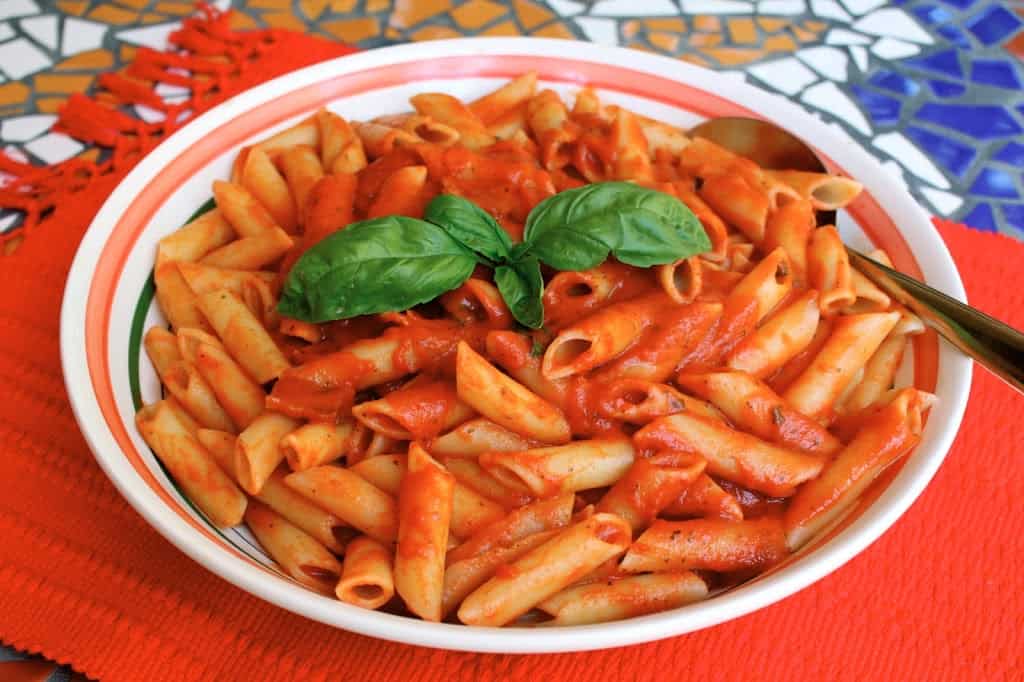 BUON APPETITO!
Don't miss another post! Sign up for my free subscription HERE, but make sure to look for the
Feedburner confirmation email or you'll get nothing, nada, niente and zippo in your mailbox!
(I promise not to sell or share your info, ever!)