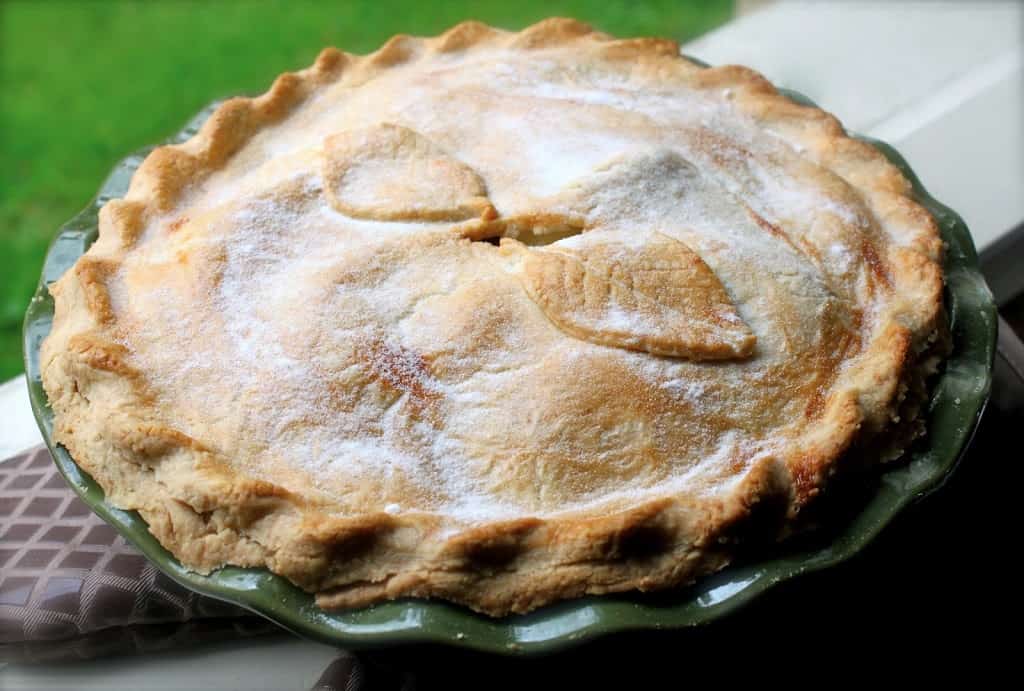 Since moving to the US as a little girl, I've always wondered about the phrase, "As American as Apple Pie."
The reason I didn't understand why Apple Pie was claimed by Americans is because I had eaten lots of apple pie in Scotland. According to a Time Magazine article, historians have traced pie crusts back to the Greeks…and Romans used to fill them with meat and seafood, and also made sweet pies for dessert. "Pyes", as they were called in Medieval England, were also mostly savory, but even pumpkin pie wasn't popular in the US until the 1800s and was based on a British spiced squash recipe.
I remember tasting my first American apple pie, and being really surprised when I realized it tasted nothing like what I was expecting: the flavor wasn't of apple, but cinnamon. I must explain that I love cinnamon, especially in Cinnamon Rolls, but I truly like to taste the flavor of the apples, so I don't add any cinnamon to my apple pies. Unfortunately, we don't get the variety of cooking apples in the US that are available in the UK (like Bramley), so the best apple to use is Granny Smith. If you use a different type of apple, the flavor and texture of the filling will not be up to par with one made with Granny Smith apples (yes, it is worth usng the right variety)!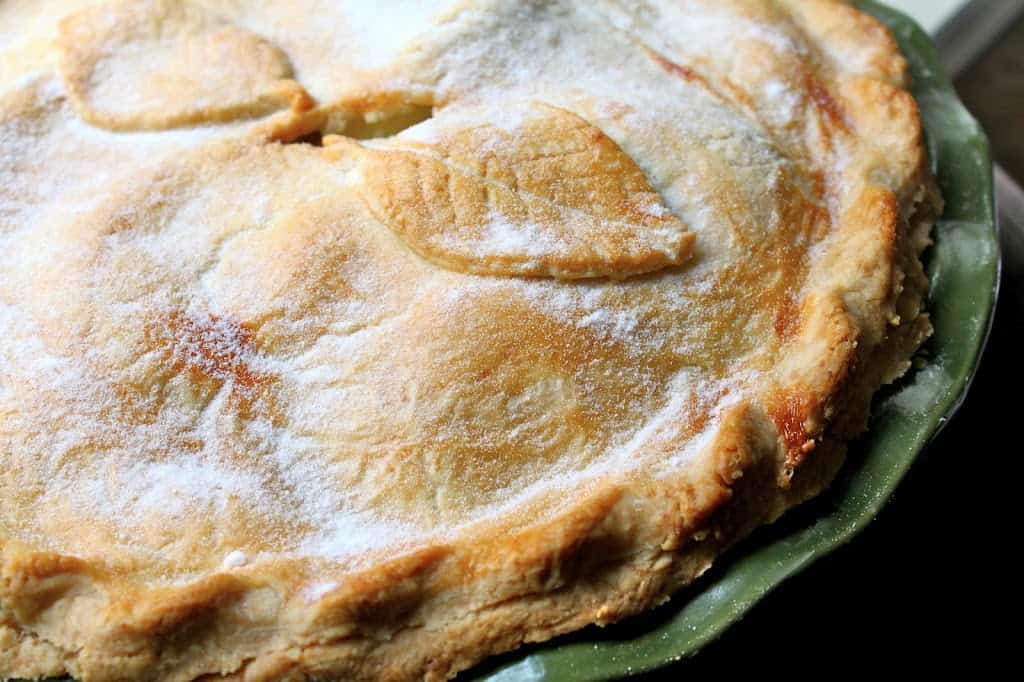 I also prefer my apple pie with fresh cream or custard, and not vanilla ice cream. Some of you in the US may think that not using cinnamon is bad, but serving apple pie without ice-cream is criminal; however, it all depends on what you've grown up with and become accustomed to. This particular pie (in the photos) was given to a lovely friend as a "thank you", and I was unsure how my British apple pie would be received. I also handed gave her some heavy organic whipping cream to serve with the pie, and a few days later I was so happy to hear that she and her family absolutely loved the pie and serving it with the cream!
If you have never tasted a British apple pie, then I strongly encourage you to keep the cinnamon in the spice rack, just once, so that you can taste the wonderful flavor of this gorgeous crust together with the slightly sweetened Granny Smith apples without an overpowering flavor of spice to mask it.
Here's how I make my apple pie. I don't use a recipe for the filling as I always "eye" the ingredients, but I've measured them just for you…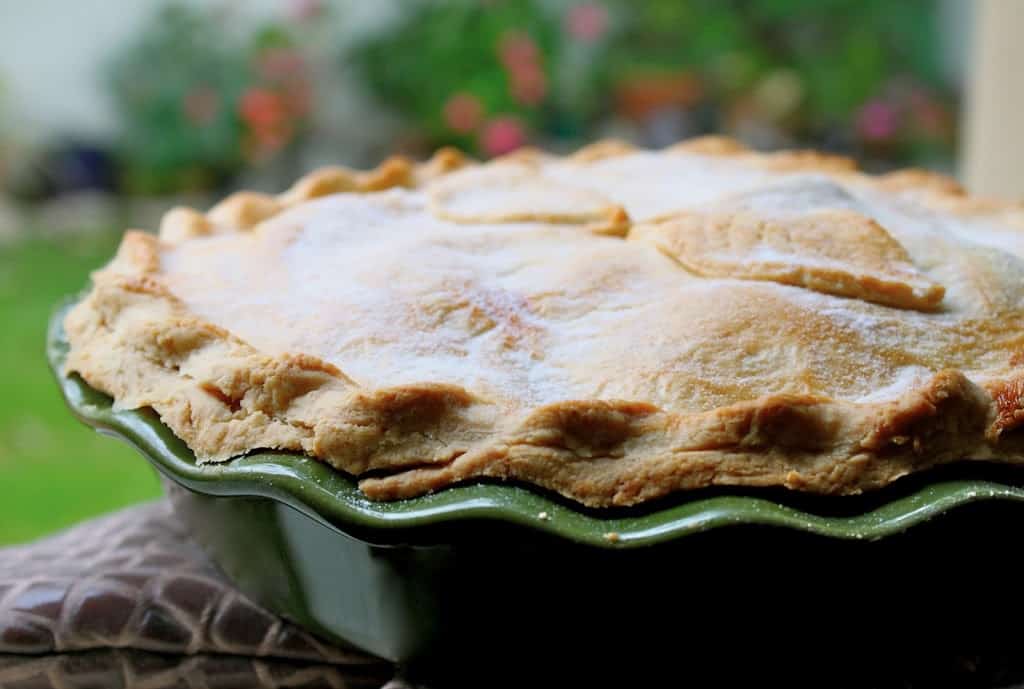 MY FAVORITE (BRITISH)
APPLE PIE
makes one pie
Ingredients for Crust
4 cups (1 lb) flour
1/2 tsp salt
8 oz (2 sticks) cold, unsalted butter
1 tbsp sugar
a little ice water
Ingredients for Filling
5 or 6 large, organic Granny Smith apples, peeled, cored and sliced into about 12 pieces ea
juice of half a fresh lemon
3 to 4 tbsp sugar (more or less to taste)
1 egg white, slightly beaten with a tsp of water, to brush the pie crust
organic, heavy whipping cream or custard, to serve
Preheat oven to 400º F (200º C)
Place all the ingredients for the filling in a pot over medium-low heat. Cook gently, turning the apples by tossing them in the pot every few minutes. Cook until the apples are just starting to become softened, but are still firm and hold their shape.
 Remove from heat and set aside.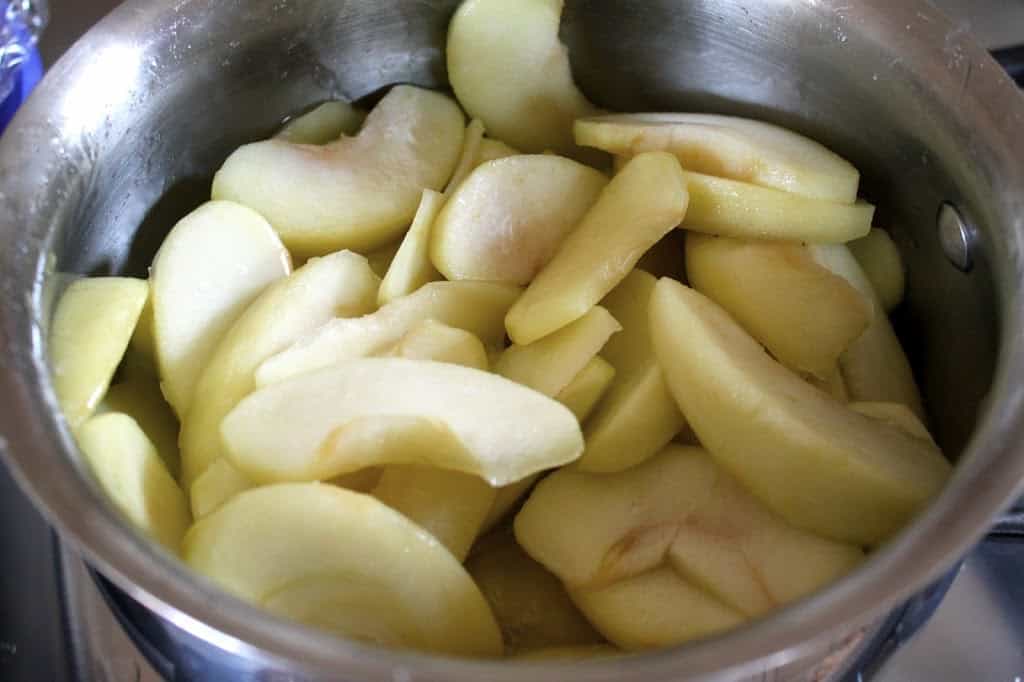 Here are my directions for making pie crust, however, if you do not have a food processor, you can cut the butter into the flour with two knives, then use your hands to rub it in at the end, and stir in the water with a wooden spoon.
Once you have the pie pastry, cut out a third and set it aside.
Now roll out the remaining pastry on a floured work surface until it is large enough to accomodate the pie dish. (I hold the dish over the pastry and make sure it extends about 2″ all around.)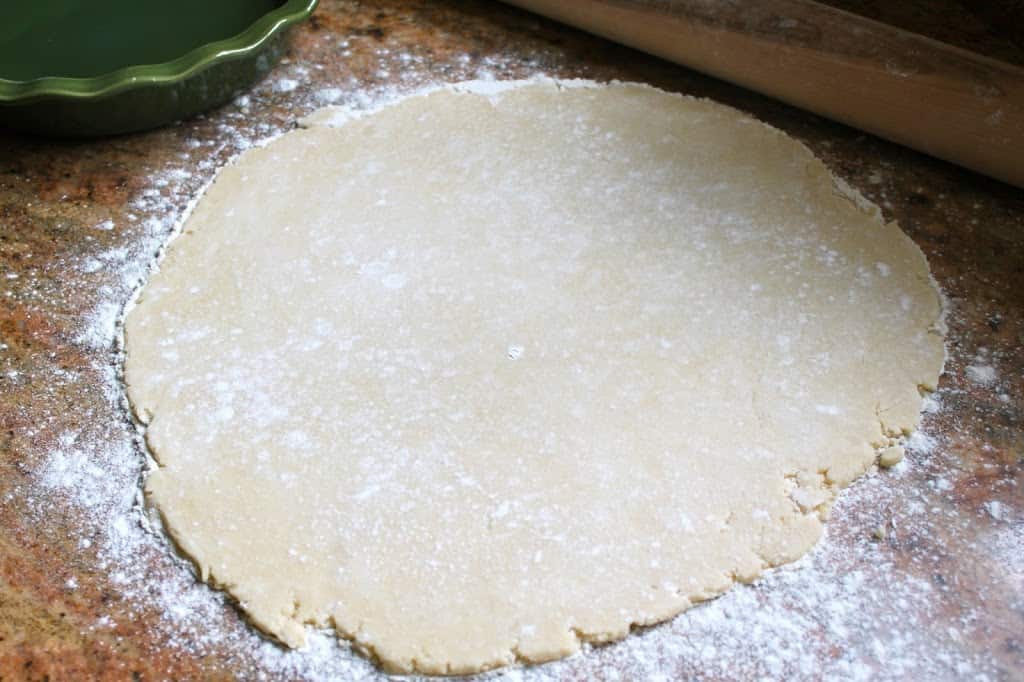 Gently roll the pastry onto the rolling pin until you can lift it, then place it onto the pie dish.
Don't worry if there are some cracks; just wet your finger and rub some water into the crack and join the pieces together.
 With a knife, trim the pastry all along the pie dish, using the edge as a guide, then fill it with the apples.
Roll out the remaining piece of pastry; wet the edge with your finger dipped in a bowl of water, until the entire perimeter is wet, then place the pastry on top of the pie.
Once again, trim the pastry, using the dish as a guide.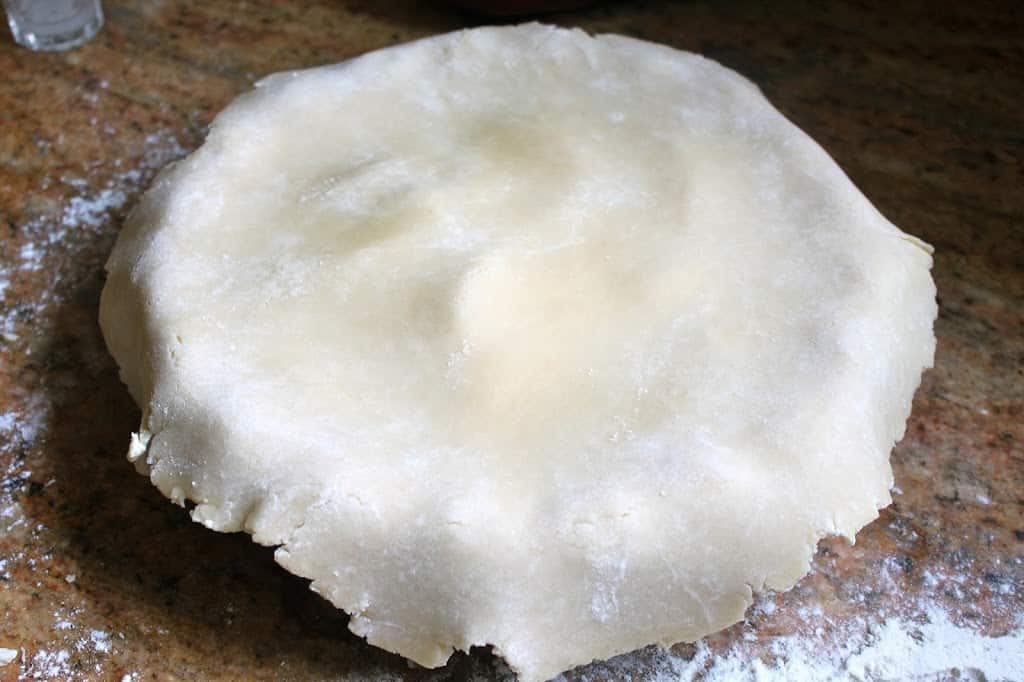 Crimp the edges any way you like (I did this method with my thumb and index finger) and then cut a hole in the center of the pie, about 1″ long.
I also used some leftover pastry to cut out two leaf shapes and drew lines on them with a thin, sharp knife, then wet the underneath so they stuck to the pie.
Brush the entire crust with the beaten egg white, which will ensure a lovely golden color.
Bake in 400º F (200º C) oven for about 30 to 40 minutes or until the crust is a golden brown color. Ovens vary significantly, but I place my pies on the lower rack for about 20 minutes, then move it to the center rack so that the bottom crust cooks well, however adjust your placement and baking time according to your own oven.
When ready, remove from the oven and immediately dust with Baker's (extrafine) sugar (caster sugar in the UK) and let cool slightly before serving.
Our cream in the US is very runny, so to mimic double cream in the UK, I slightly beat the cream until it starts to thicken, then pour it over a slice of pie in a bowl.
Alternately, a homemade custard or Bird's custard is lovely when served over this delicious apple pie: quintessentially British!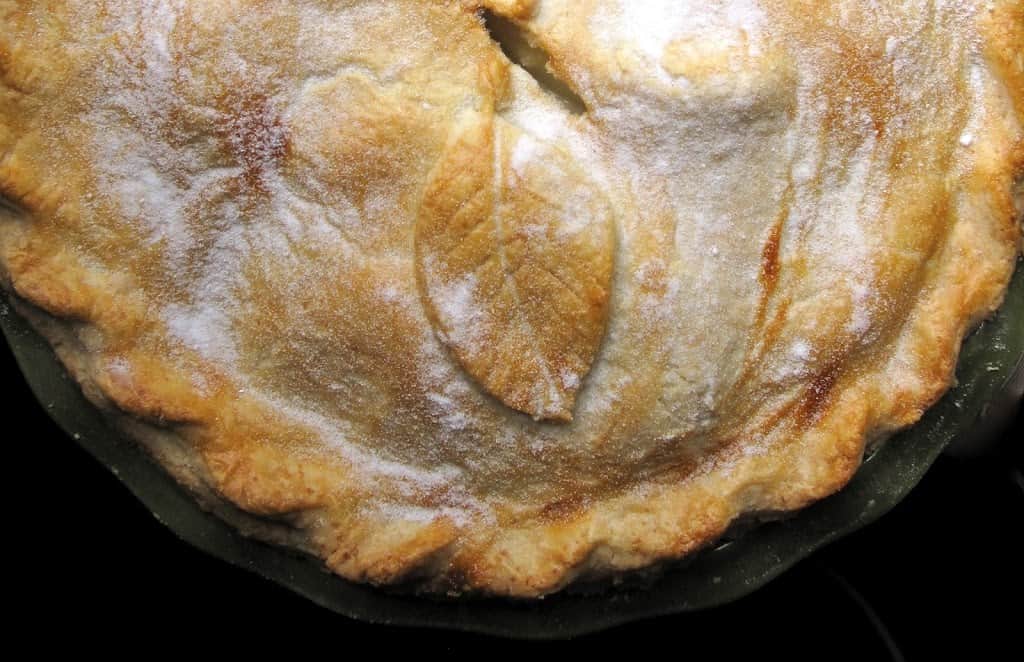 Remember, I LOVE to hear from you, so leave me a comment below…thanks!!