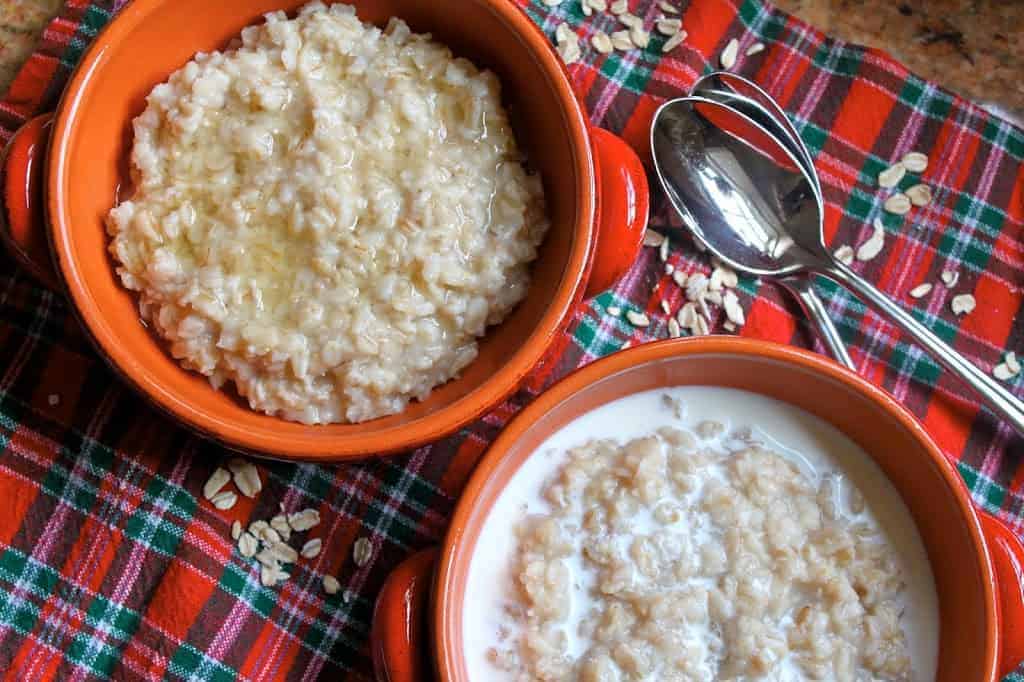 Dear Joy,
I love your blog.
Your culinary skills, paired with your fantastic photography is fabulous enough, but throw in your candid style of writing, and witty humor, and it's no wonder you have 43,255 "likes" (and counting) on Facebook, a successful podcast, and cookbooks on shelves of bookstores all across the country.
I was making oatmeal (being from Scotland, I still call it porridge, but I'm afraid that here in the US, that word seems to conjures up images of a little blonde girl and a family of super heat-sensitive bears) the other morning, when my husband asked if I was actually going to put oatmeal on my blog. A big clue was the 23 pictures I was taking of his breakfast before I let him eat it. So I explained to him, "People don't put salt in their oatmeal, and someone has to tell them what they're missing!" Even cooking directions on some packages of oatmeal don't include a speck of salt.
After breakfast, I sat down at my computer and saw your lovely Blackberry Apricot Sunflower Oatmeal, and thought, "I made oatmeal on the same day that Joy the Baker posted an oatmeal recipe! How cool is that?" and I started to read your post.
It was your first line, "You don't need me to tell you how to make oatmeal" that caught my attention. Now, before you assume that I'm going to go on a rant about whether to cook instant, steel-cut, pinhead or another type of oatmeal in water or milk, or tell you that you should soak (or not soak) the oatmeal the night before, or to stir it with a wooden spoon versus a spurtle–I'm not. The only reason for this letter is to say that every sort of oatmeal just tastes better with salt: not a pinch of salt, but enough to make it flavorful.
I have heard so many people say they cannot stand oatmeal, but I wonder how many of them have only tried it without any salt or just a pinch, which really doesn't have enough of an impact on the flavor? Oatmeal (or porridge) without salt, is like pasta without salt, or bread without salt; and although I know there are people who may like unsalted foods, I'd have to hazard a guess that they're in the minority.
Let me clarify, I'm talking about cooking basic oatmeal, so this doesn't change how you serve it; so I'm not suggesting you change any part of your topping of blackberries, dried apricots, seeds and almond milk. Whether sweet or savory, starting with salted water makes a massive difference in the end result; a little salt goes a long way in improving oatmeal's flavor.
All I ask is that you try it, just once: make your lovely Blackberry Apricot Sunflower Oatmeal with more salt the next time, and taste the difference. I truly think you'll be pleasantly surprised.
Sincerely, and with much admiration,
Christina
P.S. If by some chance you do actually read this, Joy, you seem like such a lovely and down-to-earth person that I didn't feel you would be offended by my letter/suggestion. :) (Fingers crossed!)
*Update (May 3, 2012)- Joy the Baker sent me a tweet…she loved my post!! 
How to Make Oatmeal (Taste Better)
2 1/4 cups water
1/2 tsp Kosher salt (note: Kosher salt is LESS salty than standard table salt) -more or less, to taste (use a little less if making it sweet, a little more if you like it savory)
1 cup oats (good quality, whole grain rolled oats)
Put the salt and water in a small pot, and bring to a boil, then add the oats.
Let simmer for about 8 minutes, until the oats are cooked. Taste for flavor; it should actually taste good! Add a little more salt if it tastes bland.
Pour into bowls and serve as desired, with added fruit, honey, syrup, milk, cream, seeds, sugar, etc.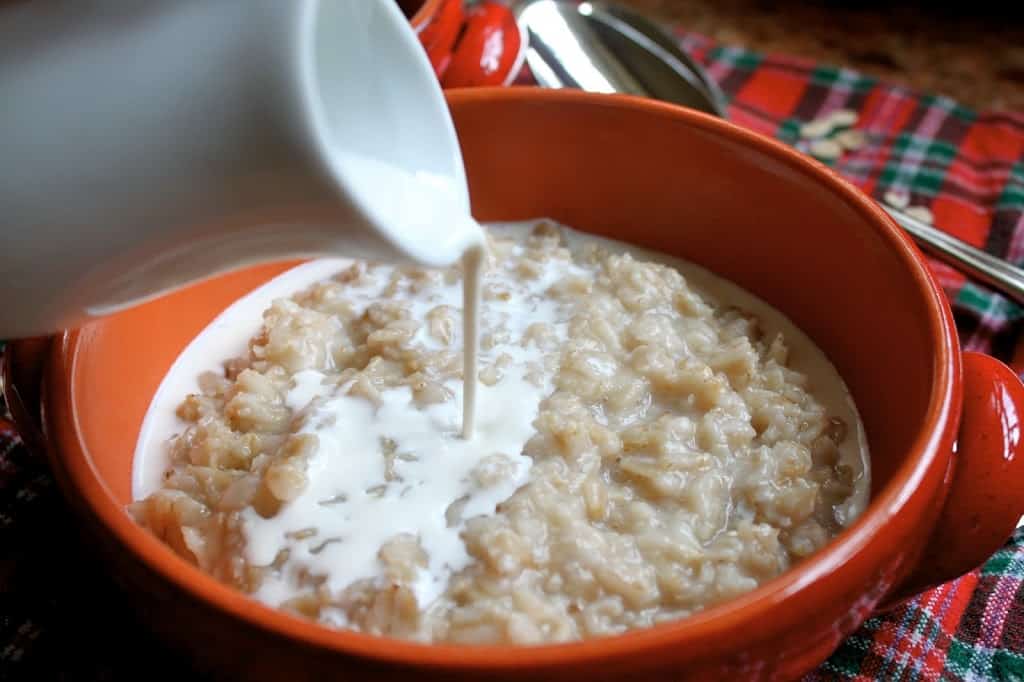 Served with honey (on the left) and with half and half (on the right.)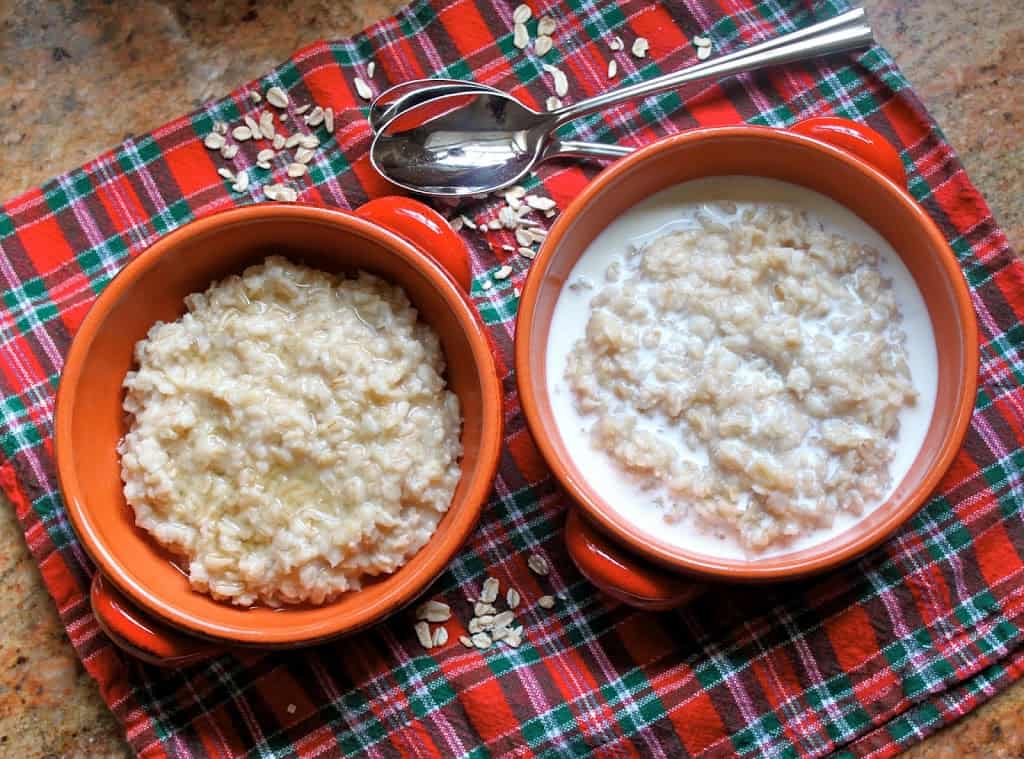 Note: I'm not claiming to be an "oatmeal-maker-extraordinaire," in fact, my Dad (who is also from Scotland) usually calls my oatmeal "concrete," because he likes his softer and less thick! I must add, I've tasted unsalted oatmeal at buffet breakfasts and almost spat it out; it's that terrible once you are used to tasting how good oatmeal can be.
(UPDATE 12/21/14: I am rereading this post and have to add that two months ago, I actually won the Specialty Award for the World Porridge Making Championships in Carrbridge, Scotland, so I suppose this gives me a little bit of credibility regarding porridge making!) It is also adds credibility to my suggestion that the Golden Spurtle award goes to the competitor who makes the best plain oatmeal/porridge. The rule is that only water, porridge and salt may and must be used in this contest.
So please adjust the ingredients to your own liking. but I do believe that if given a bowl of unsalted oatmeal versus salted (whether served sweetened or savory), that most everyone would agree that the latter is much more flavorful.
This is just my opinion, but I'd love for you to try it and let me know what you think.
Don't miss another post! Sign up for my free subscription HERE, but make sure to look for the
Feedburner confirmation email or you'll get nothing, nada, niente and zippo in your mailbox!
(I promise not to sell or share your info, ever!)