Unfortunately (or fortunately, depending on how you feel about my blog), there's no story behind this ultra moist and delicious carrot cake.
I've been making it for years, and everyone goes nuts for this cake, which incidentally, you could add to the batter, if you so desired. If you can grate some carrot, and work a mixer (or stir with a whisk and spatula) you can definitely make this cake.
So? What are you waiting for?
Moist Pineapple Carrot Cake with
Cream Cheese Frosting
adapted from a recipe from an unknown source
Ingredients for Cake
2 cups (9 oz) good quality, all-purpose flour (preferably unbleached, and not enriched)
2 tsp baking powder
3/4 tsp baking soda
1/2 tsp salt
1 tsp cinnamon
4 eggs
1 cup (7 oz) sugar
1/2 cup (3.5 oz) dark (or light) brown sugar
1/2 cup (4 oz) melted butter
1/2 cup (4 oz) light olive oil, or other similar oil
2 cups (8 oz) grated carrots, preferably organic
1 1/2 cups (12 oz liquid measure) crushed pineapple (well-drained)
1 cup (3 oz) flaked or shredded coconut (proplyene glycol free)
*optional (3/4 cup (6 oz) chopped walnuts or pecans)
Prepare a 9″ x 13″ pan (butter and flour) and set oven to 350ºF.
Sift the first five dry ingredients into a large bowl and set aside.
Place next five ingredients (eggs, sugars, butter and oil) in a bowl and beat until well mixed.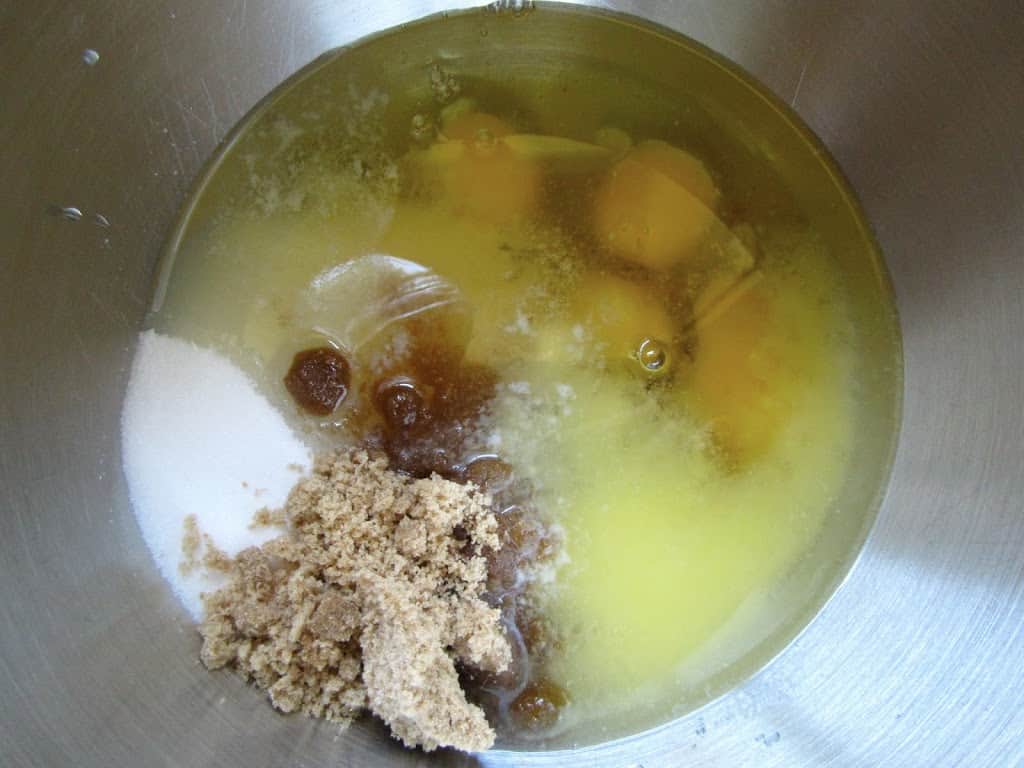 Add grated carrots, pineapple, coconut (and nuts, if using) and stir thoroughly.
Next, add the bowl of sifted ingredients, mix well, and pour into prepared pan.
Wasn't that the easiest cake batter?
Place the pan in the oven and bake for approximately 35 to 40 minutes, or until a skewer or cake tester inserted in the center comes out dry. Set aside to cool (leave in pan.)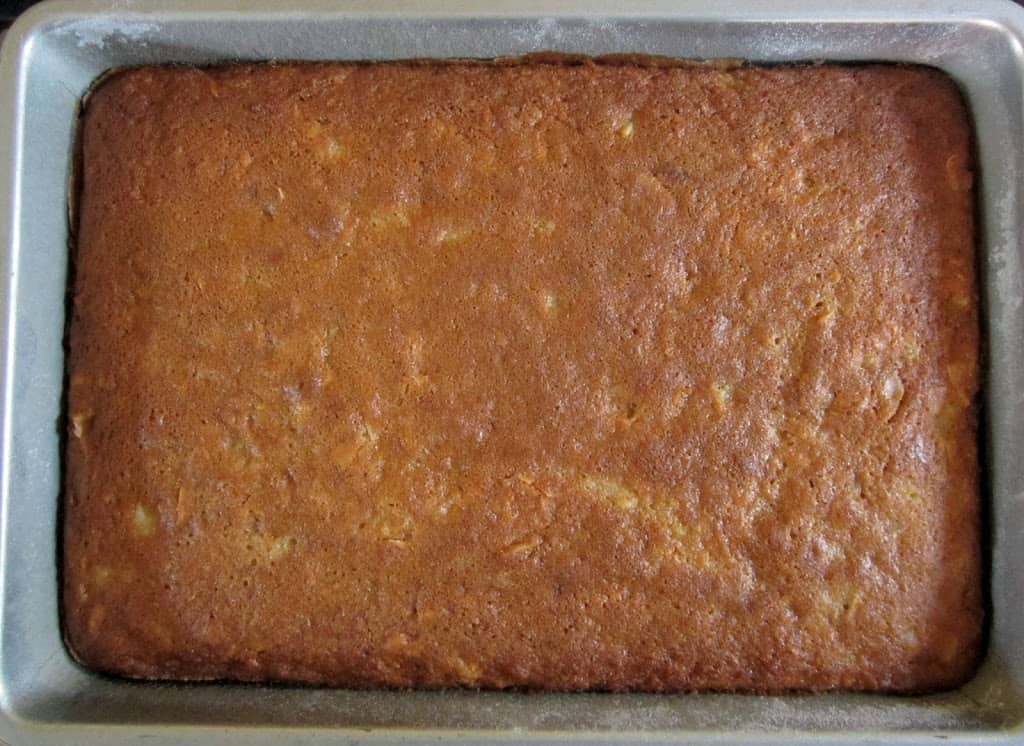 Meanwhile, prepare the…
Cream Cheese Frosting
Ingredients
3 oz butter, at room temperature
6 oz cream cheese, at room temperature
10 oz powdered sugar
1 tsp vanilla
1/4 tsp salt (if using unsalted butter)
approximately 2 or 3 tbsp milk
Mix butter and cream cheese together until well blended (it is very important to have these at room temperature, or you'll fight to get them creamed together, and you'll lose.)
Add vanilla and powdered sugar, then add milk a little at a time, until a smooth spreading consistency is reached.  Once the cake is completely cool, spread frosting onto cake in pan.
Cake may be served immediately after frosting, or else kept refrigerated until ready to serve.
Don't miss another post! Sign up for my free subscription HERE, but make sure to look for the
Feedburner confirmation email or you'll get nothing, nada, niente and zippo in your mailbox!
(I promise not to sell or share your info, ever!)
Moist Pineapple Carrot Cake with Cream Cheese Frosting