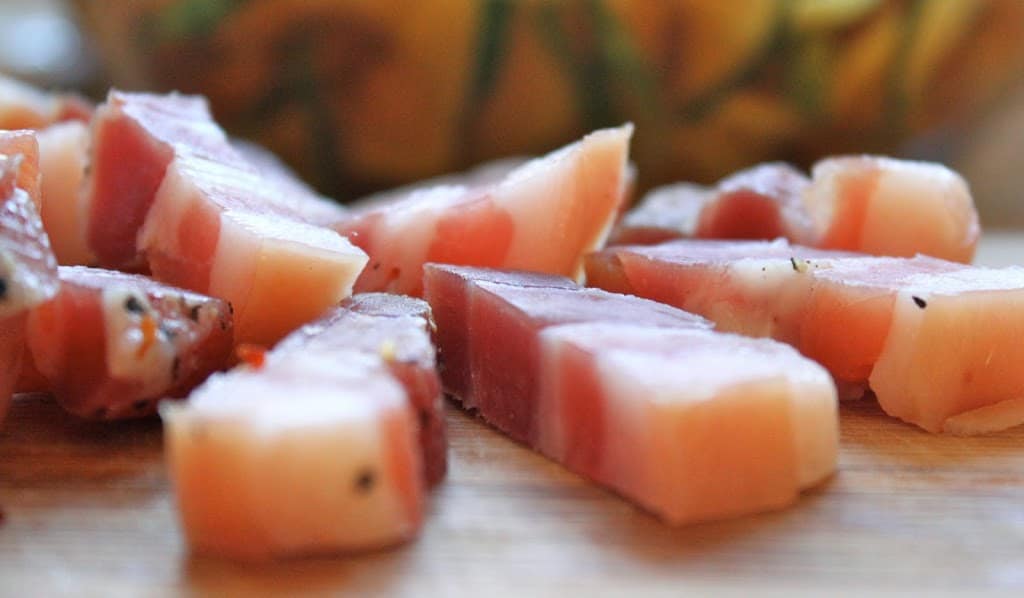 Did you ever think that you could make your own pancetta?
(I apologize to all my vegetarian readers, as you'll want to skip this post altogether, but come back tomorrow as you won't want to miss what I'm posting then (spoiler alert: contains alcohol!))
Now, back to making pancetta, my nonni (grandparents) used to have homemade pancetta, sausages and proscuitto hanging in their cantina in Italy whenever I went to visit. Even as a child, these things were on par with "sweeties" and chocolate in my book! My mother has a basement in Michigan, and with the cold weather that her climate brings, she too makes homemade cured sausages from time to time. Living in eternally warm and sunny Los Angeles makes it difficult to be making such delicacies, but not impossible, because where there's a will, there's a way!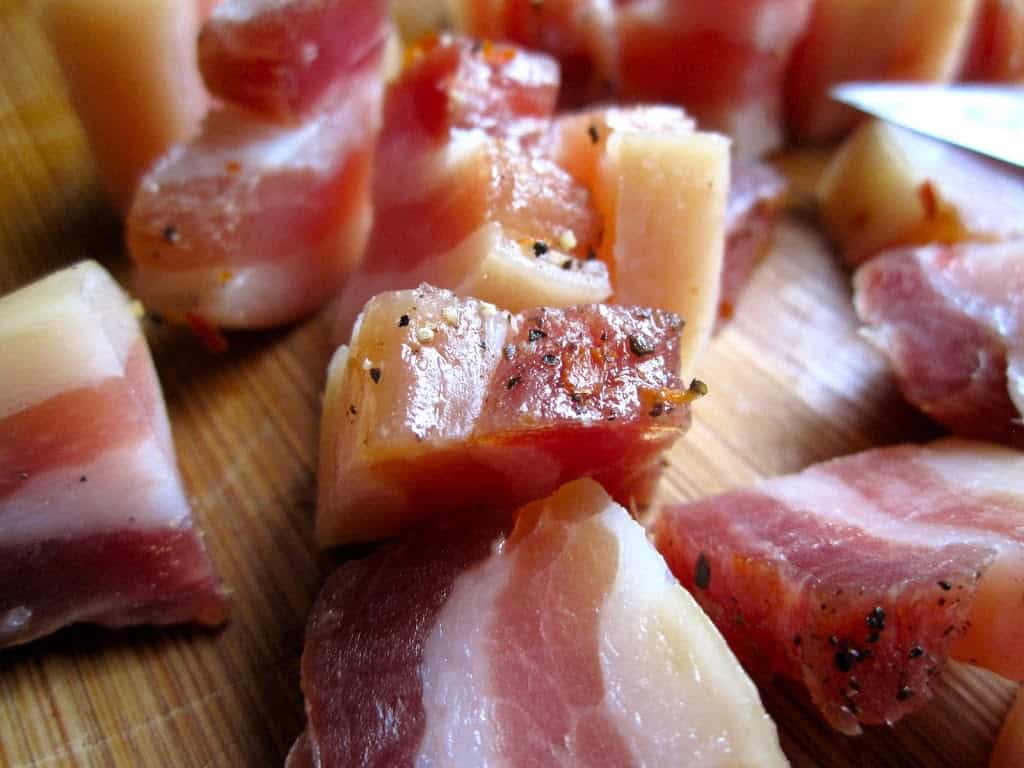 How you ask? Well, everyone has a refrigerator, and that's how! First of all, making your own pancetta will not only taste incredible, and most likely a lot better than what you'll buy, but it will be NITRATE and NITRITE FREE.* You'll be able to make proper Spaghetti alla Carbonara, and have it on hand to use whenever you need it (if you have a food sealer, it will last for a few months in your fridge.)  Follow the simple step by step directions below and you too can make homemade pancetta, even if you live in Los Angeles!
HOMEMADE PANCETTA
Ingredients
fresh pork belly slices, with rind (preferably organic), do NOT use pork which has previously been frozen
Kosher salt
white wine
black pepper
crushed red pepper (optional)
ground cayenne pepper (optional)
Salt the pork pieces generously with Kosher Salt and leave for 24 hours in the fridge.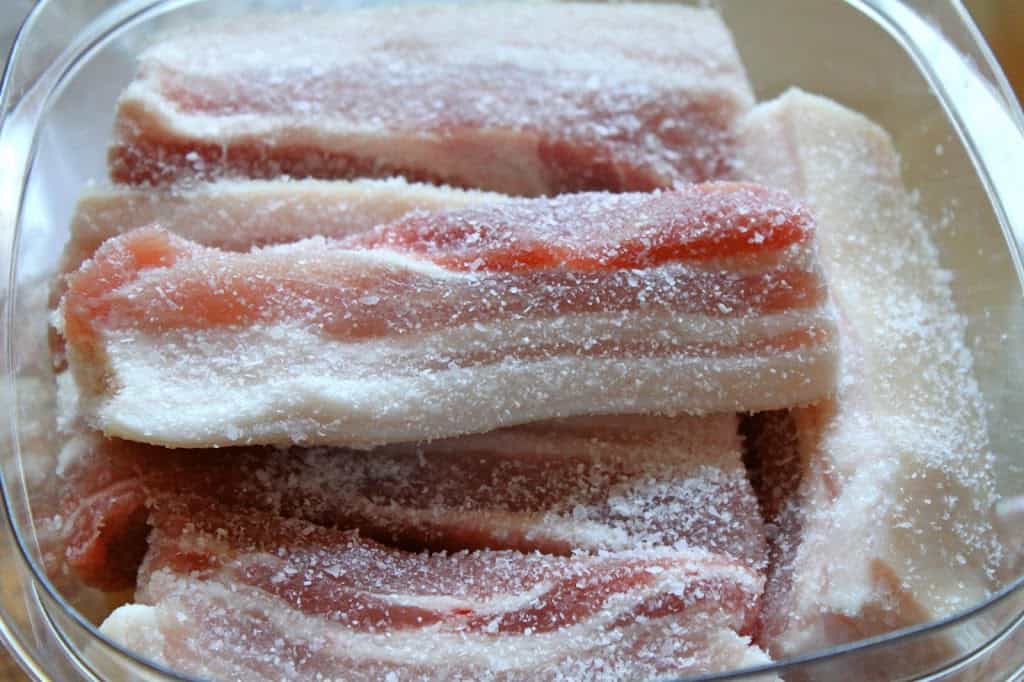 The next day, rinse the pork with water, pat dry with a paper towel, and rinse in white wine (do not pat dry.)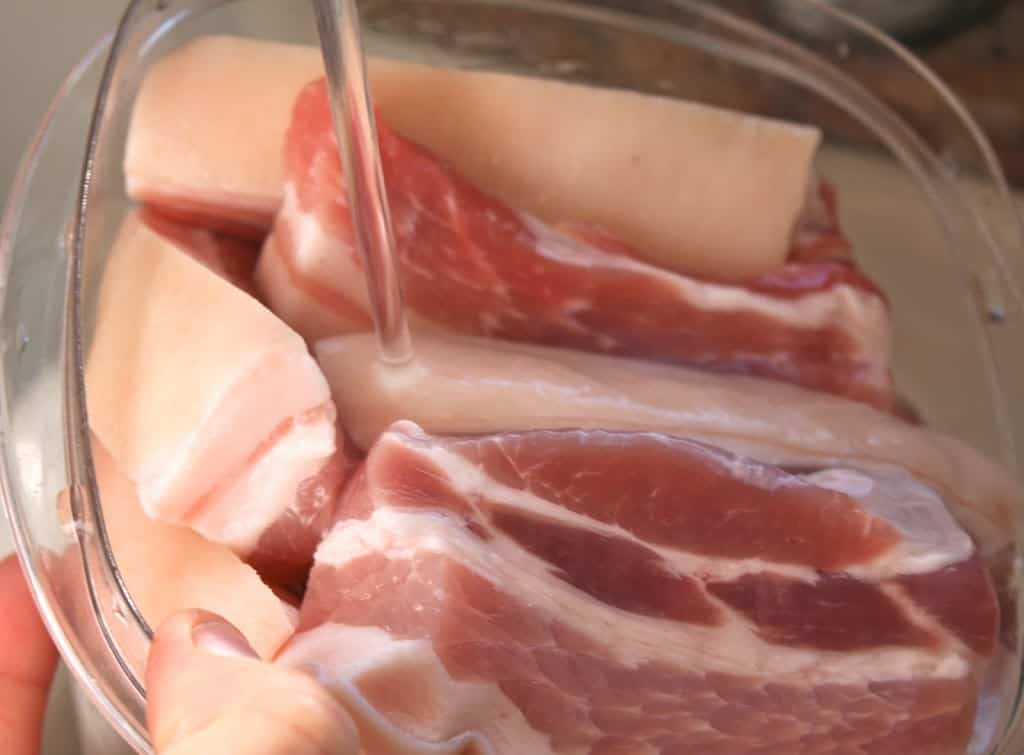 Prepare a plate or tray with the desired amount of pepper in any combination (the amount shown did not make a very "hot" pancetta.
Mix all the pepper together.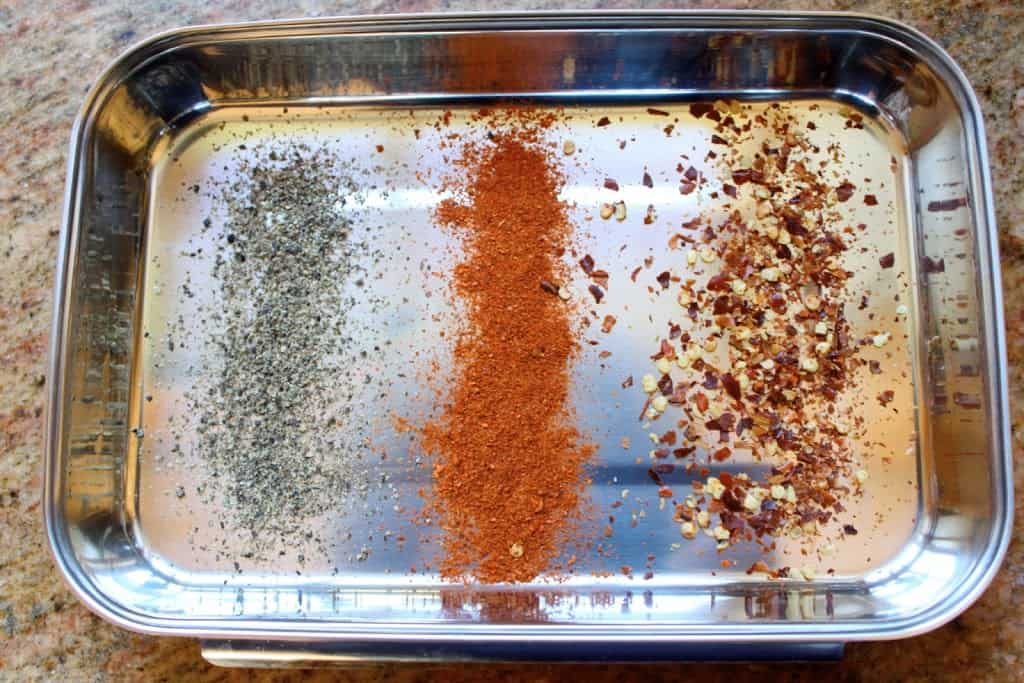 Rub the pepper into the pancetta pieces until well coated, adding more pepper as needed.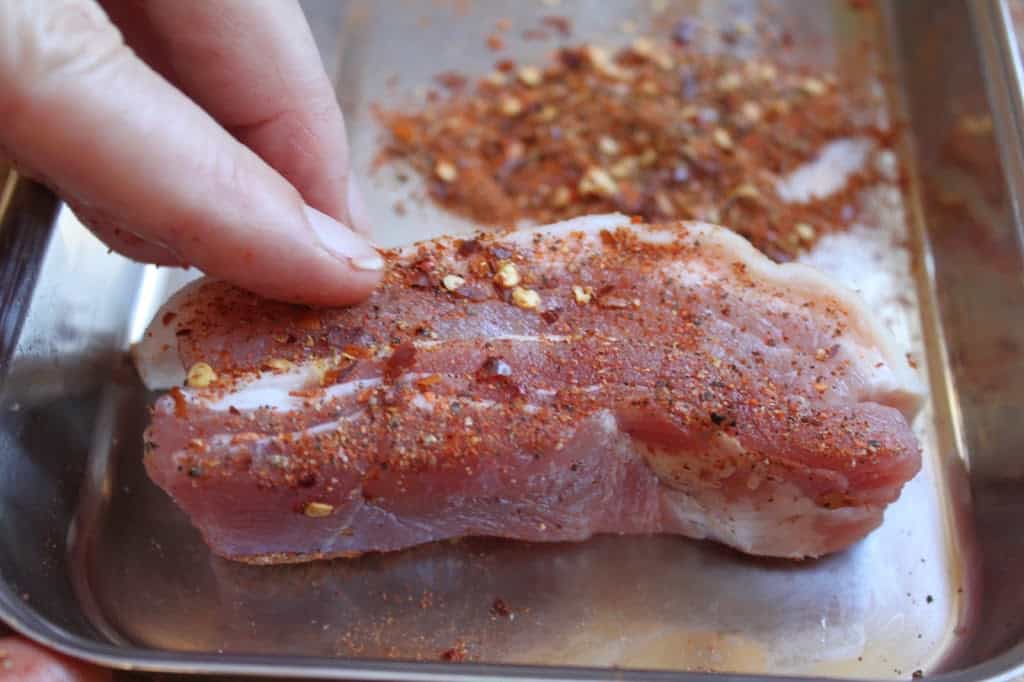 Set aside on waxed paper.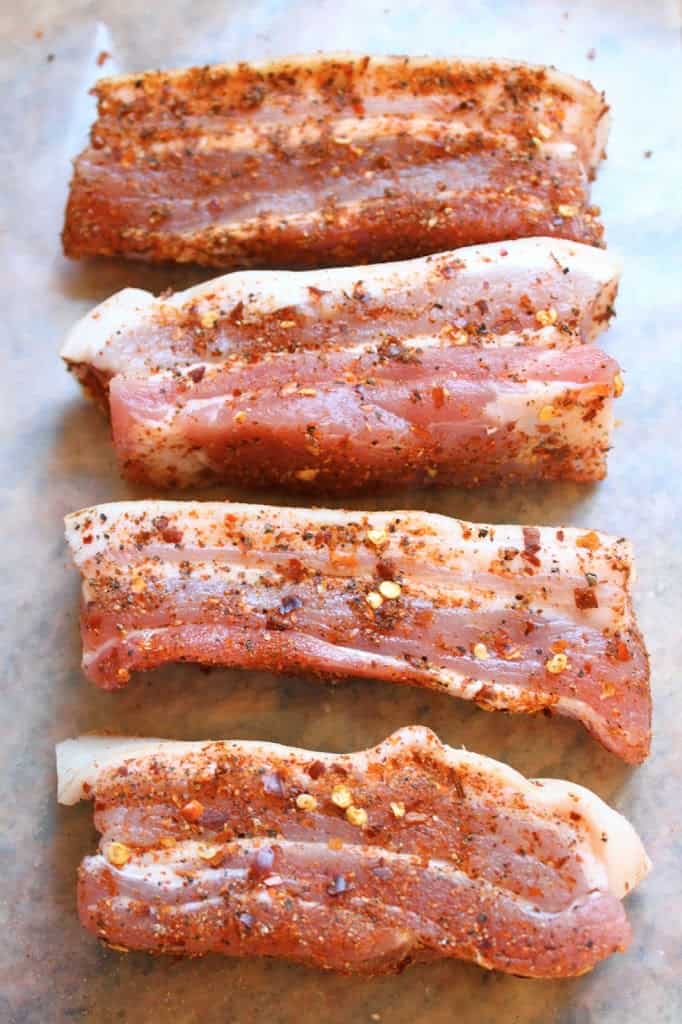 You will need a small tray which will fit long skewers to sit on to create something that the pancetta pieces can be placed on to dry. You can see what I have done here.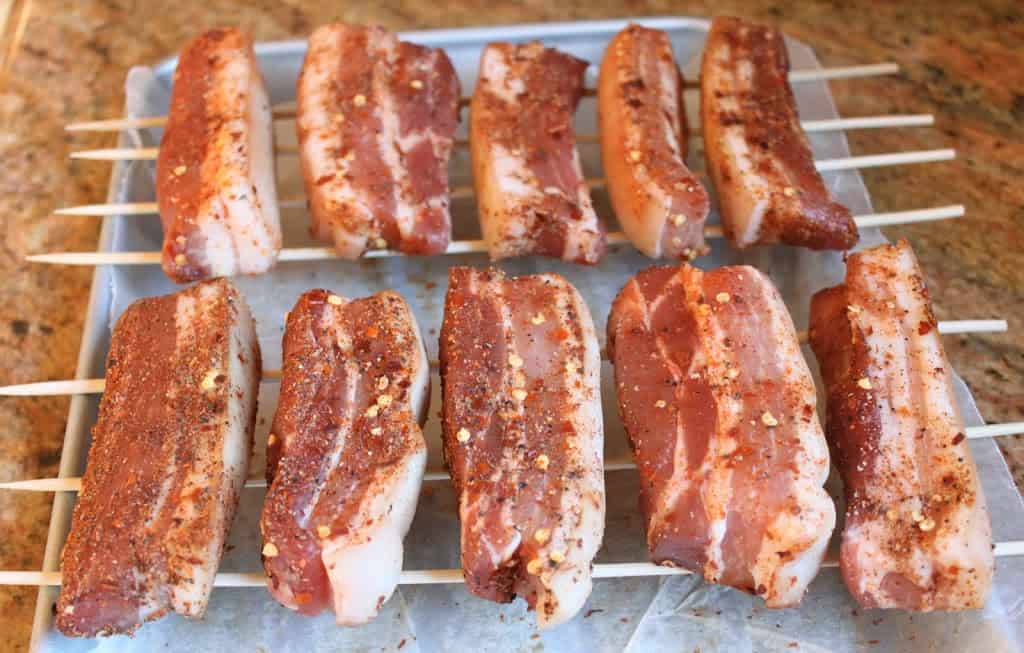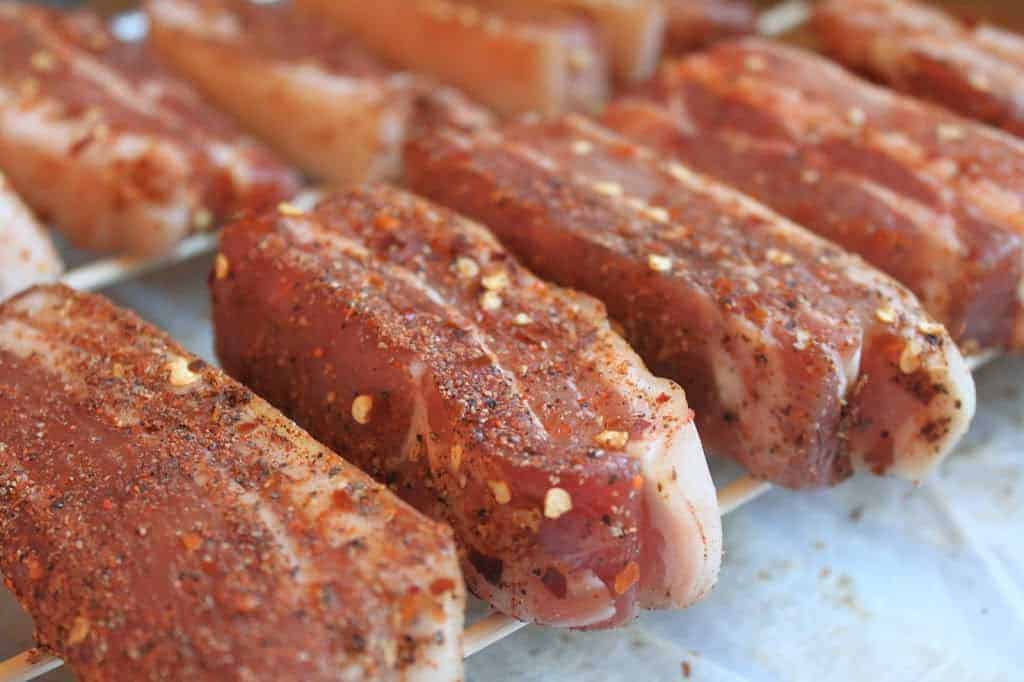 This will be kept in the refrigerator, loosely covered with wax paper for about 2 to 3 weeks or so. Turn the pieces everyday (using all 4 sides) until the pancetta is cured enough,
without becoming overly dry. It should look like this.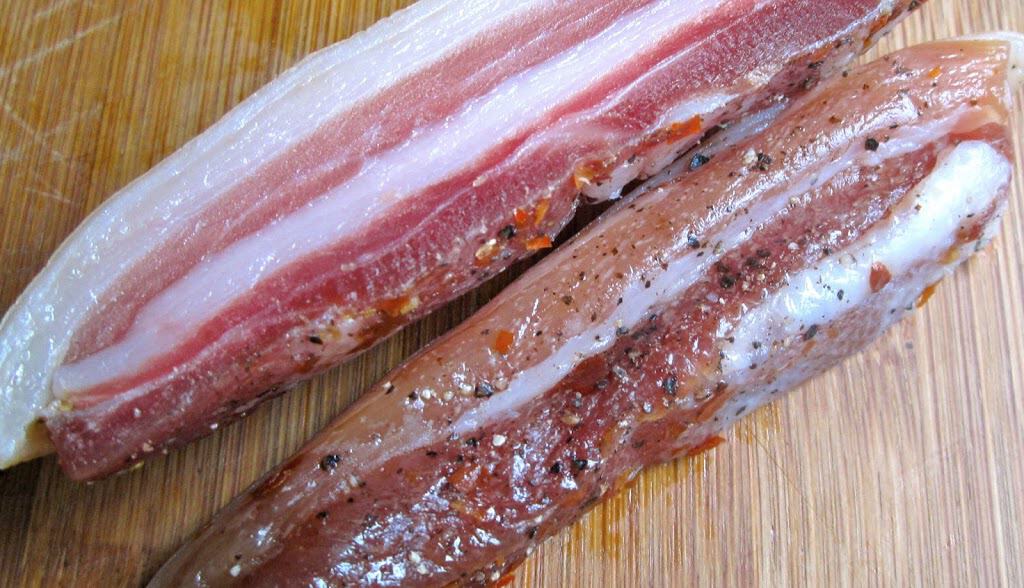 At this time, my preference is to seal it in plastic with a food sealer, which locks out all the air, allowing the pancetta to keep refrigerated a longer period of time.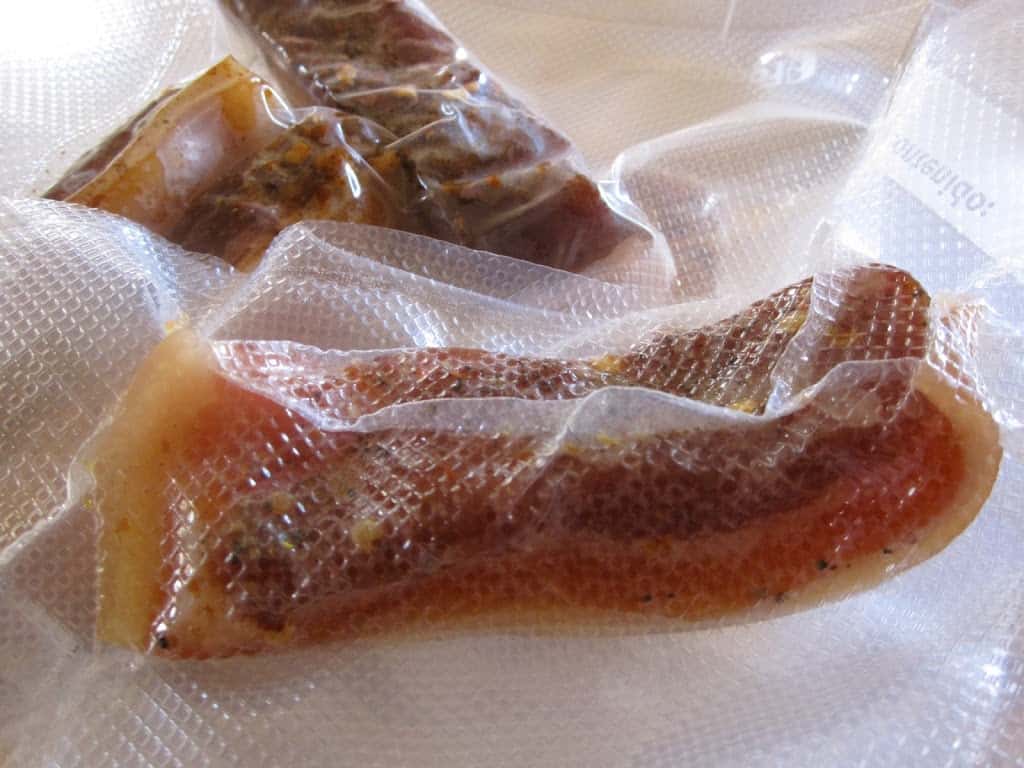 Now you can use the pancetta however you choose, but do not eat it without properly cooking it first.*
*As with any uncooked, cured meat product, there are risks involved if the product is not made correctly, or is not cooked thoroughly–I take no responsibility for any illness incurred from using this recipe.