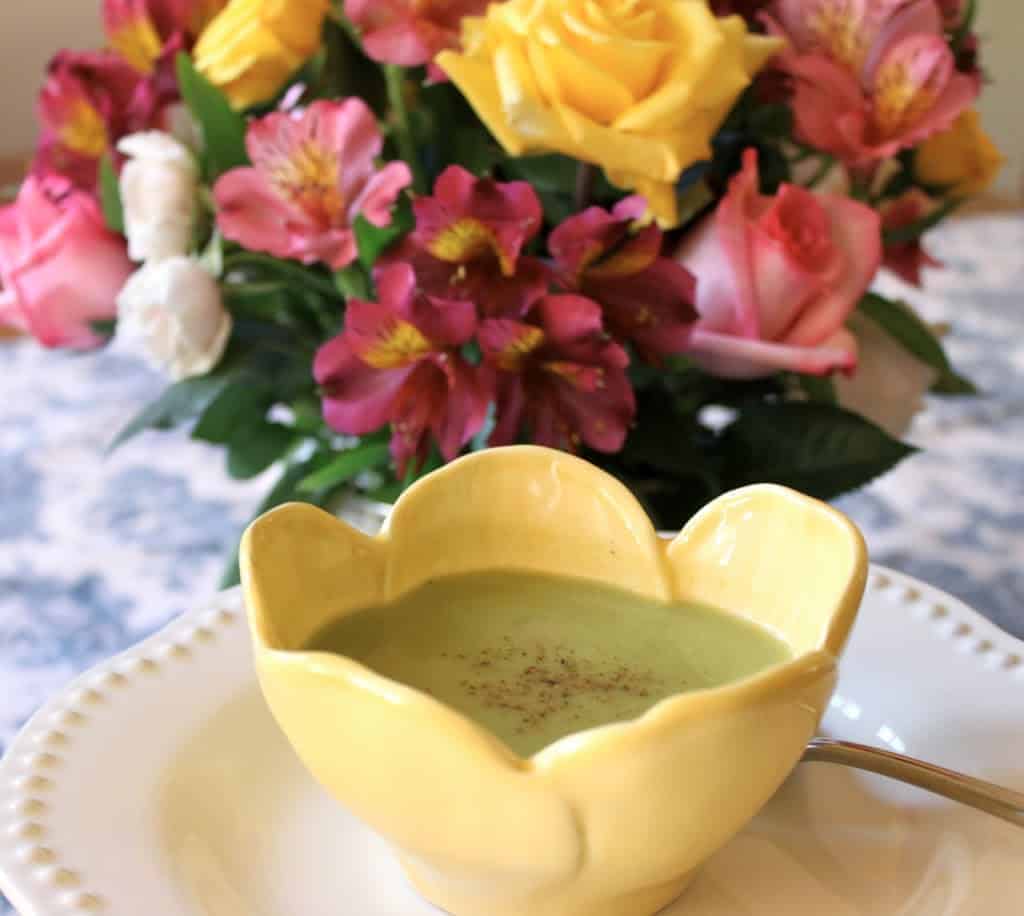 When I lived in Michigan, I absolutely hated this time of year.
In fact, the weather during this time of year was the reason I left Michigan. The miserable, long, dark days, the frigid temperatures, and driving in horrific conditions just made no sense to me…I was so unhappy!
Now that I live in California, I am rewarded with 82º F days in January (that's what our high is today!) however, I have lots of friends and family who still live in those "sub-polar" regions of the mid-West and Toronto so I'm posting this fresh and light pea soup with all of you in mind today.
Soup is a "must-have" on a cold day, but this pea soup is not the kind of thick and heavy type that usually comes to mind. I had an idea to make pea soup with frozen peas instead of dried, and it turned as I thought it would, like a fresh pea soup I made last year. It's so light and delicious; I'm sure it will be a hit with your family too. Buy some fresh flowers to place on your table and you'll feel like spring is right around the corner!
Light and Tasty Pea Soup
Ingredients
2 tbsp olive oil
2 oz pancetta, chopped (omit to make vegetarian)
1 large onion, diced
1 lb bag of organic frozen peas (if you can get your hands on fresh peas use a little less)
4 cups (32 oz) chicken stock (or vegetable stock)
salt and pepper to taste
cream (optional)
Place the olive oil and pancetta in a heavy pan and fry for a few minutes, then remove pancetta pieces and set aside.
Add the onion to the oil and saute until it starts to brown, about 7 minutes or so.
Next, add the bag of peas, and stir for about 2 minutes.
Add the stock and simmer for about 20 to 25 minutes or so, or until peas are tender.
Add salt and pepper to taste.
Using an immersion blender, puree the soup until completely smooth.
If you are using pancetta, stir the pieces into the soup at this point. Serve plain, or with a dash or cream if desired. You can't get any easier than that!
Don't miss another post! Sign up for my free subscription HERE, but make sure to look for the
Feedburner confirmation email or you'll get nothing, nada, niente and zippo in your mailbox!
(I promise not to sell or share your info, ever!)