Here's another recipe which I know you'll probably think is too difficult for a beginning baker to make, but it's not!
This Yule Log looks intimidating, so I don't blame you if you are thinking it is difficult, but this recipe is really quite simple, and so delicious (and if you can believe it-it is gluten free!)
I make it because of its texture and flavor, not because I want it to be gluten free…but that's an added plus when I have guests who are on GF diets! To me, this is the perfect Christmas dessert because of its beautiful presentation and festive shape; it's also a light cake, which means it'll probably even entice those with full bellies, after a big Christmas dinner!
I usually make a few of these each Christmas season, and believe me, once it's been cut, it's only a matter of minutes before it's gone! You don't have to make meringue mushrooms (recipe coming soon), but they are the perfect addition to the presentation of the Yule Log. You can use real branches of pine trees to adorn the log, or holly and pinecones, just picture what you'd see on, or next to a log, in a forest in winter.
Without further ado…here are my step-by-step instructions on how to make a Yule Log!
Yule Log (Bûche De Noël)
Serves about 10
adapted from a McCall's Cooking School recipe
6 egg whites, at room temperature
3/4 cup (6 oz) sugar
6 egg yolks
1/3 cup (1 1/4 oz) unsweetened cocoa, good quality
1 tsp vanilla extract
pinch of salt
confectioner's sugar
Filling
1 1/2 cups (12 oz) heavy cream, chilled
1/2 cup confectioner's sugar
1/4 cup unsweetened cocoa
2 teaspoons instant coffee powder
Mocha Buttercream Icing (optional)
1/2 cup (4 oz) butter, room temperature
5 cups (1lb 12 oz) confectioner's sugar
1/3 cup (1 1/4 oz) unsweetened cocoa
1/3 cup (2 1/2 oz) or more of cold, strong coffee
To decorate: meringue mushrooms, holly, small branches of pine, (or rosemary dipped in beaten egg white and coated in sugar) Christmas baubles, etc. to decorate
Prepare 15x10x1 jelly (swiss) roll pan by buttering the pan, lining with waxed (greaseproof) paper and then lightly butter the paper. Preheat oven to 375ºF (190ºC.)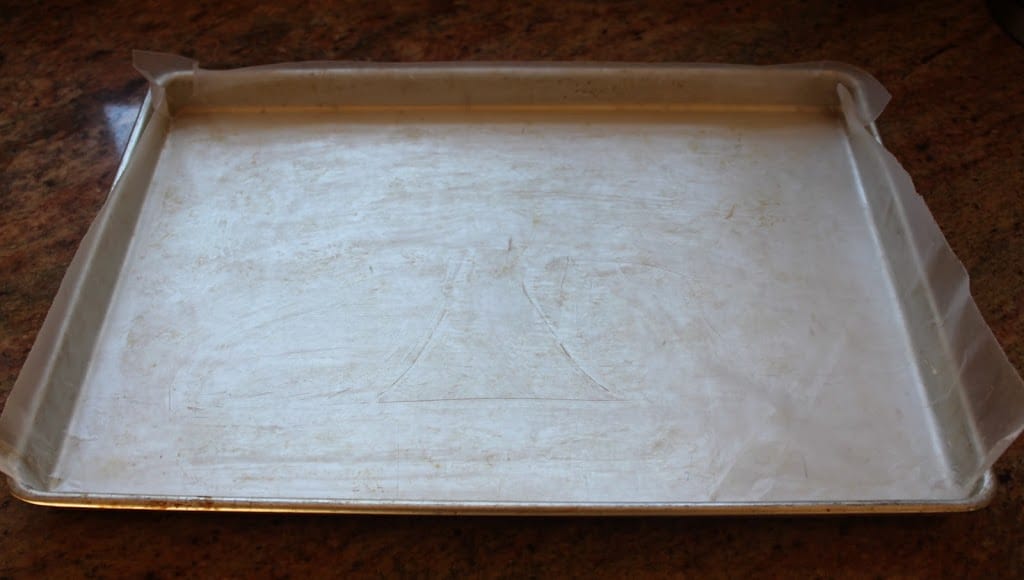 In large bowl, beat egg whites at high speed until soft peaks form when beaters are slowly lifted. Add 1/4 cup (2 oz) sugar, two tablespoons at a time, beating until stiff peaks form.
Using the same beaters, beat yolks at high speed, adding remaining 1/2 cup (4 oz) sugar, two tablespoons at a time, until very thick (about 4 minutes.)
At low speed, beat in cocoa, vanilla and salt until smooth.
With a spatula, gently fold cocoa mixture into egg whites just until blended (until there are no egg whites visible.)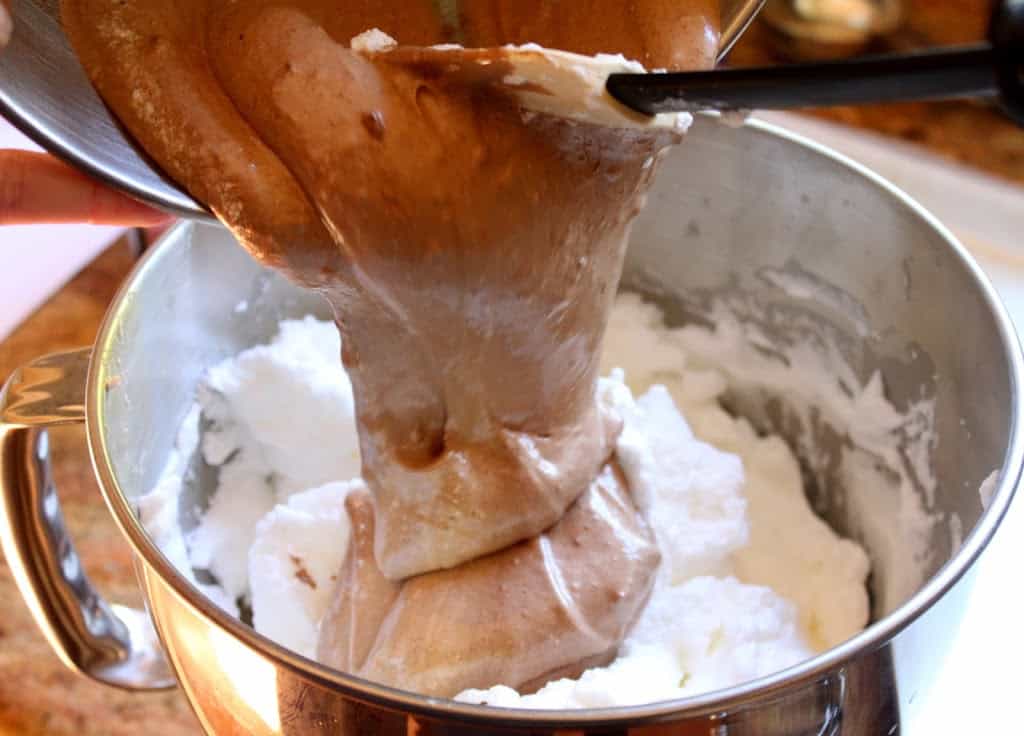 Spread evenly into pan.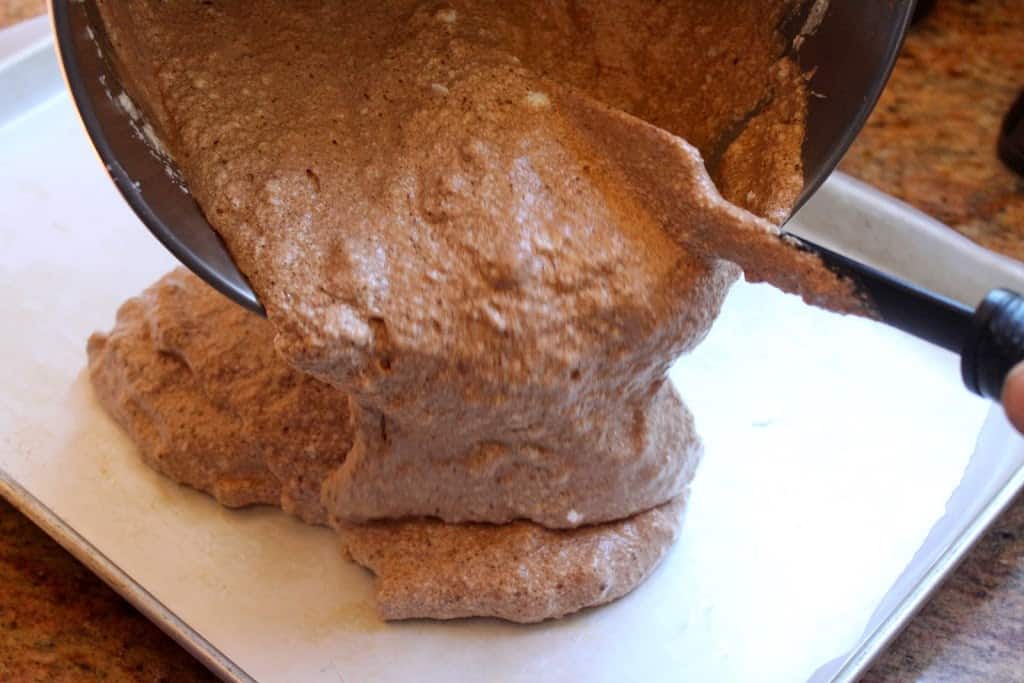 Bake 15 minutes or until surface springs back when gently pressed.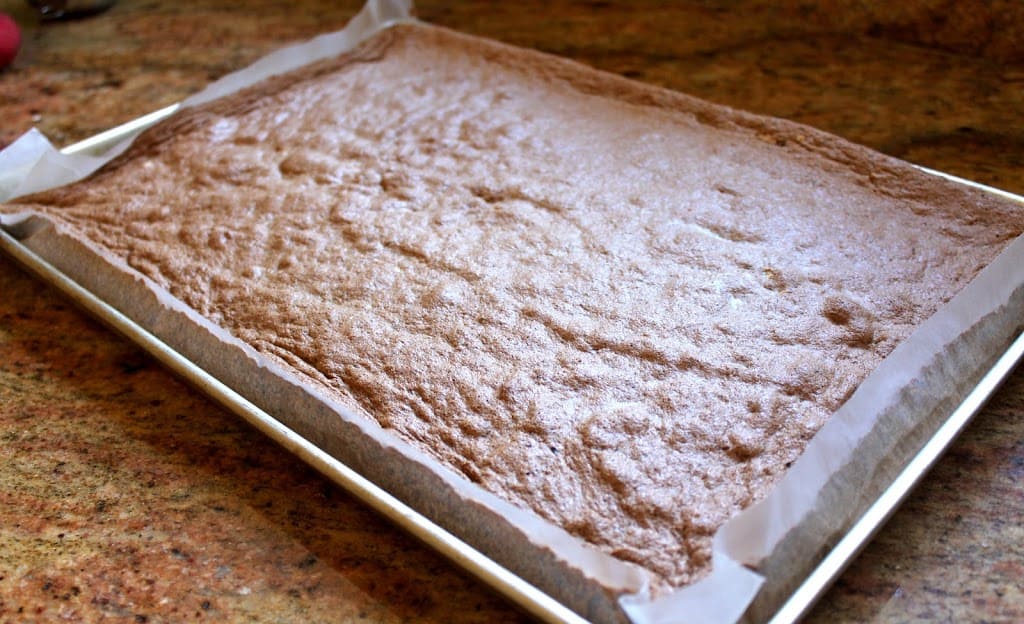 Place a clean linen kitchen towel on workspace and sprinkle with confectioner's sugar, in a 15″x10″ area.
Turn cake out onto sugared towel and carefully peel off paper.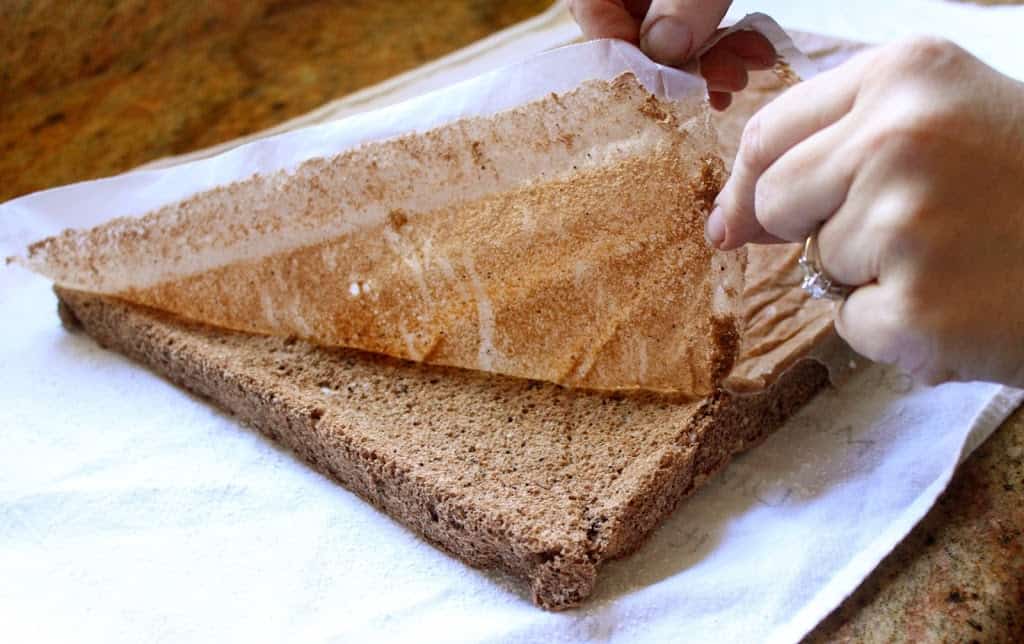 Roll up cake, starting with the short end.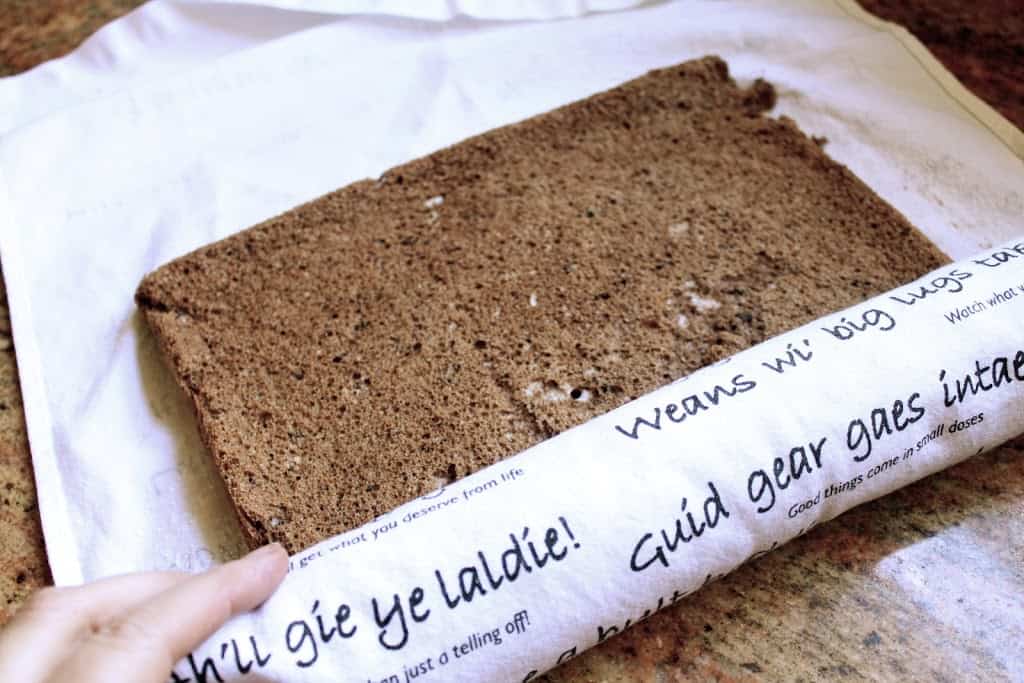 Continue rolling until the end, and then place seam side down onto cooling rack. Allow to cool completely. Meanwhile, prepare the filling.
Filling: place all ingredients in a bowl and beat until thick; then chill.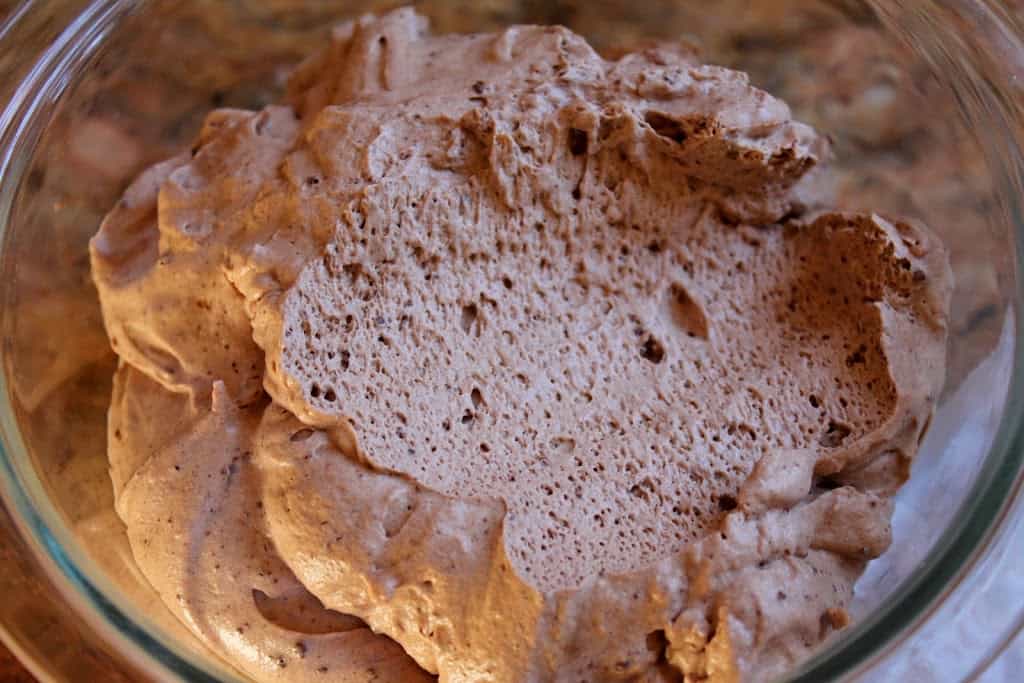 To assemble: unroll the cake and cover with filling to 1″ from the edge.
Re-roll without the cloth, and place seam side down onto serving plate.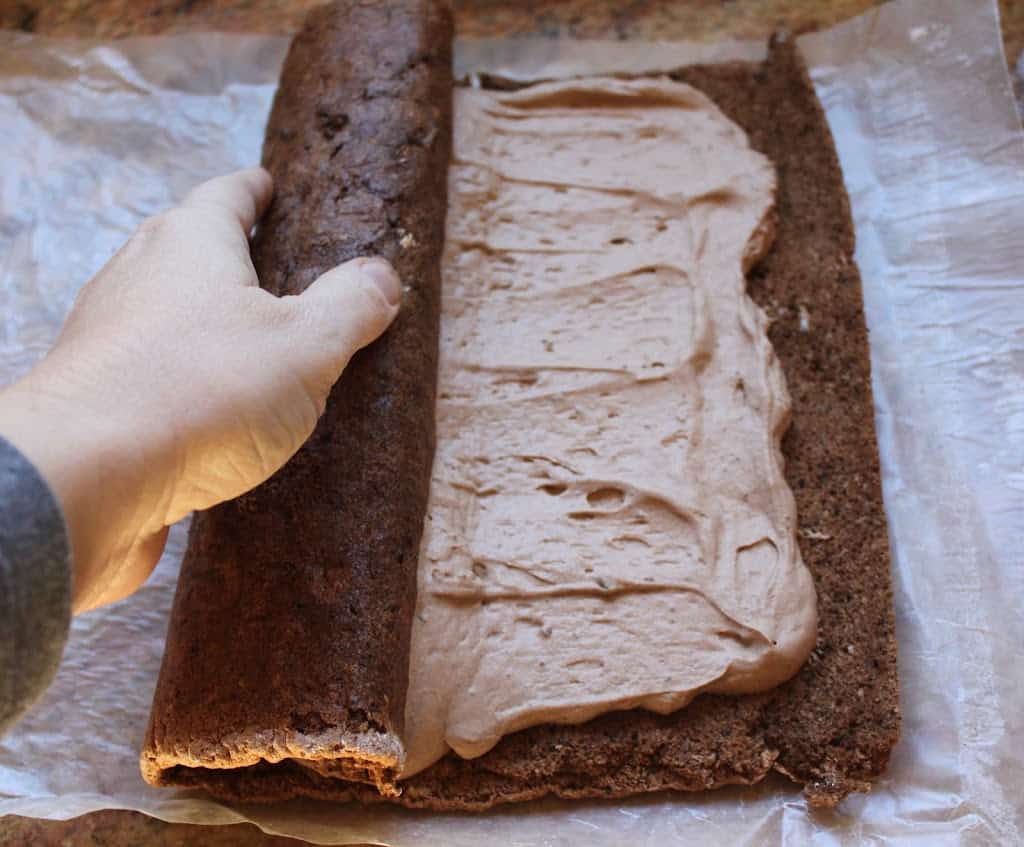 Cover loosely with foil and refrigerate for at least an hour before serving. This can also be frozen for up to a week, wrapped in foil.
Let stand at room temperature for one hour before serving.
To serve as in the original recipe: place on a serving platter, dust with confectioner's sugar and decorate with red candied cherries and green angelica leaves.
Christina's Method of Decorating a Yule Log~
Prepare buttercream frosting: mix all the ingredients together until smooth and creamy,
adding enough coffee until a smooth, spreadable consistency is reached.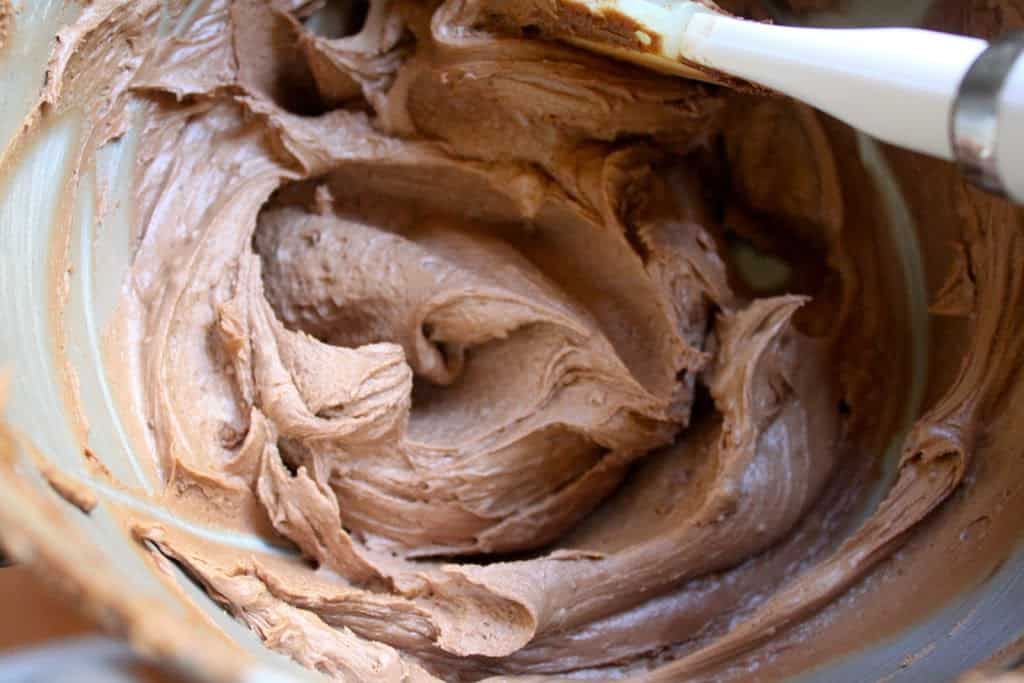 Before placing the filled Yule Log on a serving plate, cut a piece off each end of the log, at a 45 degree angle.
Spread a little frosting on an end of each piece and attach it to the log to make it look like a log with two cut branches on it.
Frost the entire log, using a butter knife and make the frosting look like wood, by making rough streaks with the knife.
Alternately, you can run a fork along the entire dessert, to make it look like the bark on the log. Sprinkle with confectioner's sugar just before serving (to make it look like snow.)
Decorate with Meringue Mushrooms, sprigs of holly (toxic, so be careful), rosemary, and/or faux decorations.
Don't miss another post! Sign up for my free subscription HERE, but make sure to look for the
Feedburner confirmation email or you'll get nothing, nada, niente and zippo in your mailbox!
(I promise not to sell or share your info, ever!)