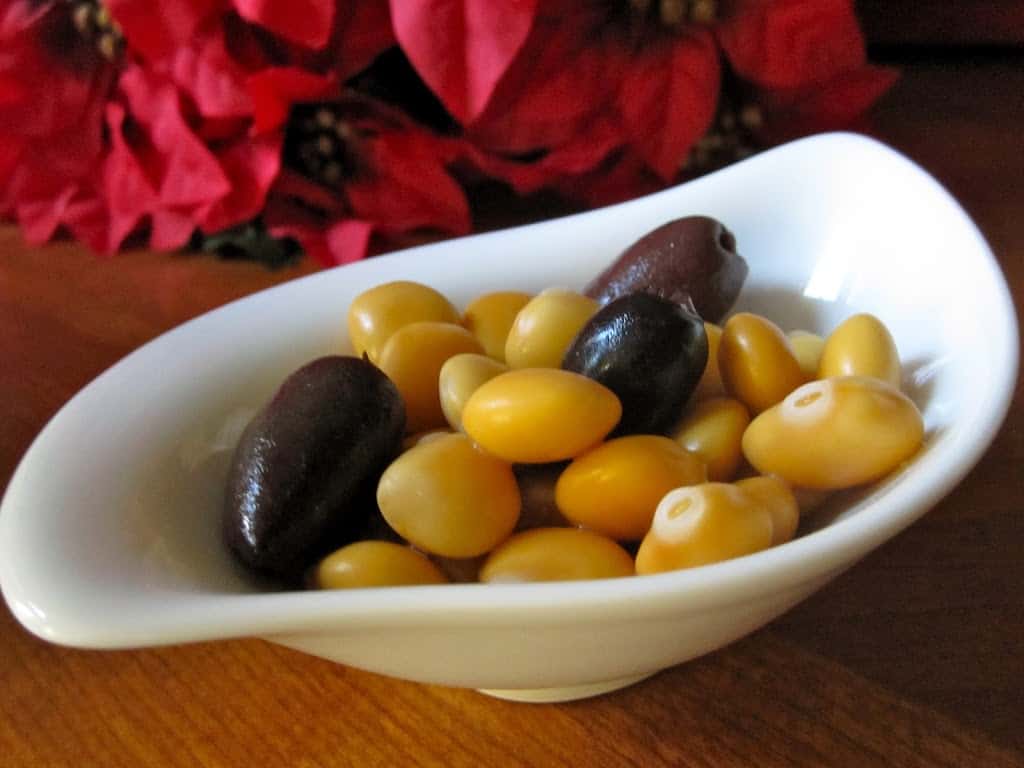 I'm going to tell you how to cook and eat lupini beans, assuming that most of you reading this have never seen or maybe even heard of lupini beans*.
Lupini are a very unique type of bean, which are popular in Italy, especially at Christmas. They do not have the taste or texture of any other bean I've ever had, and they also eaten differently, but I'll explain that later. Lupini are naturally, extremely bitter, and must be soaked overnight, cooked the next day, then rinsed several times a day for the next 5 or 6 days! I've always wondered who the person was who figured out that if you just keep rinsing these beans that they would actually taste delicious, let alone edible!
Lupini are a traditional Christmas snack, served as an antipasto or also after a meal. Usually, olives are mixed with the lupini, which lend their salty flavor to the beans–it's a fabulous combination. You can find lupini at most Italian markets/delis and middle eastern shops, or if you want a large bag of them, on Amazon (I would absolutely buy the 3 lb bag and make them three different times).
Don't let the process of making these intimidate you because there's really nothing to it. The only problem is remembering to start about six days before you want to eat them. If you can boil beans and rinse them, you can cook lupini. Of course, these are great to eat as a snack because they're so healthy and nutritious. Don't just limit them to the Christmas season, you can eat them year-round. I will warn you though, once you start eating lupini, it's very difficult to stop; they are very addictive. Now we'll get to how to cook and eat lupini beans.
*WARNING: Peanut allergy sufferers, please make sure you are not also allergic to lupini beans read here.
How to Cook and Eat Lupini Beans
Ingredients
one bag of dry lupini beans, look for beans without blemishes (I used one 14 oz bag)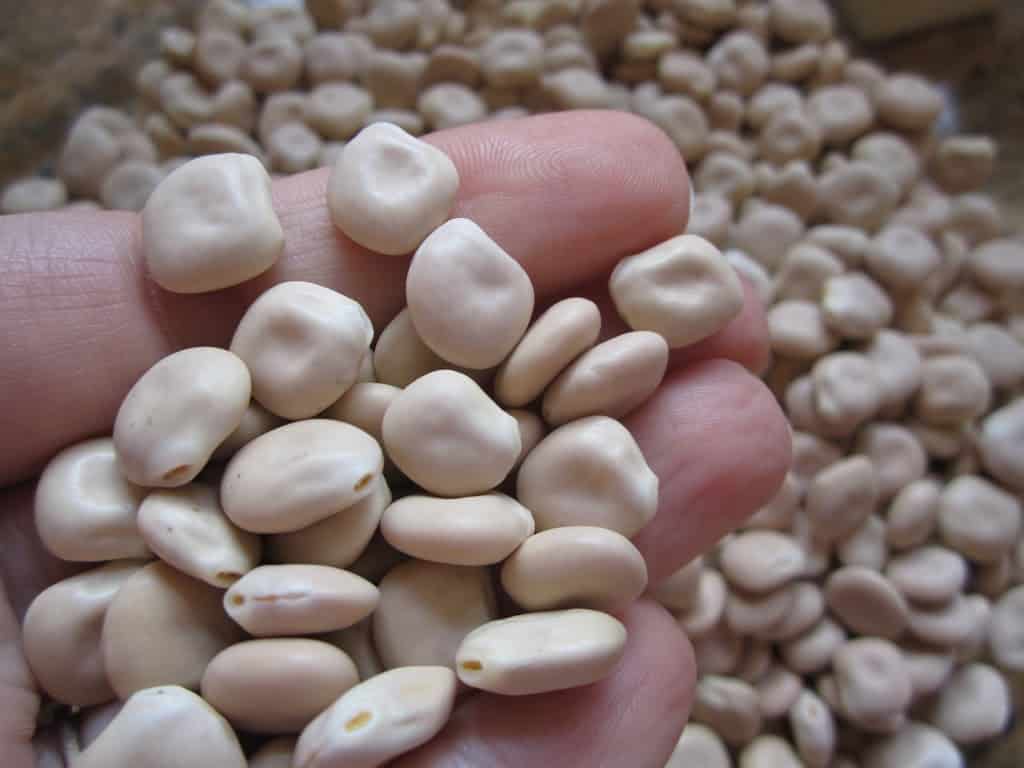 Rinse and sort (take out any bad looking beans) the lupini, then soak them overnight, a minimum of 12 hours. Make sure to put a few inches of water above the beans so they don't dry out when you're trying to rehydrate them.
Rinse the beans, then put them into a large pot with fresh water, covering the beans with at least a couple inches of water above them.
Bring to a boil, then reduce heat and simmer for 45-50 minutes, occasionally stirring with a wooden spoon.
Remove from heat, drain, and place into a large bowl and fill to cover with water.
At this point, just keep rinsing the lupini for about 30 seconds at a time, 3 to 4 times a day, for about 5 days (fewer, if you change the water more often.)
The bowl can be kept on the counter; it does not need to be refrigerated.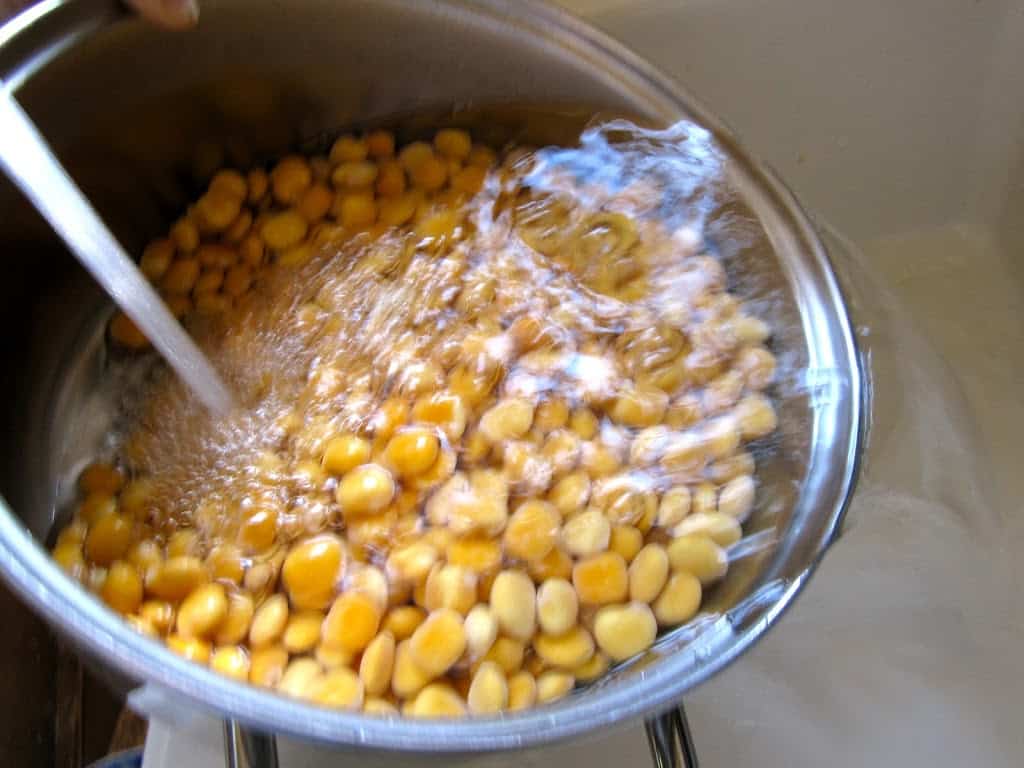 Just so you have an idea, I kept track of how many times I changed the water over 5 days, and the total count was 18. Yes, this is necessary or you will have bitter beans.
At the end of the fifth day, taste a bean, or part of one, to check for bitterness. The bean will not taste good yet, but you are only checking for bitterness, nothing else. If the lupini are still bitter, continue to change the water until they are no longer bitter.
Now add some salt, probably about one teaspoon of Kosher salt to the lupini in the water (do not drain the beans after this.) You can also add a can of green (this is the Italian style) or black olives, liquid and all (not under oil). Stir well and taste after about three hours. If it needs more salt, add some. If you make the lupini too salty, just add a little more water.
DO NOT CHANGE THE WATER ANYMORE and refrigerate, once the salt has been added.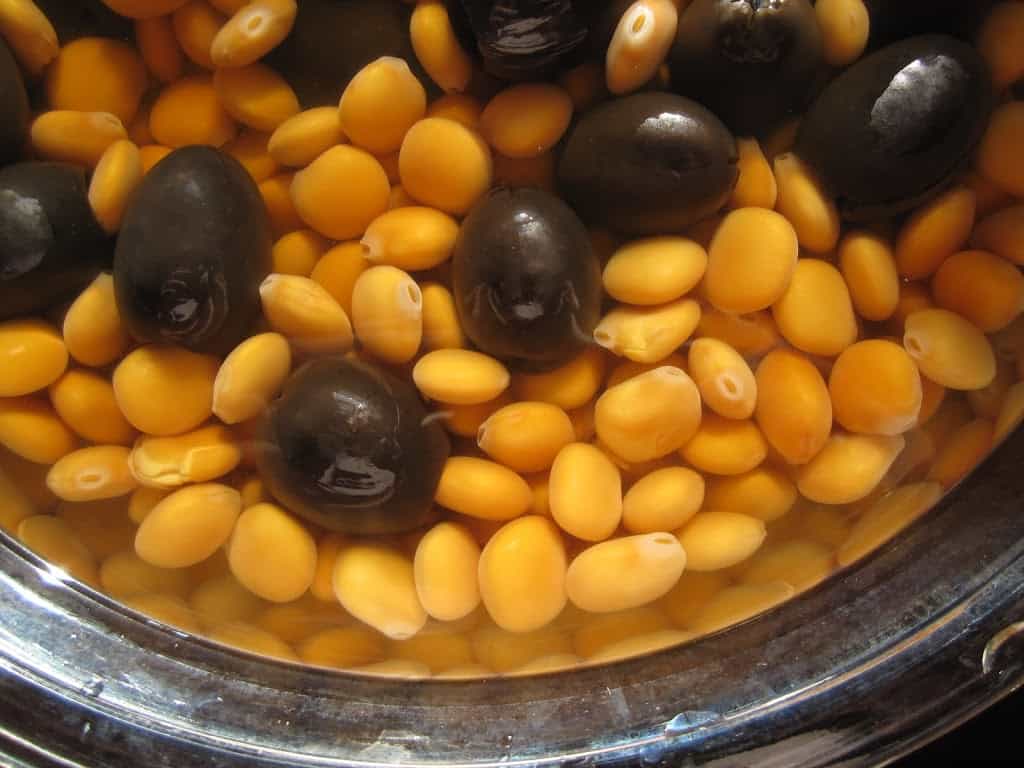 Now the lupini are ready to eat! Use a mini sieve or slotted spoon to put some lupini and olives into a serving bowl.
How to eat lupini beans~
Take a lupini bean in your fingers and bite part way through the top part of the bean (where the little white part is) to break open the skin, but don't bite the bean inside.
Now, just squeeze gently while holding the bean in front of your mouth, and POP the bean in! I told you lupini were cooked and eaten differently! (Truthfully, the skin is edible and my brother and son just pop the whole bean in their mouths, but I don't like the texture of the skins.)
Once you get started, you won't be able to stop, but remember, they are beans, so you probably don't want to eat too many.  Now you know how to cook and eat lupini beans. Enjoy!
BUON NATALE!
Don't miss another post! Sign up for my free subscription HERE, but make sure to look for the
Feedburner confirmation email or you'll get nothing, nada, niente and zippo in your mailbox!
(I promise not to sell or share your info, ever!)