Like most kids nowadays, my daughter is spread too thin.
Between school, homework, mock trial, homework, swimming, homework and, well…you get the picture. I don't like it one bit, because I know it affects her health due to the stress of trying to keep up her grades, getting everything done to meet deadlines, and attempting to get a decent amount of sleep (the last one's almost a joke.)
There's not much a parent can do to help, except make sure their child is eating properly. So I feel good when I can make her a treat that's also giving her some added veggies and vitamins.
These Pumpkin Carrot Cupcakes are full of Vitamin A with almost 4 cups of pumpkin and fresh carrots! If you do add the coconut, make sure to always check the ingredients, because the most popular US brand (I'm sure you can figure out which one) of shredded coconut contain propylene glycol. This website explains why we should avoid it in personal care items because it alters the structure of the skin…(yikes)…yet they're putting it in our coconut? I love Lets Do…Organics brand. Not only does this coconut not have any added sugar or preservatives, but it actually tastes like coconut.
Anyway, I digress–back to the cupcakes, (or could these actually be called muffins?)–the best thing about these is that they are very light, and taste delicious!  If you decide to add even more goodness to these lovely little cakes, you can toss in one cup (about 6 oz) of raisins, cranberries and/or nuts.
You can also use this recipe to make two round cakes, but make sure to adjust the baking time as it will be longer than 30 minutes.
Pumpkin Carrot Cupcakes
with Cream Cheese Icing
Makes 2 dozen cupcakes or 2, 8″ round cakes.
Recipe by Christina Conte
Ingredients
2 cups (10 oz) flour
2 tsp baking powder
1/2 tsp baking soda
1/2 tsp salt
1 tsp cinnamon
4 eggs
1 cup (7 oz) sugar
1/2 cup (2 oz) brown sugar
1/2 cup (4 oz) melted butter
1/2 cup (4 oz) light olive oil
2 cups (7 oz) grated carrots
1 1/2 cups (12 oz) pumpkin
1 cup shredded coconut (organic is best, propylene glycol free)
 Sift the first 5 (dry) ingredients into a bowl and set aside.
In a large mixing bowl, beat eggs and sugar for about 2 minutes, then add the oil and butter, and mix well.
Next, add the grated carrots, pumpkin and coconut and mix until combined.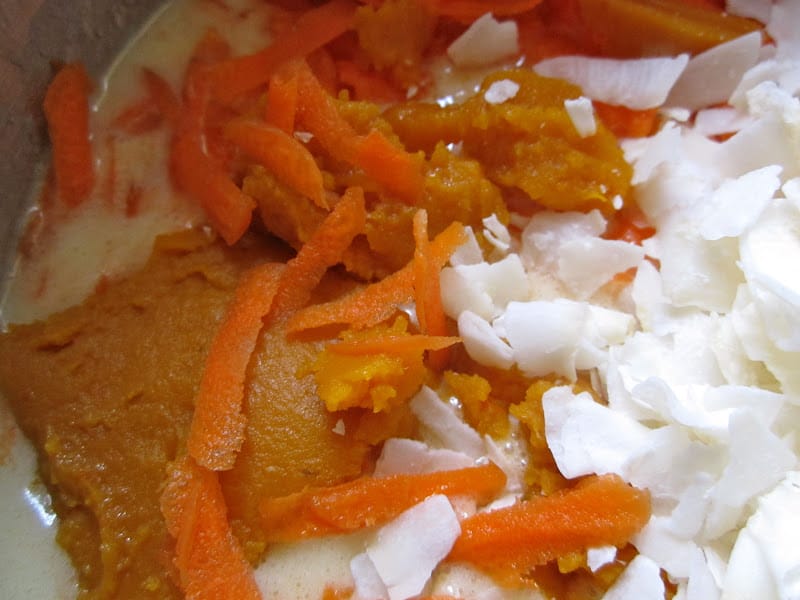 Add the sifted ingredients and stir until mixed well.
Place paper cupcake liners in a pan, then fill with batter about 2/3 full.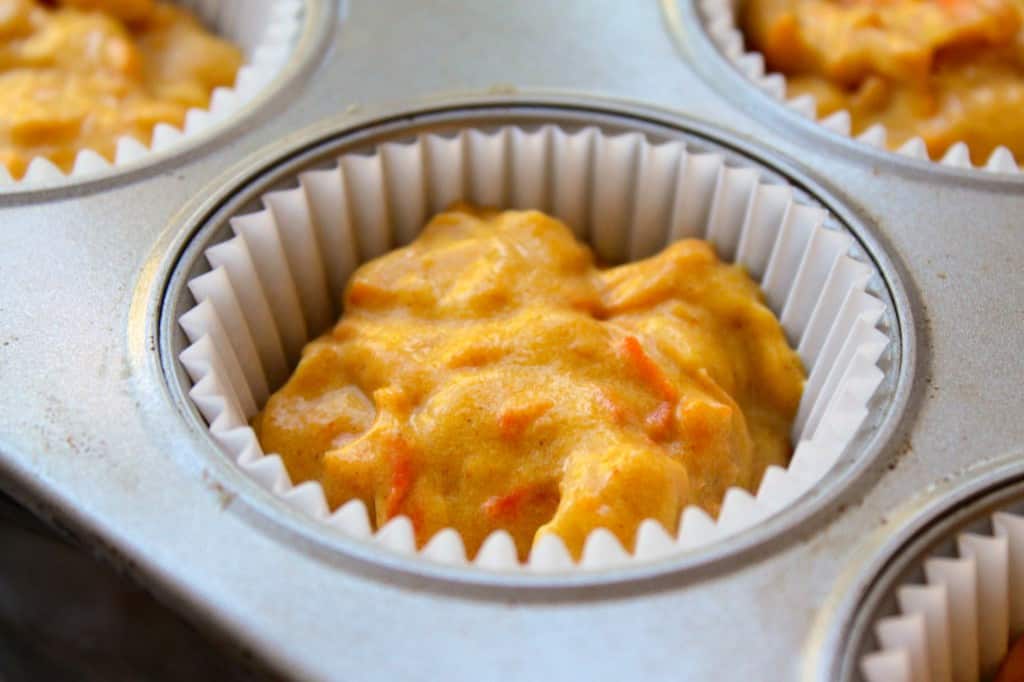 Bake at 350º F (175º C) about 20 minutes or until a toothpick inserted into the center of a cupcake comes out clean.
Place on cooling rack; meanwhile, make the icing.
CREAM CHEESE ICING
Ingredients
8 oz Philadelphia cream cheese, at room temperature
4 oz butter, at room temperature
1 tsp vanilla
1 lb powdered (confectioner's) sugar
Beat cream cheese and butter; then beat in the vanilla and powdered sugar until smooth.
Pipe or spread onto cupcakes, as desired.
These freeze well, but I would advise freezing the cupcakes plain, and keep the icing in the refrigerator until ready to use.
The icing should be fine in a sealed container in the fridge for at least 10 days.
Enjoy!!
Don't miss another post! Sign up for my free subscription HERE, but make sure to look for the
Feedburner confirmation email or you'll get nothing, nada, niente and zippo in your mailbox!
(I promise not to sell or share your info, ever!)