These aebleskivers, or danish pancakes, are one of the reasons "I ♥ TRADER JOE'S".
This post may contain affiliate links for your convenience, at no additional cost to you.
I'd actually put this on my bumper (as a sticker) if I was a bumper-sticker-type-gal.
If you've been to Trader Joe's, I need not explain; but to those of you who do not live near one, or haven't ever shopped in one–I offer you my condolences. Trader Joe's carries the most wonderful, healthy, unique and delicious food products from all over the world, and most items are sold at quite reasonable prices.
Now I'll tell you what I hate about Trader Joe's: once you discover that you are totally, head over heels in love with a product, and have decided you will give up your first born child (if necessary) in order to acquire said product, it disappears from their shelves faster than doughnuts at a police convention! It's brutal, to say the least–almost inhumane.
Actually, if they passed around a petition to loyal TJ's shoppers, you'd probably see an initiative on the ballot during the next election, banning this barbaric practice (I still have post traumatic stress disorder from the time they stopped selling their imported Italian spelt mix).
One thing Trader Joe's has been selling for quite some time are frozen aebleskivers, or Danish pancakes, from Denmark. When I first tried them, it was truly "love at first bite. "The warm, light puffiness inside, with the crispiness of the outside, was such a treat–but the flavor even topped the texture! With a little powdered sugar shaken on top, it was heaven.
However, I was hesitant to fall too hard for these babies, knowing they could be history by my next trip to TJ's! What to do? Well, I did what I often do when I taste something I like–I make them myself.
So I purchased a very inexpensive, cast iron Aebleskiver Pan on Amazon and made my first batch. They were not only much simpler to make than I expected, but they gave the Frozen TJ's Danish pancakes a run for their money! (Can you tell that they were absolutely delicious from the photos above? I hope so, because they were!)
So go ahead, Trader Joe's, entice me with your delectable, imported aebleskivers, then take them away for all eternity–see if I care. It doesn't matter this time, because I'll just make them myself!
P.S. I still ♥ you, Trader Joe's ;)
Aebleskivers, aka Danish Pancakes
 adapted from a Nordic Ware recipe
Ingredients
2 eggs, separated
2 tbsp. canola or light olive oil
1 1/2 tbsp sugar
1 cup (5 oz) flour
1/2 tsp baking powder
1 cup (8 oz) buttermilk
1/4 tsp salt
Special Equipment: aebleskiver pan
Optional: Nutella, jam, sauces, powdered sugar for filling and/or serving.
In a medium mixing bowl, beat egg yolks until light in color. Add the sugar and beat in well.
Stir together remaining dry ingredients in a separate bowl, then add half
to the egg yolk mixture.
Gently fold in half of the buttermilk, then the remaining flour and rest of the buttermilk.
Mix in the oil.
Beat the egg whites until stiff, then fold into the mixture.
Cook as directed in the instructions for your aebleskiver pan, but do a test before filling all of the holes. Here's my test pancake, the pan was not hot enough.
When the pan was hotter.
I use a long wooden skewer to turn the pancakes over in the pan-it works great.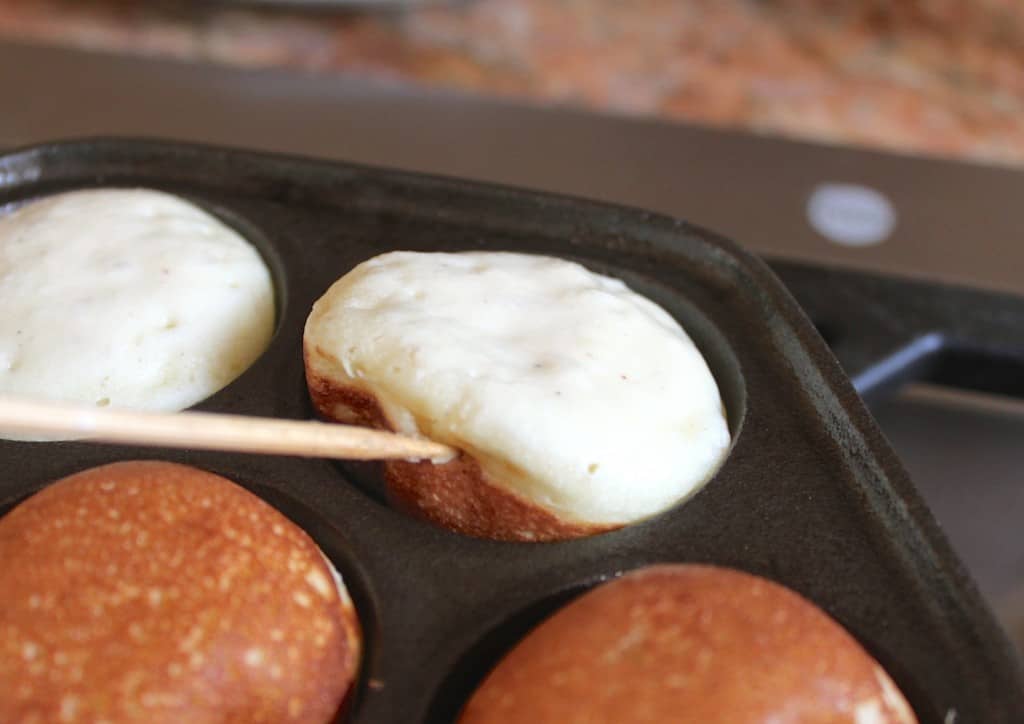 You can even fill these with your choice of fillings, like apple, Nutella, chocolate, jam, etc. All you have to do is place a little batter in the pan, drop in your filling, then place more batter on top, that's it! My favorite is Nutella!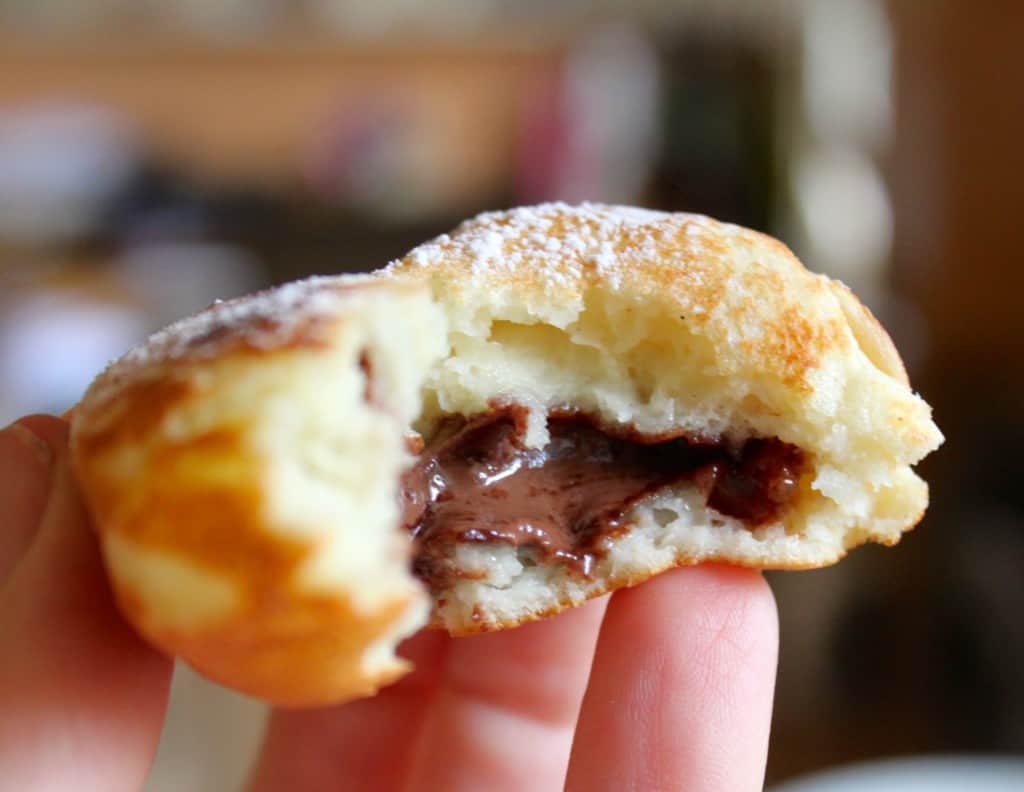 Serve aebleskivers sprinkled with powdered sugar, and your favorite syrup if desired.  I made a quick raspberry sauce (just organic frozen raspberries, lemon juice and sugar) for these.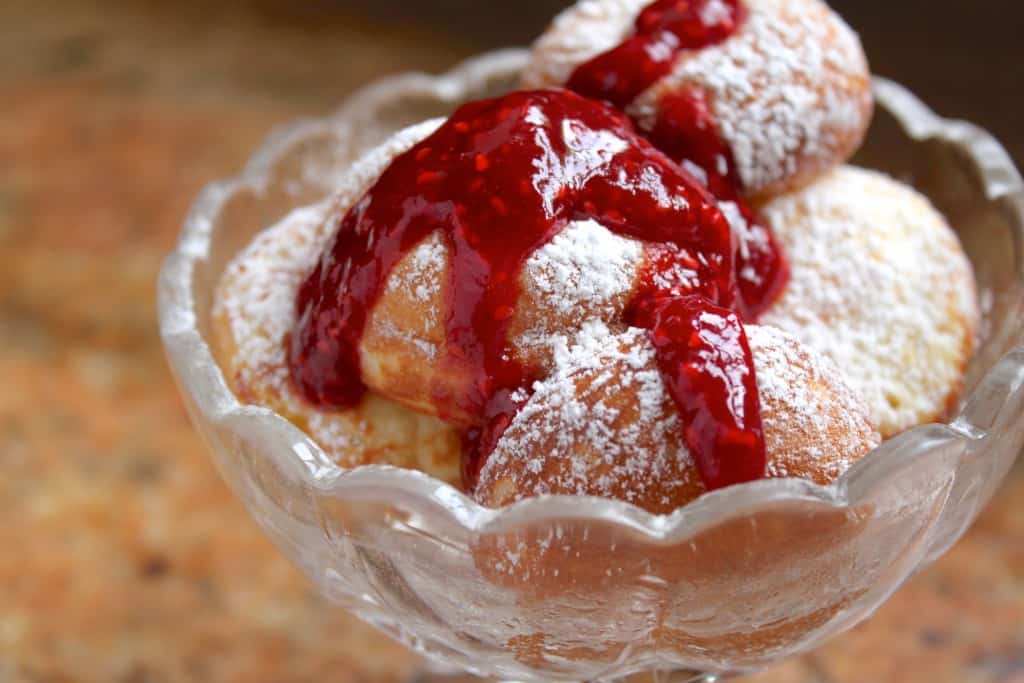 And I drizzled a homemade strawberry syrup on these Danish pancakes.
Don't miss another post! Sign up for my free subscription HERE, but make sure to look for the
Feedburner confirmation email or you'll get nothing, nada, niente and zippo in your mailbox!
(I promise not to sell or share your info, ever!)
Christina's Cucina is a participant in the Amazon Services LLC Associates Program, an affiliate advertising program designed to provide a means for sites to earn advertising fees by advertising and linking to Amazon.com, with no added cost to you. I only recommend items I buy/use myself.