Some food can be more versatile than your favorite blue jeans.
A frittata is one of those meals that is as suitable for breakfast or brunch as it is for dinner, or lunch, for that matter. You can slip it between two pieces of bread and take it for a packed lunch, or cut it into bite size pieces for a tasty appetizer. To say that a frittata is versatile is an understatement.
You may have wondered if there's a difference between a frittata and an omelette, and the short answer is "yes" (besides the obvious Italian/French variance in the word.) A frittata (which basically means something fried) is an Italian egg dish usually with a vegetable or other ingredients besides eggs, and is traditionally thicker than an omelette.
Last December, I went to a party and there was something on the buffet called "tortilla" which looked suspiciously similar to my frittata, minus the bacon. I learned that this is a traditional Spanish dish, and it tasted just like my frittata too. I never knew about "tortilla de patatas" before!
There are so many options when making a frittata; using different vegetables and ingredients makes it even more versatile, but incredibly, I always make it the same way!
My entire family LOVES a bacon and potato frittata any time of day, as do I, so that's what I make. (The frittata pictured should have parsley in it, but I didn't have any fresh parsley so I omitted it.)
I hope you try this recipe, and love it as much as my family does, however, please don't hesitate to omit the bacon and add your favorite veggie for a vegetarian frittata, or just experiment with different ingredients. Maybe you'll come up with your own "signature" frittata which will be all your family will want to eat!
Bacon and Potato Frittata
serves 2
4 rashers of bacon, cut into bite size pieces (I only buy nitrate/nitrite free)
2 medium potatoes, diced
1 to 2 tbsp. olive oil
4 large, fresh eggs, preferably free range/organic
2 sprigs of parsley
1 tsp grated parmesan cheese
salt and pepper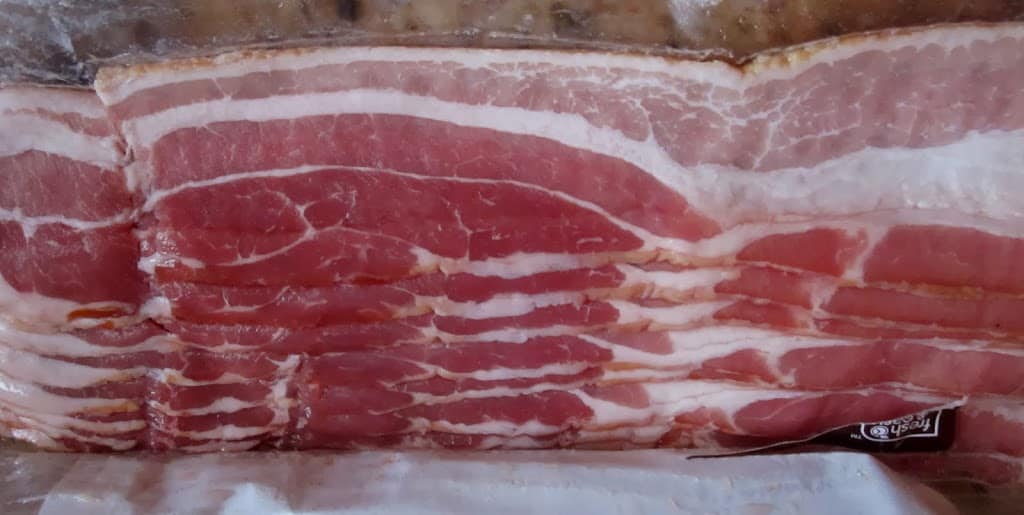 Fry the bacon pieces in a non stick pan until cooked, but not too crispy. Place onto a paper towel lined plate and set aside.
Drain the bacon fat, and add some olive oil and fry the diced potatoes over medium high heat, until golden brown and thoroughly cooked, turning often.
Beat the eggs, parmesan, parsley, salt (about 1/4 tsp) and pepper.
When the potatoes are ready, sprinkle with a little salt, lower the burner to medium heat, then put the bacon back into the pan, dispersing evenly.
Now, add the beaten eggs.
With the corner of a spatula, cut into the frittata to allow the liquid egg to go through to the bottom of the pan, tipping the pan at times to also allow it to run to the edges. The goal is to try to cook the egg as much as possible before turning the frittata.
When the egg is mostly cooked, if you are a "pro", you can flip the frittata in the pan!
Or you can do what I do, which is place a large plate over the pan and turning it upside down,  CAREFULLY, onto the plate, then slide it back into the frying pan.
If you don't mind it not looking perfect when finished, you can also cut it into "slices" like a pizza, and turn one piece at a time.
Serve hot, on its own or with a salad, or other side dish.
You decide how you like it best, because with frittata…the options are endless!
Don't miss another post! Sign up for my free subscription HERE, but make sure to look for the Feedburner confirmation email or you'll get nothing, nada, niente and zippo in your mailbox! (I promise not to sell or share your info, ever!)