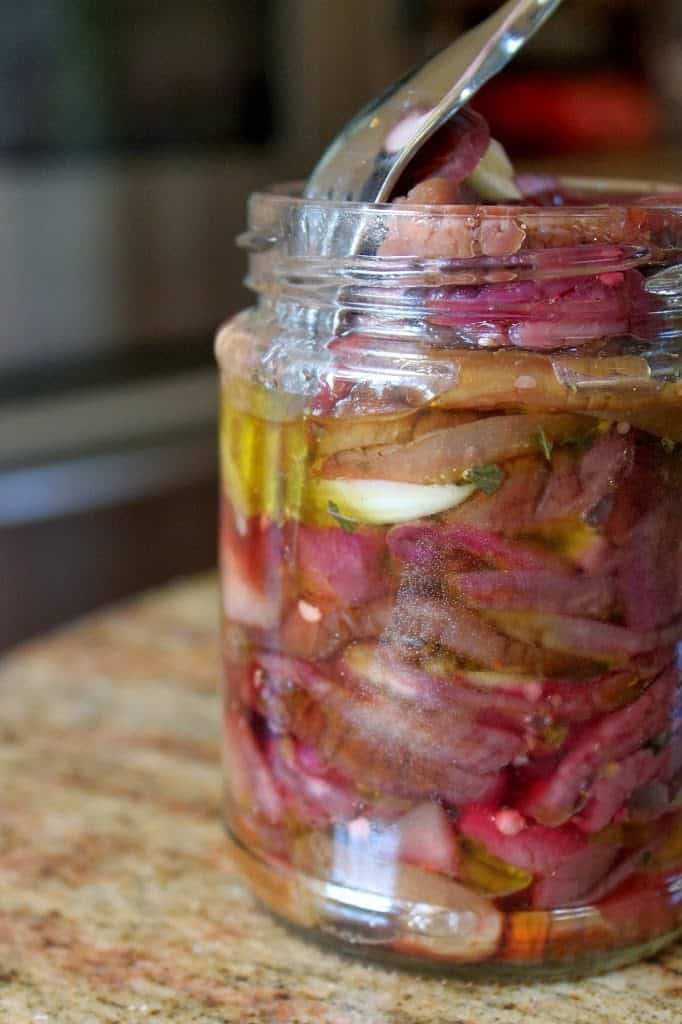 If I had to choose one person as the best cook I've ever known in my entire life, it wouldn't be some famous chef, on any of my wonderful aunts or even my mother–it would be my Nonna Chiarina, as I called her. Her name was Renata, but she went by "Chiarina", which means "little clear one" because of her blue eyes (and yes, nonna means grandmother in Italian).
Nonna had seven daughters, and somehow passed on her incredible knowledge of food and cooking to all of them, including my mother who left Italy at 15 and married my father in Scotland after just turning 16!
This recipe for pickled eggplant/aubergines seems to be the equivalent to an American home cook making cole slaw without a recipe, or a British home cook making a trifle sans directions. It's just something every Italian knew how to make years ago, and is one of the things Nonna always made, and it is insanely delicious.
I actually dislike eggplant prepared any other way, with the possible exception of a very well made eggplant parmigiana! I used to get teased at school for bringing pickled eggplant sandwiches in my lunchbox, but I truly didn't care because I knew those kids eating the horrific school meals, like dried up hamburgers and Twinkies were the ones who were missing out!
Disclaimer: one word of caution if you are going to make this: apparently botulism is a risk when preparing garlic in oil. Although we've never been sick ourselves, or anyone in our family (and I will continue to make this), I just want to share this: http://www.livestrong.com/article/485148-eating-raw-garlic-botulism/  It's probably the vinegar in the recipe which is one of the things recommended to avoid botulism, as well as refrigerating the pickles when finished. If you have any concern, omit the garlic.
Pickled Eggplant/Aubergines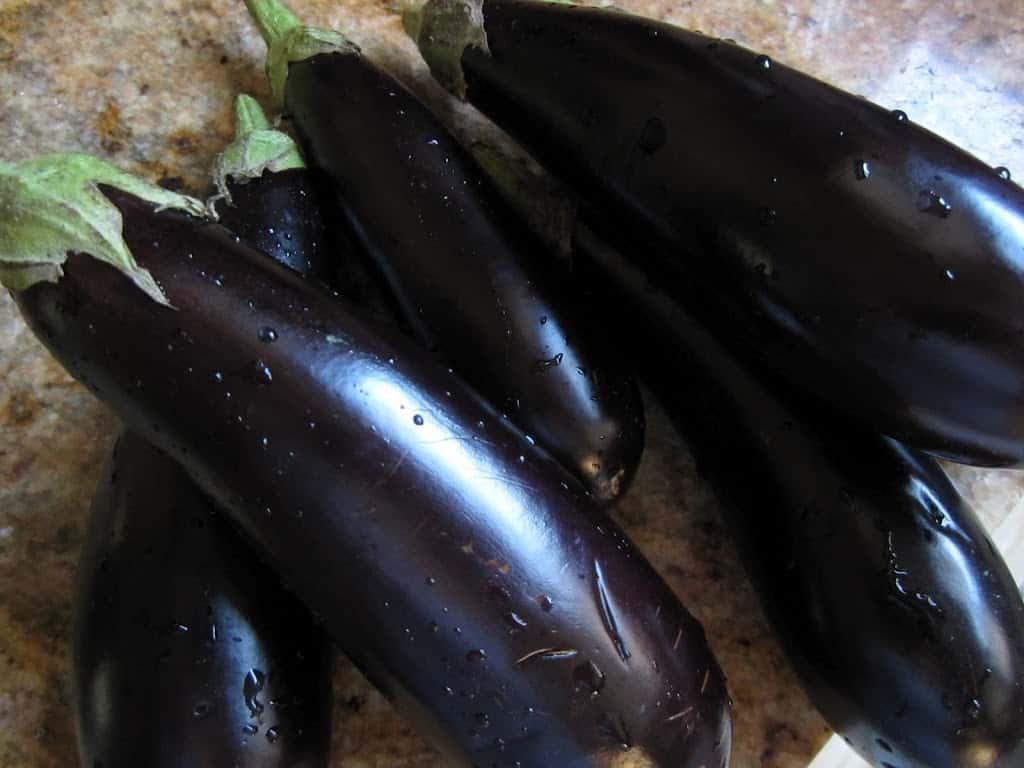 3-5 long, thin and shiny eggplants/aubergines (see photo above)
Kosher salt
2/3 cup strong wine vinegar plus 1/3 cup water
3 or 4 cloves of garlic (see note above)
1/2 teaspoon oregano
good quality extra virgin olive oil
Slice the eggplant into approximately 1/4″ thin slices, or julienne if preferred, and place in a colander and sprinkle lightly with Kosher salt. Continue layering the slices and salt, until finished.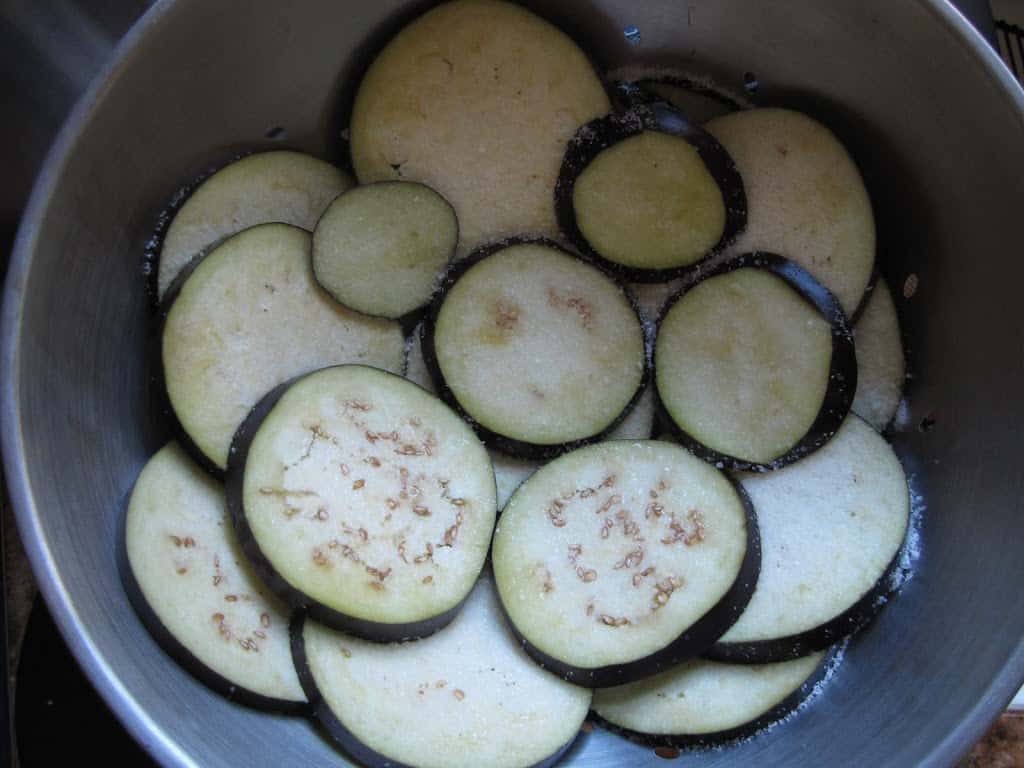 Place a small plate and weight on top of the plate. Make sure to put the colander in the sink or a small bowl underneath to catch the liquid.
After a couple of hours, squeeze all the excess liquid from the eggplant and set aside.
Put the vinegar and water in a small pot and bring to a boil, then add the eggplant. Cook them for approximately two minutes, then drain. Again, squeeze the excess vinegar from the eggplant after allowing them to cool off.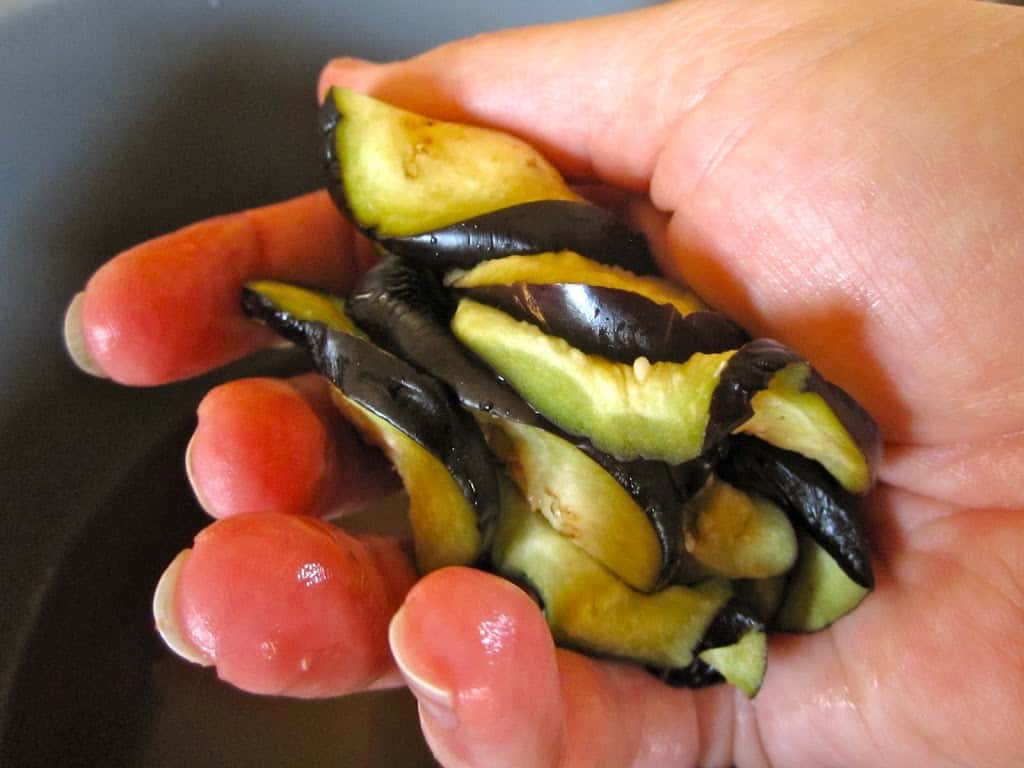 Place the pickled eggplant in a bowl and add some olive oil, garlic and oregano, and mix well. Don't worry if there's not enough oil as the jars will be filled with oil later in the process.
Put the pickled eggplant mixture into clean, dry jars, packing tightly.
Next, fill the jar with olive oil, reaching into the jar on the sides with a fork or long toothpick to get rid of the air gaps. You really shouldn't need much oil at all, if the jar is packed correctly. Place the lid on tightly and refrigerate for about 3 or 4 days before eating. Keep refrigerated after opening.
Pickled eggplant/aubergines are wonderful in a sandwich, or served as part of an antipasto plate.
A simple, ribbon wrapped jar also makes an extremely unique and impressive item to bring as a hostess gift.
Don't miss another post! Sign up for my free subscription HERE, but make sure to look for the
Feedburner confirmation email or you'll get nothing, nada, niente and zippo in your mailbox!
(I promise not to sell or share your info, ever!)