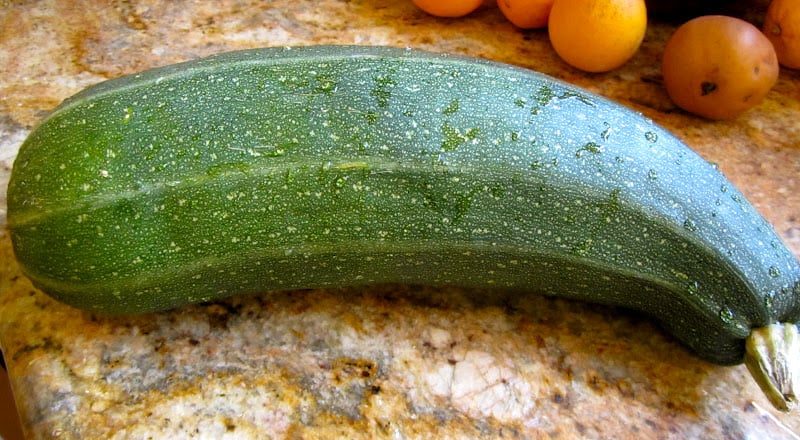 If you have a garden, or have a friend with one, chances are you're getting zucchini–and lots of them! Like anything else, one can get sick of something good when it's just too much.
Wouldn't it be nice if you could eat some of those zucchini in winter, when you'll be longing for those days of summer when you had too many and were up to your eyeballs in Zucchini Bread? Well, who says you can't?
When I was a little girl and we'd go to Italy in the summer, there would be bamboo stalks with circles of zucchini hanging on them, drying in the hot, Italian sunshine in my mother's village. Here's a picture of my nonno (grandfather) preparing the zucchini to dry: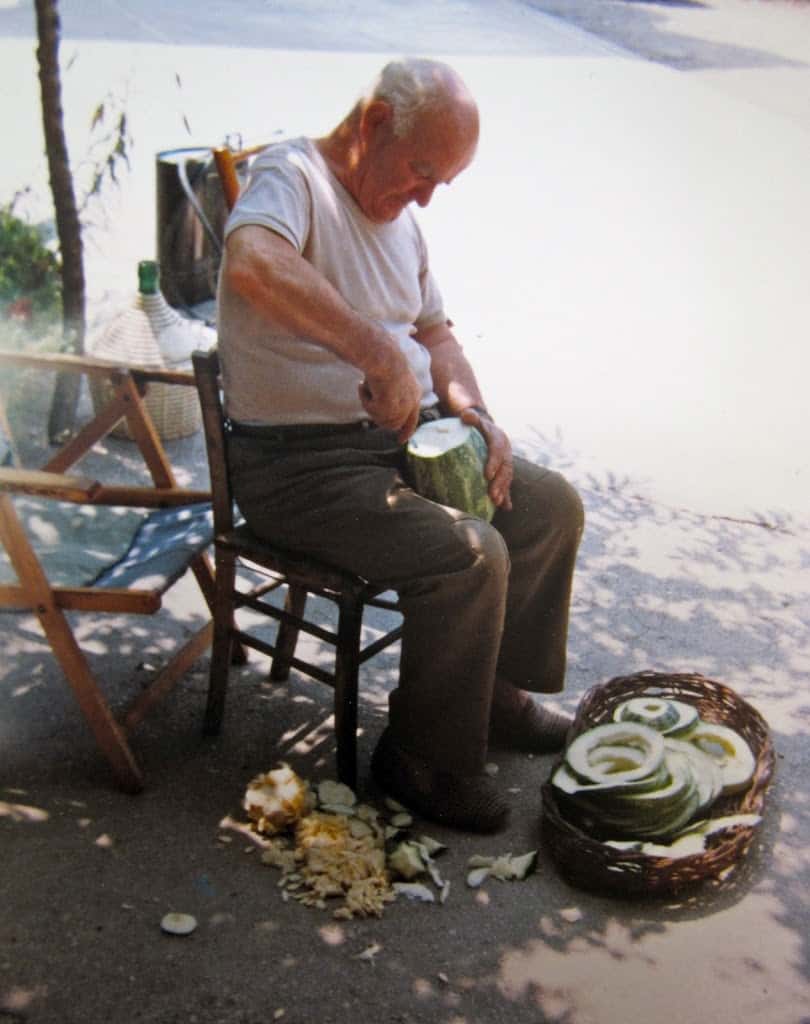 Once dry, they would be put away for wintertime, when they could be re-hydrated and cooked for a delicious zucchini dish. Here's the best part, it's super easy!
Just follow these simple directions now, and I'll be posting a recipe later this year, when fresh zucchini from the garden is just a faded summer memory…sigh!
Dried Zucchini
Extra large zucchinis work best for this (see pic above.) Wash and cut the zucchini into 3 or 4 chunks, as shown below, then remove all the seeds from the middle, without cutting through the flesh of the vegetable.
Next, cut into thin slices, and slip onto a clean dowel, or bamboo stalk if you have one lying around! :)
Tips:
Use a large knife and be careful, these zucchini can get very hard.
 If you live somewhere dry, like here in California, you can dry these in the sunshine.
If you are somewhere more humid, or rainy, you may have to resort to a convection oven's "dehydrate" setting, or an actual dehydrator.
If the zucchini are mostly dry from outside, just finish drying them in an oven that is just warm, until completely dry (or they will become moldy.)
And this is the end result–what a difference a day makes.
Now pack those babies away in an airtight tin, or ziploc bag (removing as much air as possible) and save them for a chilly winter's day. Then you can make Dried Zucchini, Pancetta and Potatoes!
Don't miss another post! Sign up for my free subscription HERE, but make sure to look for the
Feedburner confirmation email or you'll get nothing, nada, niente and zippo in your mailbox!
(I promise not to sell or share your info, ever!)