When I was 22 years old, I moved to California to attend graduate school, and initially moved in with family friends, Soon and Oke, who came to the US in 1976 which is when we immigrated too.
Oke is one of the most amazing cooks I have ever met, and every time we go to her house for dinner, she makes at least one thing we've never had before!  I can never reach her skill level in making Korean food, but she has taught me to make quite a few of her dishes, one of my favorite being Korean mung bean pancakes.  I'd never seen or even heard of a mung bean before meeting Oke, but now I am never without a bag in my pantry.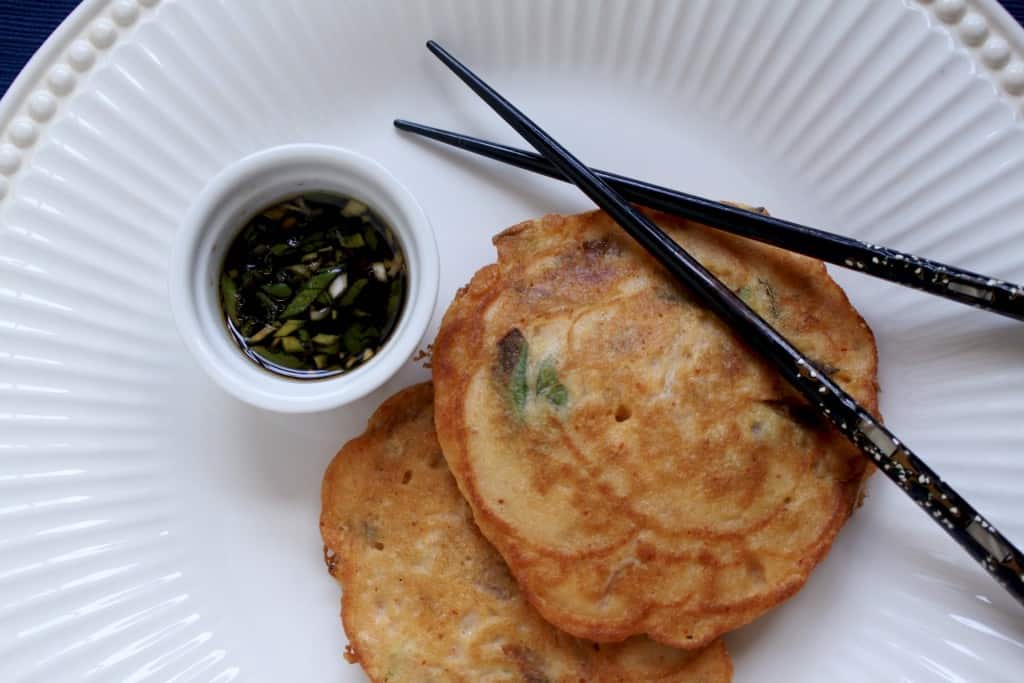 These pancakes are so incredibly healthy as they are a legume based pancake, have lots of green onions, bean sprouts and chopped kimchi (this is another post altogether!) You just won't believe how delicious these pancakes are and that they can easily be made gluten free.
They are filling enough to have as a meal, alongside a salad, but they can be served with an entire Korean barbecue meal.
Korean Mung Bean Pancakes
(soak beans the night before)
Measurements are NOT critical in this recipe
1 cup (8 oz) split mung beans (see pic)
1 egg
1 tbsp flour (rice or quinoa flour if making Gluten Free or it can even be omitted)
1 small piece of pork, or boneless chop, chopped finely (omit if making vegetarian)
1 tbsp sesame oil
1 or 2 finely chopped cloves of garlic
black pepper
1/2 teaspoon salt
3 or 4 chopped green onions
1 cup (6 oz) bean sprouts, blanched for 2 minutes
1 1/2 cups (12 oz) chopped kimchi (don't be afraid!!! see my note at the bottom)
light olive oil for cooking
For the sauce:
1/4 cup (2 oz) soy sauce
1/2 tsp sesame oil
pinch of sugar
2 finely minced cloves of garlic
1 or 2 chopped green onions
Soak mung beans a minimum of 6 hours, or overnight.  Rinse beans, and place in blender
with about 2 ounces of water, the egg and flour. Blend until smooth.
  The consistency should be like a breakfast pancake batter, and look like this.
Place pork, sesame oil, garlic, pepper and salt in a bowl and mix well.
Place green onion and pork mixture into the mung bean batter in a large bowl.
 I just place the kimchi in a bowl and cut it with scissors.
Now, add the kimchi and bean sprouts to the rest of the ingredients.
Mix well.
Wasn't that simple?
Heat a large non-stick frying pan over medium high heat with a little of the olive oil in it. When hot, place spoonfuls onto the pan, and cook until golden brown underneath.
(Remember there is raw pork in these (if using) so make sure to cook them really well; cook them longer at a lower temp, than faster at a higher temp.)
Turn over, and continue to cook until well done.
While the pancakes are cooking, stir all the sauce ingredients together.
Serve hot, with the sauce and a side of kimchi, or rice, or salad, or soup, or…you get the idea.
Note: you can make a "test" pancake and taste it to see if it needs more salt, but don't make it too salty as the soy sauce adds a lot.
Regarding kimchi:  first of all, I have to admit that I never tried kimchi from when I was first offered to me at 11 years old, until I was 22.  I couldn't get past the smell, much like sauerkraut (which I still don't eat)  and I thought it was SO spicy, I'd never be able to handle it.
All I can say is please do yourself a favor and try it. It doesn't taste anything like it smells and it is not as spicy as you imagine, if you've never tried it.
This is the perfect recipe to try kimchi for the first time, because it's relatively "hidden" in all the batter.
Besides how wonderful it tastes, kimchi is loaded with health benefits!!
Don't miss another post! Sign up for my free subscription HERE, but make sure to look for the
Feedburner confirmation email or you'll get nothing, nada, niente and zippo in your mailbox!
(I promise not to sell or share your info, ever!)