Although this is called a salad, it may be served as an appetizer or "antipasto" meaning "before the main dish." You see, in Italy, salad is eaten after the main course. It is always one of the last courses served, but Insalata Caprese can easily be served before a meal, as an antipasto, or afterwards as a light salad.
Caprese Salad has to be one of the simplest salads ever! Not to mention the fact that it is incredibly beautiful, impressive, and is very Italian since it has all the colors of the Italian flag!
Serve this at your next get together or take it to your next barbeque or picnic for something different and healthy (sorry, potato salad!) However, don't add the salt more than 15 minutes in advance as it will start to make the tomatoes "soggy."
You can also make a chunky salad in the same style…this manner is easier to transport, and tastes just as good. I almost always bring this to our picnic dinners at the Hollywood Bowl, or Shakespeare in the Park (if you're lucky enough to live in LA) and I just hold off on the salt until we're ready to eat it.
INSALATA CAPRESE
(een-sah-latah cah-pray-zeh)
Ingredients:
tomatoes, good quality, such as heirloom
fresh mozzarella
fresh Italian basil (do not substitue dried)
extra virgin olive oil
Kosher or good quality sea salt
Slice the tomatoes into about 3/8″ thick slices Then slice the mozzarella into the same sized slices.
Now arrange the tomato and mozzarella slices into a pleasing pattern on a plate.
I like to make circles.
Mozzarella can be cut in half, if you'd like to use less cheese.
I made individual Caprese Salads, but you can make a large one on a serving plate.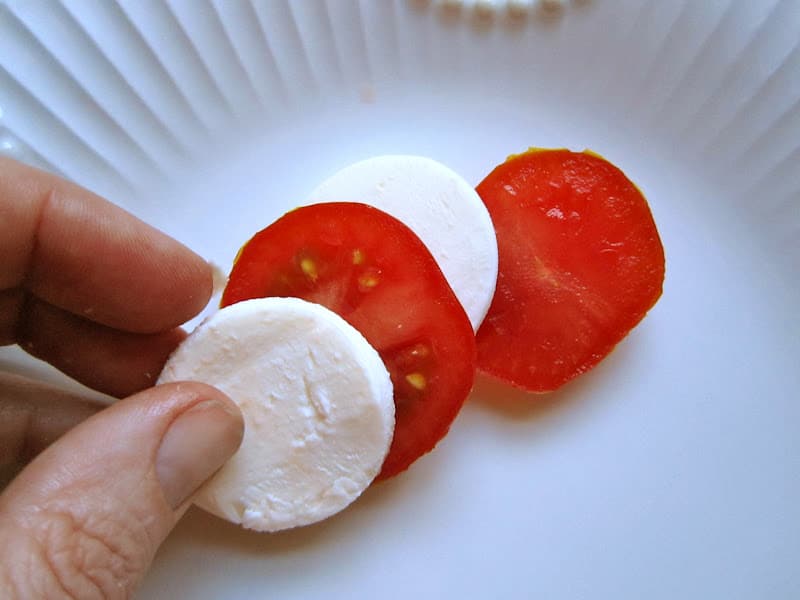 Now drizzle generously with extra virgin olive oil, and sprinkle with salt.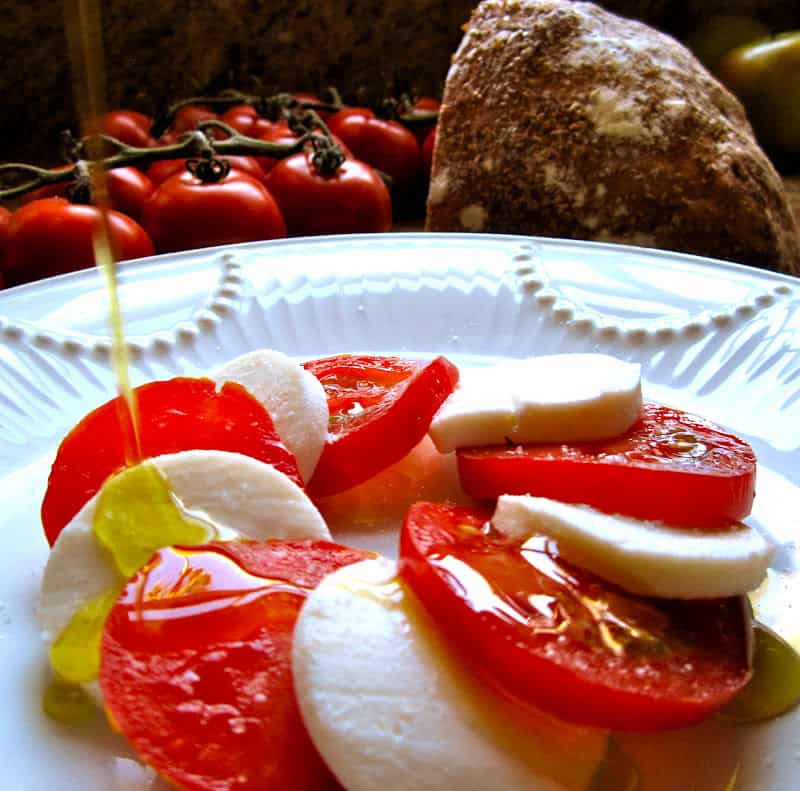 Depending on taste, use whole, torn or chopped fresh Italian basil leaves.
I prefer chopped since I find the whole leaves are just a bit too much basil flavor, but a sprig in the center or on the side looks fantastic.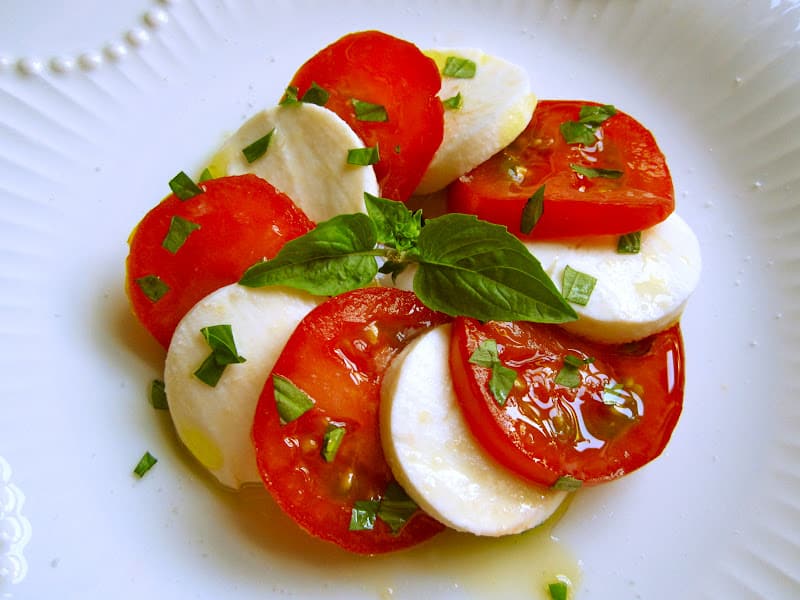 That's it! Serve with Homemade No Knead Bread, of course!
You can't get a more delicious, healthier, and easier appetizer/salad than this!