Yesterday afternoon, without warning, I became ravenous.
I was so hungry, I was starting to get shaky; so I opened the fridge, and to my dismay, there wasn't some perfect, delectable snack sitting on a plate, waiting to be eaten.
But wait! I spied some leftover sauteed mushrooms, and fresh mozzarella cheese…oooh, I was getting excited! So this is what I concocted: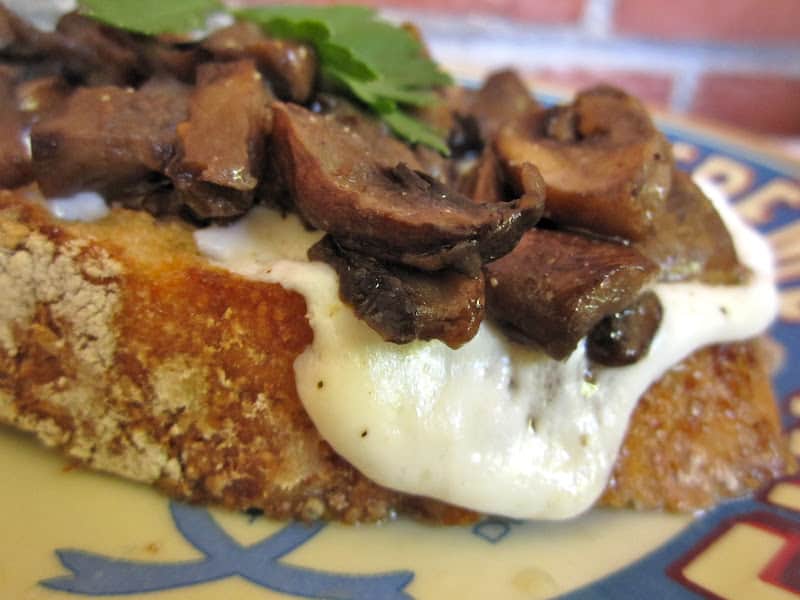 Now, do you need a recipe? Absolutely not, but make sure to use quality ingredients!
Just toast a piece of bread (preferably homemade) then place a couple of slices of fresh mozzarella on the toast, and top with some sauteed mushrooms. (I saute mushrooms with olive oil and garlic, which adds so much flavor, and then season with salt and pepper- you can also freeze them to always have some on hand.)
Place this baby in the microwave for a few seconds, or until the cheese starts to melt… that's it!
And if you're wondering if I took these pictures of this perfect, delectable snack while I was still ravenous and shaking–the answer is yes.
I guess I'm a hard core food blogger now, but oh, was it worth the wait!
Don't miss another post! Sign up for my free subscription HERE, but make sure to look for the
Feedburner confirmation email or you'll get nothing, nada, niente and zippo in your mailbox!
(I promise not to sell or share your info, ever!)