I made these for a party once, and asked my brother if they weren't just amazing.
His response? "How can you go wrong with salt and fat?"  Good point.
The combination of the salty, pimento stuffed green olives with bacon, especially when still warm out of the oven, is nothing short of fabulous. As you can see, I chose bacon with very little fat and as usual, no nitrates or nitrites (just natural nitrates from celery.)
These are so simple to prepare–just cut, wrap and stick!
Bacon Wrapped Olives
bacon
large green olives, stuffed with pimento
(toothpicks)
Preheat oven to 400º F (205ºC)
Cut rashers of bacon into thirds.
 Wrap one third of bacon rasher around olive and secure with toothpick.
Place on foil lined tray or pyrex dish.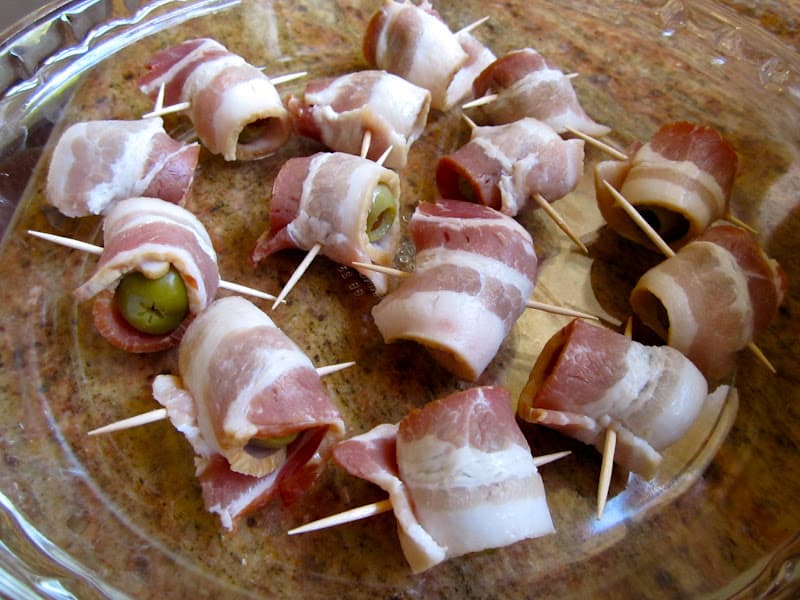 Bake for about 8 minutes, then turn the olives, and bake another 7 minutes or so, or until the bacon is starting to brown and is cooked.
Serve as an appetizer, or part of a buffet; great for cocktail parties or even picnics!
Don't miss another post! Sign up for my free subscription HERE, but make sure to look for the
Feedburner confirmation email or you'll get nothing, nada, niente and zippo in your mailbox!
(I promise not to sell or share your info, ever!)