If you can't already tell, this bread pudding is not a "low-fat" dessert.
However, I must say, I would opt for a one inch square piece of this dessert over a 4″ inch square piece of a tasteless, unenjoyable "low-fat" dessert any day of the week!
I used to always make "bread & butter pudding" with raisins, as this is how my mother, aunts and cousins all used to make it. Then, one day, my cousin Denisa (who lives in England) told me she'd made bread pudding with chocolate instead of raisins!
Heavens–what a concept! She was so excited about the outcome of this feat, that I had to try it myself, and needless to say, I've been using chocolate ever since.
Nowadays, many restaurants seem to have some sort of bread pudding on their menu, but homemade always tastes best.
My father disagrees with my choice and still prefers raisins (diehard!), and if you look closely at one of the photos, you'll see raisins on one end of the chocolate bread and pudding: this was his part!
This is my own recipe and I hope you like it as much as I do, whether it's a one inch square piece or an 8 inch square piece, enjoy!
Chocolate Bread Pudding with
Brown Sugar Whisky Sauce
Ingredients:
4 cups cubed stale bread or brioche (in UK, use an 8 oz mug to measure the bread cubes)
3 cups (24 oz) milk (1 or 2%)
1 cup (8 oz) cream
1 tbsp sugar
pat of butter
2 eggs
1/4 tsp grated nutmeg
1/4 cup (2 oz) good quality chocolate (I prefer dark Green & Black's) chunks, pieces or chips or raisins
Rub the pat of butter around the inside of an oven-proof dish, then place the bread into the baking dish.
 Lightly beat the eggs with a whisk.
Pour the eggs into the milk and cream (I did this in two batches as I used the measuring jug, but it is easier to do in one larger bowl.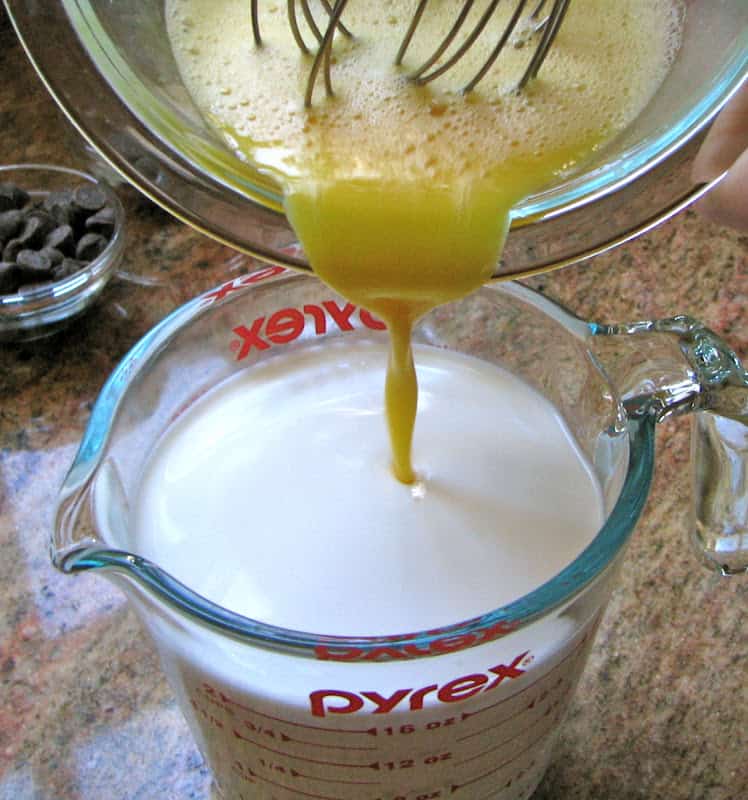 Add the sugar, and stir well.
 Then add the nutmeg.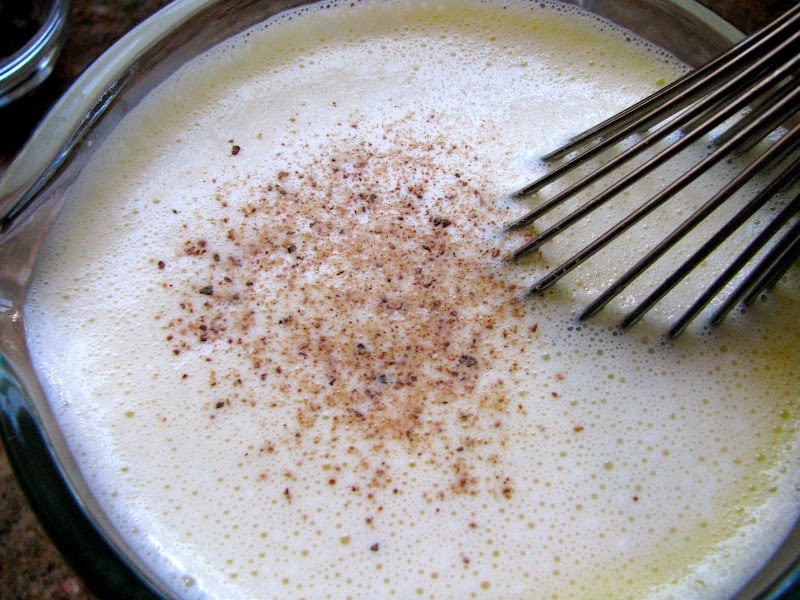 Sprinkle the chocolate chips, or chunks, or raisins over the bread.
Next, pour the egg mixture over the bread and chocolate, soaking all the bread.
Allow the bread to soak for about half an hour, then heat the oven to 375° F (190° C)
Bake for approximately 30 to 40 minutes, until the pudding is puffy  and the top is lightly browned.
While the pudding is baking, make the whisky sauce.
Brown Sugar Whisky Sauce
Ingredients:
1/2 cup (4 oz) brown sugar
3 tbsp butter
1/4 cup (2 oz) buttermilk
2 tbsp (or more!) Scotch Whisky
1 tsp. Golden Syrup (if you don't have golden syrup, substitue honey or maple syrup)
1/2 tsp vanilla
1/4 tsp baking soda
Place all ingredients except for baking soda in a pot and bring to a boil.
Simmer for one minute, then add baking soda, stir and remove from heat (sauce will foam.)
When pudding is ready, let cool for about 15 minutes, then pour most of the syrup over the top.
Serve warm, or heat before serving.
Pour remaining sauce into a jug for those who want extra sauce on their pudding.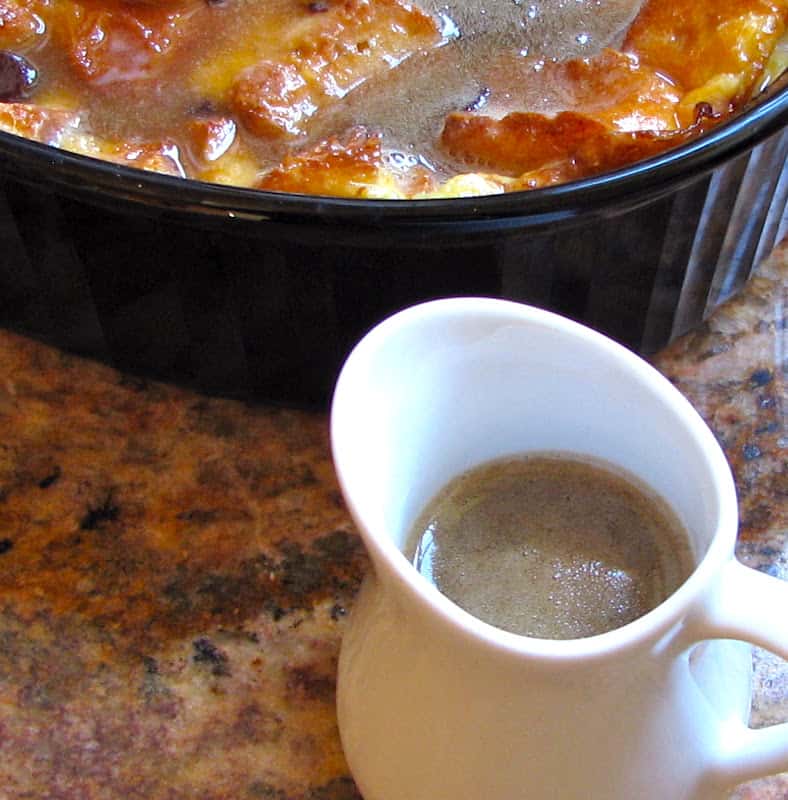 NOTES: Panettone, egg bread, or challah type breads make the best bread pudding.
I have also found it unnecessary to add butter, when using cream in the pudding, as this dessert was actually called "Bread and Butter Pudding."
Chunks of chocolate may be used, as long as you use good quality chocolate.
This is called a "pudding" because it is a British dessert and "pudding" means "dessert" in the UK, however, given that this doesn't have butter on the bread, it adds to the confusion of another "bread pudding" dessert. You can read the difference HERE.
Don't miss another post! Sign up for my free subscription HERE, but make sure to look for the
Feedburner confirmation email or you'll get nothing, nada, niente and zippo in your mailbox!
(I promise not to sell or share your info, ever!)