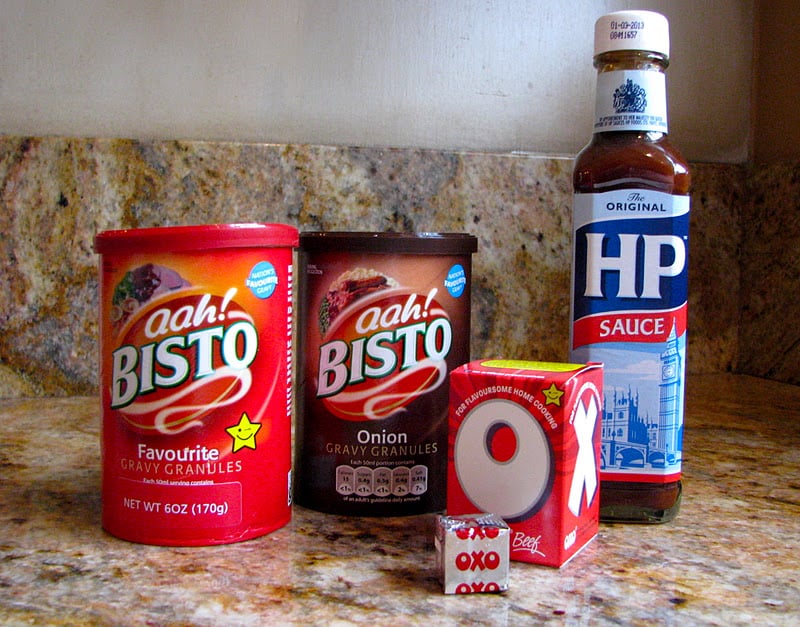 When I'm making things like Steak Pie, Stew, and Shepherd's Pie, these are a few of my "must haves" which really give everything that yummy British flavor ;)
BISTO Granules:
This is so easy to use! Just sprinkle into the pot as you are simmering whatever beef dish you are making: it not only gives it a great gravy flavor, but it also thickens. I brought back the Onion Bisto from the UK last summer as it is so difficult to find in the US. I love it for giving things an extra onion flavor.  Bisto is also great to have on hand in case you want a quick gravy–just pour boiling water onto a couple of tablespoons and stir; PRESTO–instant gravy, which actually tastes good (obviously not the same as homemade, but it'll do in a pinch)!
OXO Beef Cubes:
This is the beef bouillon which we used in the UK. It's so delicious, you can even crumble a cube into a cup of boiling water and drink it as a broth, and it's great for flavoring all the typical British beef dishes, especially if you don't want any thickener.
NB: Bisto and OXO cubes are processed foods that I wouldn't normally endorse, but since I use them so sparingly and infrequently, I make an exception in my own household. I never claimed I was perfect, haha!
HP Sauce
HP stands for Houses of Parliament, as this is inevitably the first thing people ask when they see this sauce. I'll let Wikipedia describe it:
"HP Sauce has a malt vinegar base, blended with tomato, dates, tamarind extract, sweetener and spices. It usually is used as a condiment with hot or cold savoury food, or as an ingredient in soups or stew."
I actually had my cousin in England send me little packets of HP so I can bring it to restaurants with me! Yes, I love it that much! I usually have it with french fries, but it goes great with things like sausage rolls, shepherd's pie, etc.  It is usually sold in British shops and Cost Plus World Markets in the US. It's also found on Amazon.com.
Don't miss another post! Sign up for my free subscription HERE, but make sure to look for the
Feedburner confirmation email or you'll get nothing, nada, niente and zippo in your mailbox!
(I promise not to sell or share your info, ever!)
This post contains Amazon affiliate links which do not add any cost to you, but help me in running my site.